The Paleo Diet. This is the diet I personally follow and recommend to my patients and readers. I get so many questions about what the paleo diet is that I finally decided to write a post all about the paleo diet. In this post you will learn "what is the paleo diet?"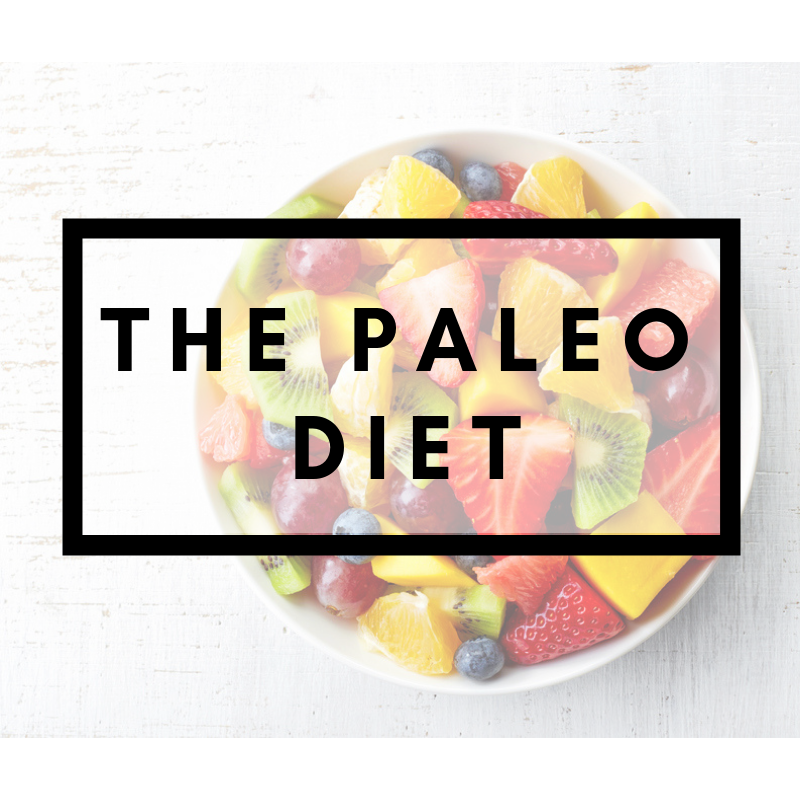 One of the most common questions that I get asked by my patients and blog readers is "what is the paleo diet?". I personally follow the paleo diet and think it is the ideal diet that almost everyone should follow (there are some circumstances where other specialized diets may be more appropriate but I won't be getting to that here, so always check with your doctor or other health care providers before making any dietary changes).
Being a paleo food blogger and real food advocate you would think I would have posted this a long time ago. I just never really thought about it. There are so many other amazing resources out there explaining the paleo diet that I thought it was evident. However, what I am finding is that there are a lot of myths about what the paleo diet is and isn't. So I decided it was about time that I did my own post on "what is the paleo diet?"
I am going to break this post into a few different parts. Otherwise it would be way too long! And I don't want you to get bored. In this first post I will discuss the basis of the paleo diet and the principles of the paleo diet. In upcoming posts I will discuss common paleo diet myths, what foods are allowed and not allowed on the paleo diet, provide easy to read paleo food lists and share my tips for starting the paleo diet.
If you are looking for some great resources or further reading on the paleo diet, my favourite books on the topic are:
What is the paleo diet?
The paleo diet is based on the foods that our ancestors used to eat and that humans evolved on. Other names for the paleo diet are the paleolithic diet, the caveman diet or the stone-age diet. Wikipedia actually calls the paleo diet "a fad" but I could not disagree more. The paleo diet is the diet that allowed humans to thrive. Unfortunately, our modern food system has completely changed the way we eat. Nutrient poor, processed food has become the norm. And we are suffering so many ill health effects as a result. Our bodies and digestive tracts have not evolved as quickly as our food has and most of us do very poorly when we try to eat the way our modern food system encourages us to. Obesity, diabetes, heart disease, behavioural issues, depression, anxiety, acne, eczema, irritable bowel syndrome, chronic fatigue, fibromyalgia, autoimmune diseases etc. The list is endless. All of these health conditions are on the rise, and they are all conditions that basically did not exist when our ancestors were eating real, nourishing food. Now, I am not saying that what we eat explains all aspects of these health issues, but it does play a role in all of them. A role that modern medicine almost completely ignores. During my medical school training I did not receive any specific education regarding the link between nutrition and disease. I think we had a total of 3 hours of nutritional education when I went through medical school. That is barely enough to scratch the surface. And it's definitely not enough to learn how to treat patients with diet. It is such a shame because I have seen so many patients make remarkable health improvements, simply by changing their diet.
I don't necessarily expect you to take my word for it. Many people don't believe me when I tell them that the food they are eating could be making them sick. "How could the food I am eating have anything to do with my thyroid, or my joints or my mood?" I often hear. If this sounds like you then I encourage you to read the book "Nutrition and Physical Degeneration" by Weston A Price. In the 1930's Dr. Weston A Price travelled around the world studying traditional cultures and the foods they ate. He found that those cultures who continued to eat their traditional diets were extremely healthy, while those that had adopted modern foods such as white flour, sugar and processed foods were suffering the ill-health effects. Problems like cavities, acne, infertility, obesity and many other health issues had started. And these health problems started happening within just one generation of these dietary changes. It was remarkable. And horrifying.
Humans evolved on real food. Food they collected and lovingly prepared. And this is the main principle of the paleo diet. Eating real food. Our current food industry wants you to think that making and eating real food is extremely difficult. There is a multi-billion dollar industry based on wanting you to think this way. These corporations won't thrive if you don't buy their products. Boxed cereals, packaged granola bars, crackers, breads, fast foods, pre-prepared meals, candy, chocolate bars, fruit snacks etc. All of these items have become staples in the standard North American diet, and they really aren't food at all. They are just a set of highly processed ingredients that have been combined to look edible.
When was the last time you looked at the ingredient list on the foods you are eating? Chances are, if you actually turn that box around and read the ingredients, you won't know or be able to pronounce at least half of them. In other words, they are not food. They were never meant to be eaten. They are processed ingredients that are really just making you sick. Your body doesn't recognize them as food and doesn't know what to do with them. And over time it is your health that pays the price.
So, with that in mind, let's go over the principles of the paleo diet.
Paleo Diet Principles:
1. EAT WHOLE, NOURISHING FOODS AND AVOID PROCESSED FOODS
Food was meant to be eaten in its natural form. Processing and refining strips food of its nutrients including vitamins and minerals, while eating food in its true form will promote health, healing and help protect you from certain diseases and health problems. This includes whole fruits and vegetables that have been recently harvested and are free of pesticides and growth promoting factors, meat from animals raised in the traditional manner and raw seeds and nuts that have been properly prepared by soaking and dehydrating them before eating. These are the foods humans evolved on and are the foods we are meant to eat.
People are often surprised when I tell them that grains are a processed food. This is just one of the reasons why grains are not allowed on the paleo diet. I wrote an entire post on Why Grains Are Not Healthy which you may want to read if you still believe that grains should be a big part of your diet. They shouldn't be!
2. DON'T COUNT CALORIES
I know this goes against everything you've been taught. Especially if you are looking to lose weight. But food is so much more than its calorie content and counting calories often leads to restrictive eating patterns, which in the end is not sustainable and will just set you up to fail and gain more weight in the future. Changing your diet also means changing your relationship with food. Food is not the enemy. You need food to survive, stay healthy and even heal. Start listening to your body. Eat when you are hungry, and stop when you are full. Don't try and multi-task when you are eating. Pay attention to your food and chew it thoroughly. As you start changing your relationship with food, and start eating nourishing, anti-inflammatory foods, you will have a much easier time regulating your weight, without having to stress yourself out about how many calories you are eating, and how you are going to get through the day while still feeling hungry and deprived. As well, by increasing your intake of saturated fats and more filling ingredients you will find that your food cravings will start to disappear, you will stay fuller longer, and the tendencies to overeat and binge on unhealthy foods will disappear, all of which will help you regulate your weight naturally over time.
3. EAT FOODS THAT SUPPORT DIGESTIVE HEALTH
One of the biggest problems with the standard North American diet is its damaging effects on the digestive tract. Grains, legumes, dairy, soy and other processed ingredients can all damage the intestinal tract. Normally your digestive tract is lined with cells that are tightly connected by cells called tight junctions. Unfortunately, these tight junctions get damaged by proteins in grains, dairy, legumes and soy, allowing the cells of the gut to become leaky. Leaky gut syndrome (otherwise known as increased intestinal permeability) allows food particles, toxins, bacteria and other foreign particles that should remain in the gut to cross the gut barrier and thus enter the blood stream. This can lead to systemic inflammation, and in susceptible people, will contribute to the development of many chronic diseases, especially autoimmune diseases, as your body starts to attack these foreign particles. Every day more and more chronic diseases and autoimmune diseases are being linked to leaky gut syndrome, and I personally feel that this is one of the biggest factors that must be addressed for anyone with an autoimmune disease or chronic health condition.
4. EAT ANTI-INFLAMMATORY FOODS
Another problem with the North American diet is how inflammatory it is. Almost all chronic health conditions, everything from mood disorders to autoimmune diseases to heart disease, have been linked to increased inflammation in the body. Even foods that typically would not cause inflammation now do because of the processing that is used to make them. For example, cows raised on grass produce meat with an omega-6 to omega-3 ratio of 1-4:1. However, cows fed grains (as they are on most modern farms) produce meat with an omega- 6 to omega-3 ratio of 20-40:1. And since omega-6 is an inflammatory fatty acid, and omega-3 an anti-inflammatory fatty acid, this excess intake of omega-6 ultimately leads to increased inflammation in the body. The same goes for many others foods, including fish. Wild fish, which are able to eat their natural diets, produce meat that is very high in omega-3. However, farmed fish, which are fed corn and other grains, produce meat with very little omega-3, and high omega-6 levels. So, one of the major ways that changing to the paleo diet can improve your health is by decreasing the inflammation in your body.
5. LIMIT YOUR SUGAR INTAKE
I am a big believer in balance when it comes to the paleo diet. Yes, you can definitely eat a paleo-friendly treat made with nourishing ingredients from time to time. You will find a lot of paleo friendly dessert recipes on my blog for this very reason. What would a birthday or special occasion be without dessert? However, the point of switching to the paleo diet is to improve your health. The idea is not to only eat sweets because they are "paleo safe." That totally misses the point. The point is to start focusing on whole, nourishing foods that will allow your body to heal and thrive. At the end of the day, sugar is sugar, and an excess, even if it comes from good sources, is still unhealthy. Too much sugar intake is linked to a multitude of health problems including obesity, diabetes, heart disease, liver disease etc. All the conditions you are trying to prevent or heal by switching to the paleo diet in the first place.
6. EAT WHAT'S RIGHT FOR YOU
If there is one thing I cannot emphasize enough is that when it comes to food, there is no one size fits all approach. The paleo diet is not a prescription, it is a way of eating. Everyone is unique, and the foods that allow one person to thrive can have devastating effects on someone else. That is why my number one rule is to listen to your body first. If a food does not agree with you, don't eat it. Even if it is known to be "healthy". For example, many of my patients with rheumatoid arthritis notice that their joints flare when they ingest nightshade vegetables. For these patients I recommend avoiding them, while for other people who don't react to nightshades I encourage their intake. Again, everyone is unique.
Now, I don't want to go over too many more details as this post is already getting long, but I am going to answer a few frequently asked questions that I get about the paleo diet.
Frequently Asked Questions:
What do you eat on the paleo diet? The idea of the paleo diet is to eat real, unprocessed food. I will do an entire post dedicated to this answer but in general you can eat: Meat (pasture raised, grass-fed), eggs, nuts, seeds, fruits, vegetables, natural sweeteners (honey, maple syrup and coconut sugar), and healthy fats (avocado oil, grass fed butter or ghee, coconut oil, lard etc).
What can you not eat on the paleo diet? Again, I will do an entire post dedicated to this answer but in general, you should avoid grains, dairy, soy, legumes, crop oils, refined sugars or sweeteners, and any processed foods or ingredients.
Are oats paleo? No they are not. The paleo diet does not allow grains of any kind.
Is quinoa paleo? Nope! It's also a grain, and can be very hard on the gut.
Are bananas paleo? This is a funny question but yes bananas and all fruits are allowed on the paleo diet.
Can I have potatoes on the paleo diet? Technically no. According to the strictest paleo diet "rules" potatoes are not allowed. However, many paleo bloggers and experts now allow them. I personally eat them and think that for most people they are fine and a healthy option.
Are tomatoes allowed on the paleo diet? Yes! All fruits and vegetables are allowed. However, if you are following the autoimmune paleo diet (AIP) nightshades are not allowed, at least initially. Again, when it comes to specific foods, even if something is "allowed" if you personally don't do well with that food please don't eat it.
Paleo Recipes You Will Love:
Dairy Free Brownies with Caramel
Paleo Chocolate Chip Banana Bread
Whole30 Cilantro Lime Dressing
I hope this has been a helpful introduction to what the paleo diet is. In upcoming posts I will cover common paleo diet myths, what foods are allowed and not allowed on the paleo diet, provide easy to read paleo food lists and share my tips for starting the paleo diet.
Pin This Post For Later: