The post reviews the safest sunscreens that actually work and are not only safe for your health but are also reef safe, safe for children, breastfeeding and pregnant women. These are the safest mineral sunscreens that fit every budget.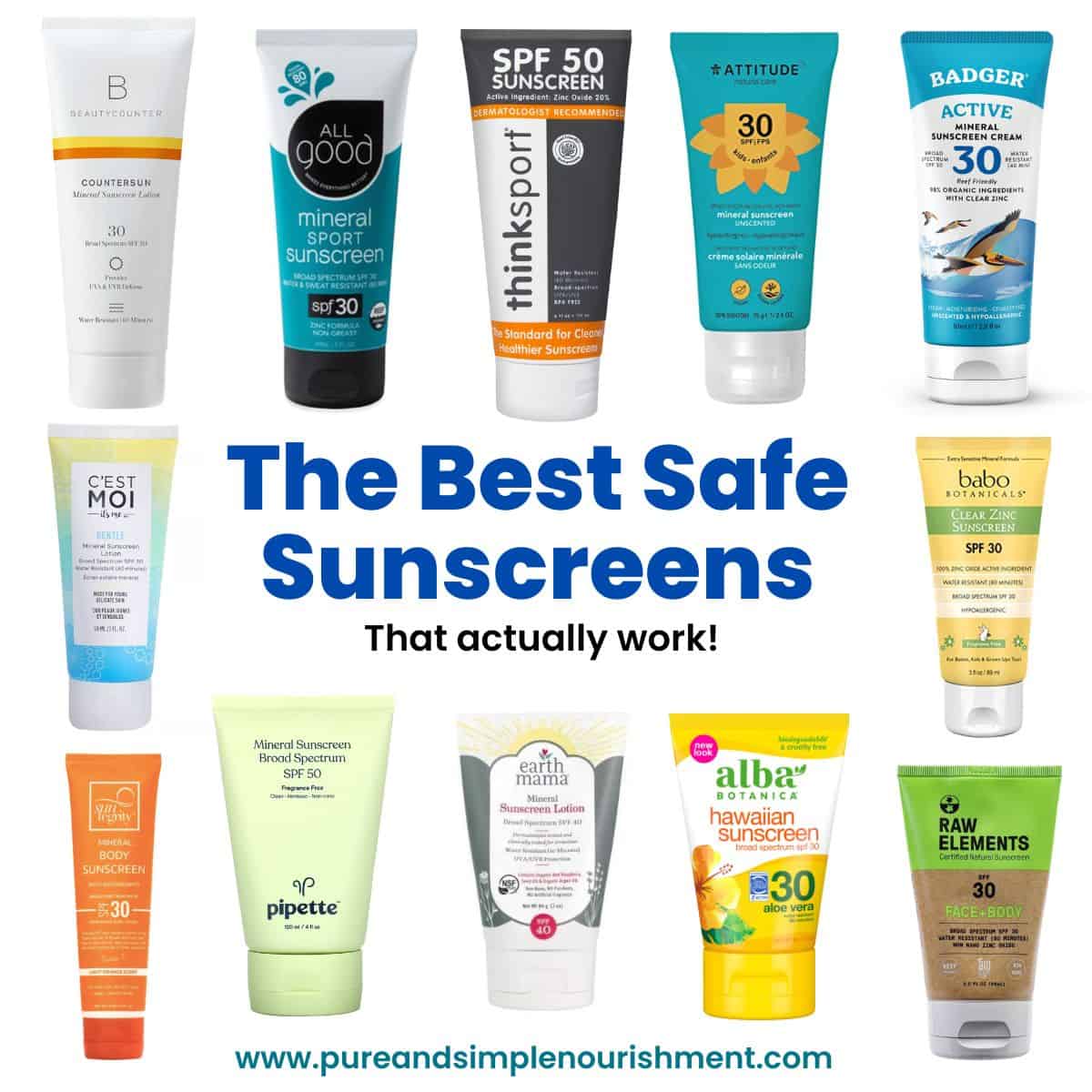 Wearing sunscreen when you are spending time outside is important. Too much sun exposure can damage the skin and cause sun burns, blisters, dark spots, wrinkles, premature aging of the skin, and can increase your risk of skin cancer. This is where sunscreens come in. Sunscreen can help protect your skin from the damaging effects of too much sun exposure, while still allowing you to enjoy time outside.
But not all sunscreens are created equal when it comes to our health and the environment. When it comes to active sunscreen ingredients – the ones that protect you from the sun's UV rays – there are two different types of ingredients: mineral and chemical filters. Mineral and chemical filters use different mechanisms for protecting your skin from the sun. Classically, the most common sunscreens on the market have been made with chemical filters. But mineral sunscreens are becoming more and more popular as people are starting to realize the many health concerns and environmental concerns that the chemical sunscreen ingredients have.
In this post I will take you through the differences between chemical sunscreens and mineral sunscreens and help teach you which type of sunscreen is better. And which sunscreens are the safest to use for your health and the environment. You'll learn the healthiest sunscreens to buy and here you'll find the best non toxic sunscreens.
Note that this guide to safe sunscreens was originally published in 2016. It has been updated many times since, most recently in April 2023.
The Safest Sunscreens
The Differences Between Chemical and Mineral Sunscreens
When it comes to sunblock or sun protection, you have a few options: chemical sunscreens, mineral sunscreens, and physical blocks or barriers such as clothing and hats. Initially, sun "screens" only protected against UVA radiation. But they are now required to offer both UVA and UVB protection. This is where the term "broad-spectrum" originated.
Chemical sunscreens work by absorbing the sunscreen's ingredients into your skin and then absorbing UV rays or UV radiation through the ingredients' chemical bonds. As these chemicals absorb the suns UV rays, the components of the sunscreen break down and then release heat from the body.
In contrast, mineral sunscreens work by providing a physical barrier to protect your skin from the sun. They protect the skin from the sun by sitting on the skin and blocking the sun's rays.
Mineral sunscreen ingredients, including zinc oxide and titanium dioxide offer superior sun protection compared to chemical sunscreen ingredients. Because of this, in order to increase their effectiveness, you will see chemical sunscreen brands combining multiple chemical sunscreen ingredients in a single product to help increase their ability to protect you from the sun.
Mineral sunscreens not only work really well, but they are also safe and non toxic for our health.
They are also safe for the environment and the coral reefs. In contrast, many of the chemical sunscreen ingredients have significant health concerns. And can also be bad for the environment and the coral reefs.
When it comes to the chemical sunscreen ingredients, they have many known health risks including:
There is also a significant lack of safety data in humans when it comes to the chemical sunscreen ingredients. When these ingredients were initially approved for use in sunscreen it was assumed that very little of these chemicals would be absorbed through the skin. Unfortunately, recent studies show that there is significant absorption of chemical sunscreen ingredients through the skin, leading to plasma concentrations that surpass the FDA's safety threshold.
Because of this, the most recent Food and Drug Administration (FDA) recommendations are that ONLY zinc oxide and titanium dioxide can be recommended as generally safe and effective (GRASE) when it comes to sunscreens. 
In fact, the FDA says that ALL chemical sunscreen ingredients CANNOT be recommended as generally safe and effective.
The FDA states that two chemical sunscreen ingredients, trolamine salicylate and aminobenzoic acid (PABA) should not be used as the risks associated with these ingredients in sunscreen products outweigh their benefits. When it comes to the other twelve chemical sunscreen ingredients (cinoxate, dioxybenzone, ensulizole, homosalate, meradimate, octinoxate, octisalate, octocrylene, padimate O, sulisobenzone, oxybenzone, and avobenzone) they say there is a lack of safety data to recommend their use.
The safest types of sunscreen you can find are mineral sunscreens that use zinc oxide and titanium dioxide which act as a physical barrier protecting the skin. However, not all mineral sunscreen products are created equally. I tried many mineral sunscreens that just didn't work that well. It took me a long to find brands that are not only safe and non toxic, but also work well. I hope that all my trial and error will save you money and grief. Below I've put together a list of the safest sunscreens that also work really well.
Benzene in sunscreen:
Before we get to the list of the best safe sunscreens, I first wanted to quickly touch on the issue of benzene in sunscreen.
You have probably heard about the thousands of sunscreens that have been recalled over the last couple years due to their contamination with benzene. These include both chemical and mineral sunscreens, and many from popular brands including but not limited to Neutrogena, Sun Bum, Raw Elements, CVS Health, Banana Boat, EltaMD, Babyganics, Coppertone, Walgreens, Ethical Zinc, Max Block, La Roche Posay, Aveeno and more. Benzene is a known carcinogen and can also cause other health issues such as aplastic anemia, so it really should not be in our sunscreen (or any other products for that matter). Be sure to keep an eye on the FDA and Health Canada recall lists to keep up-to-date on the latest sunscreen recalls related to benzene.
The Safest Sunscreens (That Actually Work)
These are the safest mineral sunscreens I have tried that also work really well.
Beautycounter Sunscreen
The Beautycounter sunscreens are BY FAR my favorite mineral sunscreen products. They not only work really well, but they go on nice and clear compared to many other mineral sunscreens. Besides formulating with safe ingredients, Beautycounter also checks every batch of their products for contaminants so that harmful ingredients like benzene would never end up in their sunscreen - in other words, the Beautycounter sunscreen is safe sunscreen that does not have benzene in it (if you are not familiar with the benzene issue, be sure you read about all the recent sunscreen recalls related to benzene contamination.)
Beautycounter makes a few different sunscreens depending on your preferences:
This is my personal favourite body sunscreen. This SPF 30 lotion blocks both UVA and UVB light and is formulated with California Poppy to block blue light. It offers water resistance for up to 40 minutes. It's also safe for children 6 months and older. It goes on nice and clear, leaving no white cast, and blends really easily.
My friends with kids love this product! It's easy for them to use. And is small enough to keep in a purse or diaper bag. Like the sunscreen lotion, this sunscreen also blocks UVA and UVB rays as well as blue light offering broad spectrum sun protection. It's water resistant for up to 80 minutes. And is also safe for children 6 months and older.
This sunscreen spray is formulated without aerosol chemicals and uses air pressure technology to propel the liquid out of the container. Like the other sunscreen formulas it blocks UVA, UVB and blue light and is water resistant for up to 80 minutes.
This is the best face sunscreen! It goes on nice and clear without any white cast. Also has moisturizing ingredients to keep your skin hydrated. It protects from UVA, UVB, and HEV blue light rays. So it offers broad spectrum sun protection. It even contains antioxidants such as vitamin E to help protect the skin from pollution. Plus chicory root extract and squalene to help lock in moisture and keep the skin hydrated.
This is one of my all-time favourite skincare products. It gives your skin the nicest dewy glow. I use it every single day, even in the winter. It is an SPF 20, blocking UVA and UVB rays. The formula also features a blend of black currant seed oil, peony root extract, and vitamin C, to help brighten the skin and even skin tone. The Dew Skin has also been clinically proven to increase skin firmness and elasticity.
If you are interested in Beautycounter sunscreen they have been kind enough to give me a 20% off code for all of you. Simply shop through this link and use the code CLEANFORALL20 at checkout to get 20% off your order!
Alba Botanica Sunscreen
Alba Botanica makes a variety of different sunscreens including sunscreen lotions and sprays with SPF values that range from SPF 15 to SPF 50. Their sunscreens are made with mineral sunscreen ingredients and are broad spectrum and water resistant.
Alba Botanica sunscreens are made with 100% vegetarian ingredients and botanicals and are biodegradable with fragrance free options.
I recommend sticking with their sunscreen lotions rather than sprays and love both their face sunscreen lotion and body sunscreen lotion.
All Good Sunscreen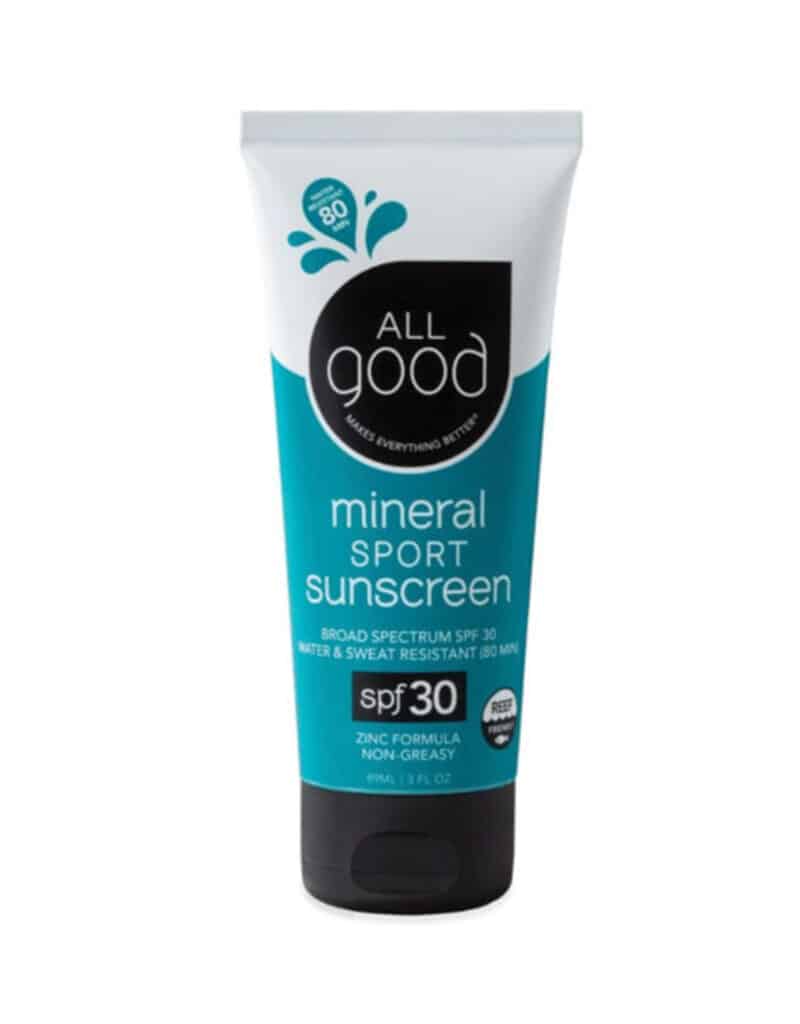 All Good makes a variety of mineral sunscreens including sunscreen lotions and sticks with formulas for adults, babies and kids. Their sunscreen is made with natural ingredients and is gentle and safe for babies 6 months and older.
All Good sunscreen is reef friendly and water resistant up to 80 minutes. It also offers full UVA/UVB broad spectrum protection.
I recommend the All Good Kids and Baby Mineral Sunscreen lotion, their Mineral Sunscreen lotion and their sunscreen sticks and lip SPF.
ATTITUDE Sunscreen
ATTITUDE is a well known safe skincare brand that is readily available in many grocery stores, drug stores, and online. Like their other safe products like body lotion and body wash they also make great safe sunscreens.
ATTITUDE sunscreen is made with mineral sunscreen ingredients including non-nano zinc oxide, is fragrance free, reef safe, and comes in sunscreen lotions and sticks in a variety of different SPF values. Their sunscreen is also vegan and cruelty free and they do offer some plastic free packing.
I recommend the ATTITUDE mineral sunscreen lotion and their mineral sunscreen sticks.
Badger Sunscreen
Badger is another great, top rated, non toxic brand that makes a few different sunscreen products. Their products are safe and effective and they rank a 1 on the environmental working group (EWG) skin deep guide. Just be aware that they are pretty thick. And I find they do leave more of a white cast on your skin.
Badger makes a variety of different sunscreen options including:
Babo Botanicals Sunscreen
Babo Botanicals makes plant based skincare products and they make great mineral sunscreens that protect from UVA and UVB rays. They make sunscreens for adults and babies, and for bodies and faces. Their products are great for sensitive skin and their sunscreens are not only safe, but they work really well too!
C'est Moi Sunscreen
C'est Moi makes clean skincare and cosmetic products and their sunscreen is no exception. Their mineral sunscreen is broad spectrum. And their sunscreen stick is extremely highly rated. Plus, look how pretty their packaging is!
Pipette Sunscreen
The Pipette mineral sunscreen is a baby friendly formula that is lightweight, long-lasting and gentle. It offers broad spectrum sun protection and is made with moisturizing, non comedogenic ingredients. So it's great for the whole family.
Raw Elements Sunscreen
Raw Elements is another great brand of safe, natural sunscreen. Their sunscreen is organic, made with non-nano zinc, is water resistant up to 80 minutes, reef safe and biodegradable. Their sunscreen lotions also come in biodegradable packaging!
I recommend their sunscreen lotions, baby and kids sunscreen, and their tinted sunscreens.
Suntegrity Sunscreen
Suntegrity is another great safe mineral sunscreen option. They use a non-greasy formula which is mineral oil free, paraben free and phthalate free. Their sunscreen is cruelty free and vegan, made with non-nano zinc oxide, reef safe and offers broad spectrum protection.
I recommend the Suntegrity body sunscreen lotion, and their tinted sunscreen.
Earth Mama Sunscreen
Earth Mama is another great non toxic brand. They make a few different sunscreen products depending on your needs. They make both body and face sunscreens. And products for both adults and babies.
Thinksport and Thinkbaby Sunscreen
Thinksport and Thinkbaby make a number of great non toxic and safe personal care products including deodorant and sunscreen. They make a variety of sunscreens including lotions, sticks and sprays. Their sunscreens are dermatologist recommended, reef-safe, biodegradable, kid-friendly, and water resistant up to 80 minutes. They are made with safe ingredients and and work to protect the skin from harmful UVA and UVB rays.
I personally recommend any of the Thinksport and Thinkbaby sunscreen lotions and sunscreen sticks.
Well there you have it. My favourite safe sunscreens! If you have any other safe sunscreen brands that you like please let me know and I would be happy to add the to the post.
Frequently asked questions:
How do you use sunscreen properly?
To use sunscreen properly, you should apply it 15-30 minutes before going into the sun, and then reapply it every 1.5-2 hours, or anytime you have been in the water or sweating in large amounts.
What is the safest sunscreen to use?
The safest sunscreens are ones that are mineral sunscreens that are tested for benzene contamination, and that are free of fragrances, parabens and phthalates.
What is a safe sunscreen without benzene?
Beautycounter sunscreen is a great safe sunscreen, that is tested to ensure it doesn't have benzene contamination.
Other health information you will be interested in:
References: