Is corn paleo? This is one of the most common questions that gets asked about the paleo diet. This post will answer that question and explain why.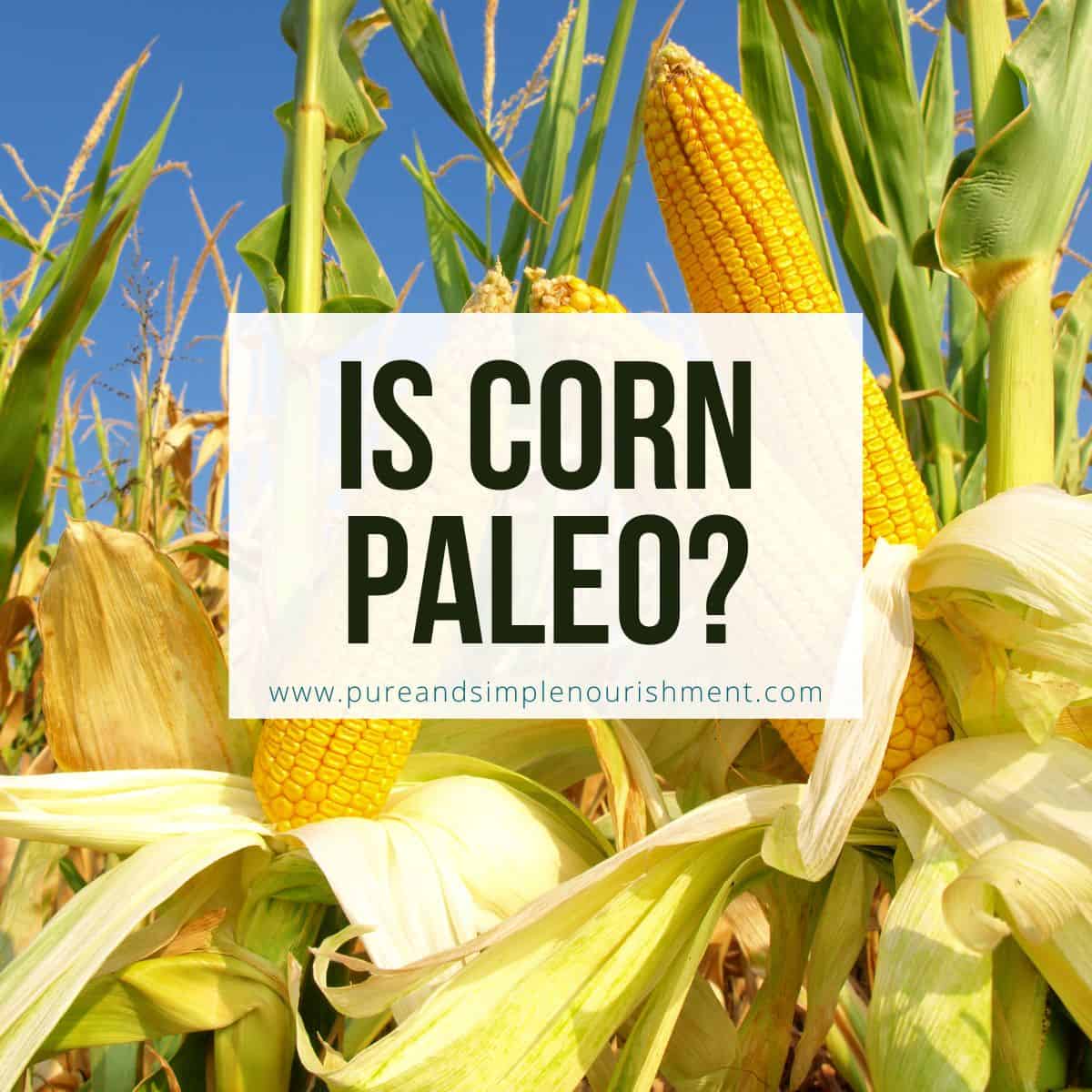 Is corn paleo?
Have you ever wondered if corn is paleo? I get this question quite frequently so I thought it was finally time I wrote a post about it. The simple answer is no, corn is not paleo. If that's all you needed to know then you have your answer. If you want to know why, keep reading for all the info!
However, always remember my biggest piece of advice when it comes to food: there is no one-size-fits-all diet. What works well for you may not work well for someone else, so if you do well with corn of course continue eating it!
What is corn?
Corn or maize, is a cereal grain that was first domesticated by indigenous peoples in southern Mexico approximately 10,000 years ago. It is a common misconception that corn is a vegetable, but it is actually a grain.
Corn nutritional information:
Raw, yellow corn kernels are composed of 76% water, 19% carbohydrates, 3% protein and 1% fat. In a 100 gram serving, corn provides 86 calories and is a good source of B vitamins. Corn is also a source of dietary fiber as well as magnesium and phosphorus.
What is the paleo diet?
To understand if corn is paleo, first you have to understand what the paleo diet actually is. The paleo diet is a way of eating that mimics how our ancestors ate. It emphasizes the foods that humans evolved on and allowed us to thrive. Foods like meat, vegetables, fruits, nuts and seeds. It empathizes anti-inflammatory foods and foods that support gut health and foods that help prevent chronic disease. To learn more you can read my full article on the paleo diet here.
The paleo diet does not allow certain foods that are know to be hard on the gut, or foods that are high in anti-nutrients. Grains are one of the foods not allowed on the paleo diet for these reasons (you can learn even more in my post, why grains are not healthy). Grains, including corn, can be very hard on the digestive tract and contain anti-nutrients called lectins and phytic acid that interfere with the absorption of vitamins and minerals.
Is corn paleo?
Since corn is a grain and grains are not allowed on the paleo diet, the answer is no, corn is not paleo.
Should you eat corn?
My number one rule when it comes to food is to do what works best for you and your health. If you do well with corn, of course keep eating it. I personally don't eat corn because it's hard on the gut and isn't that high in nutrients so I prefer to focus on foods that are higher in nutrient density, that are easier to digest, and that don't interfere with the absorption of other vitamins and minerals. But what works for me may not be what's best for you, so please, listen to your body first!
Frequently asked questions:
What grains can I eat on paleo?
None! The paleo diet doesn't allow any grains.
What vegetables are not paleo?
None! All vegetables are allowed on the paleo diet and their intake is emphasized and encouraged.
Is popcorn paleo?
No, popcorn is not permitted on the paleo diet.
Other information you will be interested in: