This post has all the best paleo diet dips for beginners! If you are planning on trying the paleo diet be sure to read this information first. It will make the paleo diet so much easier for you.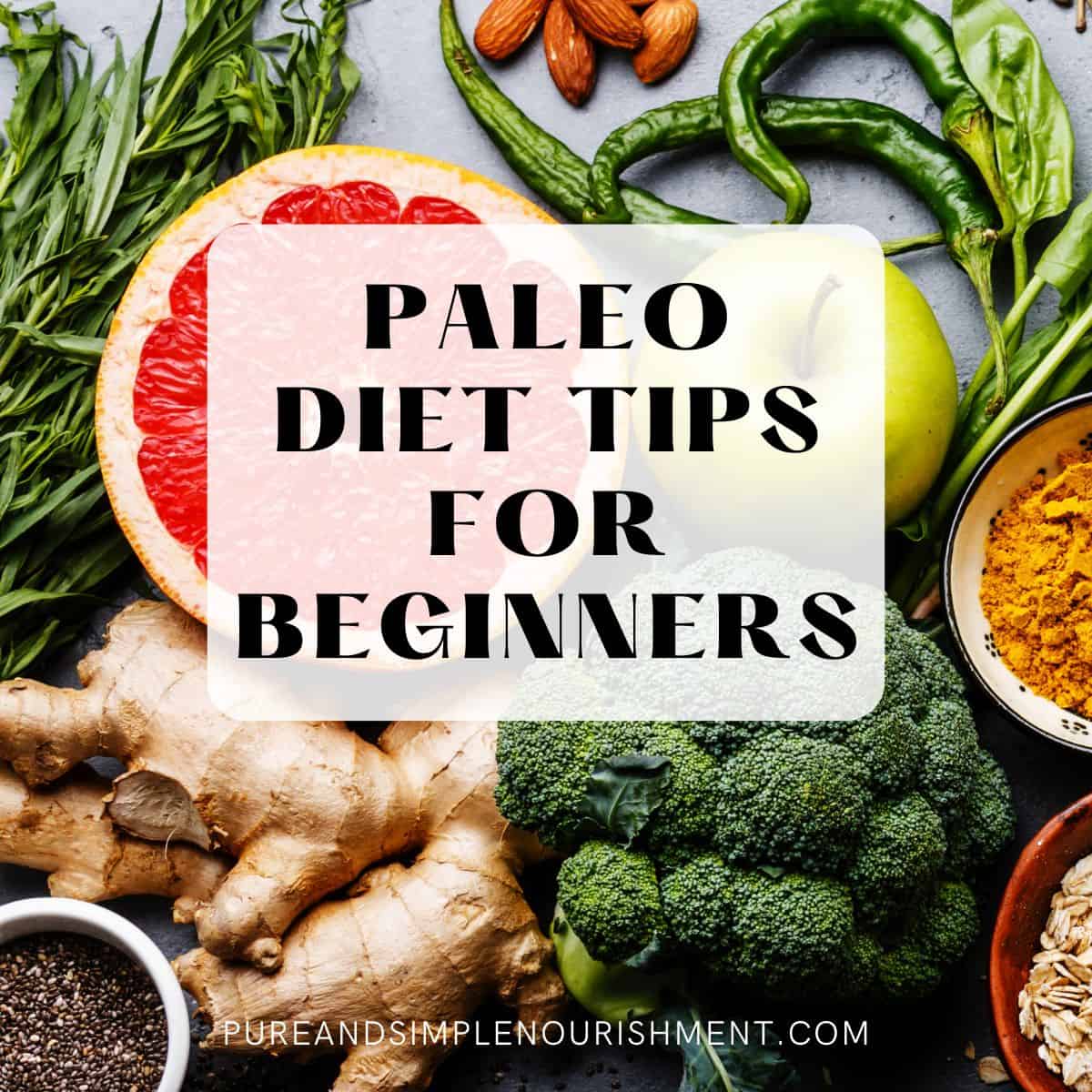 Paleo diet tips for beginners:
The paleo diet, also known as the paleolithic diet, the caveman diet, the hunter gatherer diet, or the stone-age diet is a way of eating that emulates the way our ancestors ate. The paleo diet is the diet that allowed humans to evolve and thrive. Unfortunately, our modern food system has completely changed the way we eat. Nutrient poor, processed food has become the norm, and we are suffering many ill health effects as a result. Our bodies and digestive tracts have not evolved as quickly as our food system has and most of us do very poorly when we try to eat the way our modern food system encourages.
Many chronic health issues are on the rise, and they are all conditions that basically did not exist when our ancestors were eating real, nourishing food. Now, I am not saying that what we eat explains all aspects of these health issues, but it does play a role in many of them.
The paleo diet encourages you to eat real, whole foods. Foods that are unprocessed and come from the Earth. It encourages you to eat fruits, vegetables, meat, nuts, and seeds and to avoid processed food and refined sugars. Since switching to a paleo diet I have seen many improvements in my own health including healing my acne, keratosis pilaris, chronic diarrhea and vomiting, heat rashes and chronic headaches.
The paleo diet has also been shown to be helpful for many different health conditions, including for weight loss, diabetes, fatty liver, heart disease, chronic pain, digestive issues such as bloating, gas and constipation etc. I have included an extensive reference list at the end of this post if you are interested in learning more and reading the studies that have been done on the paleo diet.
If you are interested in trying the paleo diet for yourself, here are 18 tips to help get you started.
18 Paleo Diet Tips for Beginners
Personally I don't love the name "paleo diet" because this way of eating really isn't meant to be a diet. It's really about shifting your eating habits to focus on real, nourishing food, and is meant to be a lifestyle shift rather than a short term diet or fad. Because we all know that short term diets or fad diets just don't work. They can be helpful in the short term but almost always lead to relapses and are not helpful in the long run.
As I mentioned I have seen hug improvements in my own health since switching to the paleo diet, and I have also seen huge improvements in my patients' health if they try this way of eating. Because I am so passionate about this way of eating, I decided to write this post to share all my best tips and tricks for starting a paleo diet. Now of course, before making any diet or lifestyle changes, always be sure to discuss it with your own doctor or health practitioners first. This is not to be taken as medical advice.
And to get the most of the paleo diet, be sure to sign up for my newsletter where I share delicious paleo recipes along with other healthy living tips!
Do Your Homework
The paleo diet is not something you can just decide to start tomorrow. You can attempt to do it, but I know from experience that changing to the paleo diet requires a total lifestyle adjustment. If you don't do your homework ahead of time and gather the tools, recipes, food items and resources you need to eat in the paleo style it is highly unlikely that you will succeed. And I want you to succeed!
Now, there are many paleo resources out there that I found extremely helpful when I first changed my diet. I created a list of my favourite informational books and cookbooks for you so that you can easily prepare yourself ahead of time.
Paleo Information Books:
My Favourite Paleo Cookbooks:
And if cookbooks aren't your thing, I've got hundreds of free paleo recipes on this site! Just click here to see them all.
Don't Count Calories
This may sound counter-intuitive, especially if your goal is weight loss. I know that many "diets" encourage you to stick to a low calorie count. But the paleo diet isn't like that. In fact, you don't need to count anything on the paleo diet. Not calories or macros (unlike the keto diet for example). Food is so much more than its calorie count and counting calories often leads to restrictive eating patterns, which in the end is not sustainable or healthy.
Changing the way you eat also means changing your relationship with food. Food is not the enemy. You need food to survive, to stay healthy and even to help heal and improve your health. In fact, some of the most nutrient dense food is also some of the most calorically dense food, so by restricting calories you ultimately end up restricting nutrients, which in the long run is not healthy. That's why you don't count calories on the paleo diet.
Another premise of the paleo diet is to listen to your body. Eat when you are hungry, and stop when you are full. Pay attention to your food and chew it thoroughly. As you start changing your relationship with food, and start eating nourishing, anti-inflammatory, whole foods, as well as healthy fats, you will naturally start to regulate how much you eat so counting calories becomes irrelevant. As well, by increasing your intake of more nutrient dense and filling foods (including healthy fats) you will find that overtime your food cravings will start to disappear, you will stay fuller longer, and the tendencies to overeat and binge on unhealthy foods will disappear. This will also help you naturally lose weight (if you need to) overtime, all without counting a single calorie!
Eat What Works For You
I cannot emphasize this one enough - when it comes to food, there is no one size fits all approach. The paleo diet is not a prescription, it is a way of eating. Everyone is unique, and the foods that allow one person to thrive can have devastating effects on someone else. That is why my number one rule when it comes to eating is to listen to your body. If a food does not agree with you, don't eat it. Even if it is a "healthy" food.
For example, some of my patients with rheumatoid arthritis notice that their joints flare when they eat certain nightshade vegetables. For these patients I recommend avoiding them, while for other people who don't react to nightshades I encourage their intake. Again, everyone is unique.
Eat Healthy Fats
Repeat after me: fat is not the enemy. In fact, your body needs fat to function. But you want to be sure to eat the right fats. The healthy fats. This includes eating the whole egg (that's right, don't be scared of the yolk - that's actually where most of the vitamins and minerals are!). It includes fats like avocado oil, coconut oil, olive oil, lard, butter ghee, and bacon fat. Just be sure to avoid the processed crop oils like canola oil, sunflower oil, soy oil and more.
Learn to Cook
This may sound daunting, but by learning to cook you can easily make delicious paleo friendly meals and recipes at home. Plus it's so much healthier and cheaper to make your own food rather than eating out all the time.
Plan Ahead
I know this isn't always possible, but if you are able to meal plan and plan your meals for the week ahead of time it will make your life so much easier. I love to batch cook a bunch of meals on the weekend so that I have food for my breakfasts and lunches all week long.
Read Food Labels
When was the last time you read a food label? Sadly a lot of foods out there contain some not so healthy ingredients. Many of the products you can find in stores are full of ingredients you'll want to avoid. Ingredients like artificial flavours, natural flavours, refined sugars, crop oils and more.
Eat More Fruits and Vegetables
When some people think of the paleo diet they assume that all you can eat is meat. That is just not true! You can eat so many delicious foods like fruits, vegetables, nuts, seeds, fish, and yes, meat too. Fruits and vegetables are a great source of many vitamins and minerals so stock up! And you don't have to avoid starchy vegetables either. Remember, we aren't counting calories or macros so enjoy those sweet potatoes, turnips, parsnips, carrots and whatever other veggies you love.
Stock Your Pantry with Paleo Friendly Foods
When your house is full of delicious, paleo friendly foods you will be less likely to turn to processed foods when you are hungry. I keep my pantry stocked with paleo staples like almond flour, nuts, seeds, honey, apple sauce, canned fish, olives, dark chocolate (yes this is allowed) and more.
Buy in Bulk
You can save so much money by buying in bulk! When was the last time you checked out the bulk section in your local grocery store? You can find so many different foods in that area now. I suggest checking out the bulk section for raw nuts, certain flours (some stores carry bulk almond flour and coconut flour now), and shredded coconut.
Now, the bulk section isn't the only place you can buy in bulk. Many online stores also offer bulk options. This is how I purchase my almond flour. I usually buy 20 pounds (yes I know, it's a lot) at a time and store most of it in my deep freezer. If you don't already own one, I highly suggest purchasing a deep freezer. It will be your life savor on the paleo diet. And what if you still don't have room for all those bulk goods? Split them with a friend! As well, when you are shopping online you will note that many stores, like Amazon.com, offer better deals the more you buy. I never buy things like shredded coconut in just one package. It is always cheaper to buy 3-4 packages at once. So make sure you do your homework before purchasing.
Another tip for buying in bulk is to talk to your local organic grocery store. They often offer deals if you buy an entire case or flat of something. But they might not advertise this, so it's important to ask! Things like coconut milk and grass fed butter are great to buy this way.
Meal Prep and Learn to Love Leftovers
Meal planning can make your life so much easier when you are on the paleo diet. If you plan out your weekly meals ahead of time you should only have to grocery shop once a week and then you can enjoy your planned meals all week long. I love to batch cook a few meals on the weekend and then enjoy the leftovers for other meals throughout the week.
Tell Your Friends and Family
This is an absolute must! Especially your family. It would be very difficult, if not impossible, for you to succeed on the paleo diet unless your loved ones were also on board. Now, you don't have to transition them completely over as well (although you will be much more likely to succeed if you are all eating the same way) but I do suggest that at main meals like dinner, which you eat together, you make one paleo style dish that everyone can eat and enjoy.
I also suggest telling your friends that you are starting your paleo diet for a couple reasons. First, when you go out together they will understand why you are ordering certain foods in the way that you are, and second, they may even decide to change their diets with you. Since I changed my diet I have had a few friends change theirs as well because they saw how well I was doing. It's always more enjoyable to start a new adventure with friends and a support system.
Create a List of Go-To Recipes
There are so many delicious paleo recipes out there! I recommend keeping a list of your favourites handy so that you are never out of ideas for what to cook. I have hundreds of free paleo recipes on my site. You can check them all out here.
Move Your Body
A paleo diet isn't just about what you eat. It's about your lifestyle. And we know that our ancestors were not sedentary. They had to move a lot! They literally had to hunt and gather all their food. Now, you don't have to do a lot of exercise to reap the health benefits. I suggest starting slow and focusing on the activities you enjoy. If you enjoy them, you are way more likely to stick with them!
Spend Time Outside
Another key part of the paleo lifestyle is spending time outside. This is a great way to get natural vitamin D, and it's extremely beneficial for both your mental and physical health.
Get Enough Sleep
Getting enough sleep is crucial for health. If you are sleep deprived, you are not going to reach your full health potential, and that's the whole point of changing your lifestyle isn't it? I recommend trying to get 6-8 hours of sleep a night.
Change your Mindset
Mindset is so powerful when it comes to food and healing. It's easy to become resentful and bitter about all the foods you can no longer eat, but on the flip side, just think of all the foods you can eat! Instead of thinking "I have to eat this way" change that statement to "I get to eat this way." You get to help your body heal through real, nourishing food. You get to enjoy so many delicious foods and recipes! The paleo diet really doesn't have to be limiting at all. But if you think of it as limiting, it will feel limiting. I am so grateful for the paleo diet. It has given me my life back and I know it's done the same for so many others. Gratitude goes a long way when it comes to healing and improving your health.
Don't Worry About Being Perfect
Obsessing over every single thing you eat is not healthy. It can also lead to restrictive eating patterns. So don't worry about being perfect on your paleo diet. You still need to live your life! If you know there are certain foods that make you feel unwell, do your best to avoid those. If you know you are going to be in a situation where there isn't anything safe for you to eat, bring some snacks or your own meal. Do what's best for your body and your lifestyle. Remember, this is supposed to be a long-term lifestyle change. Not a short term fad diet.
Frequently asked questions:
What foods are allowed on the paleo diet? 
You can eat so many foods on the paleo diet! You can eat meat, vegetables, fruit, dried fruit, seeds, nuts and healthy fats. And you can also use natural sweeteners like honey, maple syrup and coconut sugar. To make things easier for you I created a printable PDF with a full list of foods that are allowed on the paleo diet and foods to avoid on the paleo diet.
Is cheese allowed on the paleo diet?
The paleo diet doesn't allow dairy, but the primal diet does. It recommends consuming full fat, raw dairy if possible. When it comes to dairy I say do what works best for you. If you tolerate it, continue eating it. If you don't cut it out.
Is honey allowed on the paleo diet?
Yep! Natural sweeteners like honey and maple syrup are allowed on the paleo diet. The paleo diet doesn't allow refined sugars or processed sweeteners like corn syrup, cane sugar etc.
Other health info you will want to read:
References: