This is the best dill pickle salad dressing recipe! Using leftover pickle juice, this creamy pickle juice dressing is so easy to make using pantry staple ingredients like mayonnaise, honey and dijon mustard. It's perfect for salads and this healthy salad dressing has such a delicious flavour.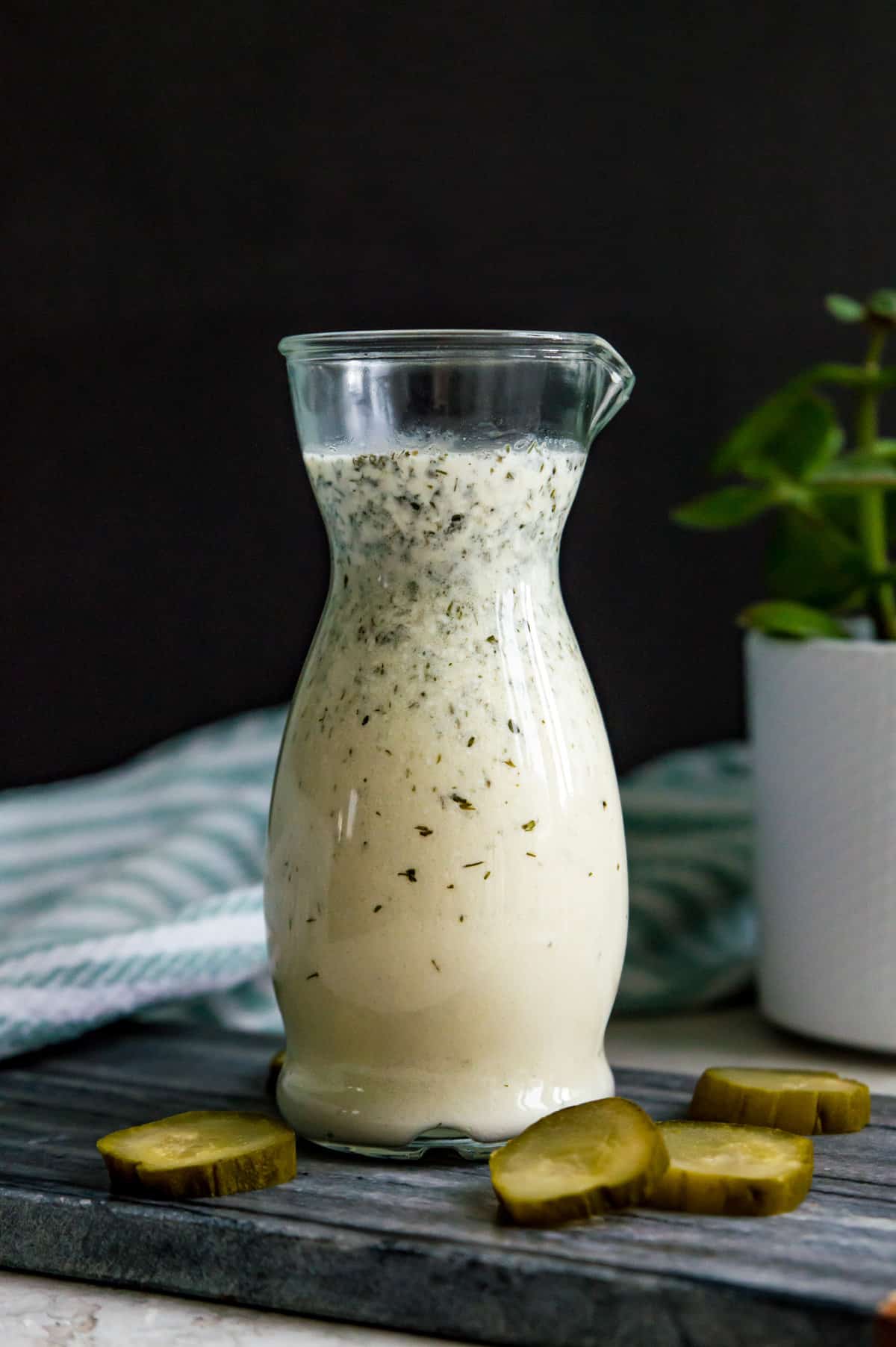 Why you will love this recipe:
Move over Taylor Farms, move over Costco - this is the best dill pickle salad dressing recipe!
It's quick and easy to make and is ready in under 5 minutes! You don't need any special ingredients or tools. Just a few pantry staples and a pickle jar.
This homemade creamy dill pickle dressing is so simple! All you need is dill pickle juice, mayonnaise, avocado oil, honey, dijon mustard, and dried dill.
It's so good! This salad dressing is incredibly flavorful and full of sweet and tangy flavours.
This salad dressing recipe is healthy, refined sugar free, gluten free and dairy free. I have also included a vegan option too!
By using leftover pickle juice to make this dill pickle vinaigrette you are helping to reduce food waste and save money on store bought salad dressing which can be expensive!
It's perfect for pickle lovers! This mayonnaise pickle juice salad dressing is full of tangy, tart, and sweet flavors that perfectly complement any salad!
In addition to being great for salads, this dressing could also be used as a flavorful dip for veggies.
It stores very well in the fridge so it's perfect for meal prep and makes great leftovers!
If you love salad dressing you will also love my homemade dairy free caesar salad dressing.
Taste and texture:
This homemade salad dressing is so smooth and creamy. It has such a delicious and unique flavour this is slightly sweet, tangy, dilly, and flavourful!
Key ingredients and substitutions:
Dill pickle juice - the star of this pickle juice dressing. It's perfectly sour and tangy, and is what gives this dressing a strong pickle flavor. Use your favorite brand of dill pickles.
Mayonnaise - the base of this creamy dill pickle salad dressing. You can use your favorite store bought mayonnaise or homemade mayo. You can use vegan mayonnaise instead if you are vegan.
Avocado oil - this gives this pickle salad dressing a richer, creamier flavour and texture. Olive oil can be used instead if you like!
Honey - is one of my favorite natural sweeteners. It gives this dressing a hint of sweetness and a nice consistency. Instead of honey you can use maple syrup.
Dijon mustard - to give this dressing even more delicious flavour. Feel free to use spicy mustard or yellow mustard instead for a different taste.
Dried dill - dill is one of my favourite spices and it adds even more dill flavour to this salad dressing.
How to make this recipe: 
Step one:
First, add the ingredients inside a pickle jar or a jar with a resealable lid.
Step two:
Use a whisk or simply shake the jar until the dressing is smooth and creamy.
Step three:
Serve and enjoy this pickle juice dressing over your favorite salads!
Chef's tips and variations: 
You can use either honey or maple syrup to sweeten this dressing.
If you prefer a sweet pickle dressing add an extra 1-2 tablespoon of honey or maple syrup.
Instead of avocado oil you can use olive oil.
Change up the flavour of this pickle dressing by using a different type of mustard such as spicy mustard or yellow mustard or by adding different herbs or spices.
To make this a vegan dill pickle salad dressing use a vegan mayonnaise and maple syrup.
The ingredients in this dressing will settle when stored in the fridge so give it a quick shake or stir before using again.
If you are serving a crowd or want leftover dressing for your weekly meal prep feel free to double or triple this recipe.
How to serve:
Use this dressing to top all of your favourite salads! It can also be used as a dip for fresh vegetables or even as a marinade for fish and meat dishes.
How to store:
Store any leftover salad dressing in an air tight jar or container in the fridge for up to 30 days.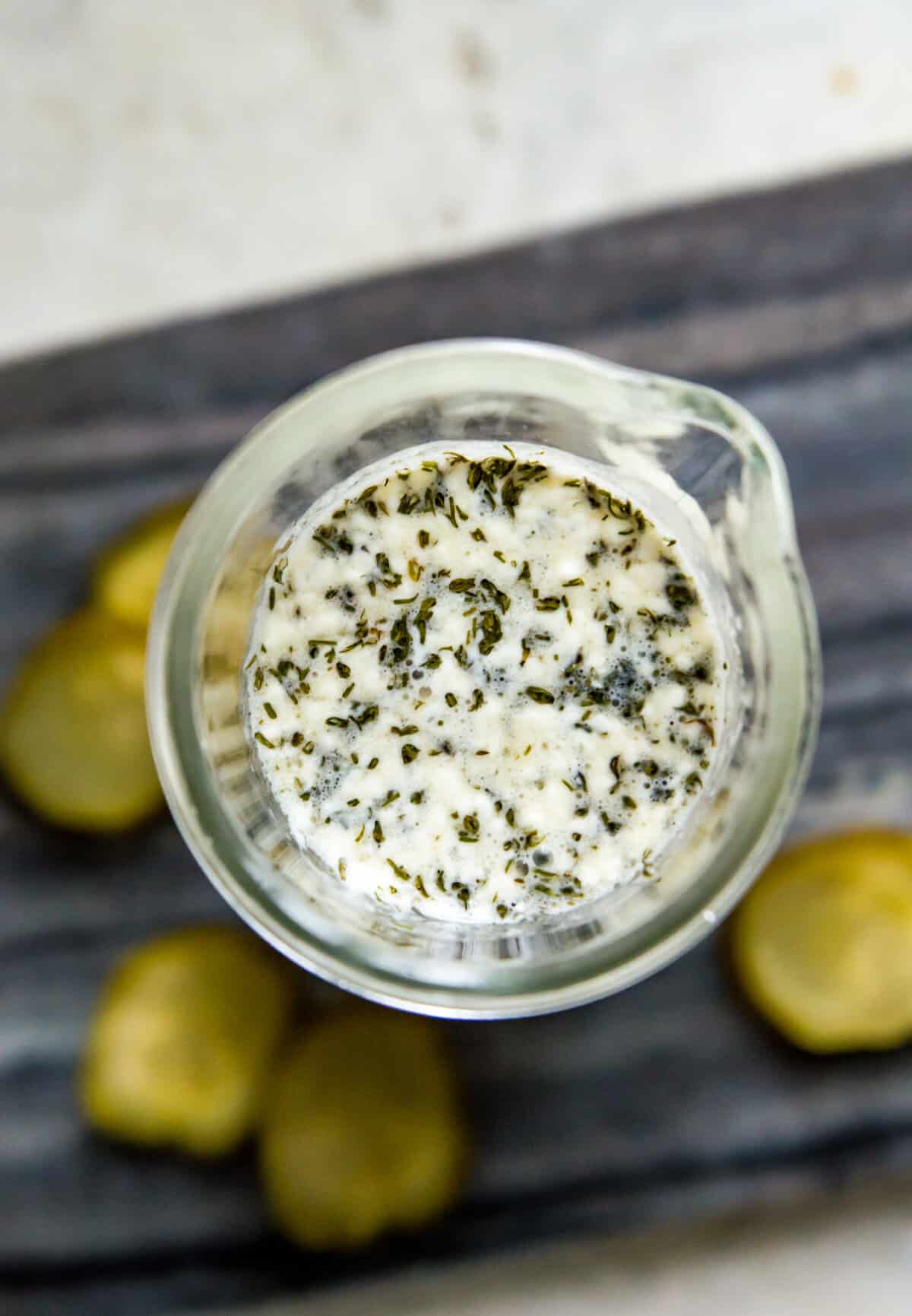 Frequently asked questions:
Is this a sweet pickle juice salad dressing?
No this salad dressing is not made with sweet pickle juice. It is made with dill pickle pickle juice which is more tart or sour in flavour. 
Is this a creamy dill pickle ranch dressing?
This dill pickle dressing does not taste like a ranch dressing. It has a unique flavour that is the perfect combination of sweet and tart. 
Can I make this pickle salad dressing in advance?
Yes! This salad dressing stores very well and it can last for up to 30 days in the refrigerator. 
Why does my pickle salad dressing look lumpy?
Olive oil and sometimes avocado oil will start to get lumpy when it is refrigerated. This can cause the dressing to look a little lumpy or thick right out of the fridge. To solve this, allow your salad dressing to sit at room temperature for a few minutes to help it become pourable again!
Other recipes you will love:
Since you made it this far we are basically best friends so be sure to follow me on Instagram, Pinterest, TikTok and Facebook where I share even more recipes and healthy living tips! And don't forget to leave this recipe a star review before you go!
Recipe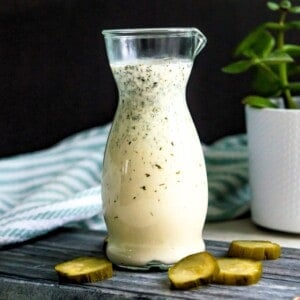 Dill Pickle Salad Dressing
This is the best dill pickle salad dressing recipe! Reduce food waste by using leftover pickle juice to make this delicious creamy dressing.
Print
Pin
Rate
Instructions
Add all the ingredients to the pickle jar.

Shake or whisk the ingredients until you have a smooth, creamy dressing.
Notes
Nutritional values are an estimate and will vary depending on the exact ingredients used. 
Nutritional values are based on a serving size of 1 tbsp. 
Store this dressing in the fridge in an air tight container for up to 30 days. 
Nutrition
Calories:
32
kcal
|
Carbohydrates:
3
g
|
Protein:
1
g
|
Fat:
2
g
|
Saturated Fat:
1
g
|
Polyunsaturated Fat:
1
g
|
Monounsaturated Fat:
1
g
|
Trans Fat:
1
g
|
Cholesterol:
1
mg
|
Sodium:
145
mg
|
Potassium:
5
mg
|
Fiber:
1
g
|
Sugar:
2
g
|
Vitamin A:
6
IU
|
Vitamin C:
1
mg
|
Calcium:
2
mg
|
Iron:
1
mg