Slightly sweet grain free granola is the perfect breakfast or snack. With no sugar, this gluten free granola is crunchy, slightly sweet and full of healthy ingredients. This granola is paleo, nut free and vegan and is surprisingly easy to make.
One of the foods I missed the most when I switched to the paleo diet was granola. I used to eat granola and yogurt ALL the time! It was my go to breakfast and snack. I hadn't eaten granola for a couple years until I came up with this Grain Free Granola recipe. And even though there is no sugar in this gluten free granola it still tastes amazing! Crunchy and slightly sweet, just the way granola should be. You can eat this granola as a snack, on top of your favourite dairy free yogurt or even turn it into a grain free cereal!

Why this slightly sweet grain free granola is so good:
It has no added sugar and is refined sugar free! It is sweetened with dates, banana and some raisins so it's naturally low in sugar.
This granola is gluten free!
Even though it has no added sugar it still tastes amazing and has the best crunchy texture.

This granola has no nuts!

Besides being gluten free this granola is also grain free and oat free.
This granola works with the paleo diet, Whole30 diet, SCD diet, GAPS diet and vegan or vegetarian diets.
What makes this slightly sweet grain free granola healthy:
It's gluten free and is made without oats or grains! So if you have celiac or are gluten intolerant you can still eat this granola!
It's safe for many different healing diets including paleo, vegan, GAPS, SCD, and Whole30.
It has no added sugar and is sweetened naturally with coconut, fruit and dried fruit.
It is nut free so if you are sensitive to nuts you can still enjoy this granola.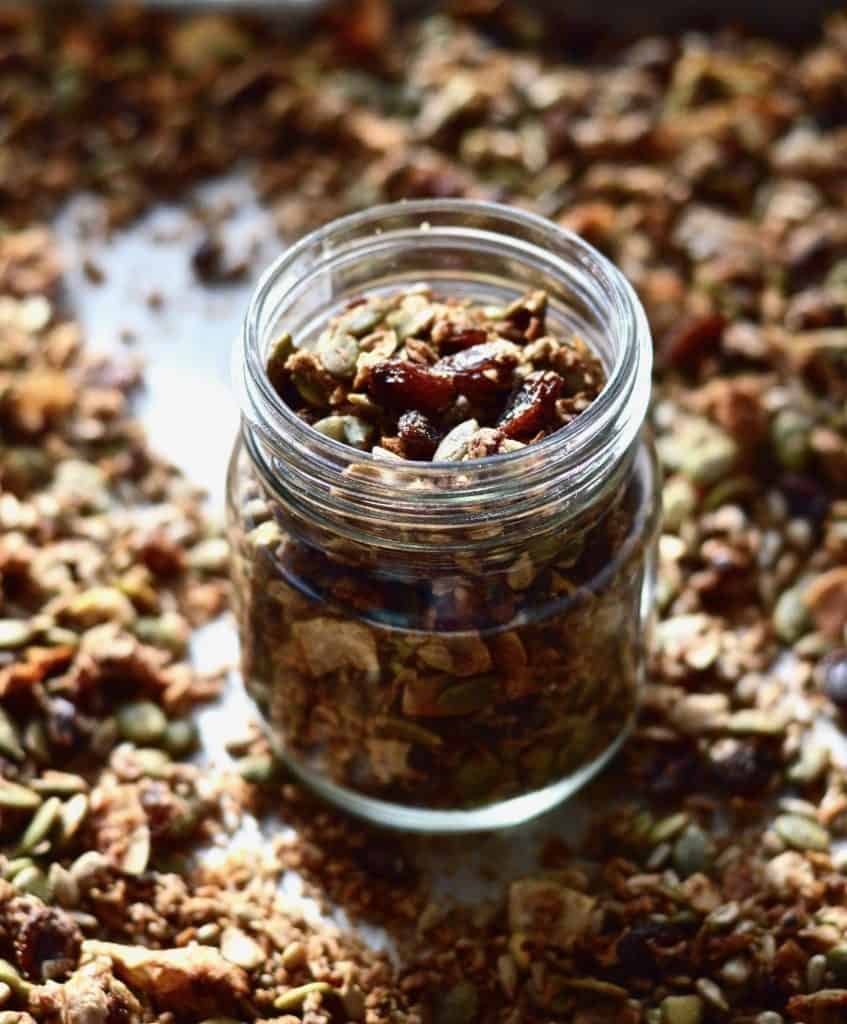 How to make slightly sweet grain free granola:
First you will want to soak the dates, so fill a bowl with warm water and add the dates and set them aside for 30 minutes.
Then preheat your oven to 325F
Next add all the dry ingredients to a large bowl and stir to combine them.
Then in your food processor, add the dates (drain them first) and the other liquid ingredients. Then blend them well until smooth (if there are a few chunks remaining that is fine).
Then transfer the wet ingredients into the bowl with the dry ingredients and stir them well to combine.
Next line a baking sheet with parchment paper. Then pour the granola from the bowl onto the baking sheet and spread evenly.
Place the baking sheet in the oven and bake for 15 minutes.
Remove the baking sheet from the oven and stir the granola well.
Place the baking sheet back into the oven and bake for an additional 10-14 minutes, until it is cooked to the consistency that you like.
Then let the granola cool.
Now serve and enjoy!
Other recipes you will like:
If you make this recipe be sure to give it a star rating below! And be sure to follow me on Instagram, Pinterest and Facebook too!
Note: This recipe was initially published in February 2016 but the post was updated in August 2018 (the recipe was not altered).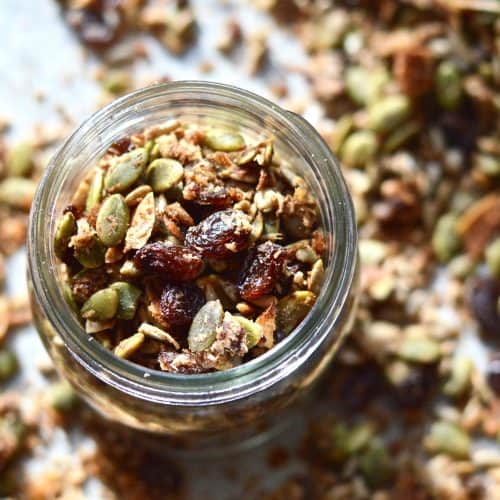 Slightly Sweet Grain Free Granola (Paleo, Gluten Free, No Sugar, Nut Free, Vegan, SCD, GAPS, Whole30)
Slightly Sweet Grain Free Granola is the best gluten free granola made with no sugar and safe for the paleo diet. It has the perfect crunchy texture that makes a great snack or breakfast.
Instructions
Preheat your oven to 325F

In a large bowl combine the dry ingredients and mix well with a spoon

In your food processor combine the ripe banana and the dates. Blend well (if there are some chunks remaining that is fine)

Transfer the ingredients from the food processor to the bowl and mix well with a spoon


Add the remaining wet ingredients and stir well to combine

Line a baking sheet with parchment paper

Transfer the granola mixture to the baking sheet and spread well with a spoon

Place the cookie sheet in the oven and bake for 15 minutes

Remove from the oven, stir and bake for an additional 10-14 minutes (until starting to brown)

Remove from the oven and let the granola cool completely
Recipe Notes
This granola makes a great breakfast or snack
If you don't like raisins feel free to use other dried fruit 
Omit the vanilla extract if you are on the Whole30 diet
*** Pin This Recipe For Later ***