This is the best grain free granola recipe! Made with no sugar, this healthy homemade granola is gluten free, crunchy, slightly sweet and full of healthy ingredients. This granola recipe is also paleo, nut free and vegan and is surprisingly easy to make.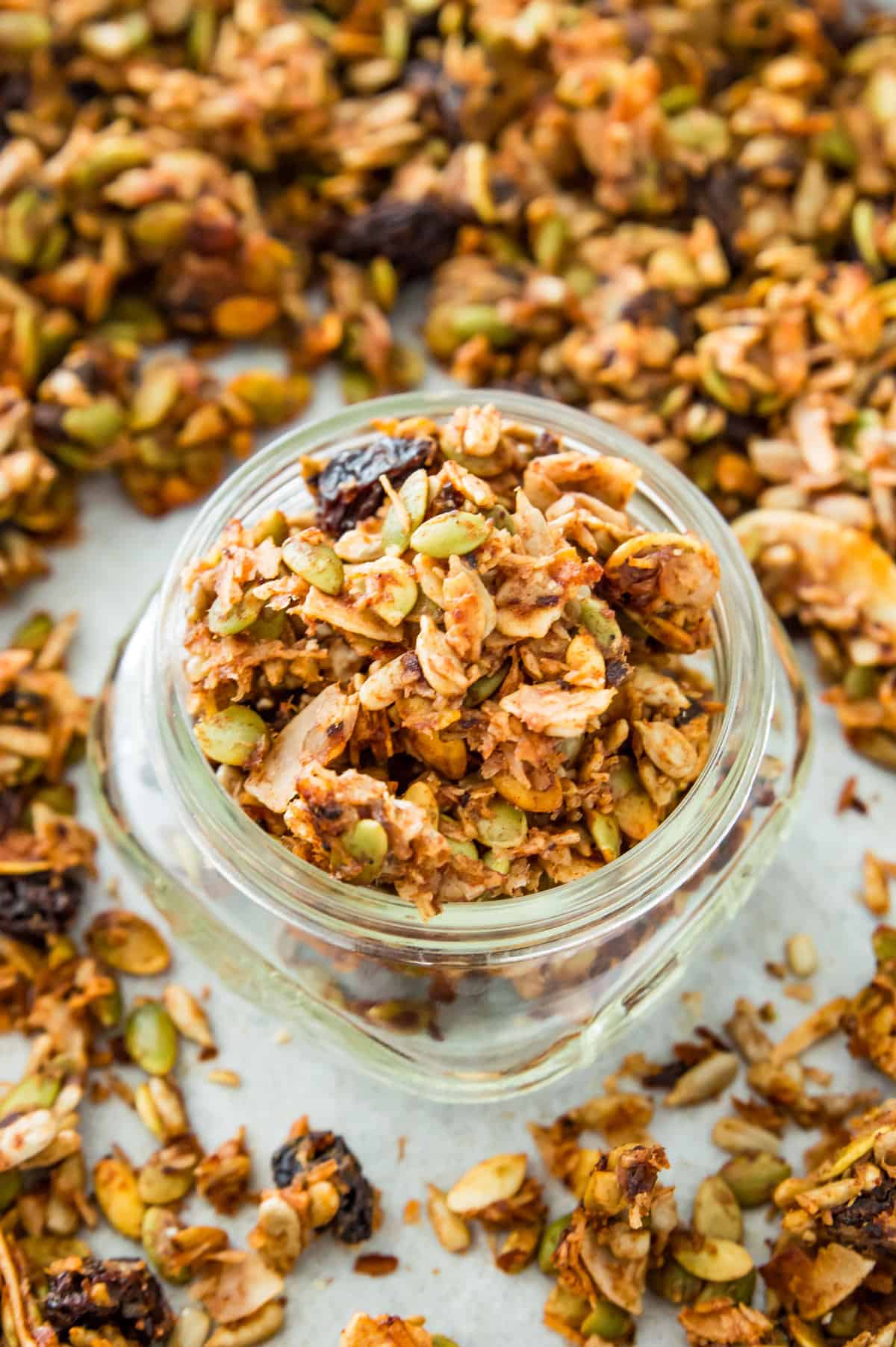 One of the foods I missed the most when I switched to the paleo diet was granola. I used to eat granola and yogurt ALL the time! It was my go-to breakfast and snack. I hadn't eaten granola for a couple years until I came up with this grain free granola recipe. And even though there is no sugar in this gluten free granola it still tastes amazing! Crunchy and slightly sweet, just the way granola should be. You can eat this granola as a snack, on top of your favourite yogurt or even turn it into a grain free cereal!
Why you'll love this recipe:
Even though this homemade granola recipe is made from scratch it is simple and easy to make!
This granola has no added sugar and is refined sugar free! It is sweetened with dates, banana, and raisins so it's naturally low in sugar, high in fiber, high in protein and healthy compared to other granola recipes.
Even though this granola has no sugar added it still tastes amazing and has the best crunchy texture.
This granola is gluten free, grain free, paleo, vegan and oat free! It's also safe for those with celiac and diabetes to eat.
This granola recipe has no nuts and is oat free - it is made with seeds and coconut flakes instead.
You can use this granola in so many ways and it also stores really well so it's great for meal prep.
This granola has the best texture - nice and crispy with clusters and chunks.
It's made with no honey, no maple syrup, no stevia, and no coconut sugar so it's low in carbs compared to most other granola recipes.
Making your own granola is so much cheaper than buying store bought granola brands so it's a great way to save money on groceries.
If you love granola you will also love granola butter!
Taste and texture:
This granola is slightly sweet with hints of cinnamon and is nice and crunchy. The flavours from the seeds, coconut and dried fruit blend perfectly to give this granola the most incredible fall inspired flavour.
Key ingredients and substitutions:
Seeds: sunflower seeds and pumpkin seeds are the star of the show in this granola. They give this granola the perfect crunch and flavour. Be sure to use raw pumpkin seeds and raw sunflower seeds to make this granola rather than roasted seeds.
Shredded coconut and coconut flakes: these give the granola the perfect texture, and add a bit of natural sweetness.
Fruit: raisins, dates and banana - these are what gives this granola the perfect amount of sweetness, while keeping it sugar free and unsweetened! Feel free to add other dried fruit such as dried apricots, dried cranberries or figs to this granola to give it a different flavour and even more sweetness.
Coconut oil - full of healthy fats, this helps give this granola that perfect crunchy texture that you are going to love. I don't recommend trying to swap the coconut oil for another oil as the texture of the granola won't turn out as crunchy.
Spices: ground cinnamon and sea salt - nothing fancy here, but the combination of cinnamon and salt blends perfectly to give this granola the most amazing flavour.
How to make:
Step one:
First preheat your oven to 325 degrees Fahrenheit and line a baking sheet with parchment paper.
Step two:
Now add all the dry ingredients to a large bowl and stir to combine them.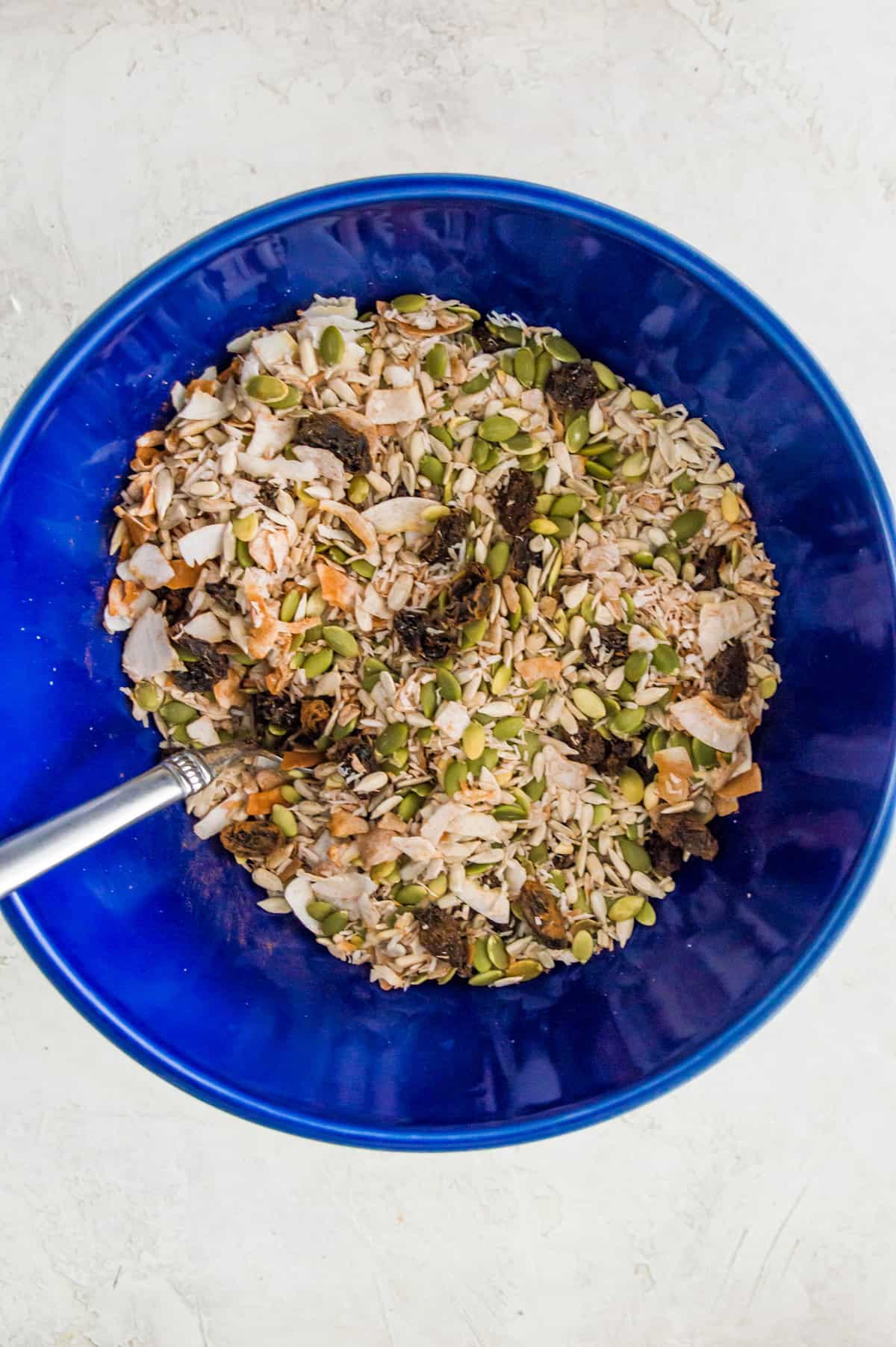 Step three:
Now add the dates, banana, coconut oil and vanilla extract to your food processor.
Step four:
Then blend the ingredients well until you have a smooth texture (if there are a few chunks remaining that is fine).
Step five:
Now transfer the wet ingredients into the bowl with the dry ingredients and stir them well to combine.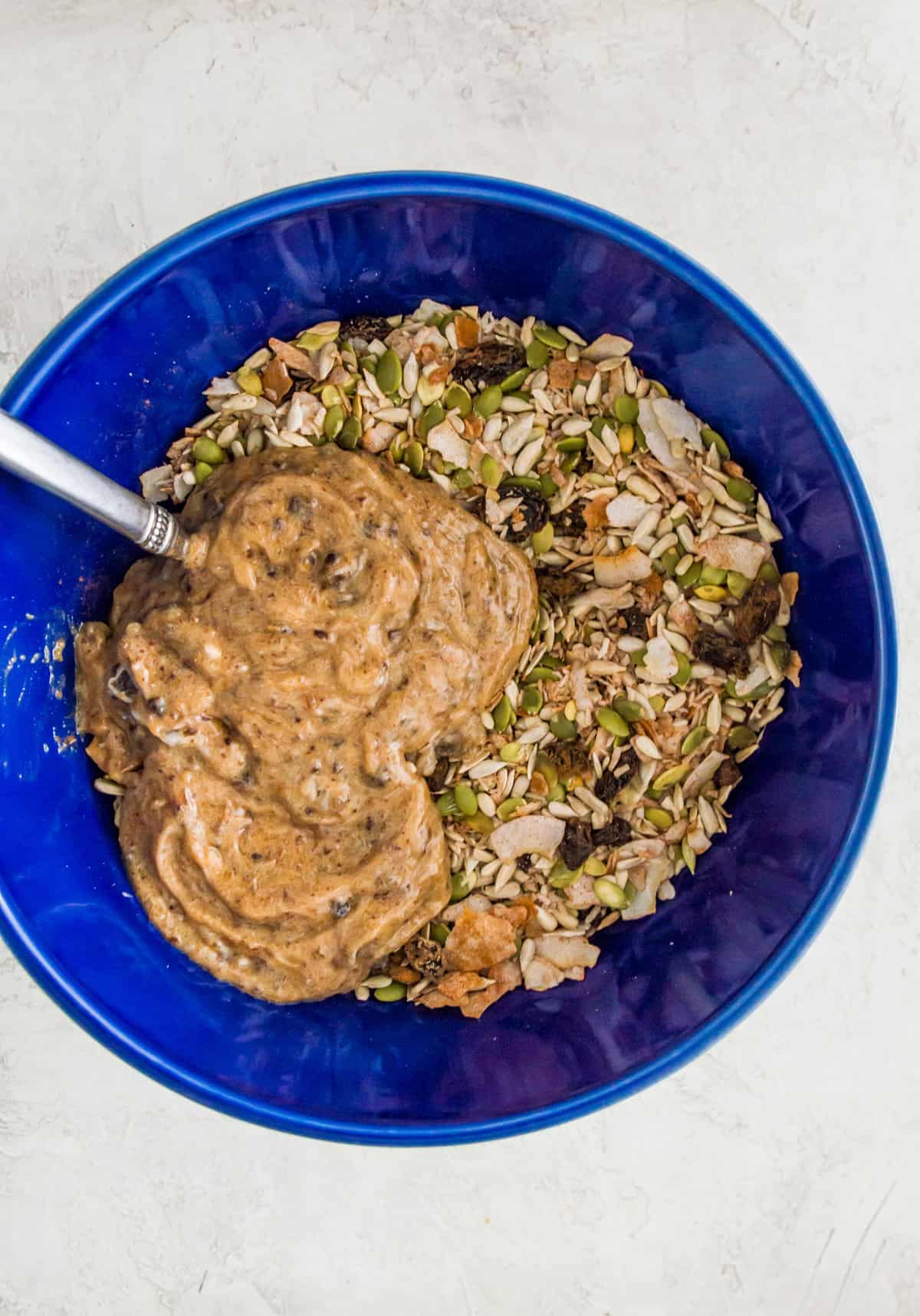 Step six:
Then transfer the granola mixture to the baking sheet and spread it out evenly. Then bake the granola for 40-45 minutes, until it's crunchy and golden brown.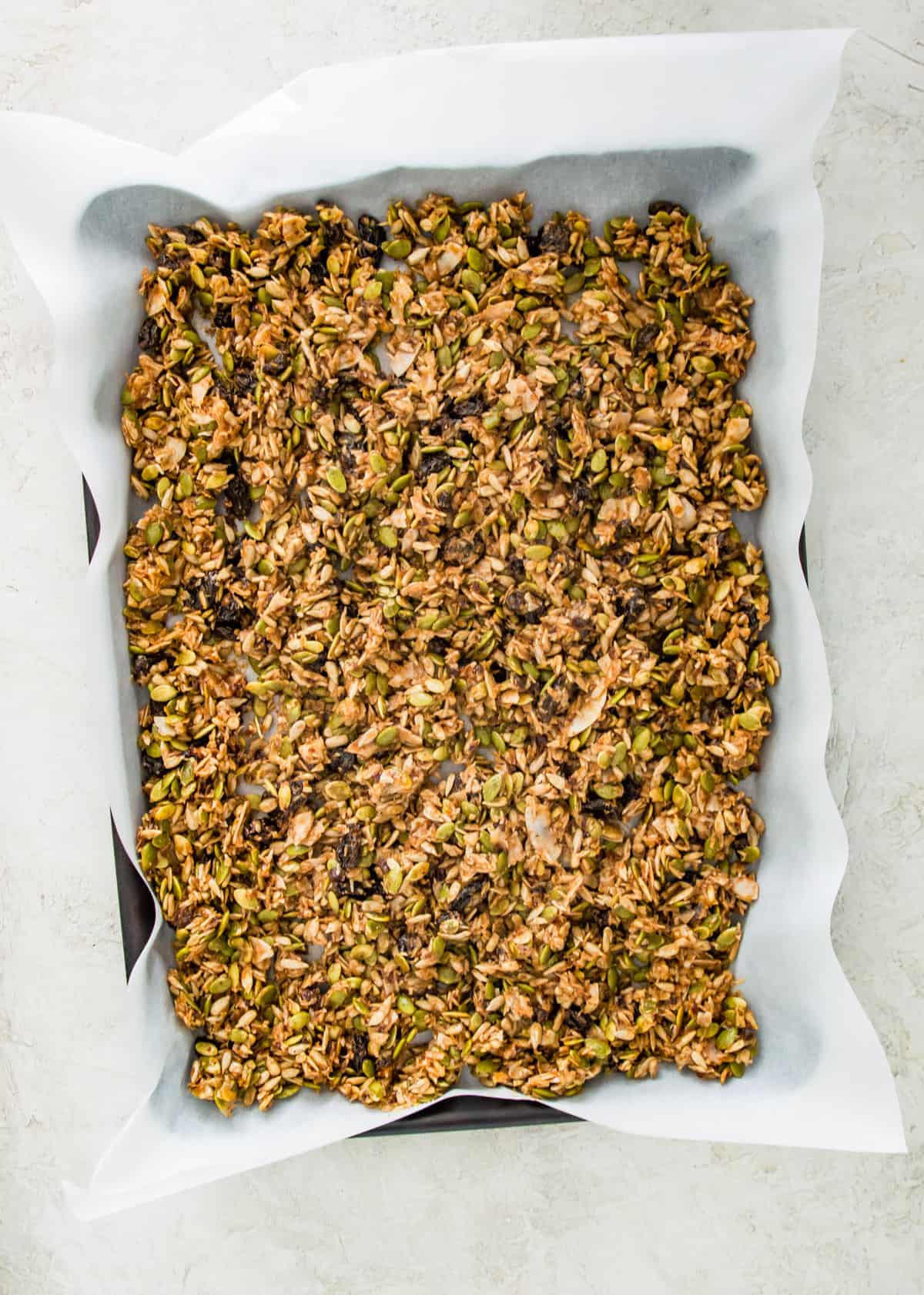 Step seven:
Lastly, let the granola cool completely before breaking it into pieces. Then enjoy!
Chef's tips and tricks:
If you don't bake the granola for long enough it won't be crispy so don't take it out of the oven too soon.
Don't over-bake this granola. You don't want the granola to burn so watch it closely near the end.
If you want extras you can make a double or triple batch of this granola and have extras for meal prep.
Variations and add ins:
Instead of the seeds you could use chopped nuts such as almonds, pecans, walnuts or cashews.
Feel free to change up the dried fruit you use. Dates or apricots would also be delicious.
Add a bit of nutmeg to give this granola a different flavour or use apple pie spice or pumpkin pie spice.
If you want to turn this into organic granola be sure all the ingredients you use are organic.
How to serve:
You can use this granola in so many ways! It is delicious eaten as is as a crunchy snack but you can also use it to top yogurt or add milk to it to turn it into cereal. You can also layer it with whipped cream, coconut whipped cream or yogurt and fruit to make granola parfaits.
How to store:
Store this granola in an airtight container at room temperature for up to 30 days.
Frequently asked questions:
Is this grain free granola recipe Whole30 compliant? 
Technically no. While all the ingredients on their own are Whole30 compliant, the Whole30 program recommends that you avoid eating foods like baked goods and granola while on the program. However, my own rule of thumb is to always listen to your body and do what's best for you! 
Is this granola recipe keto? 
This grain free granola recipe has 12 grams of total carbohydrates per serving, with 3 grams of fiber, 4 grams of sugar and 9 grams of net carbs. This granola is lower in carbs compared to many other granola recipes, but is still not a low carb recipe which means it would be difficult to eat this if you are on a keto diet or low carb diet. 
Is this granola recipe vegan?
Yes!
What does grain free granola mean?
Grain free granola is granola that is made without oats or other grains such as quinoa flakes. For those with allergies to oats or if you need to avoid grains for health reasons grain free granola is a great alternative.
Is gluten free granola the same as grain free granola?
Not always. All grain free granola recipes would be gluten free but most gluten free granola recipes will still contain grains in the form of gluten free oats or quinoa flakes.
Other recipes you will love:
Since you made it this far we are basically best friends so be sure to follow me on Instagram, Pinterest, TikTok and Facebook where I share even more recipes and healthy living tips! And don't forget to leave this recipe a star review before you go!
No Sugar Grain Free Granola
This no sugar grain free granola is the best gluten free granola made with no added sugar and safe for the paleo diet. It has the perfect crunchy texture that makes a great snack or breakfast.
Print
Pin
Rate
Instructions
Preheat your oven to 325F and line a baking sheet with parchment paper.

In a large bowl combine the dry ingredients and mix well with a spoon.

Add the banana, dates, coconut oil and vanilla extract to your food processor.

Blend until you have a smooth mixture (if there are some chunks remaining that is alright).

Transfer the ingredients from the food processor to the bowl and mix well with a spoon.

Transfer the granola mixture to the baking sheet and spread well with a spoon.

Place the cookie sheet in the oven and bake for approximately 40-45 minutes, until it's golden brown and crisp.

Remove from the oven and let the granola cool completely.

Break the granola into pieces and enjoy!
Notes
This granola makes a great breakfast or snack.
If you don't like raisins feel free to use other dried fruit.
Feel free to make a double or triple batch of this granola as it stores really well. 
Nutritional values are an estimate and will vary depending on the exact ingredients used. The calculations are based on a serving size of 3 tbsp.
Nutrition
Calories:
142
kcal
|
Carbohydrates:
12
g
|
Protein:
3
g
|
Fat:
11
g
|
Saturated Fat:
6
g
|
Polyunsaturated Fat:
2
g
|
Monounsaturated Fat:
2
g
|
Trans Fat:
0.002
g
|
Sodium:
6
mg
|
Potassium:
189
mg
|
Fiber:
3
g
|
Sugar:
4
g
|
Vitamin A:
10
IU
|
Vitamin C:
1
mg
|
Calcium:
14
mg
|
Iron:
1
mg