You are going to love this Whole30 Comfort Food recipe round up. There are so many amazing Whole30 compliant recipes here that are all healthy, made with real food ingredients, yet still taste amazing! Recipes like soups, stews, casseroles, dips, snacks and one pot meals.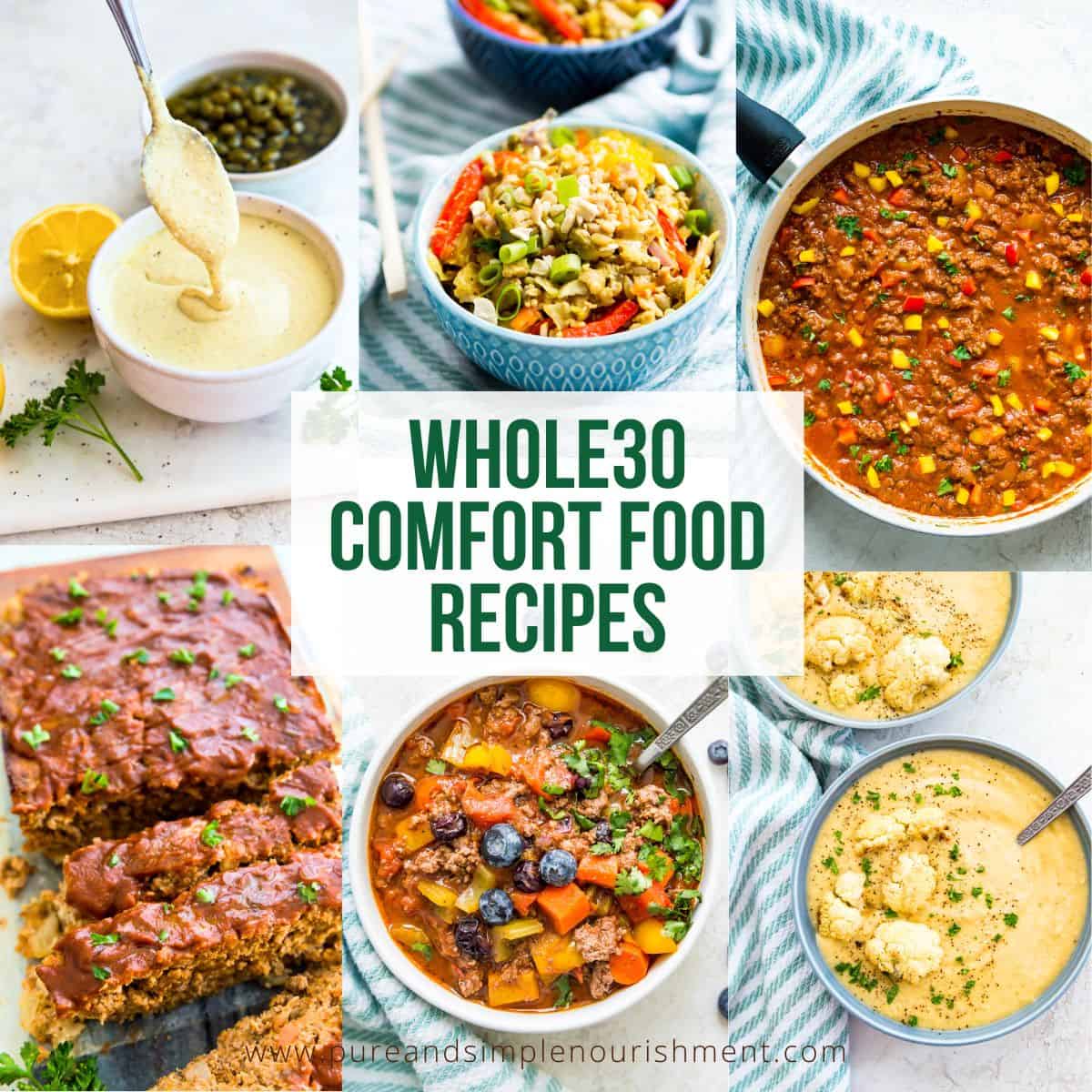 What do you think of when you think of comfort food? When I think of comfort food I think of soups, stews, and casseroles. Warm, hearty dishes with tons of flavour. Everyone's favorite comfort foods are different, and most people find comfort in eating their favourite foods. Food and cooking can also be a form of stress relief, and food often brings people together for the best celebrations and gatherings.
Often when people think of comfort food they think of food that is unhealthy. But it doesn't have to be this way. I am a firm believer that no matter what your allergies, dietary preferences or restrictions, you can still enjoy delicious food, including delicious comfort food! 
The Whole30 program is a type of elimination diet that eliminates grains, dairy, sugar, soy, legumes, alcohol and processed food to help your body heal and improve your health. The Whole30 diet may sound restrictive, but it doesn't have to be at all! You can still enjoy amazing, delicious food while doing a Whole30 diet, including comfort food! So today I am sharing a round up of delicious comfort food recipes, all of which are Whole30 compliant!
It's like I always say, healthy eating doesn't have to be boring or feel restrictive! I can't wait for you to try some of these recipes! I've included so many options for you in this post including dinner recipes, snack recipes, breakfast options and lunch options too! 
Whole30 comfort food recipes:
Whole30 Shepherd's Pie
One of my all time favorite comfort food recipes is this Whole30 Shepherd's Pie. I kept it dairy free by leaving out the cheese and using nutritional yeast instead, and the addition of bone broth gives the meat and vegetable layer in this dish so much flavour! You can make it with either white potatoes or sweet potatoes and this recipe makes great leftovers too. You could also easily freeze it and serve it later!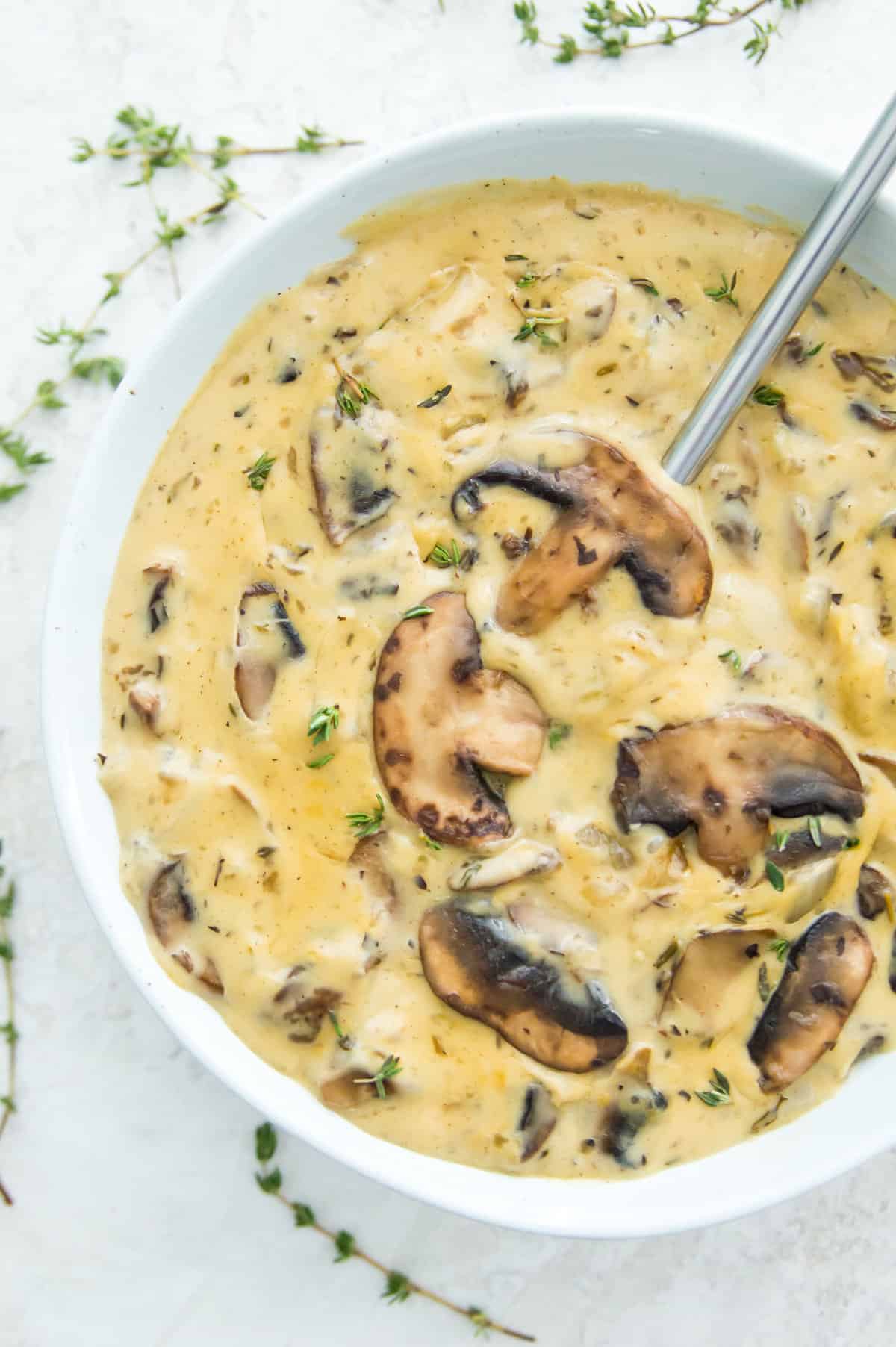 Whole30 Cream of Mushroom Soup
Move over Campbell's! This Whole30 Cream of Mushroom Soup recipe is so much tastier than any canned soup. It's also so much healthier for you! I kept it dairy free by using coconut milk and gave it the most creamy and rich flavour by using vegetable stock, spices, garlic and onions. You could eat this soup for lunch or for dinner.
Whole30 Clam Chowder
Is there anything better than a hearty clam chowder? This Whole30 Clam Chowder is so rich and creamy and loaded with potatoes, clams and bacon to give it the best flavour. The perfect comfort food, this New England style clam chowder uses coconut milk to keep it dairy free and it only takes 30 minutes to make so you can have a complete meal on the table in no time!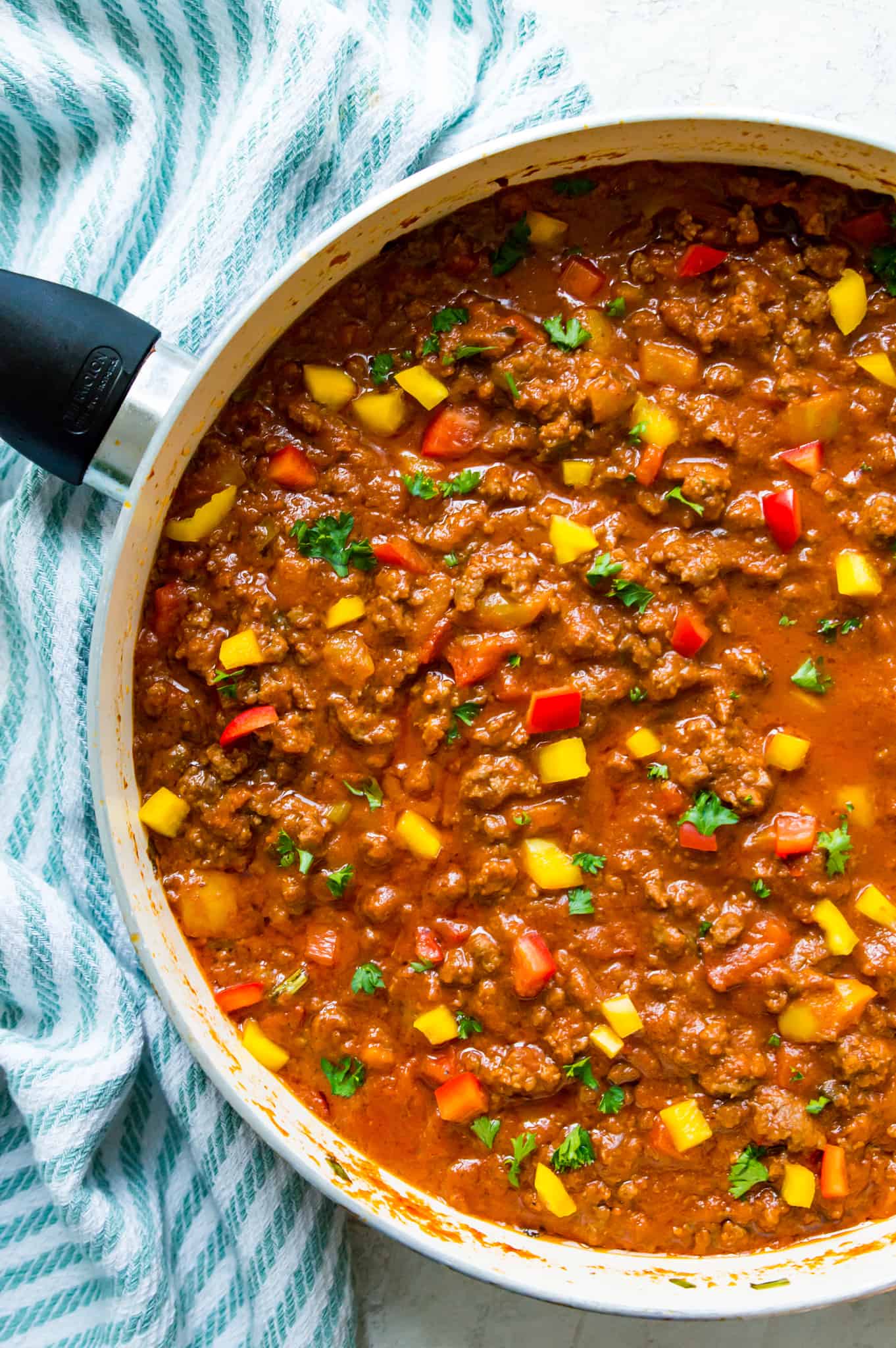 Whole30 Sloppy Joes
One of my all time favourite recipes, this Whole30 Sloppy Joe recipe is also a reader favourite. It is the ultimate real food recipe that is sugar free since it is made without ketchup and without brown sugar. Instead the sauce is sweetened naturally with dates and given the most incredible flavour with spices like paprika, parsley and mustard. Coconut aminos gives it the perfect smokey taste. I love serving this recipe over baked potatoes, spaghetti squash, cauliflower rice or even sweet potato rice.
Whole30 Pumpkin and Sweet Potato Soup
The perfect fall soup recipe, this Whole30 Pumpkin and Sweet Potato Soup is so much tastier than anything you'd buy in the store. Made with only real food ingredients like roasted pumpkin and sweet potato, coconut milk, bone broth or chicken broth, and spices, this soup is really easy to make and would make a great appetizer, side dish, lunch or dinner.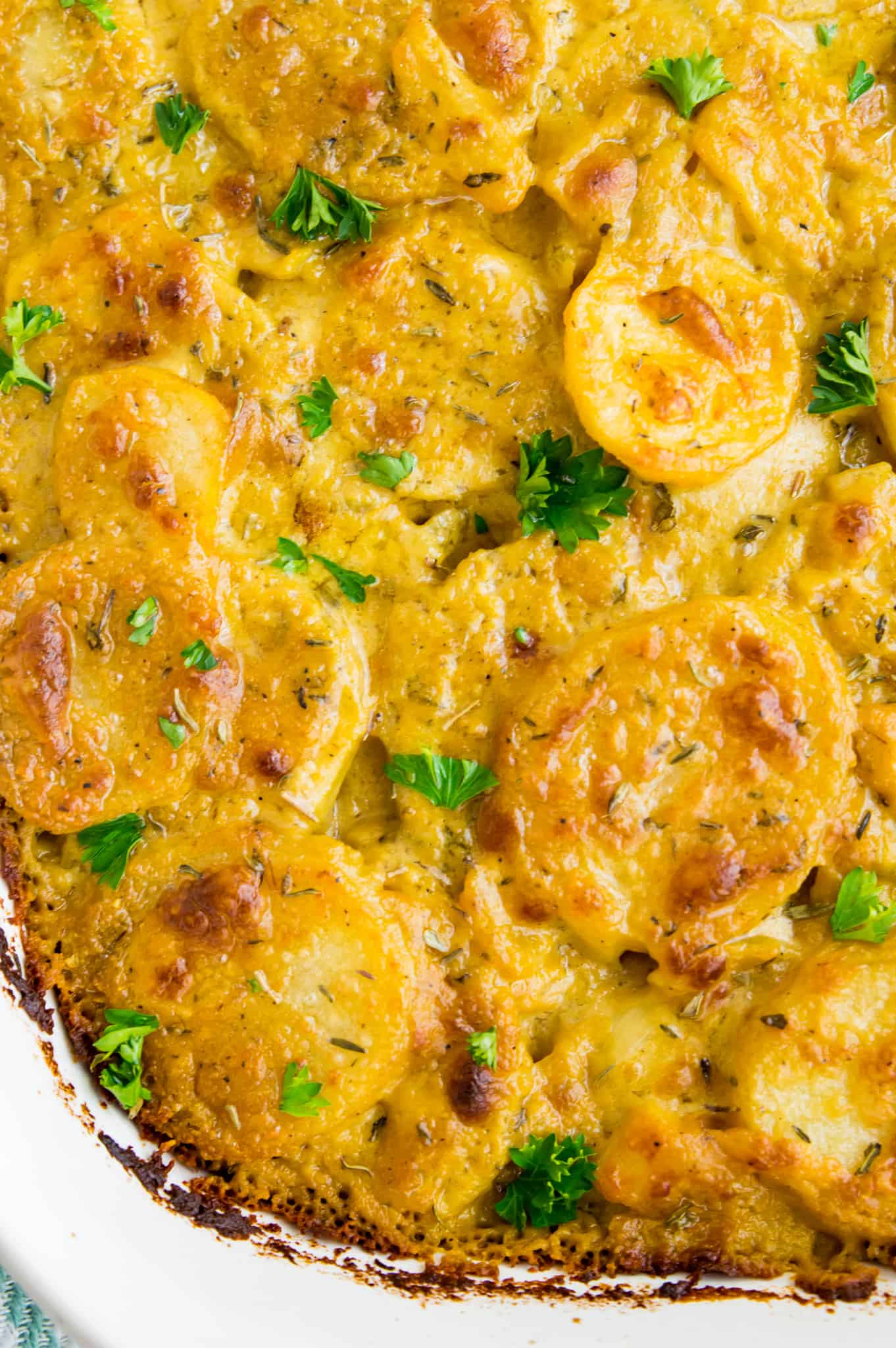 Whole30 Scalloped Potatoes
Seriously the ultimate comfort food! I don't know about you guys but Thanksgiving and Christmas dinner just isn't the same without scalloped potatoes. And this Whole30 Scalloped Potatoes recipe is perfect for the holidays, or anytime. Usually scalloped potatoes are loaded with dairy, but I made this Whole30 recipe completely dairy free by using ingredients like nutritional yeast and coconut milk to give it the best rich and creamy flavour. This dish makes the perfect side dish and you'll love that it makes great leftovers and freezes really well too!
Whole30 Spinach and Artichoke Dip
Another classic recipe that is usually full of dairy, but I made a completely dairy free version that is going to blow your mind! It's so creamy and delicious and makes the perfect appetizer. I've served this dish at many family gatherings and it's always a hit. I love serving it with raw veggies like carrots, celery or cucumber. I can't wait for you to try this Whole30 Spinach and Artichoke Dip.
Whole30 Egg Roll in a Bowl
This Whole30 Egg Roll in a Bowl is a one pot meal that is going to become your new weeknight dinner favourite. It's a great recipe to add to your meal plan rotation. It's super easy to make and is full of flavour! Made with ground pork, loaded with veggies, and with the most delicious sauce it's so much healthier than a typical deep fried egg roll. I also love eating the leftovers of this recipe for lunch the next day. It's a dish your whole family will be begging for.
Green Beans with Slivered Almonds
This Green Beans with Slivered Almonds recipe is one of my favourite recipes to serve for holiday dinners. It's such a simple veggie dish that is really quick and easy to make. The addition of toasted slivered almonds makes this Whole30 compliant vegetable dish so much more than just a boring green been dish.
Whole30 Chili with Blueberries
Chili is another one of those classic comfort foods. And you'll love the twist on the classic recipe I created with my Whole30 Chili with Blueberries. Yes, blueberries! I wanted to add an ingredient that would look like beans, so blueberries were my answer. They add such a fun flavour to this chili that's made with ground beef, tomatoes, carrots, celery and spices. You'll also love that you can make this chili in either a slow cooker or Instant pot. I can't wait for you to try it!
Roasted Red Pepper and Squash Soup
This Whole30 Roasted Red Pepper and Squash Soup recipe is a fun alternative to traditional squash soups. The red peppers are roasted in bacon fat to give them the best flavour, and the soup is combined with coconut milk and bone broth making it nutritious, and also so delicious! This soup freezes really well and makes great leftovers too.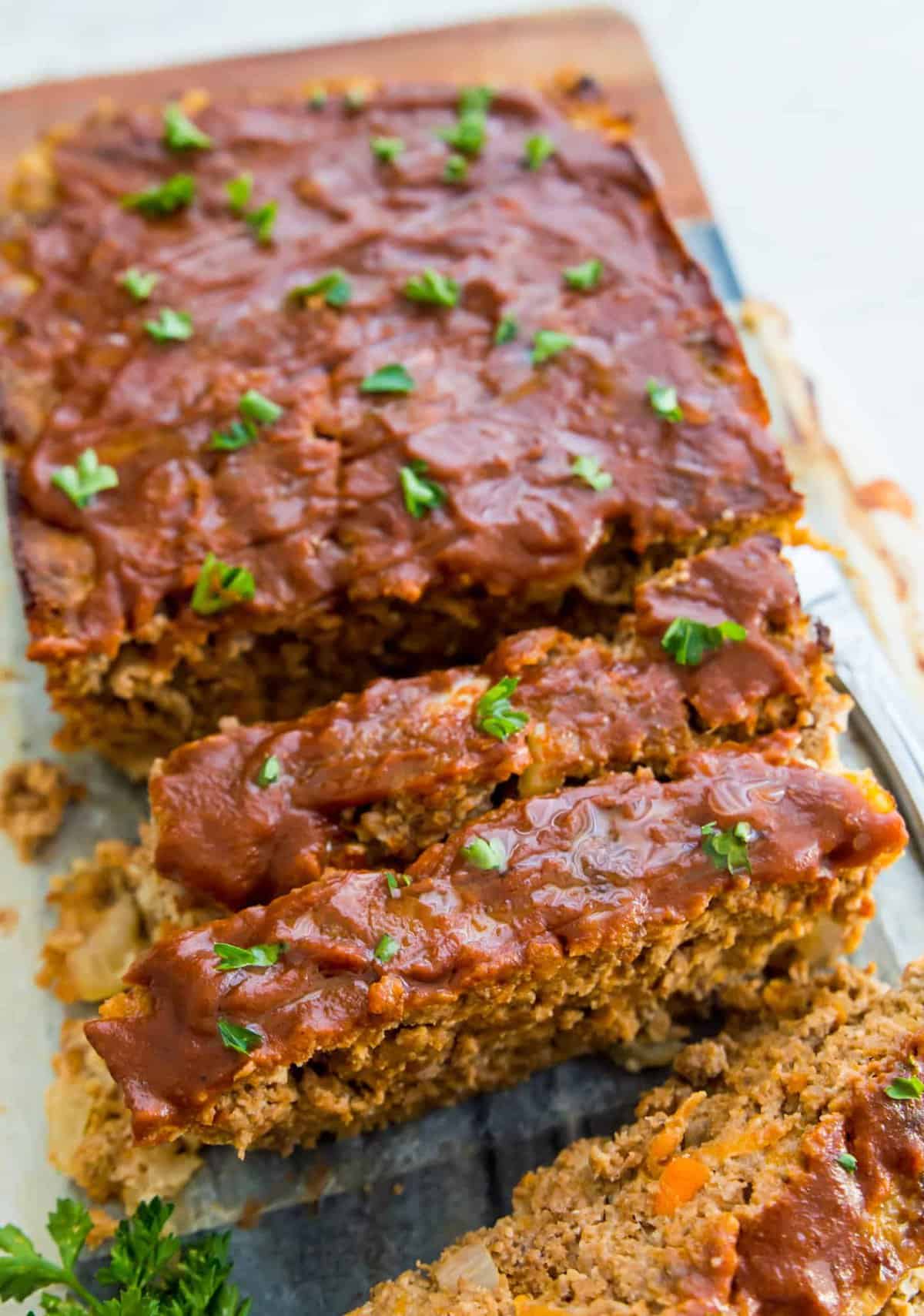 Whole30 BBQ Meatloaf
Meatloaf is one of those foods that people either love or hate. I am personally a meatloaf lover! I grew up eating meatloaf so I have many fond memories associated with this meal. This Whole30 BBQ Meatloaf recipe is never dry or boring and is made with shredded carrots, ketchup, bbq sauce (just be sure to choose Whole30 compliant brands that are sugar free), coconut aminos and almond flour.
Carrot Dip with Chilis
I realize that a carrot dip may not be a classic type of comfort food, but I have served this Carrot Dip with Chilis at so many family gatherings that for me it has become a recipe associated with so many fond memories, so for that reason I consider it comfort food. The combination of the sweet carrots with a little spice from dried chilis blends perfectly to create the most incredible dip that is always a hit. You will also love that it's super easy to make and also makes great leftovers!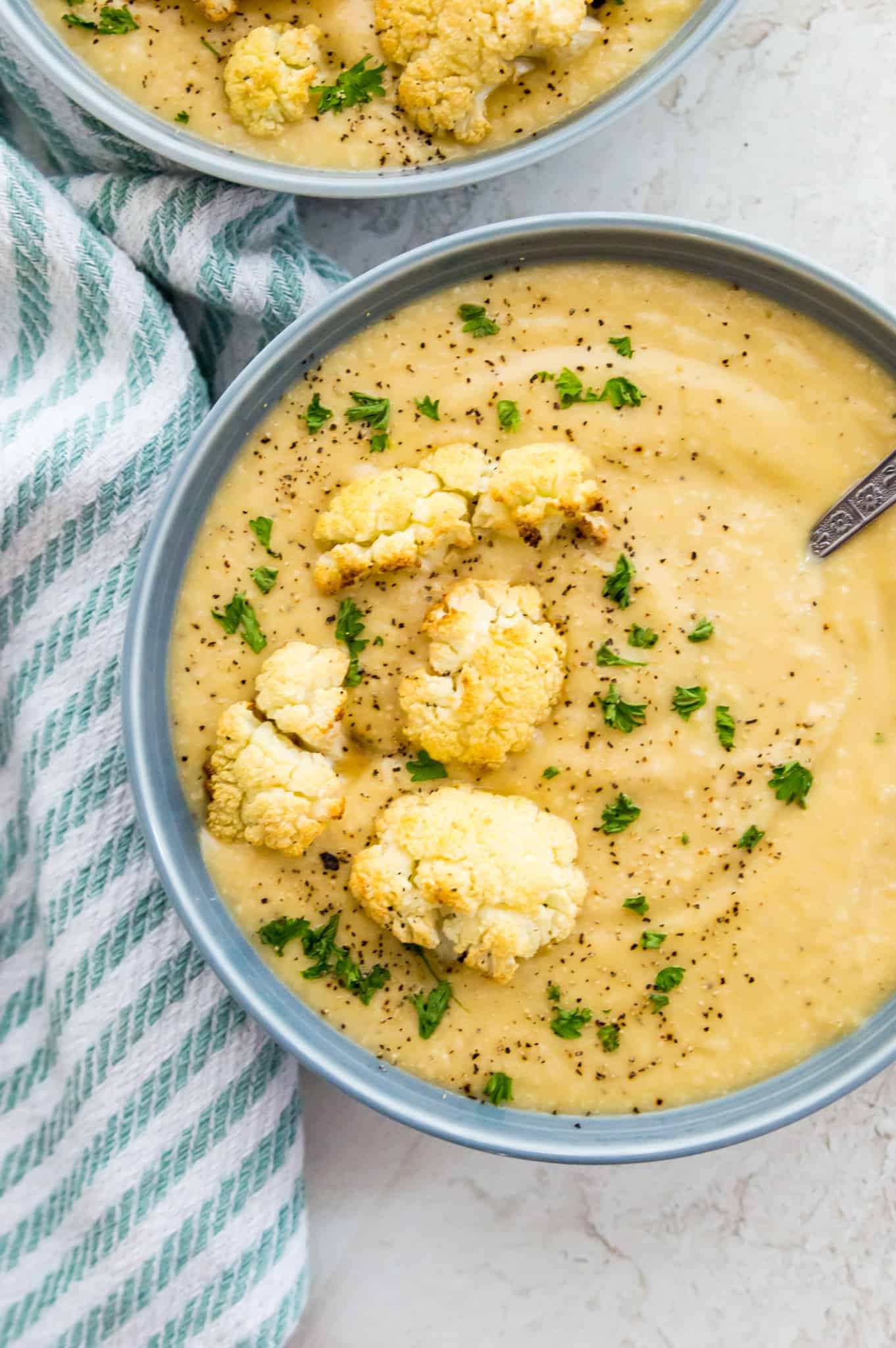 Whole30 Cauliflower Soup
You will love how easy this soup is to make! This Whole30 Cauliflower Soup is cooked in an Instant Pot and only takes 10 minutes of cooking time. It's so creamy and rich from the combination of cauliflower, coconut milk, cashews, broth and spices. You'll never want to buy canned soup again!
Simple Tomato Soup
One of the easiest soups to make, yet also one with one of the best flavours. This Whole30 Simple Tomato Soup is made with baby tomatoes, coconut milk and basil and the flavours combine perfectly to make it just a little sweet yet also a little savoury. It also makes great leftovers and freezes really well.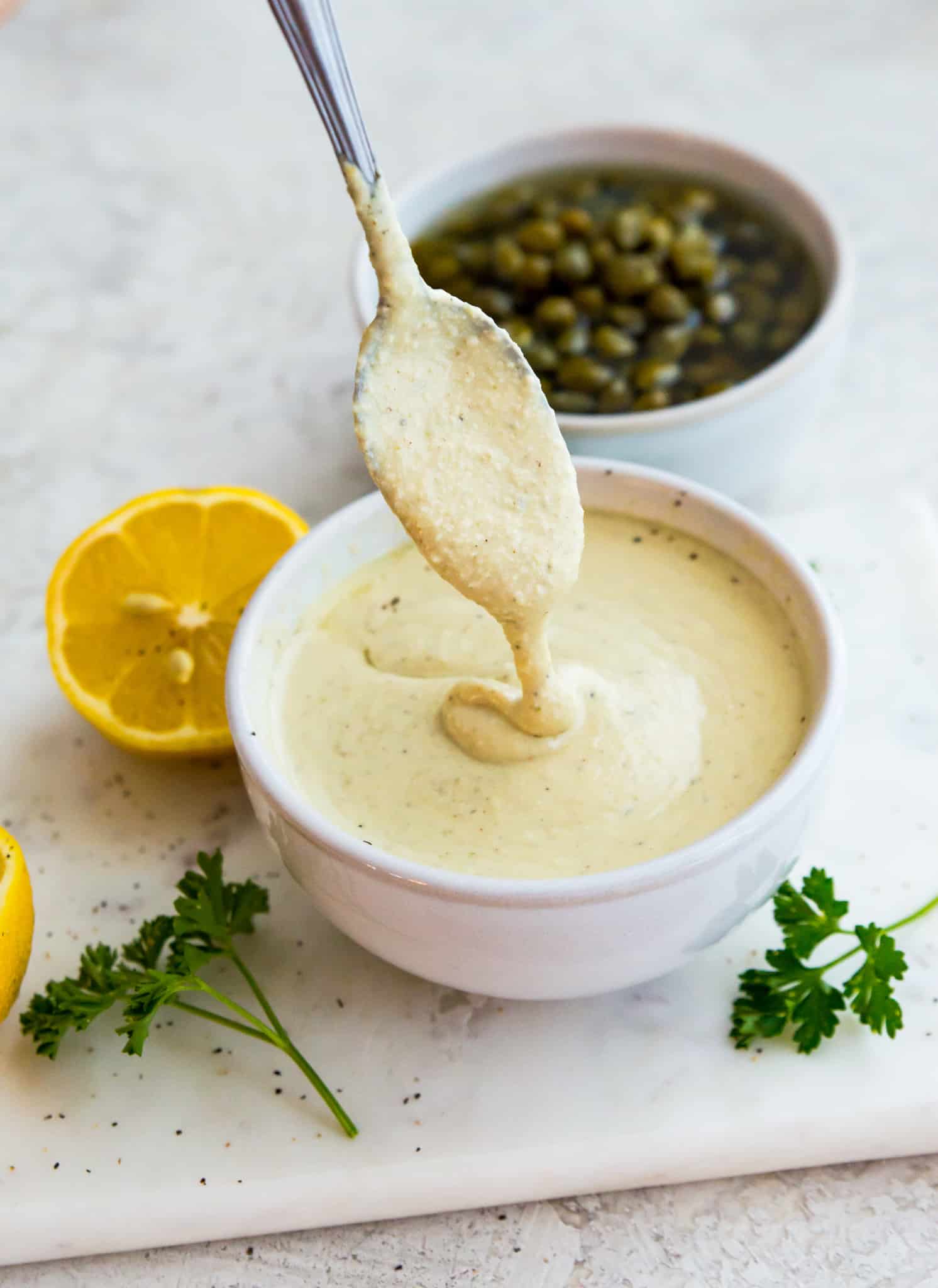 Whole30 Caesar Salad Dressing
Caesar salad. Need I say more? I don't know anyone who doesn't love Caesar salad. And after going dairy free many years ago it took me a really long time to create the perfect dairy free Caesar dressing, but after much trial and error I finally did it. This Whole30 Caesar Salad Dressing is just so darn good! I've had so many people tell me it's even better than the classic recipe made with dairy. A few of the secret ingredient in this recipe to make it just perfect are capers, nutritional yeast and cashews. Add a little grilled chicken to your Caesar salad and turn this into a complete meal.
Since you made it this far we are basically best friends so be sure to follow me on Instagram, Pinterest, TikTok and Facebook where I share even more recipes and healthy living tips! And don't forget to leave this recipe a star review before you go!
Other Whole30 recipes you will love: 
Frequently asked questions:
Are bananas ok on Whole30?
Yes, bananas are fine to eat on the Whole30 program. Any type of fruit is allowed to be eaten with you are doing a Whole30 diet.
Is comfort food unhealthy?
How healthy comfort food is will depend on the ingredients used to make it. It is very easy to make comfort food healthy by using real food ingredients, and ingredients that are low in sugar and unprocessed.