This post reviews the best non toxic period underwear brands that not only work well but do not contain PFAS or other harmful chemicals. These period panties are made in a variety of sizes, styles and colours and include budget friendly and teen friendly options.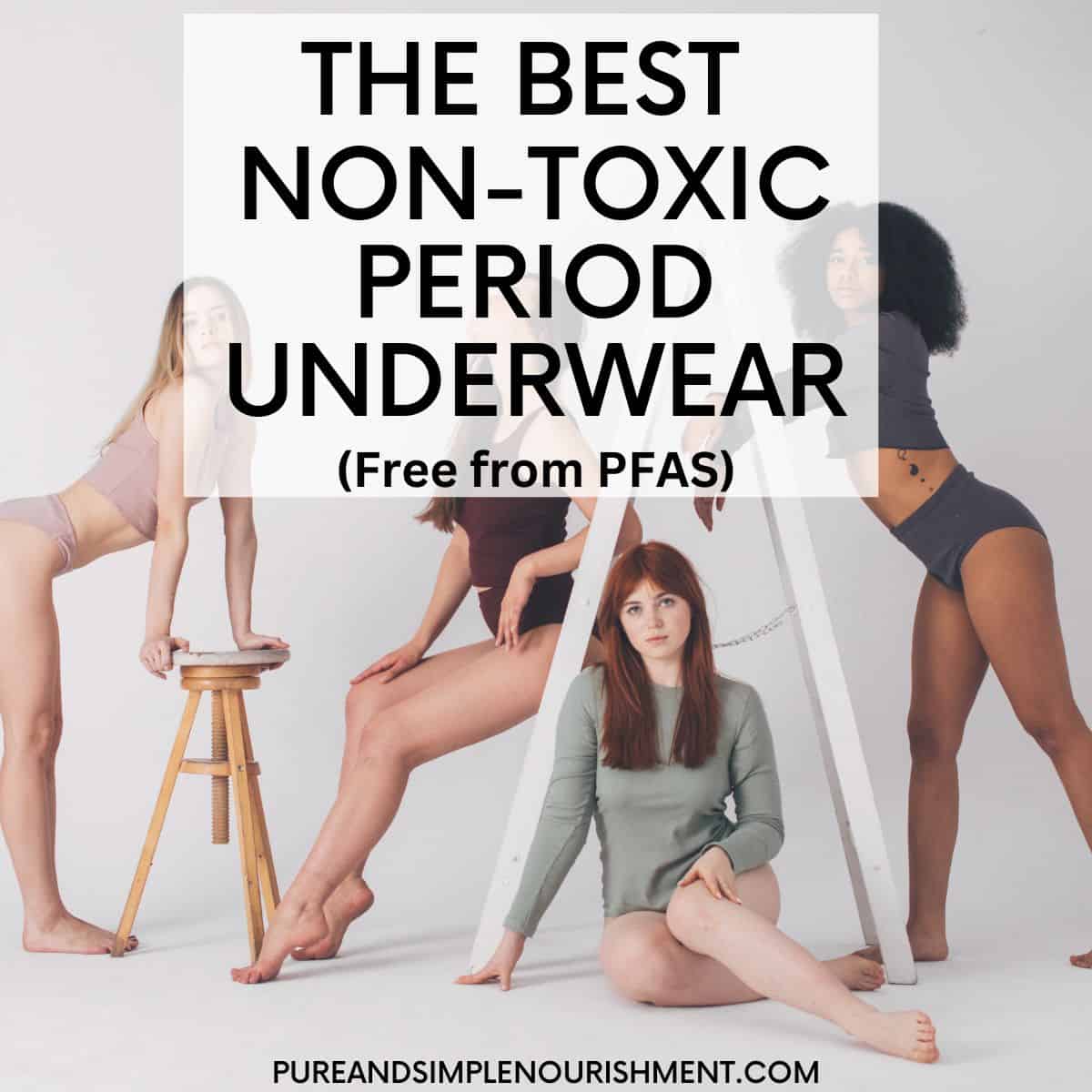 In recent years period underwear has become more and more popular. If you aren't familiar with period underwear, it is underwear that is specifically designed to be ultra absorbent and leak proof so that you can wear it during your period instead of, or in addition to, using traditional devices such as regular tampons, pads or menstrual cups.
Period underwear is also an eco-friendly and sustainable option because you simply wash and reuse the underwear so it produces less waste compared to disposable tampons and pads.
Period underwear is also more affordable than traditional menstrual products. It is estimated that the average women will spend around $6000 on menstrual products such as pads and tampons in her lifetime. Period underwear significantly decreases this cost because the products can be reused for years, saving you money in the long run.
However, not all period underwear is created equally. For example, Thinx, which brought reusable period underwear to the mainstream in 2014 was found to contain high amounts of PFAS (per- and polyfluoroalkyl substances) just a few years after launching, and since then more period underwear brands have also been found to contain PFAS. In fact, in recent investigations, 65% of the period underwear on the market were found to contain PFAS chemicals.
PFAS are a class of chemicals that provide stain and water resistant coatings. For example they are often used on non-stick pans, rain coats, furniture, food packaging etc. PFAS chemicals have been termed "forever chemicals" because of their staying power. These chemicals are extremely problematic to human health and the environment because they are persistent, meaning they build up and don't go away. They resist degradation in the environment and they remain in our bodies for years, and sometimes even decades after exposure.
PFAS, even at low doses, are dangerous to health and are known to have a number of harmful effects on human health including but not limited to (for further reading on these topics please refer to the reference section at the end of this post):
In other words, you really want to avoid these chemicals as much as you can.
What's really concerning in the case of menstrual underwear is that these chemicals are found in the moisture-wicking layer of the underwear – the part that sits right against the vagina. This raises some major red flags about the potential health impact of these period panties since one study showed that a common PFAS, perfluorooctanoic acid (PFOA) does absorb through the skin.
The tissues in the vaginal canal are especially sensitive and absorbent and so that is why it's especially important that you choose period underwear that are PFAS free and free from other harmful chemicals or toxic chemicals.
Jump to:
How do PFAS get into period panties?
You might be wondering how exactly PFAS chemicals end up in period underwear. This can happen in a couple different ways: one is that the brand intentionally adds PFAS to their menstrual underwear to help wick away moisture and the second way is through contamination with these chemicals during the manufacturing process.
In the case of brands like Thinx underwear where the levels found are extremely high (3,264 parts per million), it is clear PFAS are intentionally added to their underwear. The industry cut off is 100 ppm of fluorine to determine if PFAS are intentionally added. No matter how PFAS end up in the underwear, any amount of PFAS is unacceptable in a menstrual product, and I would not recommend any period underwear containing any PFAS.
This review will share the best non toxic period underwear brands that do not contain PFAS or other harmful chemicals. These underwear have all been third party tested for PFAS and found to be PFAS free.
The Best Non Toxic Period Underwear Brands (in alphabetical order)
1. Aisle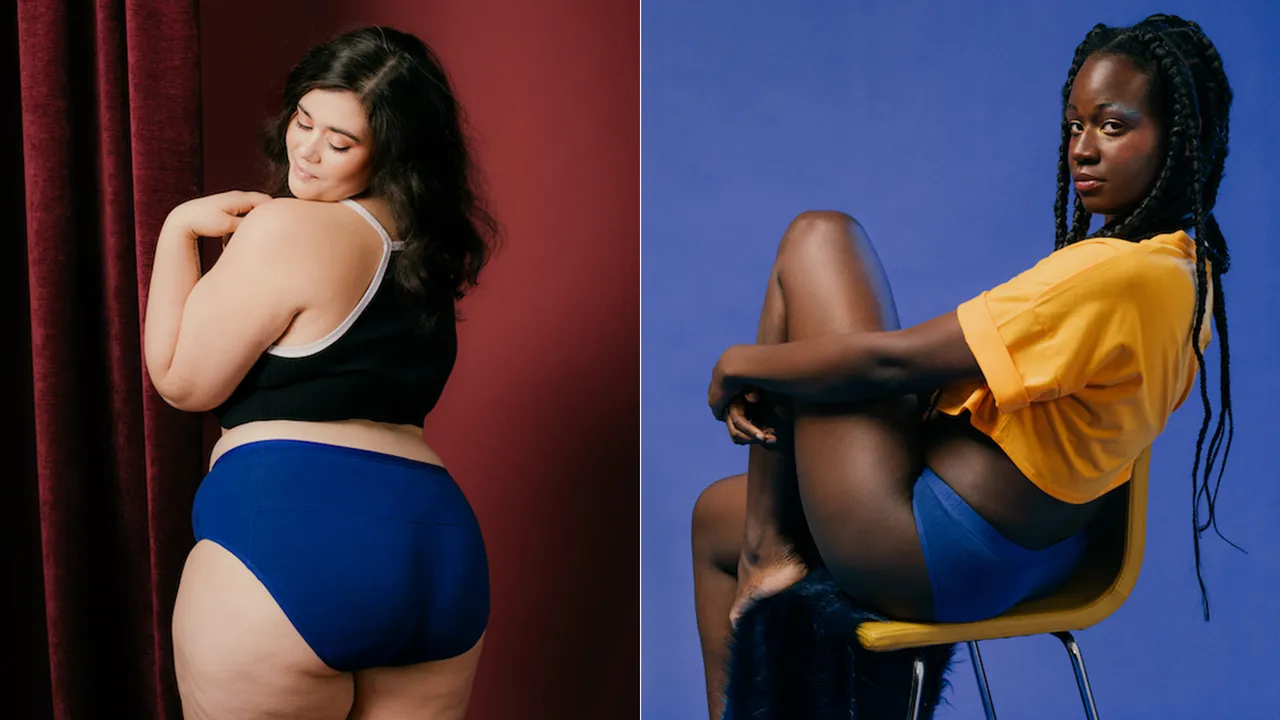 Materials: Tencel, organic cotton, recycled polyester
Style Range: Bikini, brief, boxer brief, hipster
Sizes: XS–5X
Absorbency Level: Up to 11 tampons
Price: $34–$48 for one pair
Aisle launched the first line of reusable period products in 1993, so they have been in this industry for many years and really understand what customers need. Their period underwear comes in four styles and a wide range of sizes and is made of sustainable and recycled materials. Each pair comes with a bonus absorbency booster for heavier flow days, so it can hold up to an additional four tampons' worth. As a certified B Corp, Aisle also gives back through social impact projects centered around menstrual hygiene.
2. Bambody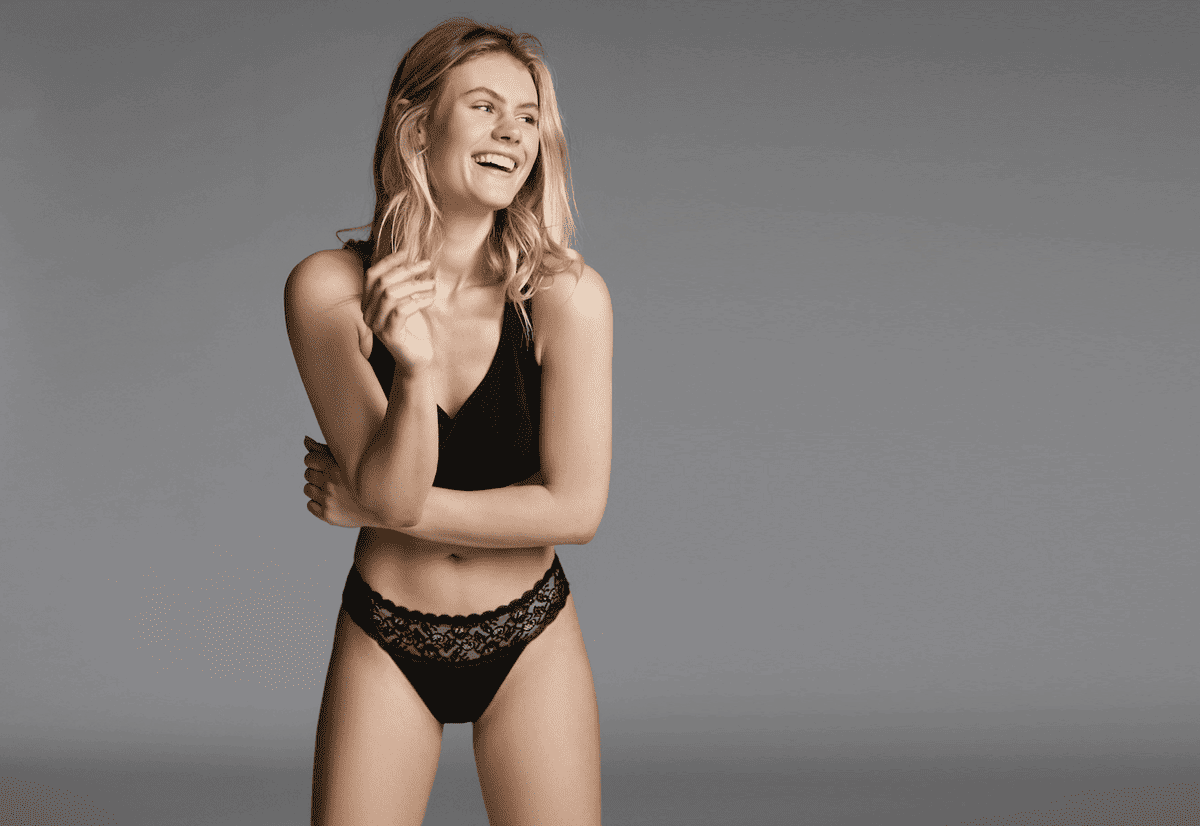 Materials: Bamboo fabric, cotton, spandex, polyester, nylon
Style Range: Absorbent Bikini, Absorbent Boyshort, Absorbent Hip Hugger, Absorbent Hipster, Absorbent Midi Brief, Absorbent Panty, Leakproof Bikini
Sizes: XXS – XXL
Absorbency Level: Up to 6 tampons
Price: $9.90 - $59.90
Bambody was created in Queensland, Australia in 2018. They started out with a mission to reduce the environmental impact of menstrual products. They offer a range of comfortable, affordable and effective bamboo period underwear that helps to reduce leakages and produce less waste. Bambody period underwear is OEKO-TEX certified.
3. Innersy
Materials: Cotton, spandex, polyester
Style Range: High waist, hipster and mid waist and teen styles.
Sizes: XS-3XL
Absorbency Level: Light.
Price: $19.99-25.99
Innersy makes undergarments for women, men and teens. They have been in the industry for 20 years so have a long track record of making great products that are both high quality and comfortable. Innersy makes a few styles of period underwear for women - high waist, hipster and mid waist briefs. They also make period underwear specifically for teens. Their period underwear are not meant to replace tampons or pads but are meant to be worn as a backup to help prevent leaks during your period.
4. Lilova
Materials: organic cotton, bamboo, elastane, nylon, 100% microfiber, breathable TPU
Style Range: Thong, cheeky, bikini, hip-hugger, hipster, brief, high-waist, boy short.
Sizes: XXS-3XL
Absorbency Level: Up to 5 tampons
Price: $34-$50
Lilova is on a mission to empower women and teens around the world to embrace their body and improve their self-confidence. They make period-proof underwear with a perfect fit that are free from leaks and odors. Each of Lilova's pair of underwear is made with a unique leak-resistant technology that hold up to 5 tampons' worth. Their underwear can also be used for postpartum bleeding and light bladder leaks or incontinence. Lilova's goal is to make period underwear that performs, is reliable, comfortable, and discreet. They want women to feel sexy, even while on their period. They also do not use silver nano particles in their underwear and use OEKO-TEX 100 certified materials such as organic cotton.
5. June
Materials: Not disclosed on their website
Style Range: Mid rise full coverage
Sizes: S-XXL
Absorbency Level: Not disclosed
Price: $24 per pair. They also offer bundles of 3 or 5 that come with a discount.
June makes menstrual care products including menstrual cups, menstrual discs and period underwear. Their period underwear can also be used to absorb sweat and bladder leaks too. Their underwear is a full coverage, mid rise style that is more comfortable than wearing regular pads. They are so comfortable they can be worn even when you don't have your period. June period underwear has been tested for fiber content and flammability and proven to be free of formaldehyde, AZO dyes, colorants, and PFAs.
6. Modibodi
Materials: Bamboo Viscose, Merino Wool, Organic Cotton, Recycled Nylon
Style Range: Bikini, brief, boyshort, thong, tween/teen
Sizes: 3XS–6XL
Absorbency Level: Up to 10 tampons or frequent bladder leaks
Price | $17–$45 for one. They also offer multi-packs.
Modibodi makes period panties with sustainable bamboo and merino wool and is packaged in compostable materials. They launched their first product in 2013 and initially started with making just absorbable underwear but have since expanded to make sustainable, reusable and absorbent apparel as well. They make gender inclusive products for a wide variety of ages including kids, teens and adults. Modibodi is also committed to sustainable material sourcing and ensuring they work with ethical manufacturers. They also use GOTS certified organic cotton in their products.
7. Neione
Materials: Modal, Spandex, Cotton, Polyester, Polyurethane Laminate
Style Range: Hipsters, Bikini, Boyshorts, Briefs
Sizes: XXS - 4XL
Absorbency Level: Up to 3 tampons
Price: $21.99-$39.99 and they offer multipacks
Neione was founded in 2012 and was formerly branded under the brand Intimate Portal. Neione period panties are absorbent, leak proof, and come in many different styles that fit like everyday underwear. Neione period panties have been made of PFAs-free fabric since its launch. They are committed to making safe and non toxic period underwear and some of the steps they take to ensure their product safety includes making underwear that is moisture-wicking but not stain-proof, their fabrics are manufactured by certified factories that comply with Oeko-Tex Standard 100 and they third party test their products to ensure they are PFAS free.
8. Period Company
Materials: Organic cotton, polyester and spandex jersey
Style Range: High waisted, Bikini, Sleeper, Thong, Teen Boyshort, Teen Bikini, Adaptive Bikini, Teen Adaptive Bikini, Boxer
Sizes: XS-6XL
Absorbency Level: Up to 10 tampons
Price: $12 - $14 per pair
Period's menstrual underwear is 95% OEKO-TEX certified organic cotton and 5% polyester, is made without antimicrobial chemicals, and are fairly inexpensive. They're one of the most affordable brands of period underwear on the market. They offer period underwear for all your period needs including for light flow days, medium flow days and heavy flow days. Their period underwear also comes in a variety of sizes and styles to suit all body types and style preferences.
9. Revol Cares
Materials: Bamboo, organic cotton, laminated organic cotton
Style Range: Bikini, bikini brief, boy-shorts, shortie, sleep shorts
Sizes: XXS-7X
Absorbency Level: Up to 10 tampons
Price: $24.99-$55
Revol Care's mission is to make absorbent leakproof underwear that banishes leaks, is soft and comfortable, looks and feels amazing on all body types of all sizes, and is toxin-free, ethically-made, and environmentally sustainable. Revol Cares uses responsible production methods, use eco-friendly materials and makes sure that materials are not wasted. They use OEKO-TEX standard 100 certified materials as well as CPSIA certified, GOTS certified and California Proposition 65 approved fabrics and materials to make their period underwear.
10. Saalt
Materials: TENCEL, Lycra, cotton
Style Range: Brief, thong, seamless, boyshort, bikini, hipster, french cut.
Sizes: XS- XXL
Absorbency Level: Light to heavy (up to 3 pads or 4 regular tampons)
Price: $22-$39; multi-packs also available for a discount
Saalt makes a variety of menstrual products including menstrual cups and menstrual underwear. Their period underwear comes in many different styles and many different absorbency levels, so whatever your needs are this brand has got you covered. I also love the look of their period underwear compared to some of the other brands in this review. The Saalt period underwear is designed to replace pads, tampons and pantyliners with ultra-absorbent, super comfortable built-in protection. Saalt is also a registered B corporation.
Brands I Don't Recommend (have been found to have PFAS)
I want to thank Mamavation for their ongoing work in this area. Over the last few years they have tested numerous period underwear options (as well as other personal care products) for the presence of PFAS chemicals and are constantly updating their findings. This list below are bands of period panties that have been tested by the Mamavation team and found to contain fluorine (an indication of PFAS). I would personally not recommend purchasing any of these products.
Thinx – The products tested had anywhere between 132- 940 ppm fluorine
Knix – The products tested had fluorine levels of 17-373 ppm fluorine
Proof Hipster–234 ppm fluorine
Cora–14ppm and 13ppm organic fluorine
Joyja–18 ppm fluorine
Maxim Hygiene–26 ppm organic fluorine
Panty's— 37 ppm organic fluorine
RAEL Period Underwear— 15 ppm organic fluorine and 10 ppm organic fluorine
Red Ruby Box–27 ppm and 22 ppm fluorine
Sustain Natural–71 ppm and 17 ppm fluorine
Thinx Speak High Waist–10 ppm fluorine
Victoria's Secret–20 ppm and 12 ppm fluorine
Other brands I don't recommend (no details on PFAS)
There are a few other brands that have not been tested for PFAs, who also do not provide details about PFAS testing on their websites. Therefore I cannot recommend these brands. This list of brands includes:
Love Luna
Dear Kate
Tom Organic
Get Rael
My top 2 picks:
Frequently asked questions:
How do I wash period underwear?
The most important thing is to make sure that the underwear doesn't dry out after you use it. Try to soak or rinse them soon after wearing. After soaking, machine wash your underwear with regular detergent and warm water. If you find there are some hard to remove stains, rub them with regular soap, and soak before washing. You should then line dry the underwear rather than using a dryer.
Are period panties odour proof?
As long as you care for your period underwear properly, and wash it after each use it should remain odour free.
Can period underwear be used for incontinence?
Yes, period panties can be used for incontinence. While they do not offer the same level of protection as a diaper, the advantage is that period panties feel like regular underwear.
Do period panties make a rustling noise?
No they do not. Unlike diapers which can make a rustling noise when you wear them, period panties do not make noises when you wear them.
Does Knix have toxic chemicals?
Yes, Knix period underwear has been shown to contain fluorine, which indicates they have PFAS chemicals in them, which are a form of potentially toxic chemicals.
Which period underwear doesn't have PFAS?
Only eight brands of period underwear have been found to be free fro PFAS including Aisle, Bambody, Innersy, Lilova, June, Modibodi, Neione, the Period Company, Saalt and Revol Cares.
What is the most affordable non toxic period underwear?
The most affordable period underwear that is PFAS free is made by The Period Company.
What period underwear is best for heavy flow?
Of all the non toxic period underwear brands I reviewed Aisle underwear offers the most absorbent option, with their underwear absorbing up to 11 tampons worth. Modibodi, the Period Company and Revol Cares also offer great absorbent options, with their underwear absorbing up to 10 tampons worth.
Since you made it this far we are basically best friends so be sure to follow me on Instagram, Pinterest, TikTok and Facebook where I share even more recipes and healthy living tips!
References: