Is ceramic cookware safe? This post will review whether ceramic cookware is a non toxic, non-stick cookware option, and which brands are safest to buy.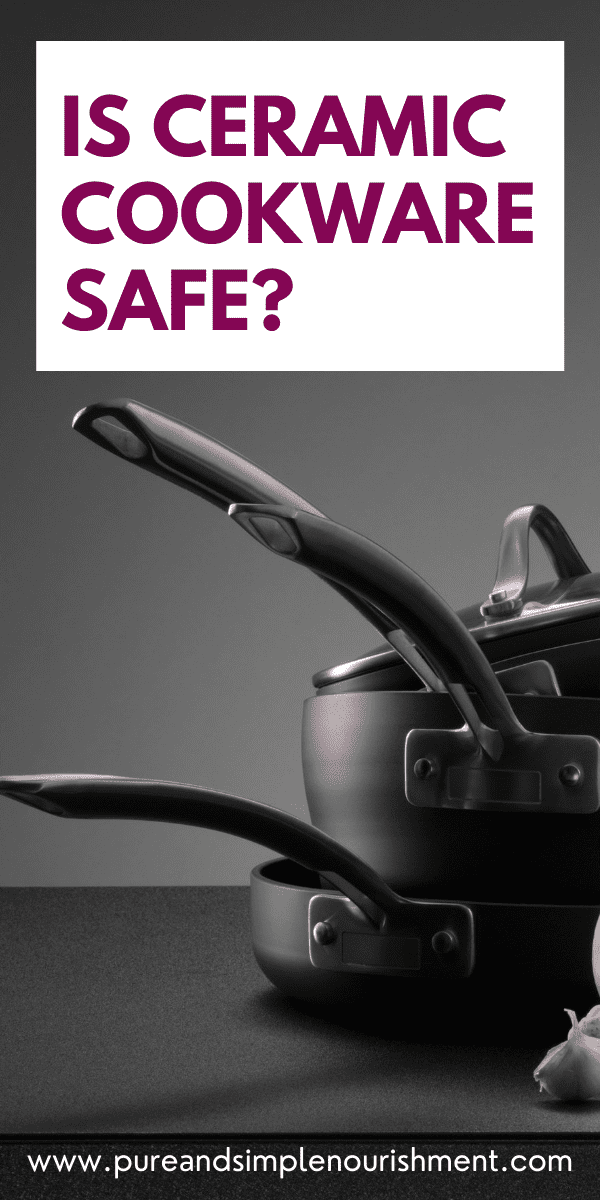 Is Ceramic Cookware Safe?
Many people love using non-stick cookware because it's so convenient and easy to use. However, more and more people are realizing that the most common types of non-stick cookware on the market, the ones made with Teflon coatings or other non-stick coatings are quite toxic and harmful to our health and are looking for alternative options. Because of this, ceramic cookware has been gaining popularity lately. And ceramic coated cookware, which is another form of non-stick cookware has become more and more popular. But, is ceramic cookware really safe? Is it a less harmful alternative to traditional non-stick cookware? This post will review whether or not ceramic cookware is safe, and which brands to consider purchasing.
Why Non Stick Cookware is Unsafe
Before we get into ceramic cookware, I wanted to review why traditional nonstick cookware is not safe because I realize this may be a new topic for some of you.
Non-stick or Teflon coatings that are used by most non stick cookware brands are made with Perfluorooctanoic acid (also known as PFOA, or C8). PFOA is a synthetic 8-carbon compound that is used in manufacturing fluoropolymers. Such as polytetrafluoroethylene, the material used to create non-stick pots, pans and bakeware.
PFOA is persistent in the environment, is not metabolized by the human body, and has a half-life in humans of 2–3.4 years (meaning it stays in your body for many years after you get exposed). We get exposed to PFOA through many different sources including through our cookware, our drinking water, and the air we breathe. Unfortunately, most of us have high levels of PFOA in our systems. With more than 99% of the U.S. population found to have PFOA in their serum when tested in the 2003–2004 National Health and Nutrition Examination Survey (NHANES). (For further reading please see the reference list at the end of this post).
The problem with PFOA is that it is extremely harmful to our health. PFOA can cause or contribute to many different health problems including but not limited to:
Colon cancer (interestingly the risk is highest with low level exposure, typical of what is seen in the general population compared to those with higher exposure levels)
Thyroid disease
Testicular cancer
Reduced fetal growth and development
Inflammatory bowel disease (including ulcerative colitis and Crohn's disease)
Kidney cancer
Increased cholesterol
ADHD
In other words, you want to try and avoid PFOA exposure, and thus traditional non-stick cookware as much as you can. One of the easiest ways to avoid PFOAs is to avoid any non-stick or Teflon coated cookware. Including pots, pans and bakeware (baking sheets, muffin pans, donut pans etc).
For further reading on this topic please see the references at the end of this post, and read about how to choose safe cookware.
With that background information in mind, let's now talk about ceramic cookware.
Is Ceramic Cookware Safe?
This really depends on the type of ceramic cookware you are using. As not all ceramic cookware is created equally. When looking at ceramic cookware you can get pure ceramic cookware, ceramic coated or ceramic enameled cookware, or glazed ceramic cookware. It is the ceramic coated cookware, the ceramic enameled cookware, and the glazed ceramic cookware that you need to be cautious of.
There are a few reasons why ceramic coated cookware, ceramic enameled cookware and ceramic glazed can be unsafe. First are the nanoparticles used to create the ceramic coating. Second, are the materials that are used in the cookware underneath the ceramic coating. And third are the materials used to set the ceramic coating or glaze it. So let's review all of these issues.
Nanoparticles in Ceramic Coated Cookware
For some of you, the term nanoparticle may be a new concept. Nano literally means "very small". To be more specific, nanoparticles are particles between 1 and 100 nanometres in size. Nanoparticles are used in many different industries, not just in cookware.
Because of their small size, nanoparticles can easily enter many bodily tissues or organs. And some of them can lead to different health problems. (For example, asbestos is an example of a nanoparticle that can cause cancer.)
When looking at ceramic cookware, the ceramic coatings or the ceramic enamel used by many brands have been found to release titanium dioxide nanoparticles from the non-stick ceramic coating into food. This is a problem as ingestion of nano titanium dioxide has been shown to cause many different health issues in animal studies including: causing harmful effects on male fertility (including damaging sperm), damaging the liver, testicles, heart, brain, kidneys, as well as altering the gut microbiome.
Unfortunately, there are very few human studies examining the ingestion of nano titanium dioxide. So it is not yet known whether the same effects that are seen in animals would be seen in humans. Because of this, we are also lacking safety data in humans for the use of nano titanium dioxide (meaning we don't know if it is safe or not to use) and because of these concerns, France recently banned the use of nano titanium dioxide as a food additive.
The good news is that in undamaged ceramic coatings, the titanium dioxide nanoparticles don't get released until exposed to temperatures of 500 °C or higher.
So, with typical cooking temperatures the nanoparticles shouldn't be released. However, mechanical degradation studies show that any surface scratches or damage to the ceramic coating (which occur overtime with normal use) leads to significant release of the titanium dioxide nanoparticles.
So, if your ceramic coated pots or pans or ceramic enameled cookware is in perfect condition (no scratches or signs of use) and you don't heat them to excess you should be safe. However, once the surface of those pots, pans, and other cookware items have any scratches or imperfections they would no longer be safe to use.
Another compound which many non-stick ceramic coated cookware brands use is Thermolon. Thermolon coating is a polymer hybrid composite material that is made with silicon (derived from sand), which is transformed into a sprayable solution, then cured onto the pot or pan in an oven. Besides silicon, it is unknown what other ingredients are in Thermolon. So it is very difficult to know if it is safe or not.
I have been unable to find any safety studies for Thermolon and while companies that use it claim it is a safe non-stick coating, without any actual studies to back up this claim I would advise using caution.
Other Materials Used in Ceramic Cookware
Another one of the problems with ceramic coated cookware are the materials used underneath the ceramic coating. These materials can also be harmful or dangerous to our health. So if the coating ever gets scratched or damaged (which does occur overtime with typical use) you then get exposed to even more harmful materials (such as aluminum or other heavy metals).
Glazed Ceramic Cookware
The final potential issue with ceramic cookware can be the coatings and glazes used to seal the ceramic. Some brands use glazes to seal or help set the ceramic coating. And these glazes can contain harmful chemicals or materials including heavy metals that can leach into food. There are even case reports of people getting lead toxicity from glazed ceramic cookware. So when looking at ceramic cookware you want to look for brands that use a pure ceramic glaze, and test their glazes for heavy metals to ensure they are safe.
What Ceramic Cookware is Safe?
Now that we have gone over the risks of ceramic coated, ceramic enameled and glazed ceramic cookware you probably want to know which brands of ceramic cookware are safe to buy. Navigating the ceramic cookware market can be tricky, as many brands won't disclose the materials they use to make their ceramic coatings. If a brand won't disclose the materials they use, I wouldn't recommend them since you just don't know if they are safe to use or not.
Durability
Another issue with ceramic coated cookware is the lack of durability. Unfortunately, with normal use, these pots and pans tends to get scratches and signs of wear very quickly. Many people report that only after a few months their ceramic coated cookware shows signs of wear and tear. And as we discussed previously, the materials under the ceramic coating could be dangerous to your health, so once your ceramic coated cookware shows signs of damage you would need to get rid of it. This means that you would need to invest in new cookware very frequently which would get very expensive over time.
I have tried to make things easier for you and have created lists of ceramic cookware brands to avoid, brands to consider using, and the safest brand that I could find in the lists below.
Ceramic Cookware Brands to Avoid:
These brands either won't disclose what materials they use in their ceramic cookware or ceramic coatings, contain nano particles, or have received a letter of intent from an attorney in the State of California to sue them under Prop. 65 consumer protection laws. Because of these reasons, I suggest avoiding these brands (note that this is not an exhaustive list and I have not been able to review every single brand on the market).
Anolon Ceramic Cookware
Blue Diamond Cookware
Calphalon Ceramic Cookware
Caraway Ceramic Cookware - Caraway confirmed with me that they do use nano particles in their ceramic coatings.
CookLover Ceramic Cookware
Cook-n-Home Cookware
Cooksmark by Americook Cookware
Cuisinart Ceramic Cookware
Equal Parts Cookware
Farberware Ceramic Cookware
Gotham Steel Cookware
GreenLife Ceramic Cookware
Hexclad Cookware
Kenmore Arlington Nonstick Ceramic Cookware
Le Creuset Ceramic Cookware
Nutrichef Nonstick Cookware
Shineuri Diamond Hard-Anodized Cookware
Staub Ceramics
T-Fal Cookware
Williams Sonoma
Deane and White Cookware
Ceramic Cookware Brands That Might be Safe:
These brands use a ceramic coating of something the brands say are not made of nanoparticles or PFAS. However, these brands are not transparent about what is actually in the coating of their product. So it's difficult to know if they are truly safe or not. But these brands do pass California's strict consumer law, Prop. 65, and have no filed complaints against them. This means they have low levels or no heavy metals and other contaminants coming from their cookware. The Ecology Center released cookware testing of Green Pan and Bella Basics and confirmed they were coated with silicon dioxide ceramic.
Just note that because these brands are ceramic coated, and not pure ceramic, once the ceramic surfaces are damaged I recommend no longer using them as you could then be exposed to materials that are underneath the ceramic coating or the ceramic enamel.
Bella Basics Cookware
Our Place Cookware
The Safest Ceramic Cookware Brand:
Xtrema cookware is the safest ceramic cookware brand on the market and is the one that I recommend using. Xtrema products are made from 100% pure ceramic (including a ceramic core and a ceramic glaze) and as far as I can find, they are the only ceramic cookware brand that uses pure ceramic. They also contain no PFOA, PTFE, glues, polymers, coatings or dyes.
This brand does not use coatings with nano particles and does not leach nano-materials into food. Xtrema also passes California's strict consumer Prop. 65 laws with laboratory testing on heavy metals and offers sample laboratory reporting from all runs of their cookware. In other words, their glazes and materials do not leach heavy metals.
So, if you are going to invest in ceramic cookware, I highly recommend sticking to the Xtrema brand. Their cookware is an investment but it will last a lifetime, so even though it will cost more up front, you won't have to replace these pots and pans every 6-12 months like you would with the other ceramic brands I reviewed, so in the long run it will actually be less expensive.
Xtrema has been kind enough to give me a discount code for my readers. Simply use this link to shop and use the code PURENSIMPLE at checkout to get 10% off your purchase.
Other safe cookware options:
If you are looking for other safe cookware options, luckily there are many other choices besides pure ceramic for you to choose from, many of which are more affordable. To learn what other types of cookware are safe, please refer to my post on non toxic cookware options.
Frequently asked questions:
Is thermolon safe?
Thermolon coating is a polymer hybrid composite material that is made with silicon, derived from sand, which is transformed into a sprayable solution, then cured onto cookware surfaces in an oven. Besides silicon, it is unknown what other ingredients are in Thermolon, so it is very difficult to know if it is safe or not. There are no published safety studies on Thermolon to confirm whether it's safe for health or non toxic.
Is GreenPan safe?
Greenpan is likely one of the safer ceramic cookware brands on the market. They pass California's strict consumer law, Prop. 65. and are made with Thermolon which is a silicon based non-stick material. However, we do not know all of the ingredients used in Thermolon, so it's difficult to know if it is completely safe or not.
Is Blue Diamond cookware safe?
Blue Diamond cookware uses a diamond-infused ceramic nonstick coating. The brand does not disclose what materials are used in their ceramic coating so I would be cautious and avoid purchasing this brand as you don't know if the coating is safe or not.
Are scratched ceramic pans safe?
No, scratched ceramic pans and pots are not safe to use. The materials under the ceramic coating can be harmful to health, so it's recommended that once your ceramic coated cookware shows signs of wear that you dispose of it.
The Bottom Line: Is Ceramic Cookware Safe?
That really depends on the type of ceramic cookware you are looking at. The safest type of ceramic cookware is pure ceramic and the only brand of pure ceramic cookware I have been able to find is Xtrema cookware. Try to avoid ceramic coated, ceramic enameled, and ceramic glazed cookware if you are looking for the safest, non-toxic options.
Other health info you will like:
Since you made it this far we are basically best friends so be sure to follow me on Instagram, Pinterest, TikTok and Facebook where I share even more recipes and healthy living tips!
References: