This Dairy Free Potato Soup is the ultimate in comfort food. Perfect for cold winter days and nights this soup is sure to be a hit with your whole family. This soup tastes so good you won't even be able to tell it's dairy free or Whole30!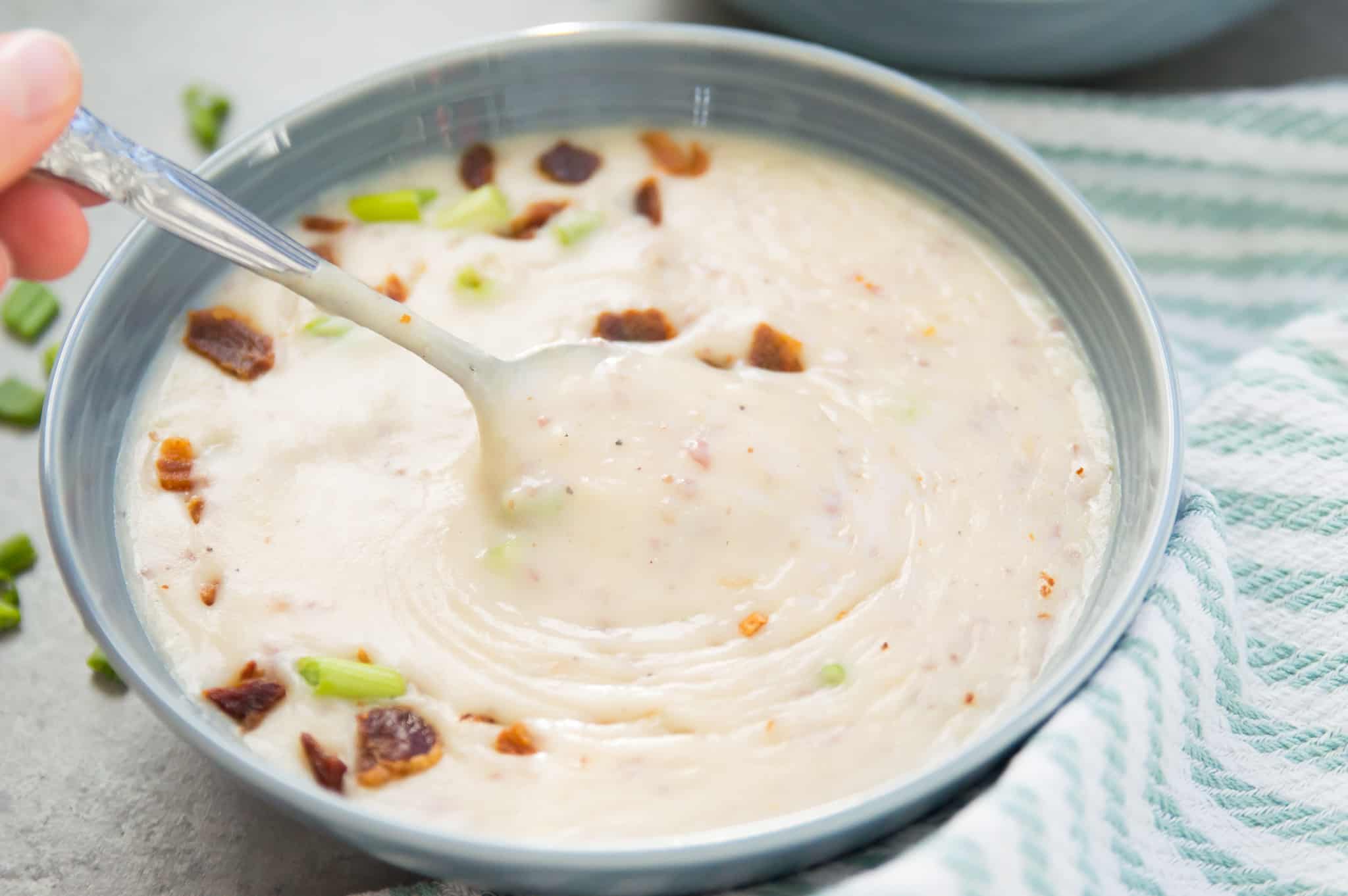 Note that this recipe was initially published in January 2018 but the photos and post were updated on December 30, 2019.
On the menu this week is another Whole30 recipe for you guys: a Dairy Free Potato Soup. This is my new favorite comfort food. This soup is so creamy and delicious and is just perfect for those cold winter days and nights. This recipe also makes a large amount of soup which is perfect for leftovers and for freezing for meal prep.
Why this Dairy Free Potato Soup is so good: 
It's so creamy and delicious
It's really easy and simple to make
It doesn't require any fancy or hard to find ingredients
It's Whole30 compliant and it's also gluten free, dairy free and can be made vegan as well
It can be turned into a complete meal by adding cooked chicken or grass fed ground beef
Is this Dairy Free Potato Soup paleo? 
Technically no. When the paleo diet was first created, potatoes were not allowed on it. However, there are many paleo experts, including myself, who now allow people to eat non-GMO potatoes on the paleo diet. As long as you tolerate them that is. I personally tolerate white potatoes better than sweet potatoes so I do eat them.
However, my one rule of thumb when it comes to food is to always listen to your body first. If potatoes do not agree with you, do not eat them. I just don't want anyone getting upset that as a paleo blogger I am posting this potato recipe so I felt it important to explain.
How to make this Dairy Free Potato Soup: 
Use a medium sized frying pan, and cook your bacon until crisp

While the bacon is cooking, fill a large pot with water and place on medium heat on the stove

Clean the potatoes and chop them into quarters (leave the skin on – this is where most of the nutrients are located)

Once the water in the pot is boiling, add the chopped potatoes and t

urn the burner down so that the potatoes cook at a low boil for 25-30 minutes, until soft

While the potatoes are boiling, remove the bacon from the frying pan and use the grease to saute the chopped onion and apple together, until the onion is caramelized and the apples are tender (~10-15 minutes)

Once the potatoes are cooked, drain the water from the pot

Transfer the onions, apples and bacon fat to the pot with the potatoes

Add the remaining ingredients to the pot and u

sing your metal immersion blender blend the ingredients until smooth
How to make this dairy free potato soup vegan: 
Simply leave out the bacon. Just cook the onions and apples in a little coconut oil or avocado oil instead. Then substitute the bone broth with vegetable broth.
Variations on this dairy free cream of potato soup: 
Add 2 cloves of minced garlic to the onions and apples for a slightly different flavour
Add some cooked chicken or grass fed ground beef to turn it into a complete meal
Top the soup with raw cashews or sunflower seeds to add a little crunch
If you don't tolerate coconut milk you can use cashew milk instead
Other recipes you will love: 
Since you made it this far we are basically best friends so be sure to follow me on Instagram, Pinterest and Facebook where I share even more recipes and healthy living tips! And don't forget to leave this recipe a star review before you go!
Dairy Free Potato Soup (Whole30)
This Dairy Free Potato Soup is such a creamy and delicous soup. It's Whole30 compliant and makes the perfect fall or winter comfort food.
Ingredients
1

package nitrate and sugar free bacon

3

lbs

organic yellow or white potatoes

2

red apples of choice, chopped

(such as Gala or Honey Crisp)

1

white onion, chopped

3

cups

bone broth

2

cups

full fat coconut milk

1/2 - 1

tsp

sea salt

1/4

tsp

ground black pepper

Optional: chopped chives (for garnish)
Instructions
Using a medium sized frying pan, cook your bacon until crisp

While the bacon is cooking, fill a large pot with water and place on medium heat on the stove

Clean the potatoes and chop into quarters (leave the skin on - this is where most of the nutrients are located)

Once the water in the pot is boiling, add the chopped potatoes

Turn the burner down so that the potatoes cook at a low boil for 25-30 minutes, until soft

While the potatoes are boiling, remove the bacon from the frying pan and use the grease to saute the chopped onion and apple together, until the onion is caramelized and the apples are tender (~10-15 minutes)

Once the potatoes are done, drain the water from the pot

Transfer the onions, apples and bacon fat to the pot with the potatoes

Add the remaining ingredients to the pot

Using your immersion blender (this is the one I use and love), blend the ingredients until smooth

Optional: Top with chopped bacon and chives
Recipe Notes
This soup can be stored in the fridge for up to a week
This soup can be frozen and makes great leftovers 
Pin this recipe for later: