This salmon loaf with dill sauce recipe is an easy weeknight meal that's made with canned salmon. This healthy salmon loaf has so much flavour and makes great leftovers. This is not the old fashioned salmon loaf you grew up with! It's also gluten free, paleo, Whole30, and low carb and keto.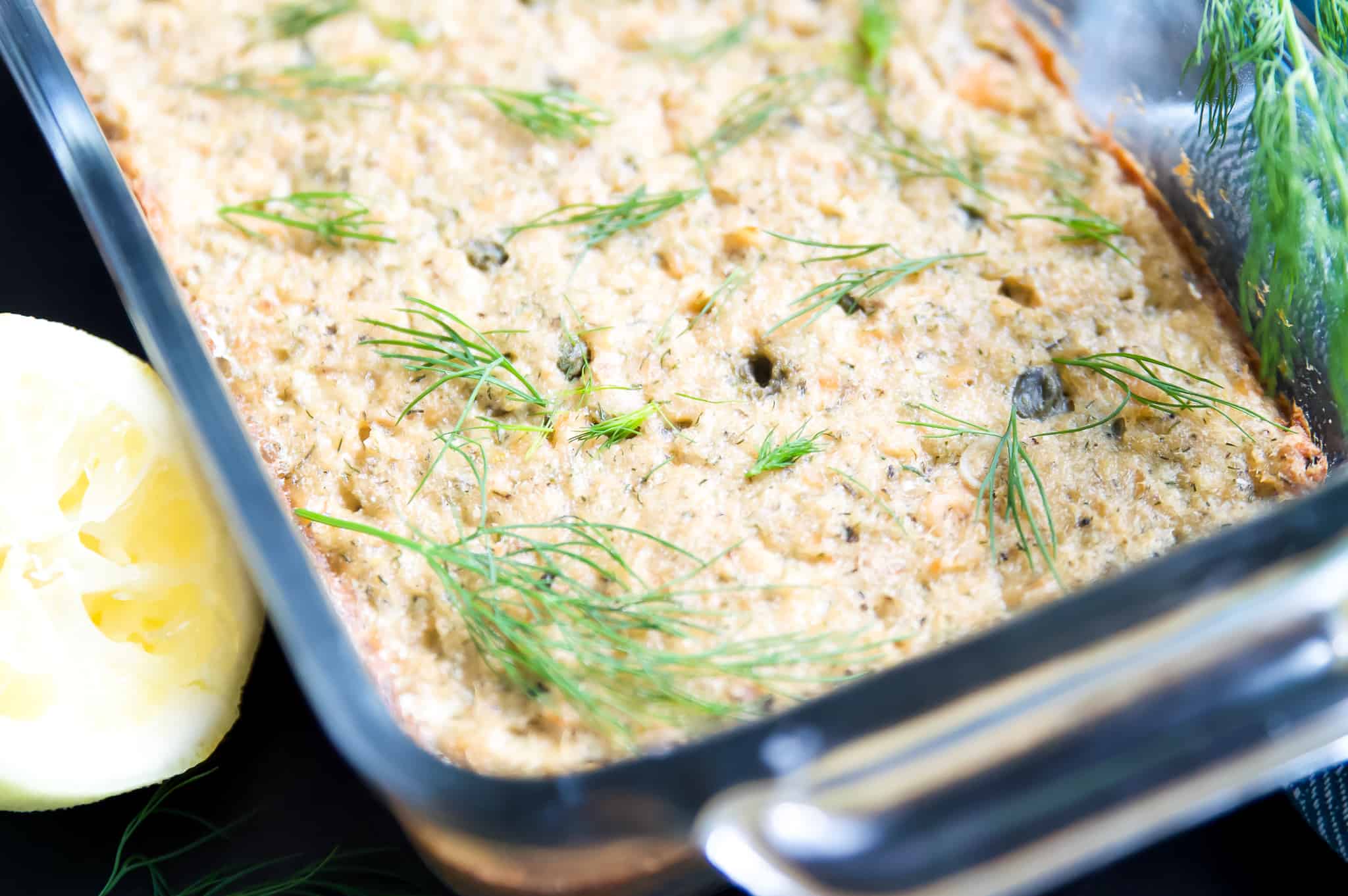 Why you will love this recipe:
Move over Paula Deen! This is the best salmon loaf recipe! It has so much flavour! Most old fashioned salmon loaf recipes are so bland, but not this one.
It is really simple and easy to make because it uses canned salmon and is baked in the oven.
The dill dressing for this salmon loaf takes it up just one more level and makes it taste even better!
It doesn't require and fancy or hard to find ingredients and makes great leftovers.
It's great for meal prep.
It freezes really well.
The salmon loaf sauce with this recipe makes it even tastier and also makes a great dressing for salads.
This salmon loaf is a healthy complete meal that is also gluten free, dairy free, paleo, Whole30, keto, and low carb.
Taste and texture:
This salmon loaf is full of flavour and is nice and moist in the middle. It has hints of dill, lemon and capers. Never dry or bland the creamy salmon loaf sauce adds even more flavour with even more lemon and dill notes.
Key ingredients and substitutions:
Canned salmon – canned salmon forms the base of this delicious salmon loaf. I recommend using wild caught canned salmon rather than farmed salmon for this salmon meatloaf.
Mayonnaise – mayonnaise adds moisture, flavour and healthy fats to this recipe. Be sure to check out my tips for choosing a healthy mayonnaise below.
Almond flour – almond flour is used as a binder in this recipe instead of bread crumb or oats. This keeps the recipe gluten free, low carb and paleo. You can find almond flour in the gluten free or organic sections of most grocery stores and it is also readily available online. Just be sure to use almond flour and not almond meal.
Capers – the flavours of capers and salmon blend so well together!
Dill – the flavour of dill adds such a nice compliment to the salmon flavour in this recipe.
Health benefits of salmon:
Wild caught salmon is full of vitamins and minerals and is high in omega 3 fatty acids, meaning it helps reduce inflammation and is great for heart health. Wild salmon is also a great source of calcium and vitamin D.
Salmon is also a complete protein that will help keep you full and satisfied for hours.
Is is safe to eat canned salmon?
It is safe to eat canned salmon, but be sure to choose salmon in cans that are BPA free and to pick wild salmon, not farmed salmon to ensure you are getting the safest salmon you can find. If a can indicates that the salmon inside is Atlantic salmon, you'll want to choose a different kind. Atlantic salmon is always farmed, as they have been nearly driven to extinction in the wild.
Also make sure the label on the can indicates that the salmon is either Alaskan pink salmon, sockeye salmon, or red salmon. All of those terms indicate that the salmon is wild and from North American waters.
How to choose a healthy mayonnaise:
Many people see the word mayonnaise and cringe because most store bought mayonnaise brands are full of unhealthy ingredients like crop oils and refined sugars. That's why it's really important to read labels carefully and choose one with good for you ingredients.
To choose a healthy mayo you can make your own mayonnaise, or get a store bought brand made with healthy ingredients. My favourite store bought mayonnaise brands are Chosen Foods Mayonnaise and Primal Kitchen Mayonnaise because they are both made with avocado oil and free of crop oils and processed sugars.
How to make this recipe:
Step one:
First, preheat your oven to 350 degrees Fahrenheit.
Step two:
Next, combine all the loaf ingredients in a large bowl, and stir well until the ingredients are mixed.
Step three:
Now transfer the ingredients to your greased bread pan, or bread pan lined with parchment paper, and spread the ingredients until they are smooth.
Step four:
Then place the pan in the oven and bake the loaf for ~40 minutes, or until a toothpick inserted into the loaf comes out clean. Let it cool for a few minutes, top it with the dill sauce, then cut the loaf into pieces and enjoy! While the loaf is cooking you can make the dill sauce (see the instructions below).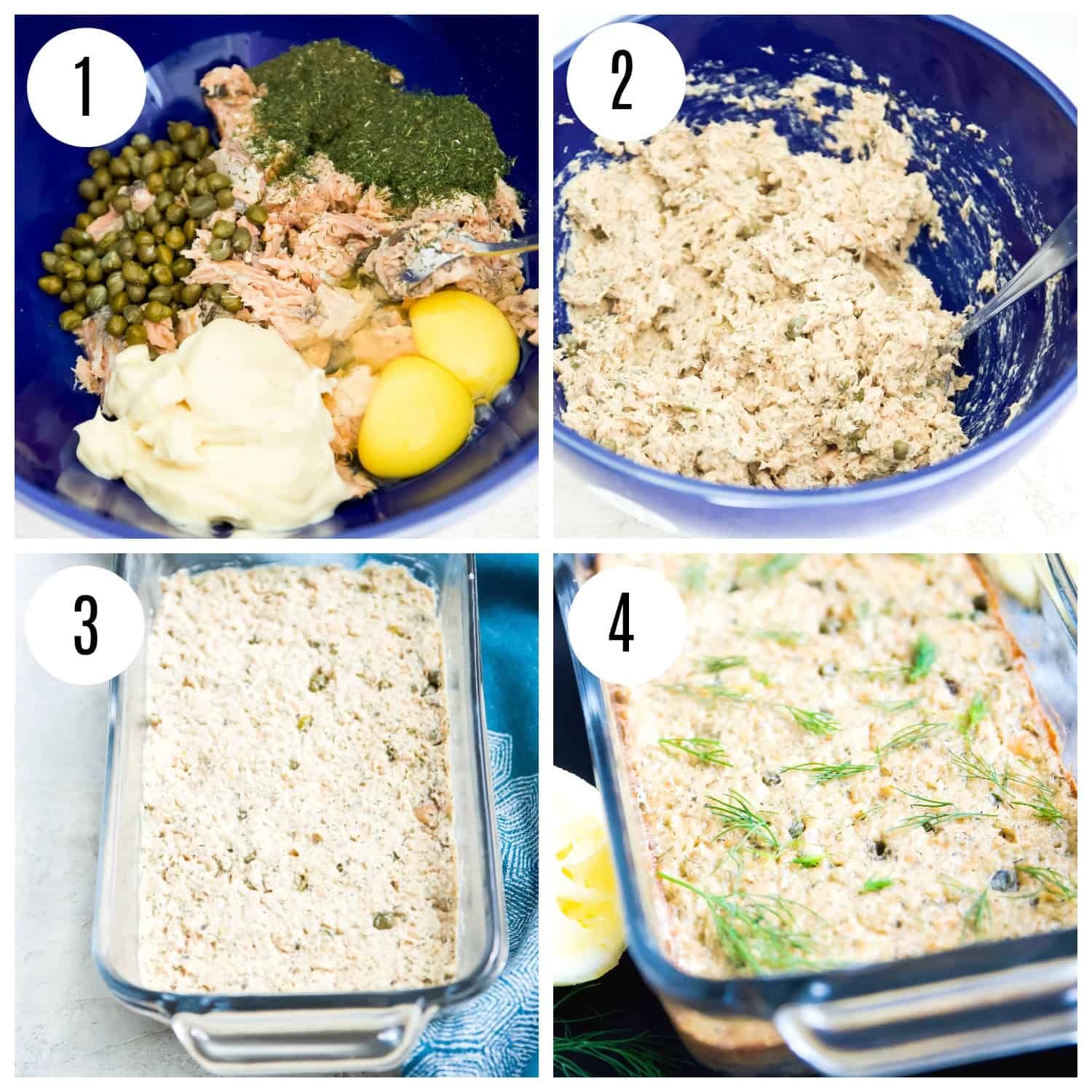 To make the dill sauce:
Step one:
Place all the ingredients into your high speed blender and blend well until smooth.
Step two:
Once the loaf is cooked, pour the sauce over the loaf to serve.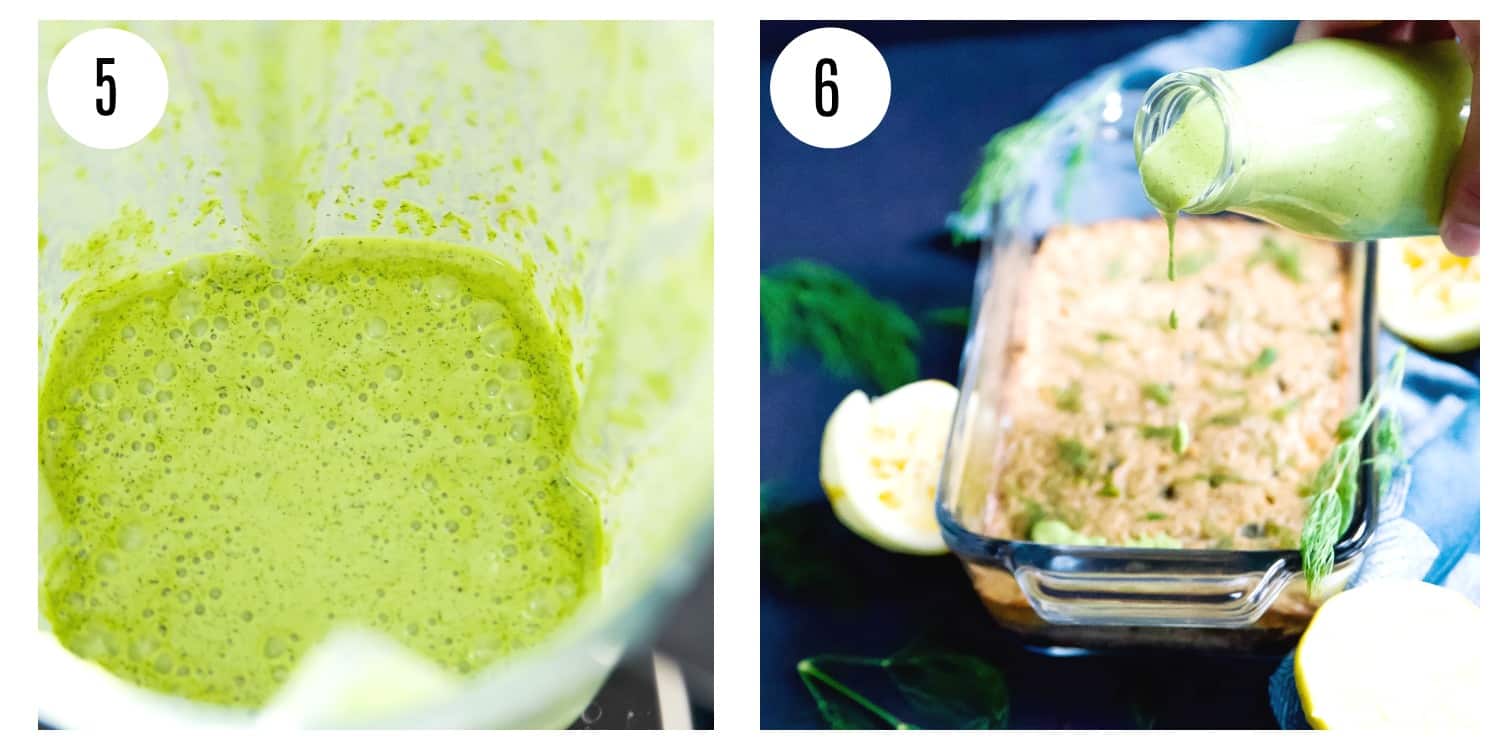 Tips and variations:
Instead of using the dill sauce you could top this salmon loaf with other sauces such as your favorite dressing or dip.
Be sure to drain the water from the canned salmon before preparing this loaf.
You can add other vegetables to the loaf including things like chopped celery.
You could also use canned sockeye salmon.
Feel free to add more dill or lemon zest to give it even more flavour.
How to serve:
This salmon loaf pairs well with many different side dishes including rice, salads, coleslaw, roasted vegetables, cauliflower rice, sweet potato rice, potatoes, French fries, or even pasta. You can also eat it on its own as a snack.
How to store:
Store this salmon loaf in the fridge in an air tight container for up to 5 days.
This loaf also freezes really well for up to 3 months. To freeze it, wrap the whole cooked loaf or slices individually with parchment paper. Then place it in a large freezer bag. Remove as much air as possible and seal tightly. Just be sure to freeze it without the sauce and then prepare that later when you are ready to eat it.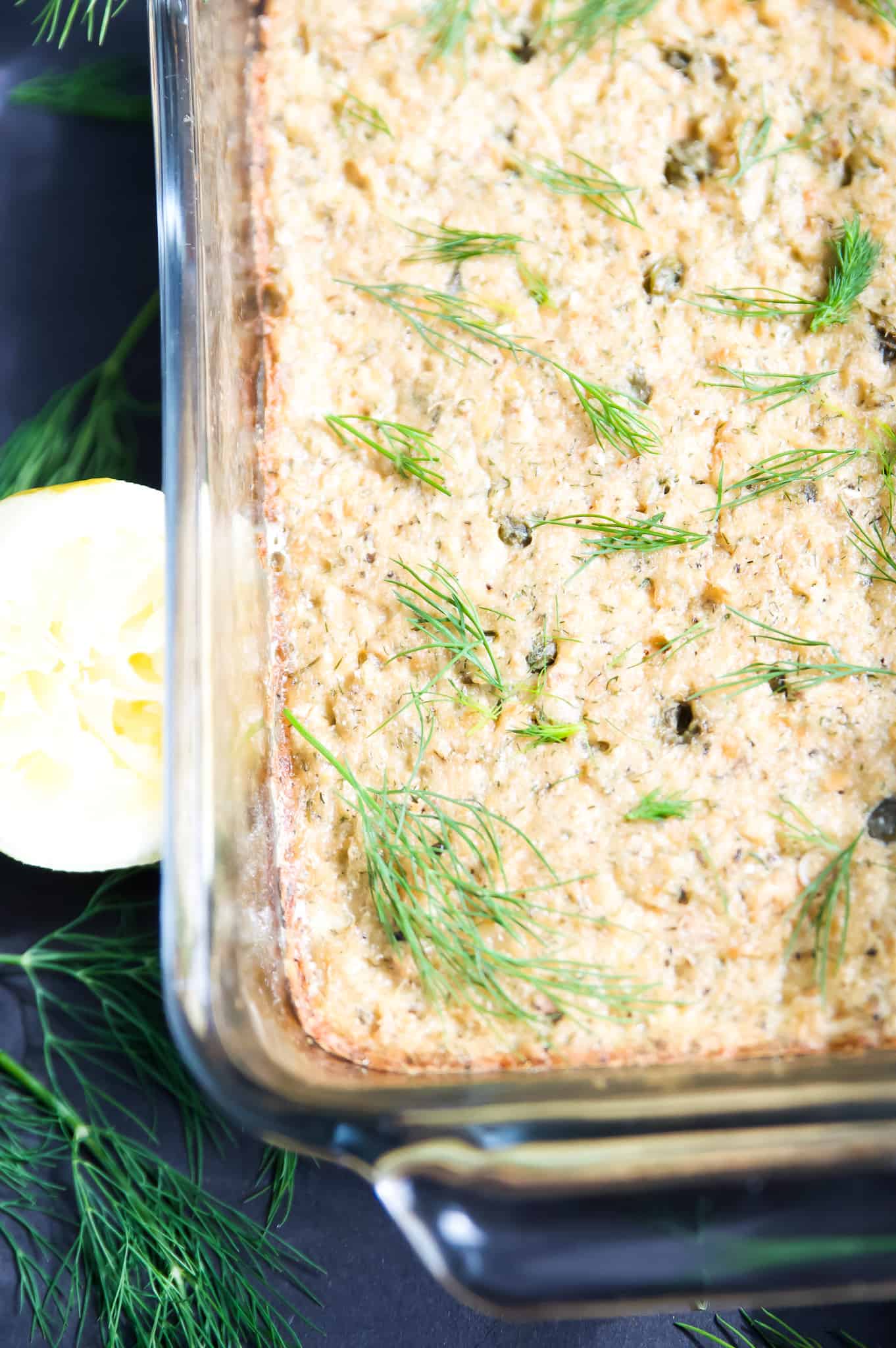 Frequently asked questions:
Does canned salmon have mercury?
The good news is that when it comes to fish, salmon has very low levels of mercury and is felt to be safe compared to many other types of fish. When it comes to mercury and fish, predatory fish that eat a lot of other fish for food tend to contain higher levels of mercury. These include tuna, shark, swordfish, marlin, orange roughy and escolar.
Is this salmon loaf keto?
Yes this salmon loaf recipe is both keto and low carb.
Other recipes you will love:
Since you made it this far we are basically best friends so be sure to follow me on Instagram, Pinterest, TikTok and Facebook where I share even more recipes and healthy living tips! And don't forget to leave this recipe a star review before you go!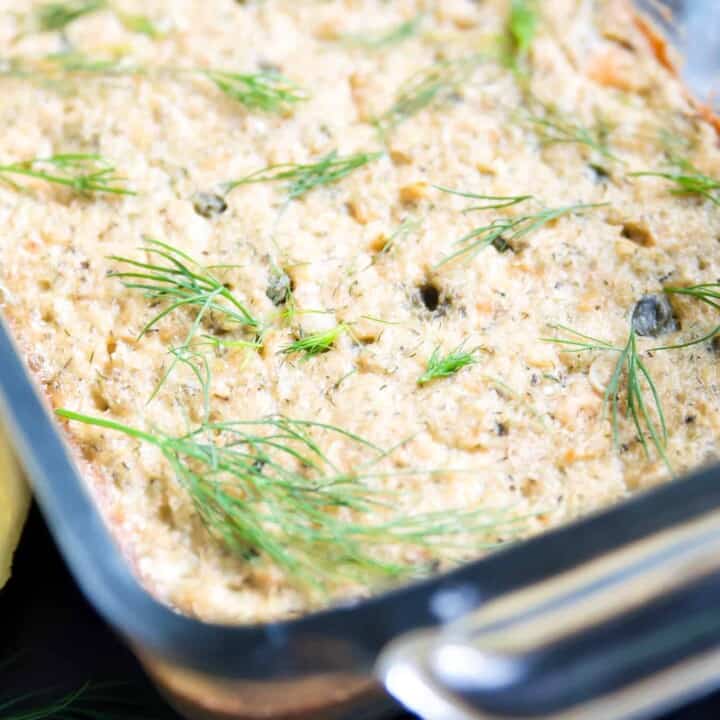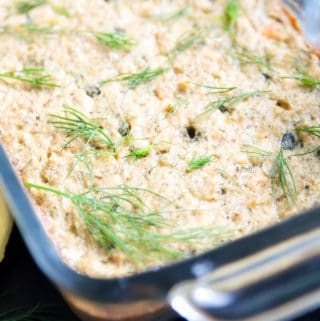 Salmon Loaf with Dill Sauce
Salmon loaf with dill sauce has the most amazing flavour and is so easy to make. Healthy and low carb even your kids will love this recipe!
Print
Pin
Rate
Ingredients
Salmon Loaf Ingredients
3

cans

wild caught salmon

(equivalent to 480 grams)

1/2

cup

mayonaisse

1/3

cup

plus 1 tablespoon almond flour

1/4

cup

capers, juice drained

2

large eggs

1

tablespoon

lemon zest

1

tablespoon

dried dill

1/2

teaspoon

sea salt

(or more to taste)

1/4

teaspoon

ground black pepper

(or more to taste)

1

tablespoon

coconut oil

(to grease the bread pan)
Instructions
Add all the ingredients to a bowl and stir well until smooth.

Transfer the ingredients to a greased glass bread pan (alternatively make a parchment paper sling) and spread evenly until smooth.

Place the pan in the oven and bake for ~40 minutes (or until a toothpick inserted into the loaf comes out clean).

While the loaf is baking you can make the dill sauce (see below).

Remove from the oven and let cool for a few minutes.

Pour the dill sauce over the loaf and then serve and enjoy!
Dill Sauce Instructions
Place the ingredients into your Vitamix or other high speed blender and blend well until smooth.
Notes
This loaf stores well in the fridge for up to 5 days. 
You may have left over dill sauce. It also makes a great dressing for salads or vegetable dishes.
Nutrition
Calories:
546
kcal
|
Carbohydrates:
3
g
|
Protein:
24
g
|
Fat:
49
g
|
Saturated Fat:
11
g
|
Polyunsaturated Fat:
14
g
|
Monounsaturated Fat:
19
g
|
Trans Fat:
1
g
|
Cholesterol:
117
mg
|
Sodium:
777
mg
|
Potassium:
580
mg
|
Fiber:
1
g
|
Sugar:
1
g
|
Vitamin A:
185
IU
|
Vitamin C:
2
mg
|
Calcium:
53
mg
|
Iron:
2
mg