Whole30 Cilantro Lime Cauliflower Rice is such a great alternative to plain cauliflower rice. Because let's be honest, cauliflower rice can be a little boring. But not this Cilantro Lime Cauliflower Rice! This dish is also paleo, AIP and vegan friendly and is incredibly easy to make. Your whole family will love it! 
After last weeks recipe of Paleo Cookie Bites with Maple Butter Icing I decided I better post something other than a dessert recipe this week. Because as much as I love my paleo treats, I realize they can't make up the majority of your diet. Sad but true right? So this week we are diving into Cilantro Lime Cauliflower Rice. Which trust me, is so, so good!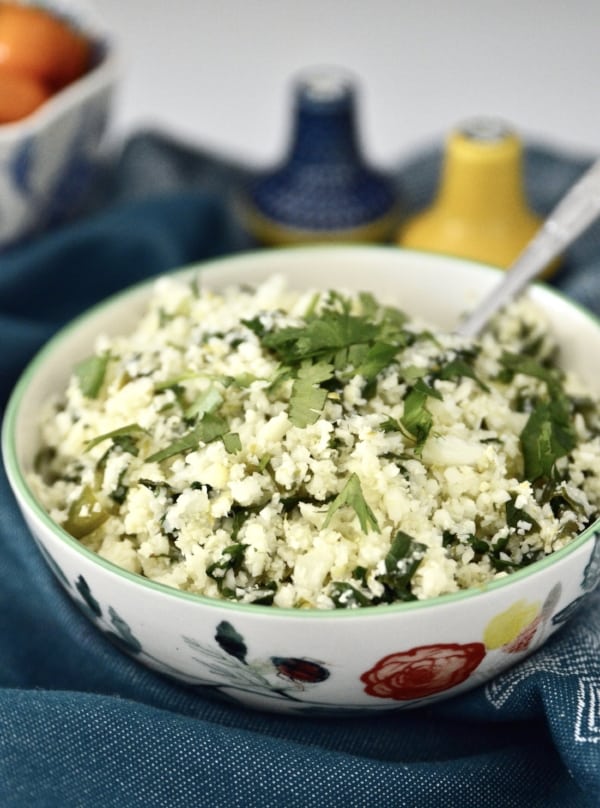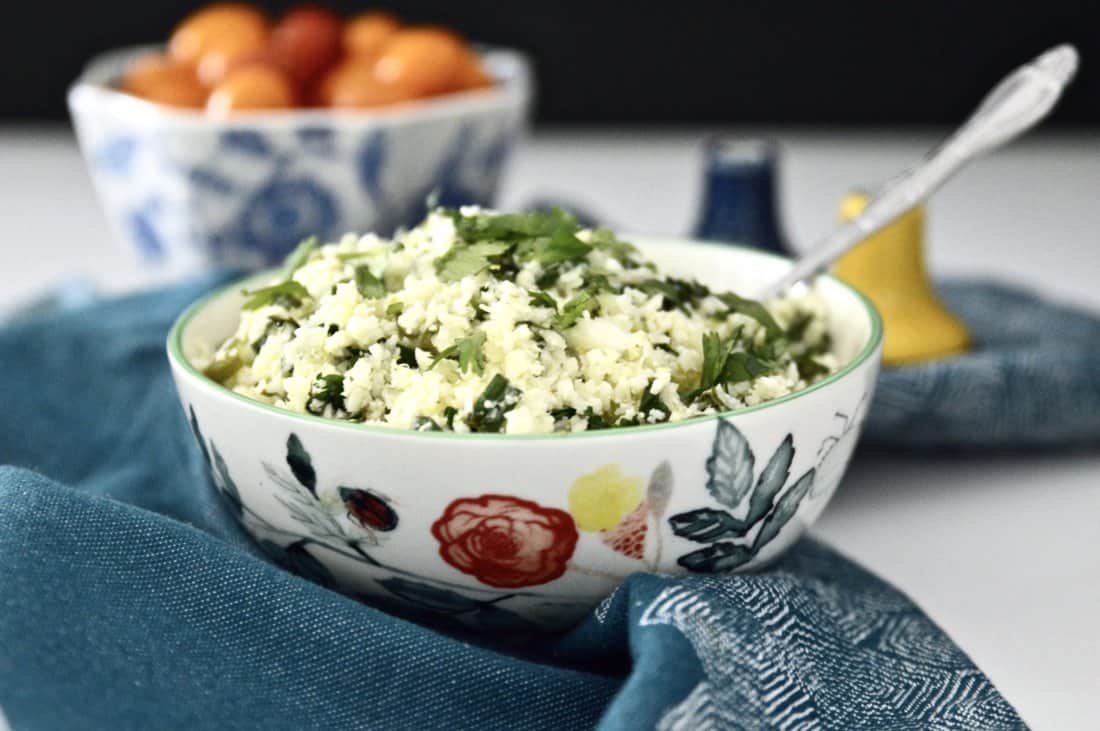 How was your weekend? Amazing I hope! Mine was busy. But a good busy! On Saturday I held a little Beautycounter social at my place which was a ton of fun! I made some yummy snacks, did a little safe skincare education and then the ladies got to play with all of my Beautycounter goodies! One girl even loved the products and the mission behind the company so much that she decided to become a consultant right there on the spot. It was so fun to watch!
I get asked all the time why I signed up to be a Beautycounter consultant. "Aren't you busy enough Erin? You already run a full time medical practice, a blog, and now you are selling skincare products too?" These are the questions I get asked. But for me the answer is pretty simple. My passion is in health and wellness. And right now most of us are being exposed to so many toxic and dangerous chemicals through the products we are putting on our skin, and most people have no idea this is going on. It's a simple fact that the skincare industries in the US and Canada are basically un-regulated. This means that brands are allowed to use known carcinogens, endocrine disruptors, neurological toxins and other harmful ingredients and they don't even have to disclose those ingredients on the labels! It is so maddening!
Everyday I see patients who are so, so, sick without an obvious reason. We are just starting to realize the impact of our environmental exposures on many different health conditions including cancers, autoimmune diseases, neurological diseases and more. And the stuff you are putting on your skin makes up a big piece of this puzzle. Because remember, the majority of what you put on your skin gets absorbed within seconds of application into your bloodstream. Meaning those toxins can then impact every organ in your body. I could rant forever about this topic because it really does make my blood boil, but I will save you from that today. If you are interested in learning more though, please send me a message and I would be so happy to chat! You can also learn more about Beautycounter and their products by going here:
www.beautycounter.com/erincarter
It doesn't take a lot of work to be a Beautycounter consultant, and the financial benefit has been such an added bonus for me as well. If you are at all interested in health and wellness, or are even just looking to earn a little extra money signing up as a consultant may be the perfect fit for you. Again, just message me and we can chat!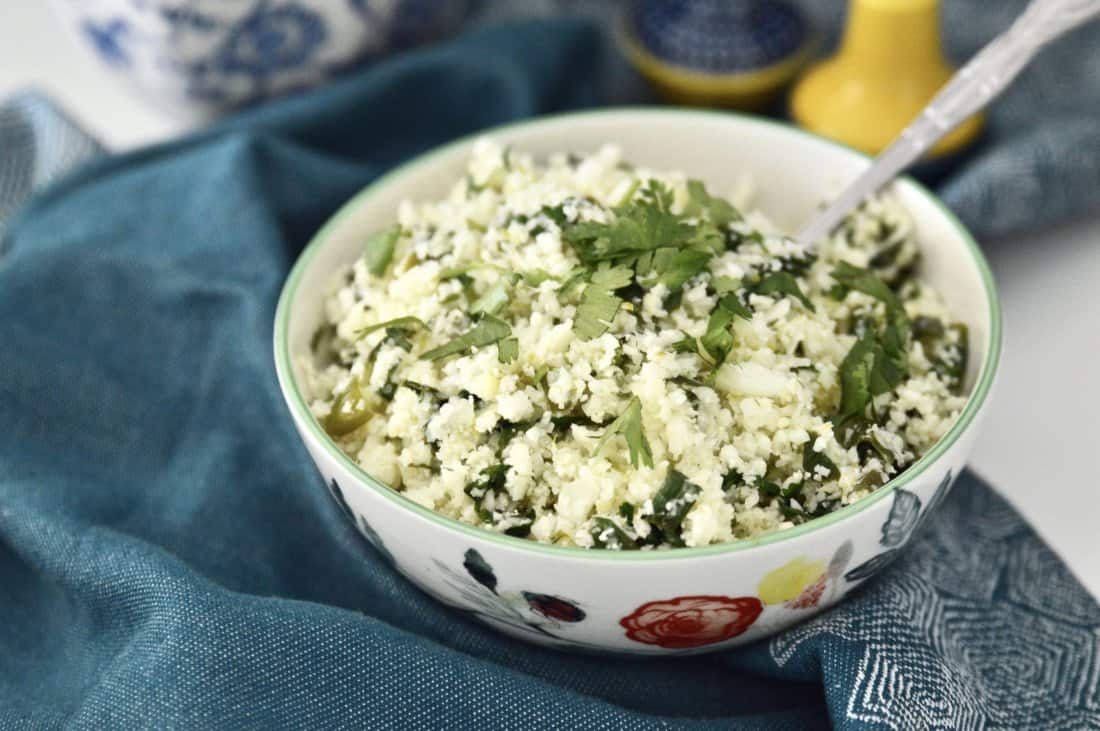 But that's enough skincare talk for one day. Let's chat about this Cilantro Lime Cauliflower Rice shall we? Doesn't it look tasty? That's because it is! Can you believe this is my first cauliflower rice recipe that I have ever posted? I know right? Because what is the paleo diet without some cauliflower rice? The flavours of this dish were inspired by my trip to Bali that Erik and I took back in October (can you believe it was that long ago? I can't!). The food flavours there were just so incredible. I already want to plan my next trip back!
This Cilantro Lime Cauliflower Rice is paleo, Whole 30, vegan, GAPS, SCD friendly and is of course, gluten, grain and dairy free. It is such a great tasting side dish that pairs well with stir-fry, chicken or pork dishes. I even had some with my grassfed steak last week. Speaking of which, I have had a lot of questions from you guys recently about where to get grass-fed beef. So I have made it so much easier for you! I have partnered with Butcher Box who will deliver grassfed beef and other pasture raised meats straight to your door! So if heading out to the farm to get your meat, like I do, isn't feasible for you, this might be the perfect option. Plus, if you sign up through this link you will get a FREE package of bacon and $10 off of your first order! You can learn more about Butcher Box here.
I hope you love the rice! Please let me know if you try it.
Until next time, happy eating friends!
Cilantro Lime Cauliflower Rice
(Paleo, Whole 30, Vegan, GAPS, Gluten Free, Grain Free)
Ingredients
2

tbsp

coconut oil

2

limes, for zest

1

cup

chopped green onion

1

head of cauliflower

1/4 - 1/2

tsp

sea salt

1

lime, for juice

1

cup

chopped cilantro
Instructions
Rice your cauliflower by first cutting the cauliflower into florets and then pulsing it in your food processor (you can also use a hand grater if you don't have a food processor)

Place a large pan on the stove on medium heat

Add the coconut oil, lime zest and green onion to the pan and satay for 1-2 minutes

Add the cauliflower rice and stir to combine

Add the salt and lime juice

Stir in the chopped cilantro and cook for another 1-2 minutes (until it is the consistency you desire)
You might also like
Orange Ginger Chicken Stir Fry
Pin this recipe for later: