This immersion blender Keto mayonnaise is so easy to make and ready in only one minute! So rich and creamy this mayo is made with just five simple ingredients, is low in carbs, and is also Whole30 and paleo compliant.
Keto Mayonnaise
Why this keto mayonnaise is so good:
Most importantly it tastes amazing! It's so creamy and rich and has the perfect texture
It's incredibly easy to make and is ready in 1-2 minutes
It's made with an immersion blender so your clean up is really simple
It's made with just five simple ingredients that I bet you already have in your house
It's healthier than most store bought mayonnaise brands which are often filled with sugar, artificial flavours, and crop oils
Not only is this mayo keto but it's also Whole30, low FODMAP and paleo compliant
The equipment needed to make this keto mayo:
How to make this keto mayonnaise:
You will love how easy this mayo is to make!
Put the ingredients into the jar that came with your immersion blender (or use a large mason jar instead)
Place your immersion blender at the very bottom of the jar and start blending. Don't move the blender until the bottom mixture turns white and thick
Then slowly move the immersion blender upwards to thicken the remaining liquid (you may have to move the blender around a bit to push the remaining oil into the thicker mixture)
Continue blending until all the liquid has thickened. This entire process should only take about a minute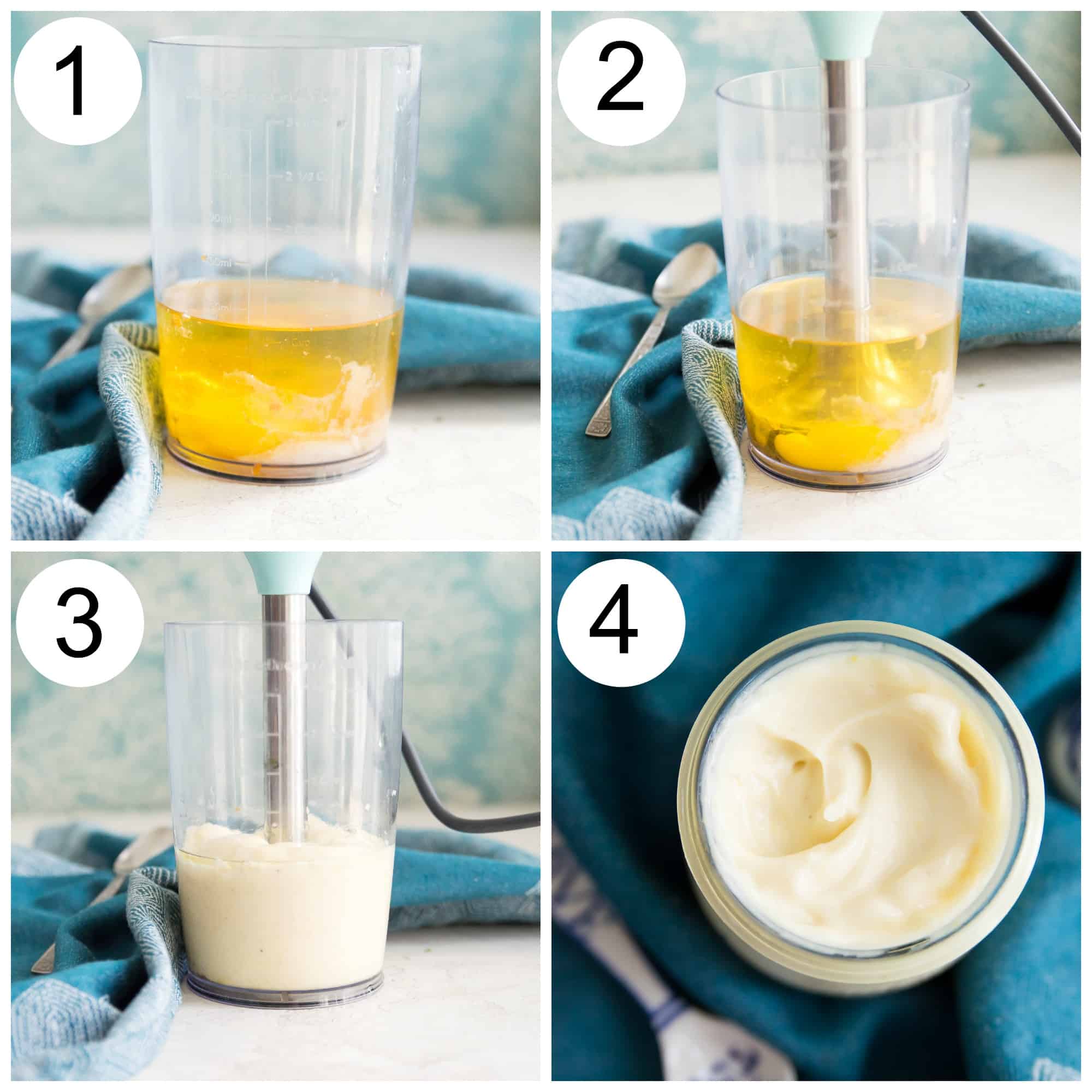 Tips for making this mayonnaise:
This recipe works best if your egg is room temperature (if you use a cold egg it might take longer to blend)
Store this mayonnaise in the fridge for 7-10 days
This recipe works best if you use the jar that came with your immersion blender, or a mason jar that is just a little larger than the immersion blender. If the jar or container that you use is too wide it won't thicken as well
How to fix broken mayonnaise:
I have never had this mayo recipe break or not work, but in case you run into problems here are some simple tricks to fix your mayonnaise:
Add an egg yolk: If your mayonnaise turns out too thin, place an egg yolk into a clean bowl, and whisk in just a little bit of the broken mayo. Once it begins to thicken, gradually whisk in the rest of the mayonnaise. The extra yolk will help re-emulsify the mayonnaise.
Use mustard: Place a little mustard into a clean bowl, whisk in a little of the broken mayo, then once it starts to come together, gradually whisk in all the remaining broken mayonnaise.
If your mayonnaise is too thin, add hot water: Whisk a couple tablespoons of boiling water into the paleo mayo. This cooks the egg in the mayo very slightly, making it thicker. If it doesn't thicken right away, add another teaspoon or two of hot water and continue whisking until it does.
Variations of this mayo:
If you don't have avocado oil, you can substitute with a light tasting olive oil or fractionated coconut oil
If you don't have coconut vinegar use apple cider vinegar or lemon juice instead
If you don't have mustard powder use dijon mustard, spicy mustard or yellow mustard instead
Feel free to add other spices such as garlic powder, dill, onion powder, pepper, basil, rosemary, lemon zest or lime zest to give it a different flavour
If you like it a little sweeter add a teaspoon of honey (not for those on Whole30 or keto diets)
If you like it to be more salty add a little extra salt
If you want the mayonnaise to be a little thinner add an extra teaspoon of vinegar or lemon juice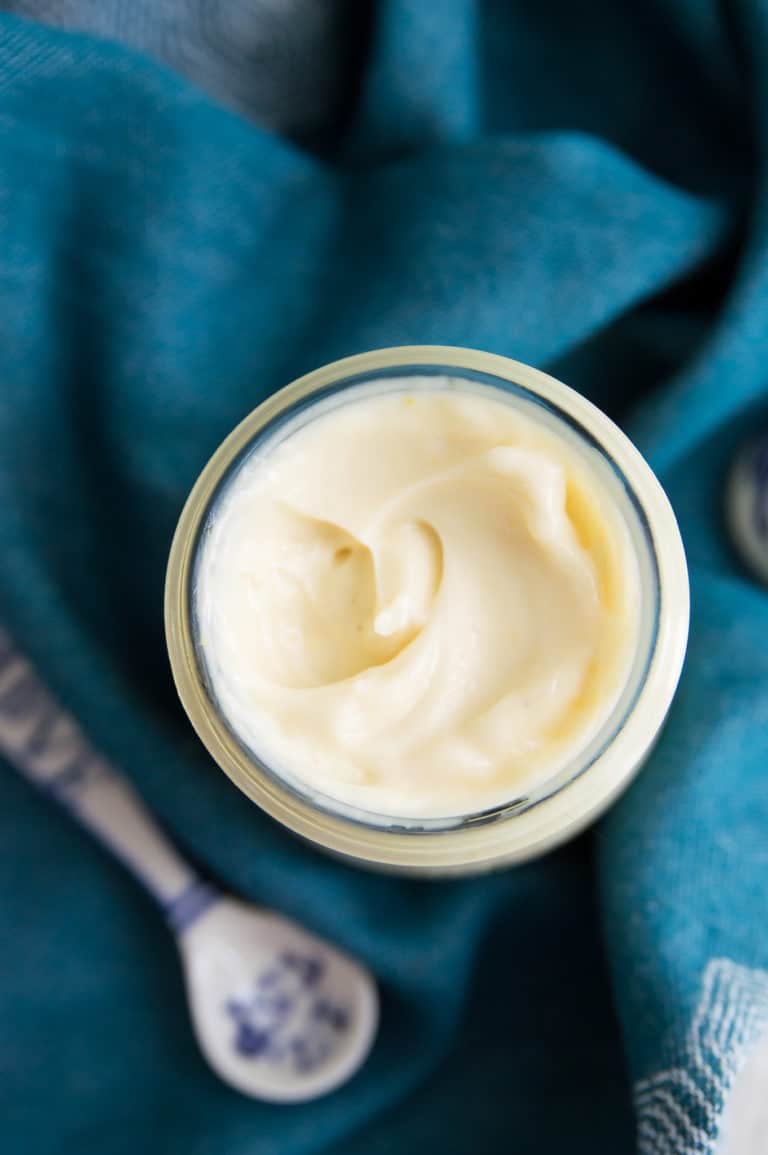 What you can use this mayonnaise for:
A base for other sauces such as salad dressings, or dips
As a topping for sandwiches, hamburgers, or hotdogs
To make my Whole30 potato salad
Is mayonnaise ok on keto?
That depends. This mayonnaise is keto compliant as it's low in carbs but many store bought mayos wouldn't be as they contain added sugar which would increase the carb count. Make sure you are reading labels carefully! This Primal Kitchen one is both keto and Whole30 compliant if you need to buy one in a store.
What is the carb count of this mayo?
A serving of this mayonnaise, which is one tablespoon, has only 1 gram of carbohydrates and 2.2 grams of fat.
What is the healthiest mayonnaise to eat?
I would argue that this is the healthiest mayonnaise you can find. It's made with just 5 simple ingredients including avocado oil and pasture raised eggs and is low in carbs. It doesn't contain crop oils such as canola oil or soybean oil which most store bought brands use (these oils are cheap for producers to buy but they are highly processed, often made with genetically modified seeds, and are not good for your health), is free from sugar, and doesn't contain any processed ingredients. If you do need to buy a pre-made mayonnaise I would recommend this Primal Kitchen Avocado Oil Mayonnaise.
Other recipes you will love:
SINCE YOU MADE IT THIS FAR WE ARE BASICALLY BEST FRIENDS SO BE SURE TO FOLLOW ME ON INSTAGRAM, PINTEREST AND FACEBOOK WHERE I SHARE EVEN MORE RECIPES AND HEALTHY LIVING TIPS! AND DON'T FORGET TO LEAVE THIS RECIPE A STAR REVIEW BEFORE YOU GO!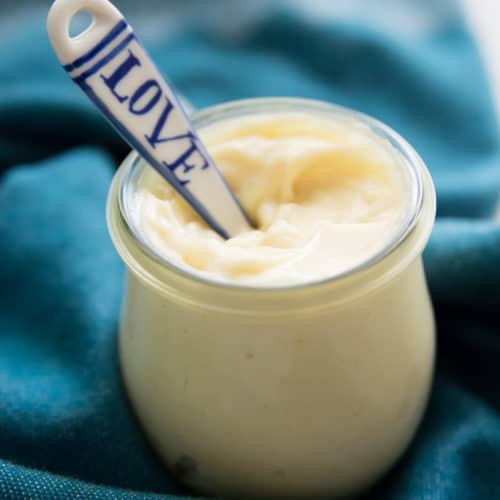 Keto Mayonnaise (Whole30, paleo, immersion blender)
This keto mayonnaise is so creamy and delicious and you will love how easy it is to make! Ready in just one minute it's also paleo and Whole30 compliant.
Ingredients
1

large egg

(room temperature works best)

1

cup

avocado oil

(or substitute virgin olive oil)

2

tsp

coconut vinegar

(or subsitute lemon juice or apple cider vinegar)

2

tsp

mustard powder

1/2

tsp

sea salt
Instructions
Put the ingredients into the jar that came with your immersion blender (or use a large mason jar)

Place your immersion blender at the very bottom of the jar and start blending. Don't move the blender until the bottom mixture turns white and thick

Slowly move the immersion blender upwards to thicken the remaining liquid (you may have to move the blender around a bit to push the remaining oil into the thicker mixture)

Continue blending until all the liquid has thickened. This process should take about a minute
Recipe Notes
Store this mayonnaise in the fridge for 7-10 days
Feel free to add other spices to give this mayo a different flavour 
If you don't have avocado oil use a light tasting olive oil or fractionated coconut oil instead 
Pin this recipe for later: