This is the best horseradish aioli recipe! This sauce is so easy to make and comes together in just a few minutes. Made with pantry staples like mayonnaise, lemon juice, horseradish and dijon mustard the sweet tangy flavour of this aioli makes it the perfect dip or sauce.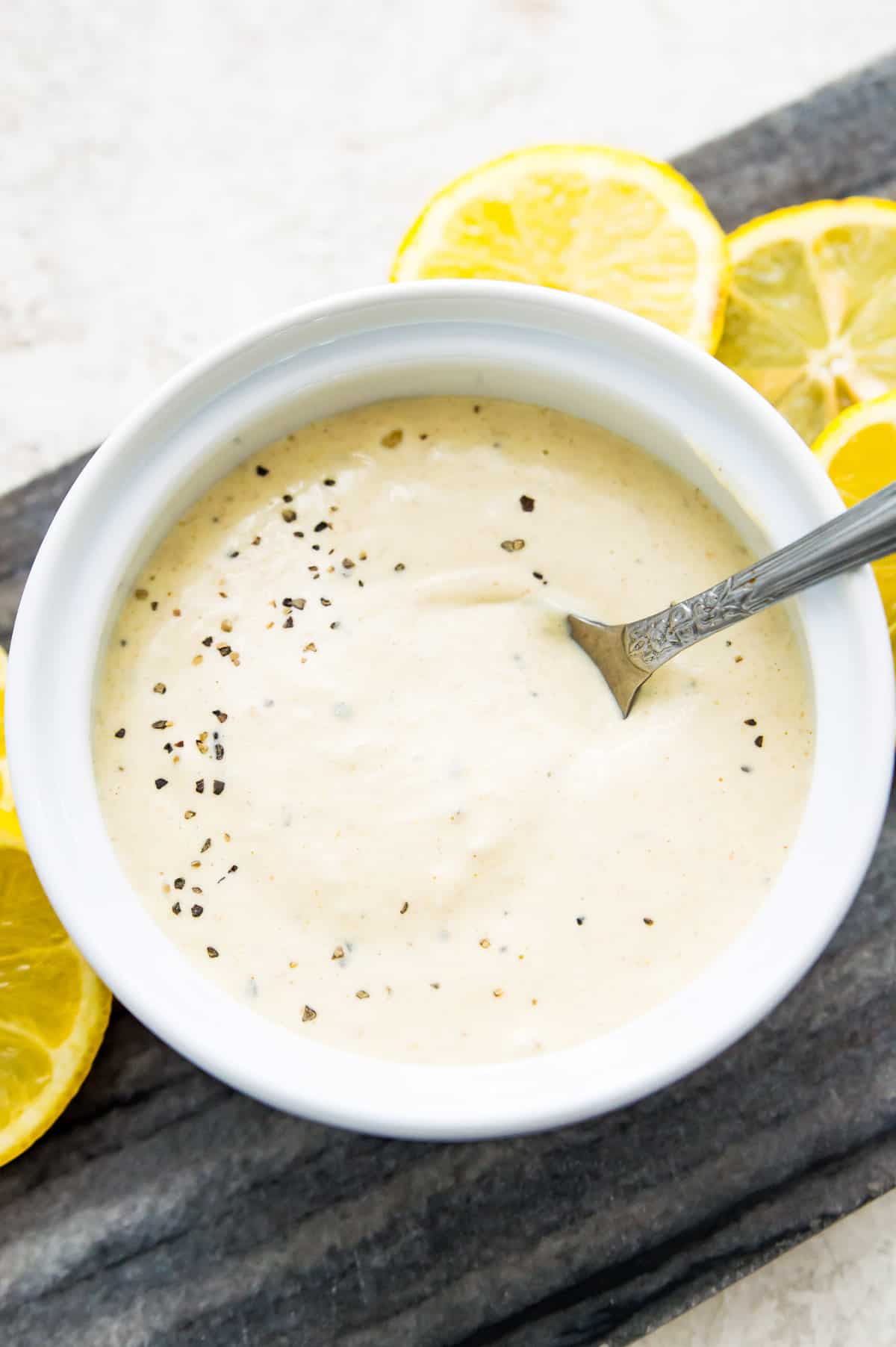 What is horseradish?
Horseradish is a root vegetable that looks similar to ginger when it is whole. It has a unique, strong flavour this is a little tangy and a little spicy. To eat horseradish it needs to be grated or shredded. You can also buy prepared horseradish which is grated horseradish in a jar with vinegar.
Why you will love this recipe:
The taste! This homemade aioli is so good! A little sweet, a little tangy and full of flavour.
Even though it's made from scratch it is so quick and easy to make and is ready in just a few minutes.
This aioli sauce can be used in so many ways - as a dip, dressing, marinade or sauce.
It is made with pantry staple ingredients like mayonnaise, lemon juice, mustard and maple syrup.
This mayo alioli is dairy free, gluten free, refined sugar free, paleo and can easily be made vegan too.
This recipe is made without greek yogurt, sour cream, whipped cream or heavy cream so it is lactose free and dairy free.
If you love aioli you will also like sriracha aioli and mustard aioli.
Taste and texture:
This aioli is so smooth and creamy. It has a flavour that is a little sweet and a little tangy with hints of horseradish. It is not spicy or overpowering and the horseradish flavour isn't too strong.
Key ingredients and substitutions:
Mayonnaise - mayonnaise is the key to any great aioli. You can use any type of store bought mayo that you prefer or use homemade mayonnaise. If you are vegan use a vegan mayonnaise.
Horseradish - horseradish gives this sauce such a unique flavour. Either fresh grated horseradish or jarred horseradish works for this recipe. If you are using jarred horseradish be sure to drain off any excess liquid prior to using it to make this sauce.
Dijon mustard - to add even more delicious flavour to this aioli dip.
Maple syrup - adding a little maple syrup adds the perfect amount of sweetness to this aioli to contrast perfectly with the tangy horseradish.
Lemon juice - fresh lemon juice helps add even more flavour to this dip and helps make it even more smooth and creamy. I do recommend using fresh lemon juice rather than bottled for the best flavour. Instead of lemon juice you could use apple cider vinegar.
Spices - simple spices including salt, pepper, onion power and garlic powder help add even more flavour to this aioli recipe.
How to make:
Step one:
First, place all the ingredients into a bowl or jar.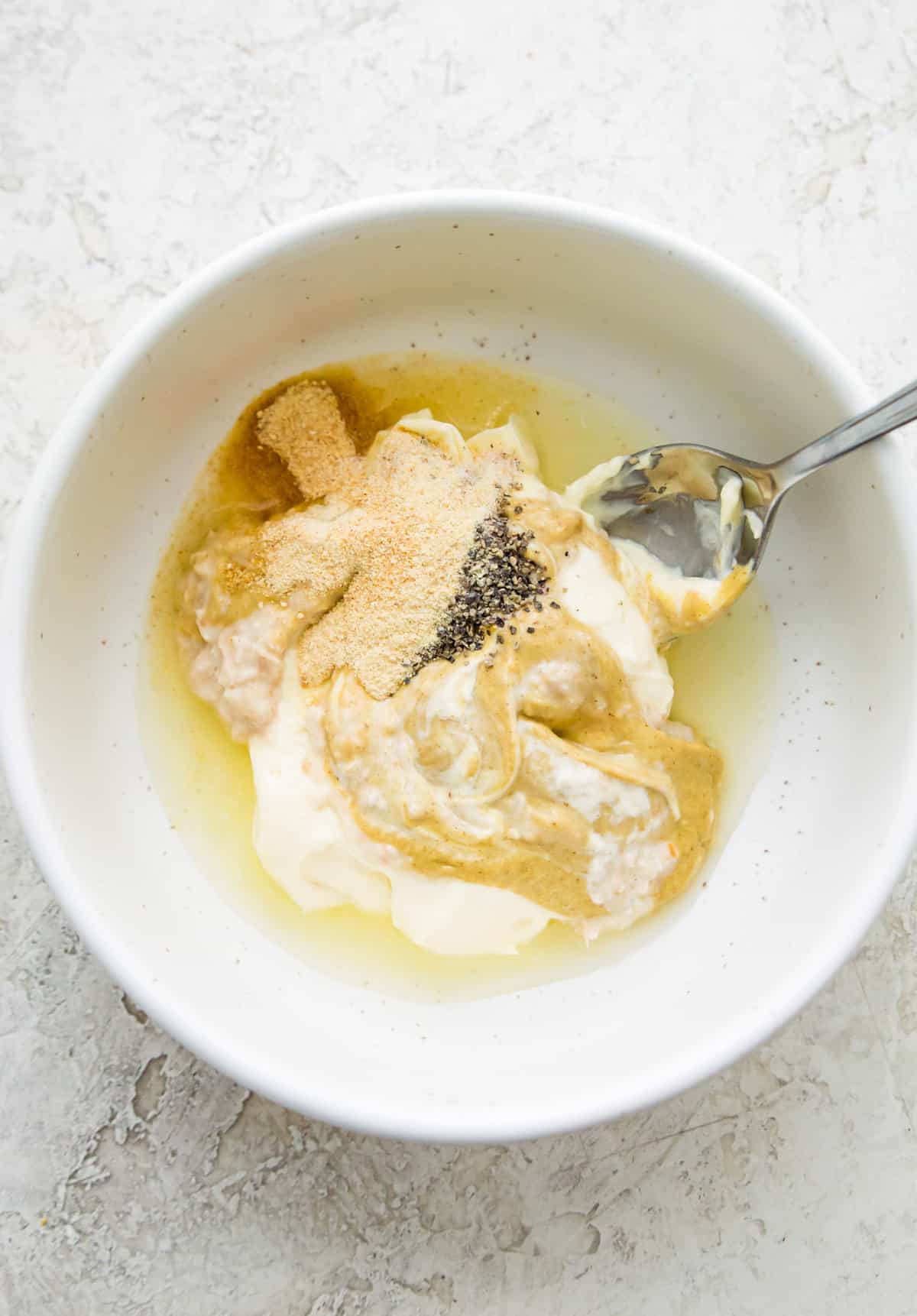 Step two:
Now stir everything well until you have a smooth sauce. Then serve and enjoy!
Tips and variations:
Instead of lemon juice you can use apple cider vinegar to make this horseradish sauce.
If you like a sweeter aioli add an extra 1-2 tablespoons of maple syrup.
If you want an ever stronger horseradish flavour add an extra tablespoon of horseradish.
If you prefer a milder horseradish sauce use jarred horseradish rather than fresh horseradish as fresh has a stronger flavour.
If you are serving a crowd or want leftovers for meal prep feel free to double or triple this recipe.
To make this aioli vegan use a vegan mayonnaise.
To turn this into garlic horseradish aioli add 1-2 cloves crushed garlic.
How to serve:
You can use this horseradish mayonnaise in so many ways! It can be used as a dip for raw vegetables, French fries, sweet potato fries, potato wedges, chicken fingers, fish sticks, chips or crackers or as a spread or sauce for sandwiches, panini's or burgers.
It also makes a great salad dressing and can also be used as a marinade or sauce for fish or meat dishes such as beef, steak, prime rib, corned beef, roast beef or chicken.
You could even use this aioli to top sushi to give it an extra punch of flavour or to top roasted vegetables such as Brussels sprouts or artichoke hearts.
How to store:
Store this aioli in an airtight jar or container in the fridge for up to 14 days.
I don't recommend trying to freeze this aioli.
Nutrition info:
Each serving of this aioli has approximately 27 calories, with 2 grams of fat, 0 grams of protein, 2 grams of total and net carbs and 1 gram of sugar. This sauce is low carb, keto, lactose free, low in sugar, paleo, gluten free, dairy free and can easily be made vegan.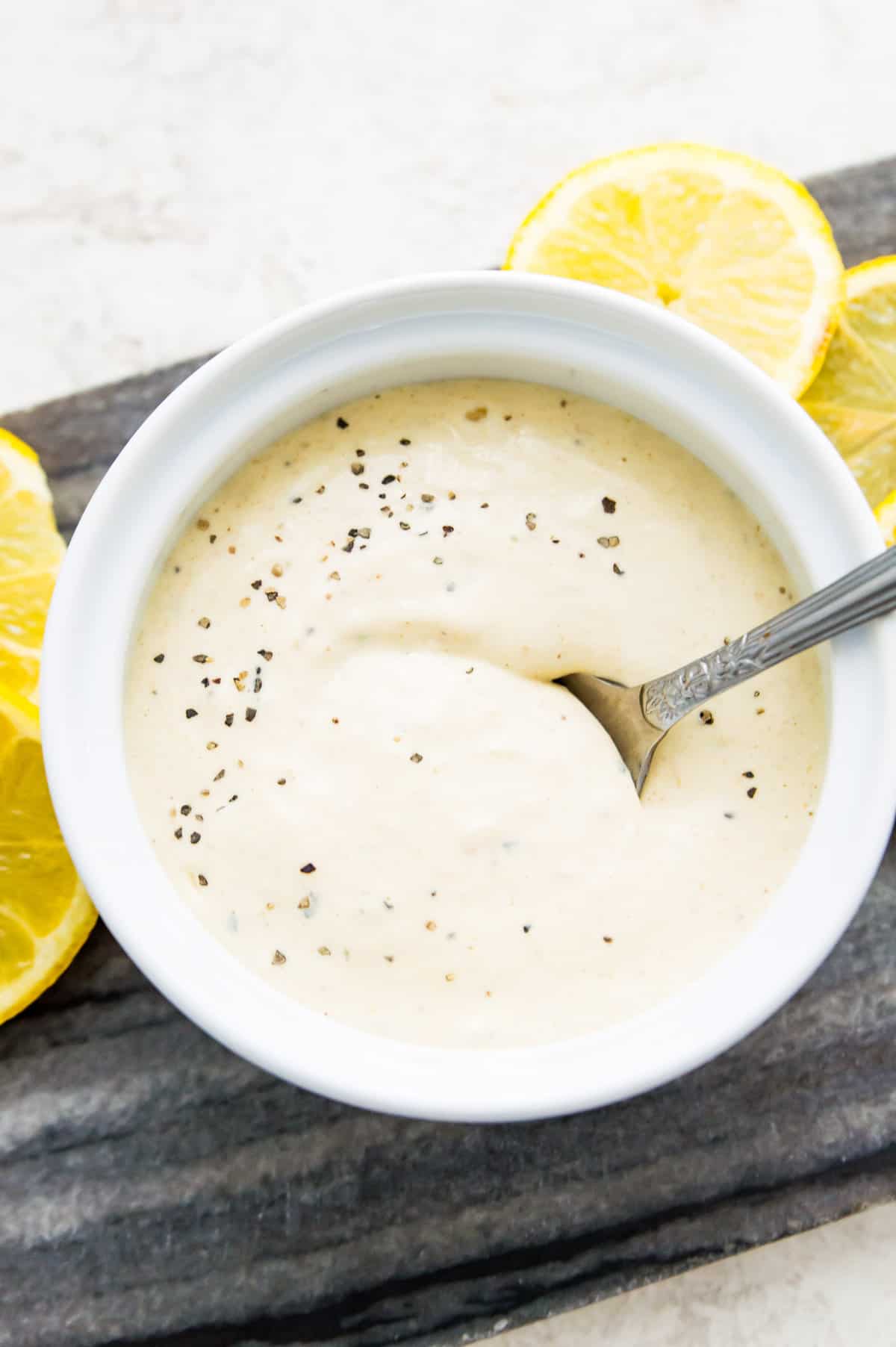 Frequently asked questions:
How is aioli different from mayo?
Classically aioli and mayo have been made with different ingredients, but these days aioli is often made with mayonnaise. Traditionally aioli is made with olive oil and garlic, while mayonnaise is made with egg, oil and an acid (like lemon juice).
Who should not eat horseradish?
If you are prone to heart burn, have gastric ulcers or have GI issues, horseradish can be a bit hard on the digestive tract so you may want to avoid it.
Is aioli dairy free?
Yes aioli is dairy free. Even if it is made with mayonnaise or eggs, eggs are a poultry product, not a dairy product, so they are dairy free.
Where can I get horseradish?
Fresh horseradish is found in the produce section of grocery stores, while prepared horseradish is found in the condiment section in a jar.
Other recipes you will love:
Since you made it this far we are basically best friends so be sure to follow me on Instagram, Pinterest, TikTok and Facebook where I share even more recipes and healthy living tips! And don't forget to leave this recipe a star review before you go!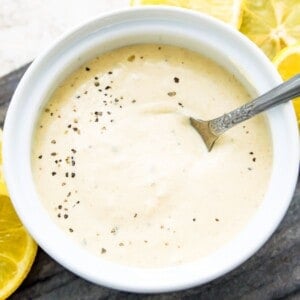 Horseradish Aioli
You are going to love this horseradish aioli. It's so smooth and creamy and has the perfect flavour that is a little sweet and a little tangy.
Print
Pin
Rate
Instructions
Add all the ingredients to a bowl.

Stir everything well until you have a smooth aioli.
Notes
Nutritional values are an estimate and will vary depending on the exact ingredients used. 
The serving size for the nutrition calculations is 1 tablespoon. 
To make this aioli sweeter add an extra 1-2 tablespoon maple syrup. 
Feel free to add more or less horseradish depending on how much you like the flavour. 
Store this aioli in the fridge in an airtight jar or container for up to 14 days.
Nutrition
Calories:
27
kcal
|
Carbohydrates:
2
g
|
Protein:
0.1
g
|
Fat:
2
g
|
Saturated Fat:
0.3
g
|
Polyunsaturated Fat:
1
g
|
Monounsaturated Fat:
0.5
g
|
Trans Fat:
0.005
g
|
Cholesterol:
1
mg
|
Sodium:
94
mg
|
Potassium:
17
mg
|
Fiber:
0.2
g
|
Sugar:
1
g
|
Vitamin A:
7
IU
|
Vitamin C:
1
mg
|
Calcium:
5
mg
|
Iron:
0.1
mg