This post will review what to do with dried lavender. Dried lavender can be used in so many ways including for making tea, desserts, drinks, soap, air fresheners, tea, syrup and more!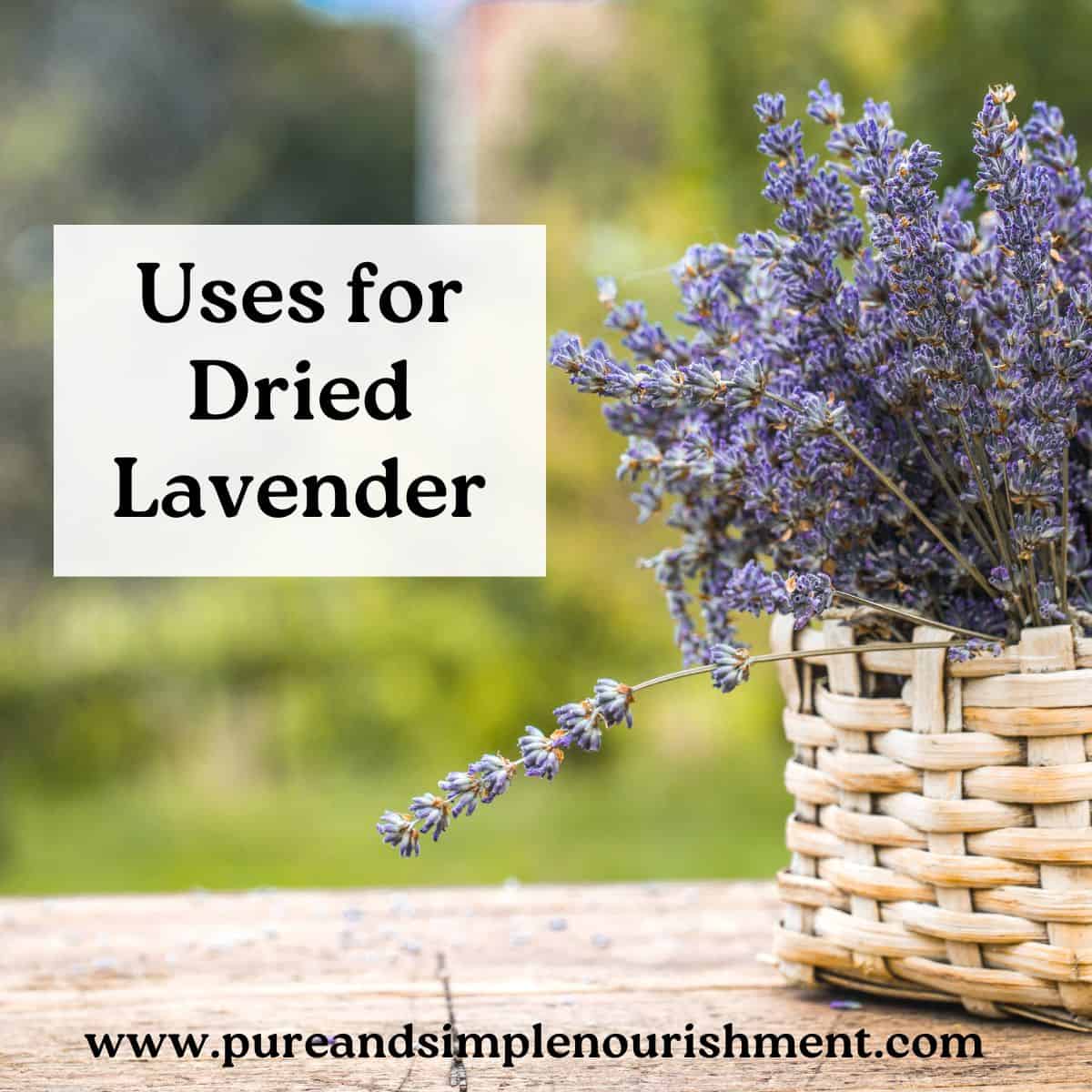 Jump to:
What is lavender?
Lavender, or Lavandula, is a flowering plant in the in the mint family, Lamiaceae. Lavender is a common plant for gardens and landscapes, and is also grown as a culinary herb, for the extraction of essential oils, and also for use in traditional medicine, cosmetics and personal care products.
Both English lavender (Lavandula angustifolia) and French lavender (Lavandula stoechas) are commonly used in food, drink, personal care products and home products. Both English and French lavender are edible, but their scents and flavours are slightly different.
English lavender has a softer, more floral scent with a slightly sweet flavour, while French lavender has a stronger more pine-like scent, with a more earthy taste and flavour.
When being used in food, drinks, personal care products or home products, typically the lavender flowers are dried first. Now, if you are going to be using lavender in food, drinks or on your body, you do want to be sure you are using food grade lavender that is free from pesticides.
How to dry lavender
It is so easy to dry your own lavender. To do so, cut matured lavender flowers just above the leaves and gather them into a bunch. Then tie the lavender stems together with twine, string or a rubber band, at the base of the stems. Then hang the bunch of lavender flowers upside down in a dark place away from the sunlight to protect the colour of the flowers for 2-4 weeks, until the flowers are dried.
Now if you don't have easy access to fresh lavender to dry yourself, you can easily buy dried lavender online.
Uses for dried lavender
1. To make bath salts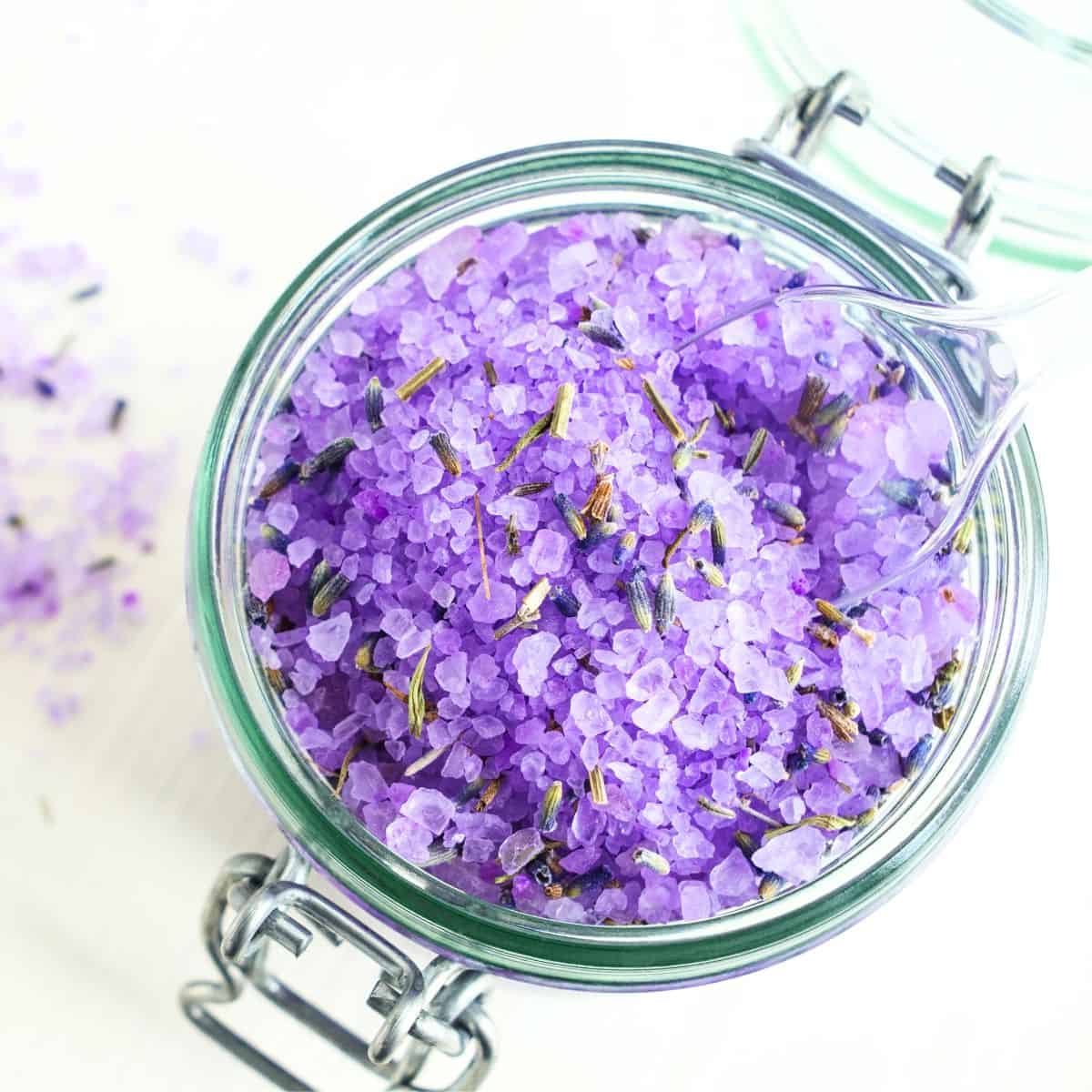 It is so easy to make your own homemade lavender bath salts. To make them mix 3 cups of Epsom salts with about 1.5 cups of coarse sea salt, 1/4 cup dried lavender flowers or buds, 1/2 cup baking soda, and 15-20 drops of essential oils.
To use the lavender bath salts, simply sprinkle them in your bath water to help you have the most relaxing, and skin soothing bath.
2. To make soap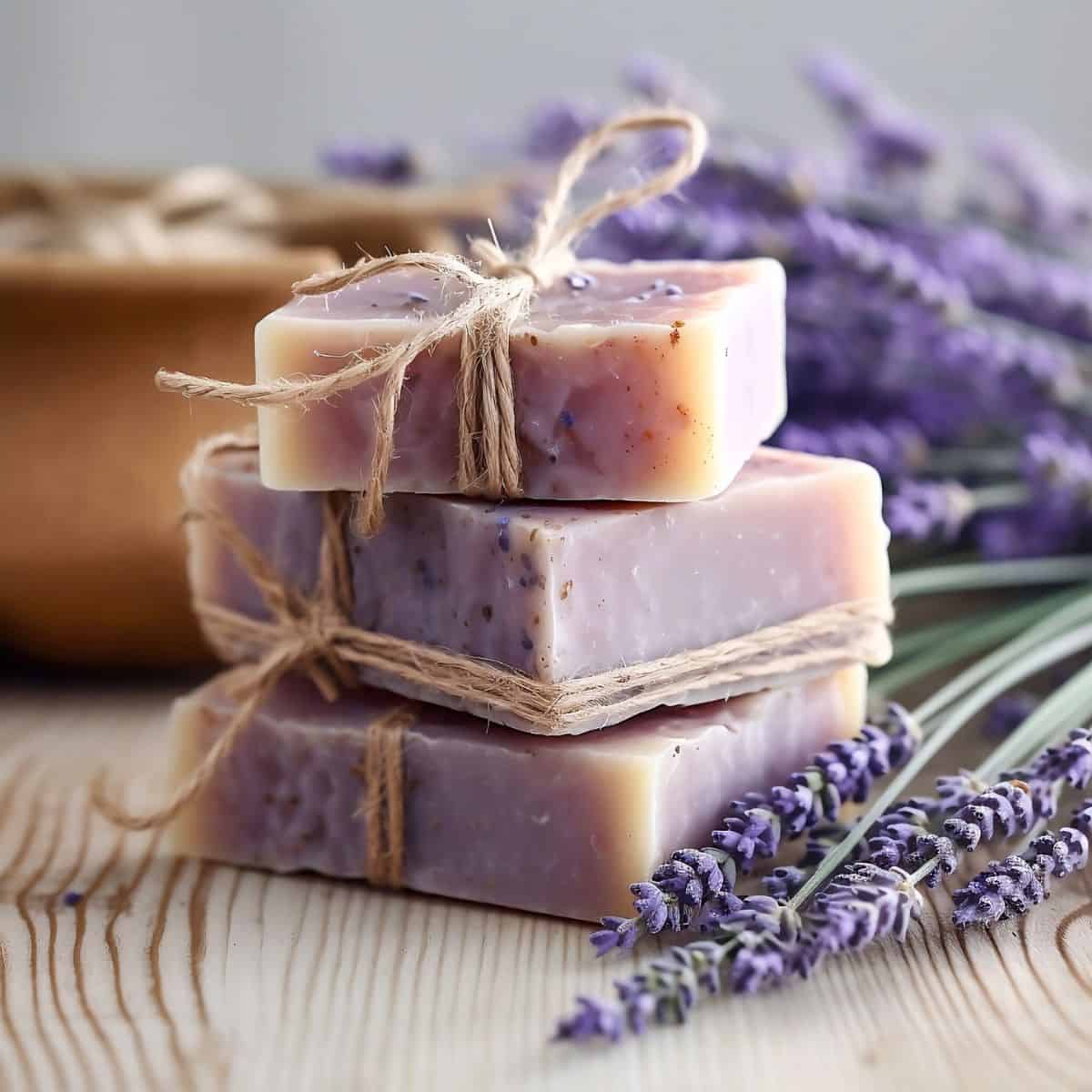 It's actually really easy to make your own homemade lavender soap. You don't even need lye or any other harsh ingredients. Lavender has antibacterial and skin soothing properties so it's a great addition to soap and skincare products.
3. For potpourri
It is so easy to make your own potpourri with dried lavender to help your home smell amazing. To make homemade lavender potpourri combine one cup of dried rose petals, one cup of dried lavender (you can use dried lavender stems and buds for this) one quarter cup of dried rosemary, and 2 tablespoons of dried orange peels. Then add one eighth teaspoon of ground cinnamon and cloves. Lastly, add a few drops of lavender essential oil.
4. To make tea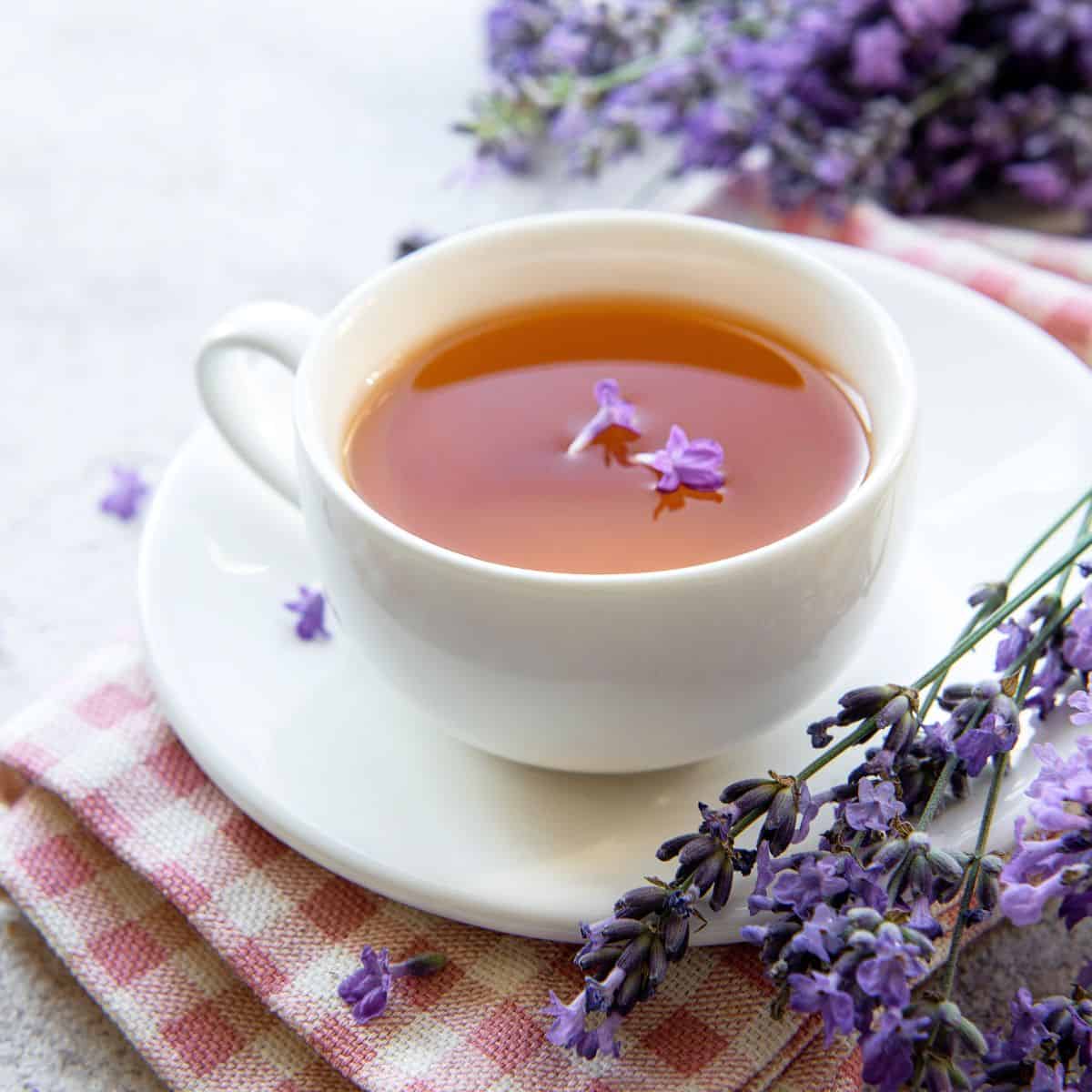 To make your own lavender tea, boil 4 cups of water and place 2 tablespoons of dried lavender flowers in a tea ball and add it to the boiled water. Let the tea steep for 5-10 minutes, then serve and enjoy.
5. To make simple syrup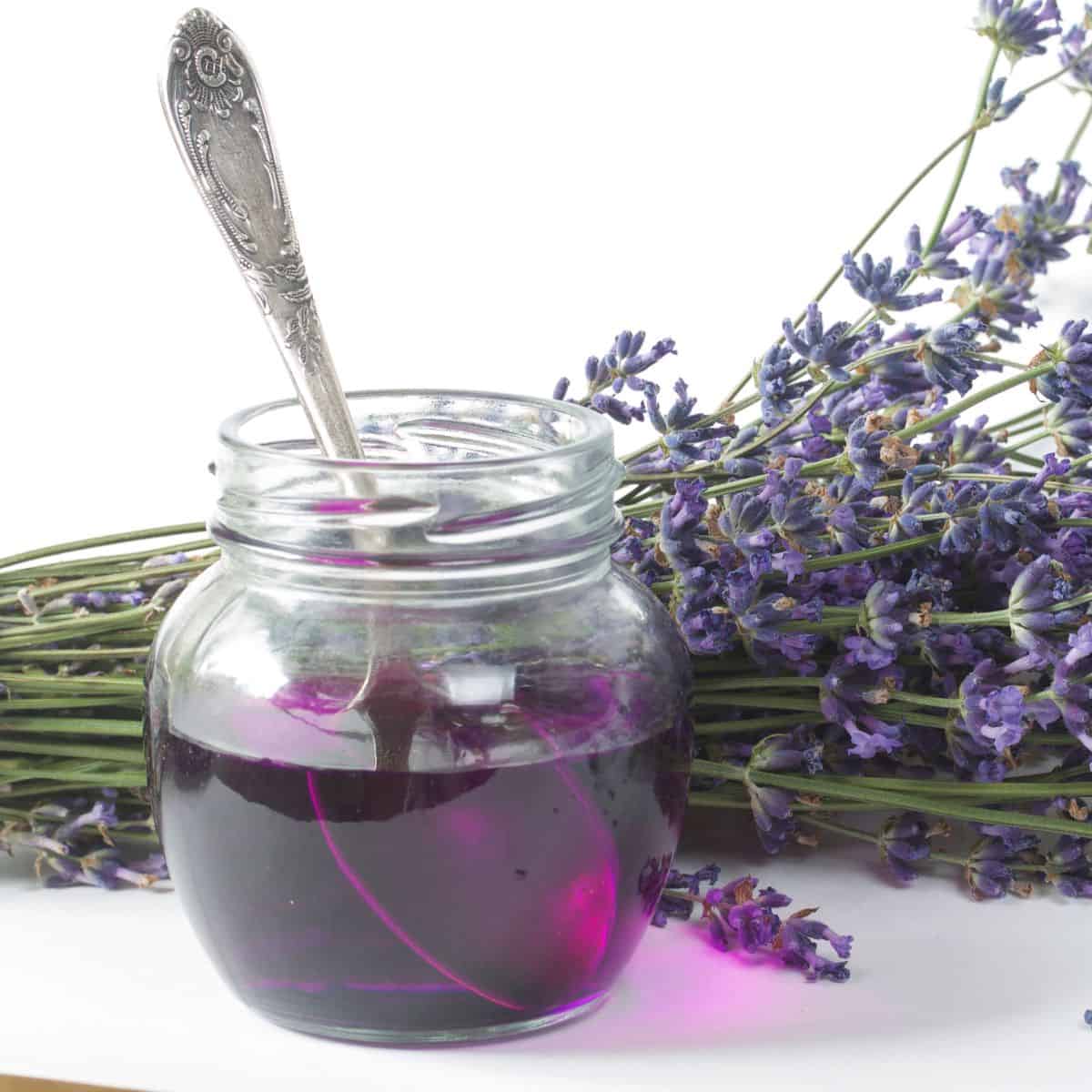 You can easily make your own lavender simple syrup by combining 1 cup of water with 1 cup of sugar and 4 tablespoons of dried lavender flowers. Let the mixture simmer for a few minutes and then allow it to steep for about 10 minutes. Lastly, remove the flowers before serving the syrup.
6. To make lavender honey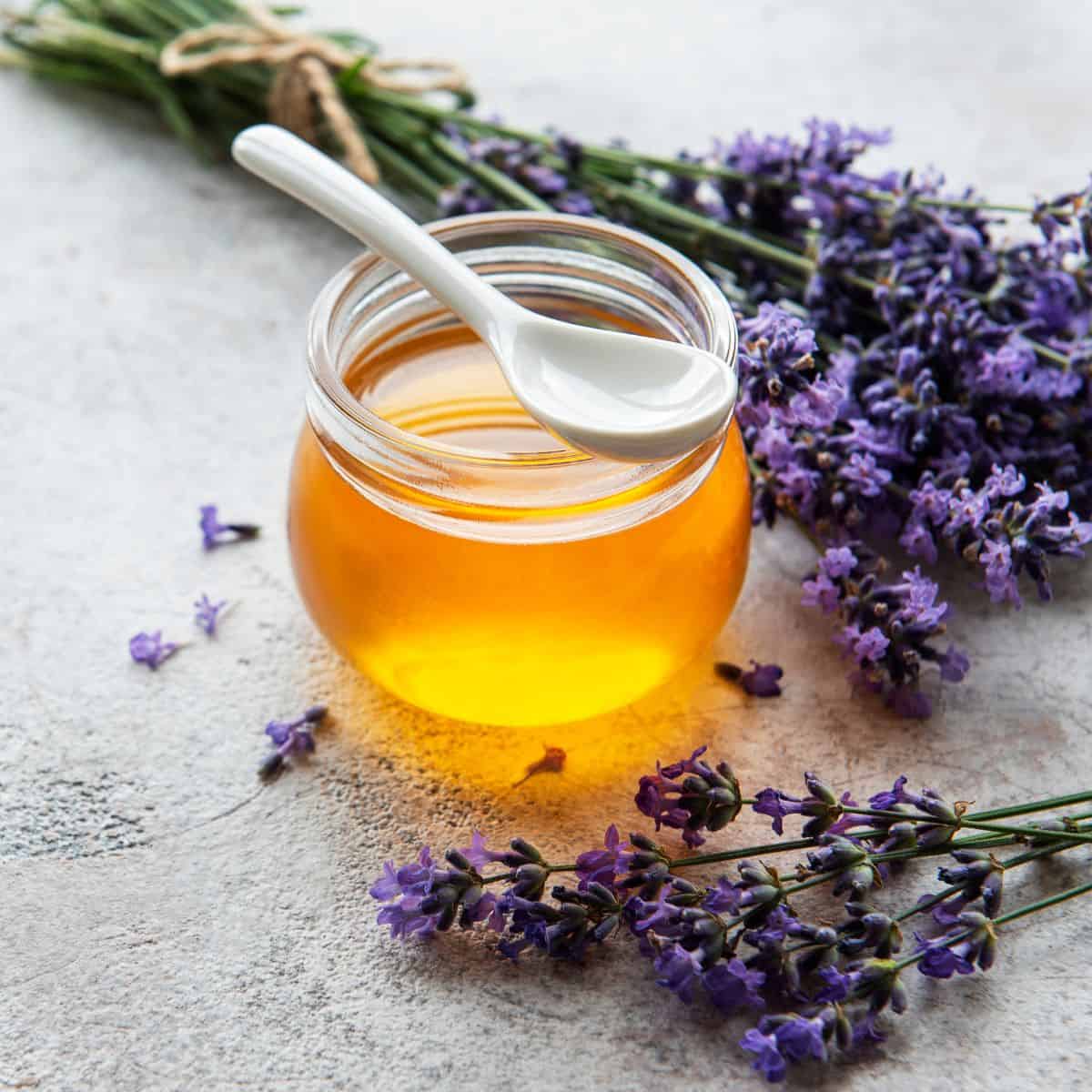 To make homemade lavender honey, heat 1 cup of honey over low heat to allow it to warm and soften. Then add 1 tablespoon of dried lavender flowers to the warmed honey. Cover the mixture and allow it to set for 24 hours. Then warm the honey again so that it softens, and remove the lavender flowers. Then serve and enjoy!
7. To make lemonade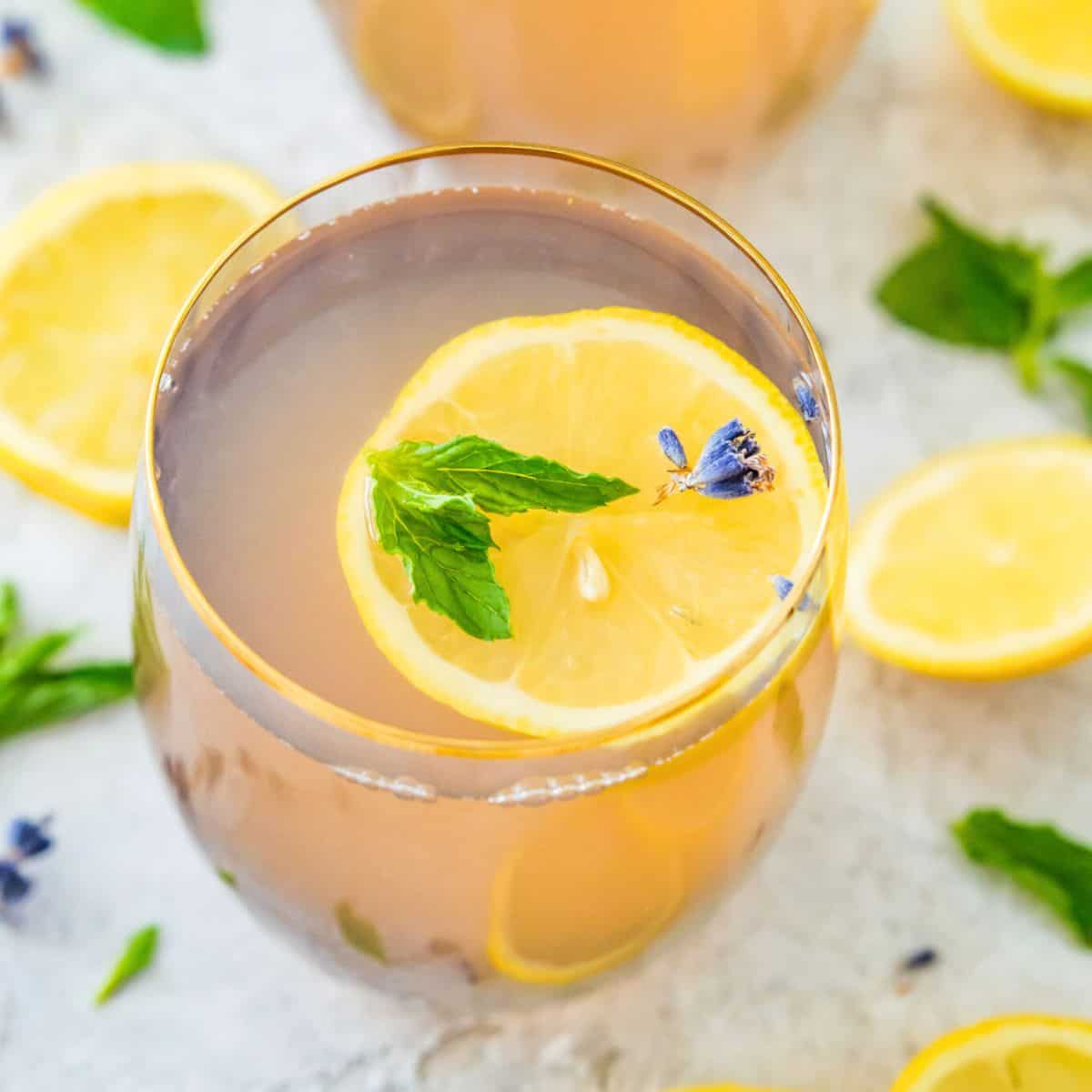 There are so many delicious lavender lemonade recipes you can make with dried lavender. My personal favourite is lavender mint lemonade.
8. To make popsicles
These delicious vanilla lavender popsicles are the perfect way to use dried lavender to make a unique dessert that is refreshing and great for summer.
9. To make ice cream
You can find many different lavender ice cream recipes that are made using dried lavender. This lavender honey ice cream is my family's favourite.
10. To make dryer bags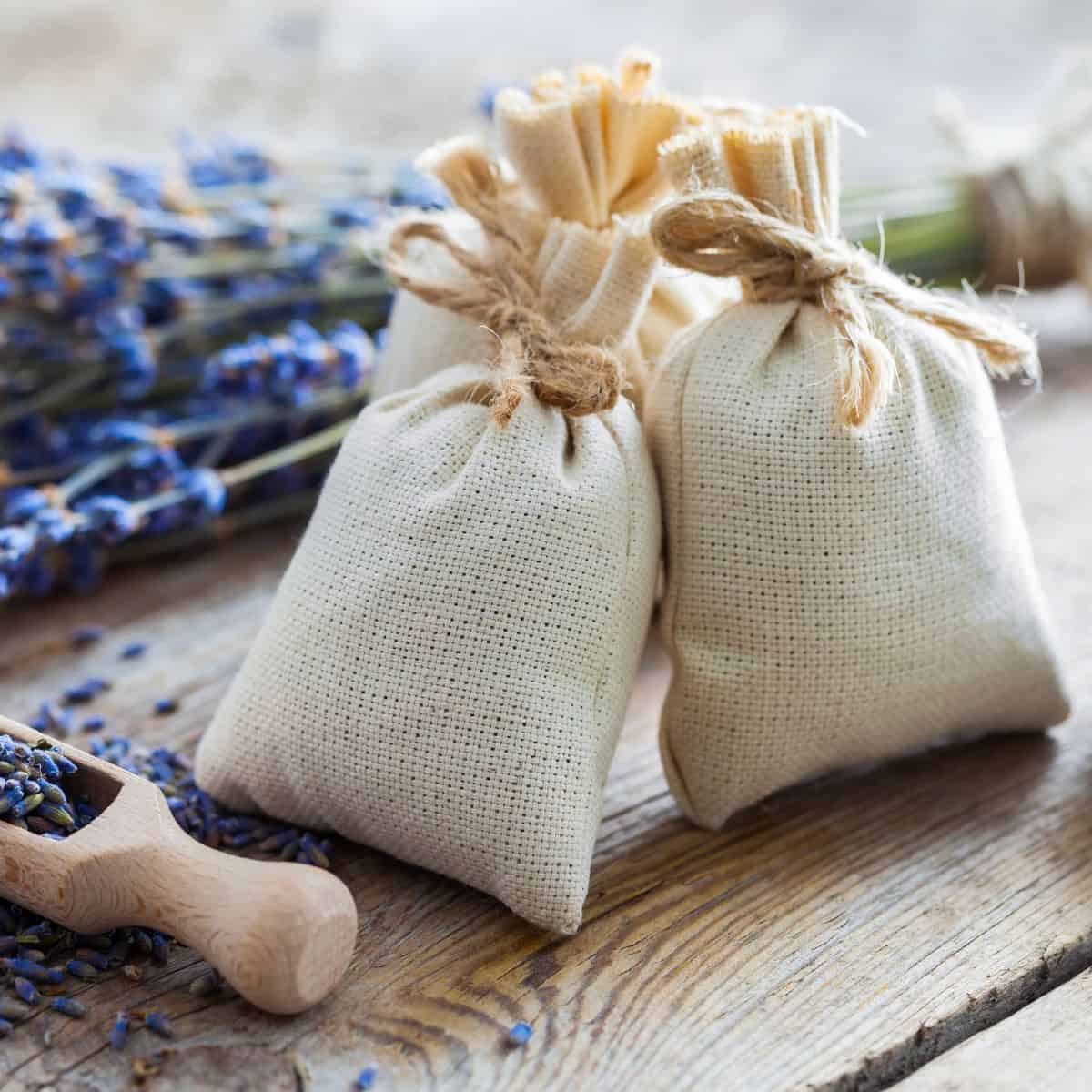 This is one of my favorite ways to use dried lavender. Instead of using dryer sheets which are scented with artificial fragrances that can have various health risks, put 1-2 sachets filled with dried lavender in the dryer when you dry your clothes to help them smell beautiful and clean. Each sachet will last for about 10 loads of laundry. Just be sure to tie the sachets nice and tight so that you don't end up with lavender buds in your laundry.
11. For drawers and closets
To help your clothing smell amazing put sachets filled with dried lavender in your drawers and closets. A bonus of doing this is that moths don't like the smell of lavender so this will help keep moths at bay too!
12. For baked goods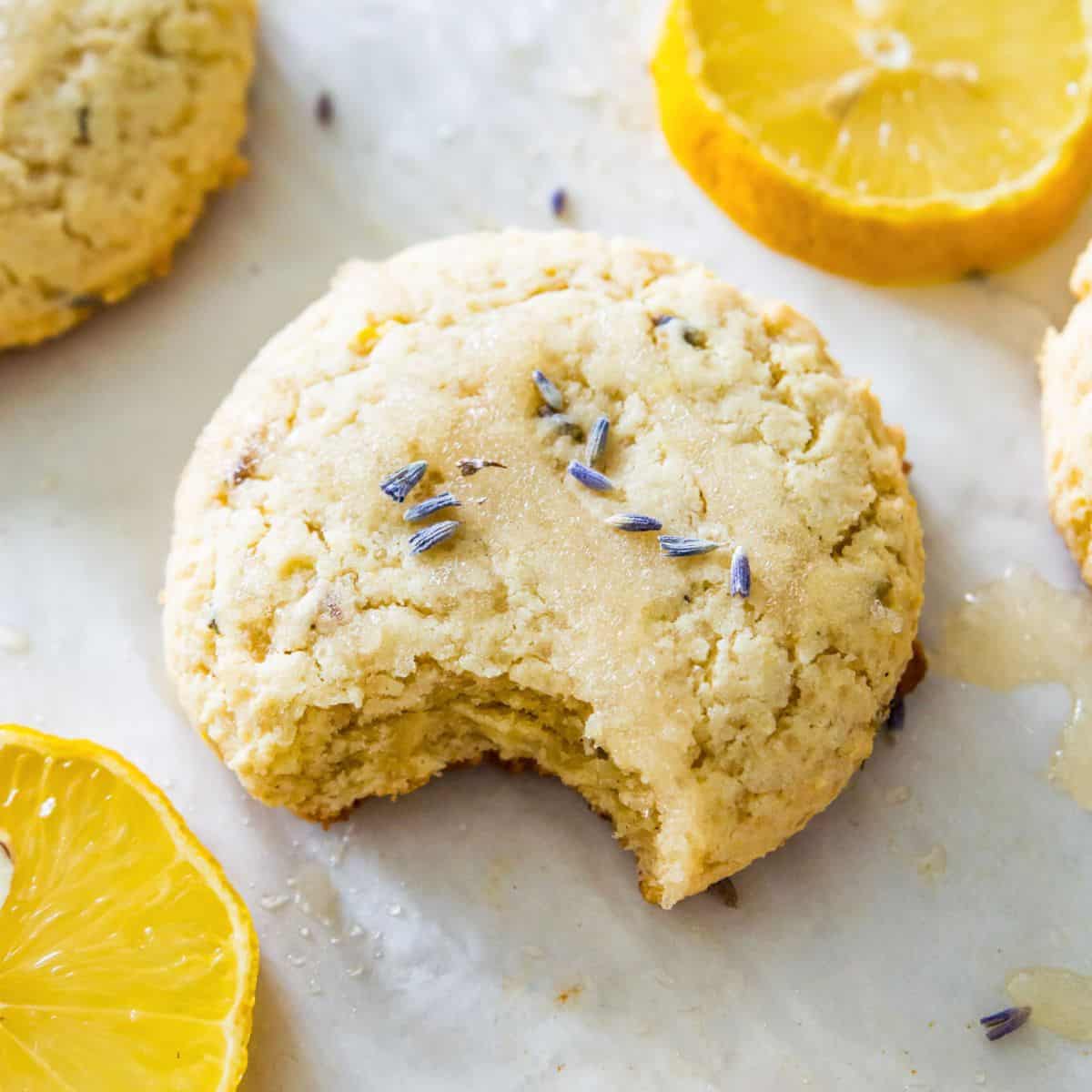 Dried lavender is great for making many different baked goods such as cookies, donuts and cakes. I absolutely love making lemon lavender cookies for the most delicious dessert.
13. For decoration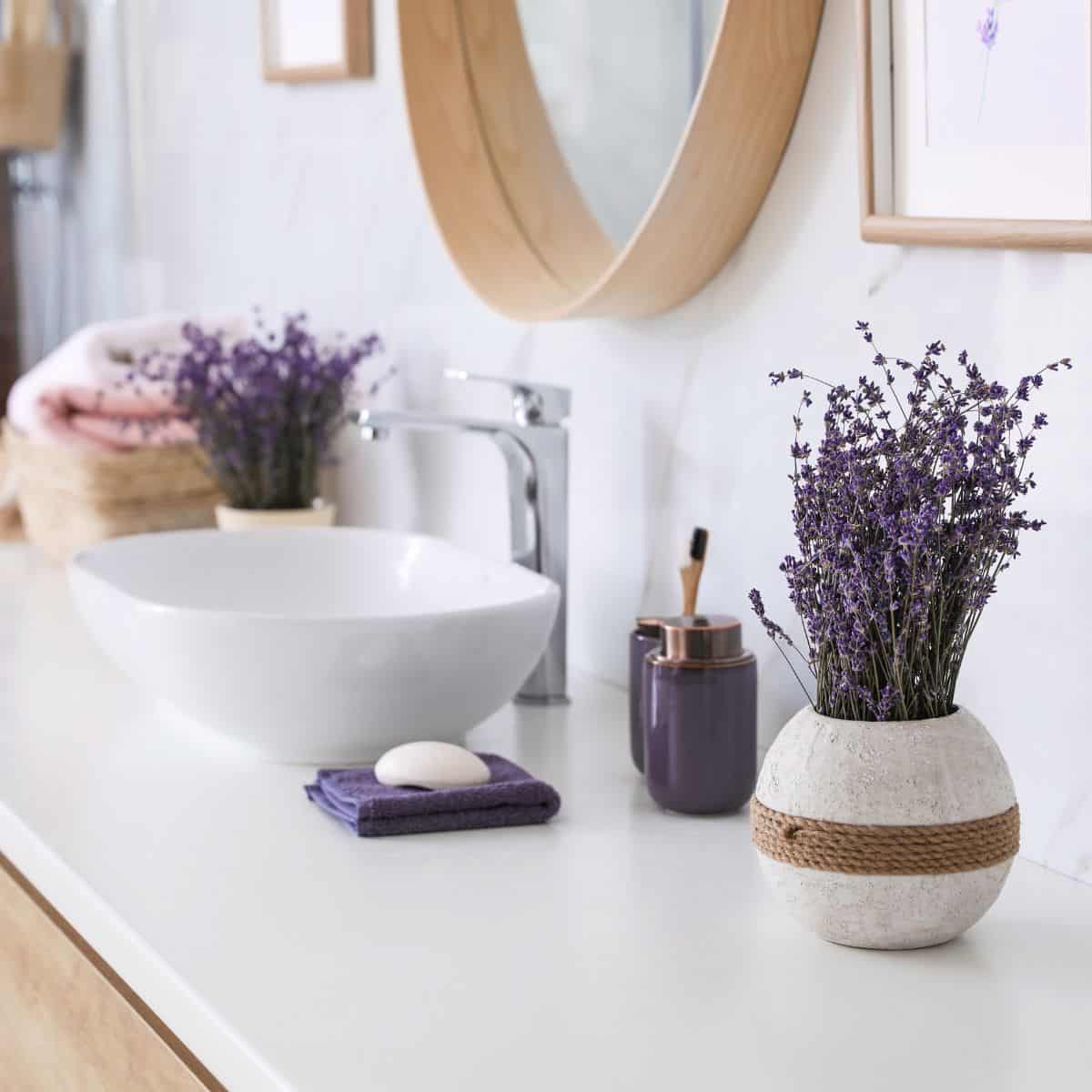 Lavender makes a beautiful addition to any room. Put a bunch of dried lavender in a vase and not only will it look really pretty, but it will also add a gorgeous, relaxing scent to the room.
14. To make a homemade cleaner
There are many homemade cleaners you could make that include lavender, but one of the simplest ways is to combine 1 cup of white vinegar with 1/4 cup dried lavender in a jar. Seal it shut for 10 days and allow it to steep. Then strain out the lavender flowers and transfer the infused vinegar to a spray bottle and add water (you want a ratio of 1 part lavender infused vinegar to 2 parts water). You could also add a few drops of essential oils such as lavender, lemon or tea tree essential oil.
15. To make insect repellent
To make a homemade mosquito repellent or insect repellent you only need a few simple ingredients:
1 cup water
1 cup witch hazel (or rubbing alcohol)
4 tablespoon of dried herbs including lavender, peppermint, sage, thyme, rosemary or spearmint
2 dried cloves
To make the bug spray, in a pot on the stove combine the water, herbs, and cloves. Bring the mixture to a boil and let it simmer for a few minutes. Then let the mixture cool completely and strain out the herbs. Then add the witch hazel or rubbing alcohol and transfer the mixture to a spray bottle. Store it in a cool, dry place and use it when needed.
16. Make lavender essential oil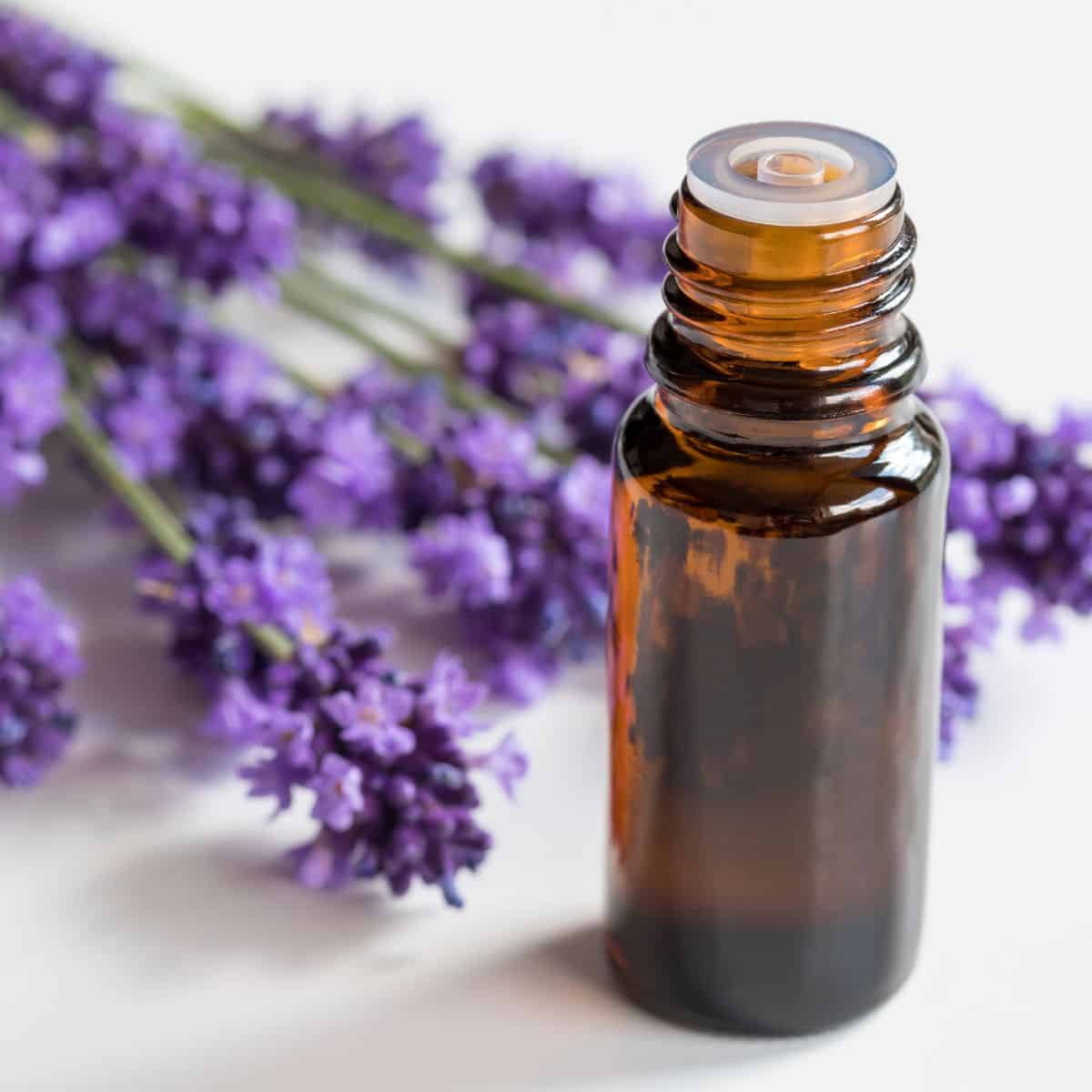 It's actually really easy to make your own lavender essential oil. To do so, take 1 ounce of dried lavender flowers and place them in a glass jar. Then pour an oil of your choice over the dried lavender flowers (popular options include jojoba oil, MCT oil, coconut oil, olive oil and avocado oil), until they are covered. Store the jar near a window (but not in direct sunlight), and let the flowers and oil naturally infuse for 7 to 10 days. Shake the jar every day or so. Then strain out the lavender flowers and you're done! You can then transfer the lavender oil to a roller ball, dropper or small jar and use as needed.
17. Natural car air freshener
To make a lavender car air freshener, add dried lavender flowers to a sachet and place it in your vehicle or hang it from the rear view mirror.
18. To help with sleep
Lavender is naturally relaxing and can help promote sleep. Simply place a sachet filled with dried lavender under your pillow or close to your bed where you can smell the relaxing scent. Alternatively, you could place a vase filled with dried lavender or fresh lavender next to your bed.
19. As a wedding favour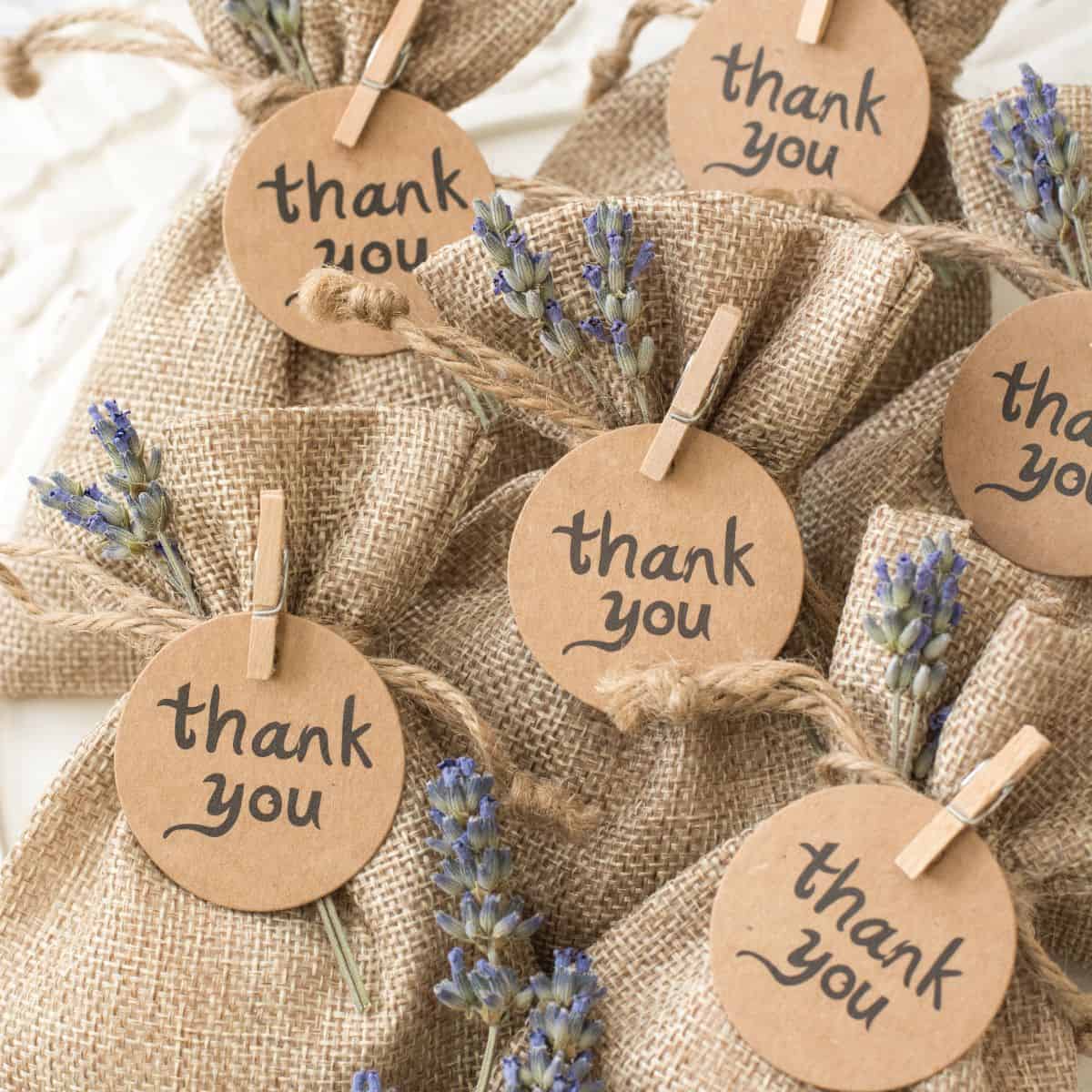 I have been to a few weddings now where the wedding favour was a sachet of dried lavender. This is a great do it yourself wedding favour that is inexpensive to make and actually useful!
20. To make shoes smell nice
If you have some smelly shoes simply place a sachet of dried lavender into each one and leave it for a few days to help remove odours and keep your shoes smelling fresh.
21. To make candles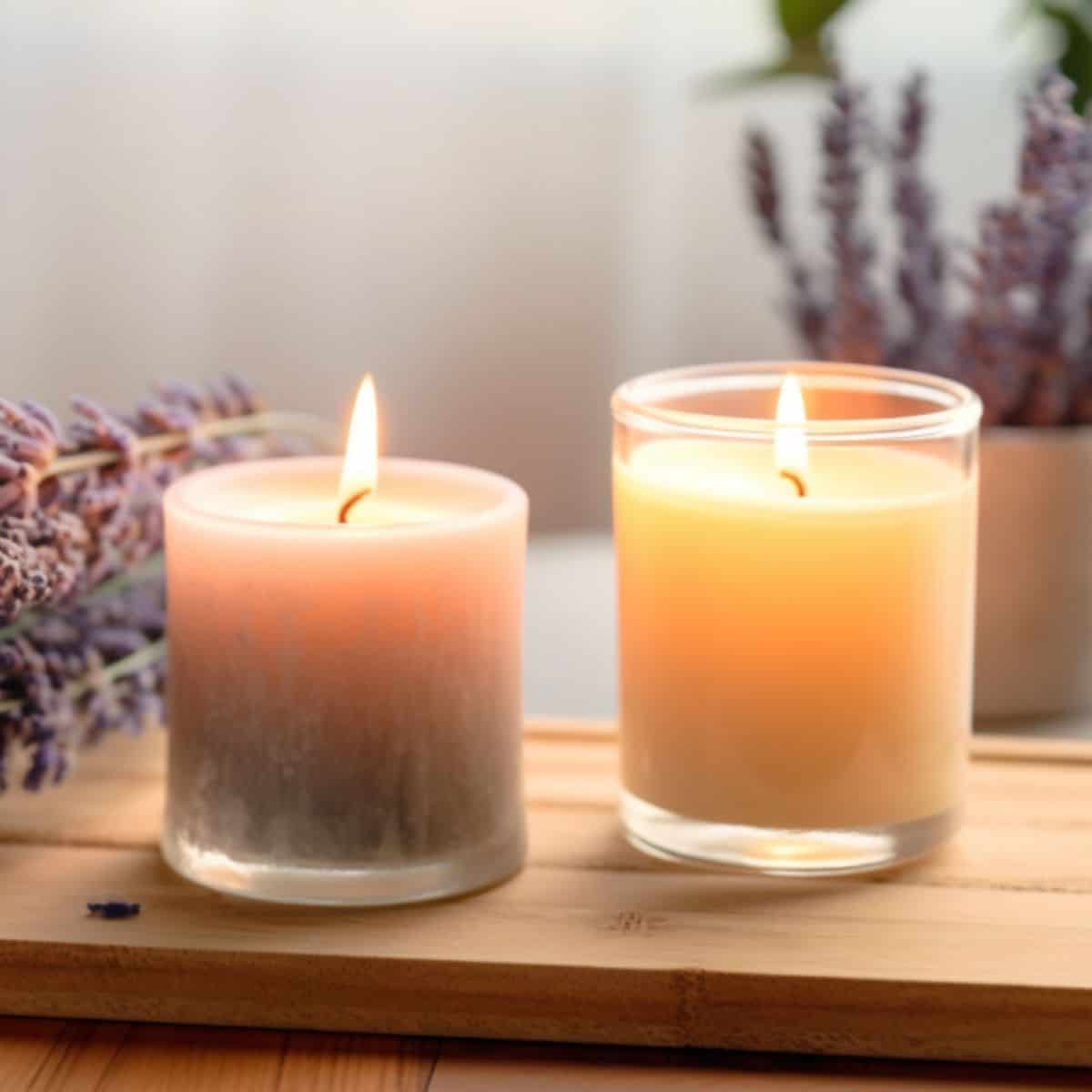 Making your own homemade lavender candles is such a beautiful and creative way to use dried lavender. These candles make great gifts and are actually really easy to make.
22. To make a foot scrub
You can easily make a homemade lavender foot scrub. To do so, combine 1 cup epsom salts with 1 cup course sugar, 1/2 cup almond oil or liquid coconut oil, 4 tablespoons of dried lavender flowers and 25-30 drops of lavender essential oil. Mix everything together in a jar or bowl and seal it with a lid once combined.
23. To make bath bombs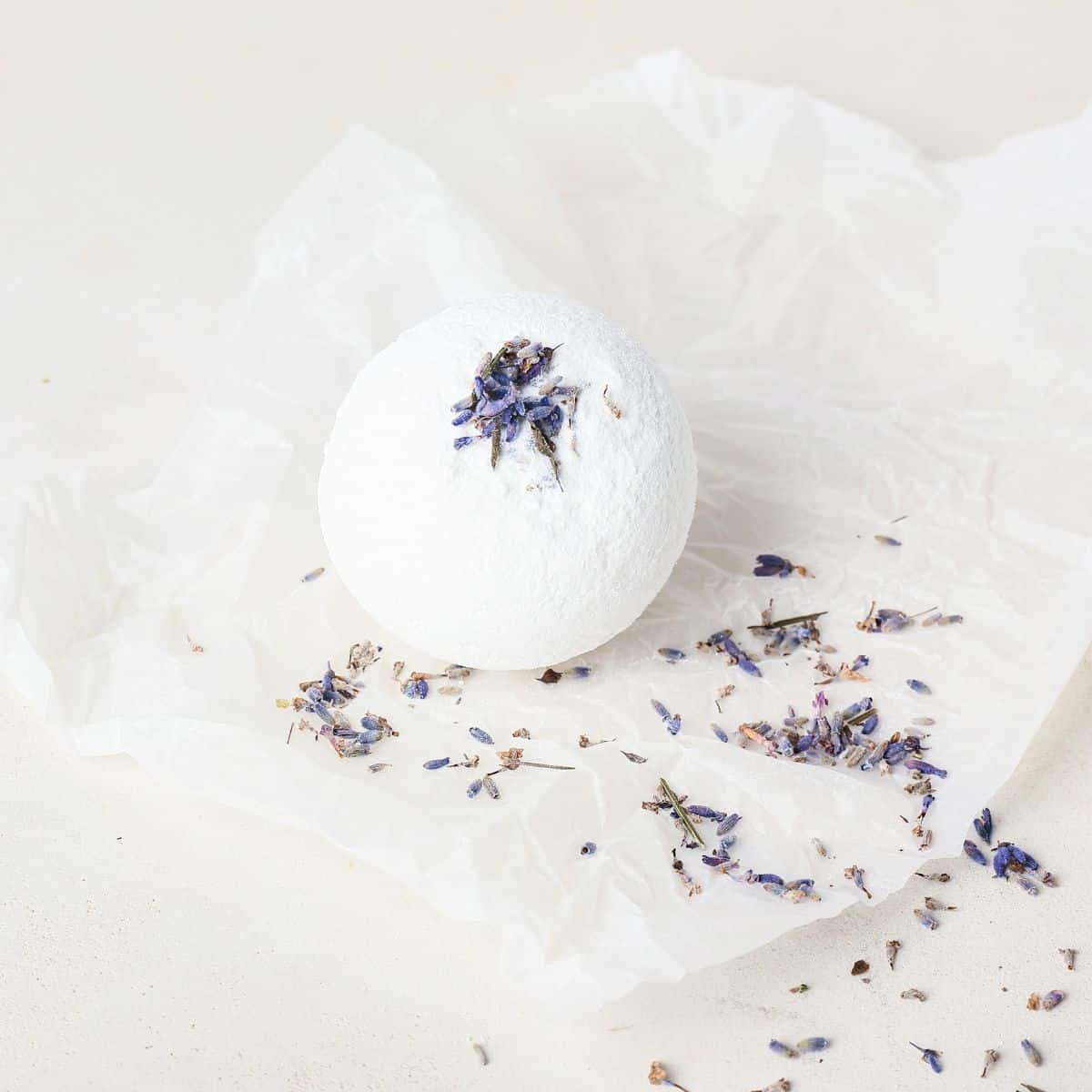 Making your own bath bombs is such a fun craft and homemade lavender bath bombs are no exception. Kids love these and they will help make bath time even more fun and relaxing.
I would love to know which of these you are going to try first. Please let me know in the comments section!
Frequently asked questions:
How long is dried lavender good for?
If you store lavender properly, in an airtight bag, in a cool dry place away from sunlight it should last for years. You can tell if your dried lavender has gone bad if it has a moldy, horse like smell.
Why does my dried lavender not smell?
Overtime dried lavender will naturally lose its scent. But don't worry, you can get it back by simply giving it a squeeze.
Do you keep dried lavender in water?
No, you do not want to store dried lavender in water. If you are putting dried lavender in a vase you will simply place the dried lavender in the vase without adding any water. Dried lavender will last the longest if kept in a cool, dry place away from direct sunlight.
Other posts you will like:
Since you made it this far we are basically best friends so be sure to follow me on Instagram, Pinterest, TikTok and Facebook where I share even more recipes and healthy living tips!