Whole30 Cauliflower Alfredo Sauce. That's what we are eating today. This Whole30 Cauliflower Alfredo Sauce is loaded with healthy ingredients, but is still super tasty. Enjoy this Whole30 Cauliflower Alfredo Sauce over noodles, vegetables, meat or fish diseases.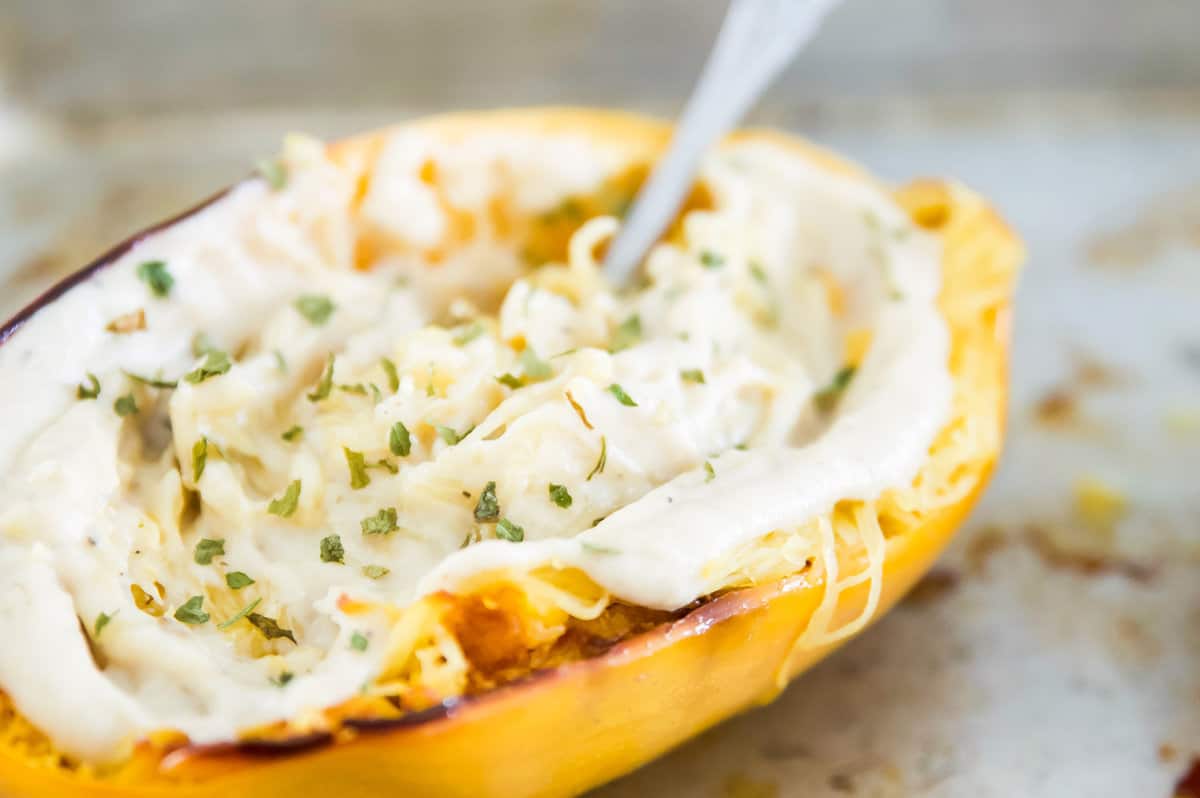 Whole30 Cauliflower Alfredo Sauce. Yes, Alfredo sauce made out of cauliflower. In other words, a healthy Alfredo sauce! Before this recipe I can honestly not remember the last time I had Alfredo sauce. Probably 10 years ago? How sad is that? Especially because it used to be one of my favourites. I remember going to Boston Pizza and having their Alfredo pasta baked with double cheese. That would be a total death sentence for me now. All that dairy and all that gluten. Oh I can't even imagine the pain I would be in if I tried to eat that. But man oh man, growing up that dish was like heaven to me. So I finally decided it was time to make my own version of Alfredo sauce, and this Whole30 Cauliflower Alfredo Sauce is the result.
Ok team. I officially have two new favourite TV shows I need to tell you about. First is World of Dance (don't judge) and the second is Broadchurch on Netflix. I don't know what it is about those dancing shows but they suck me in every time. Every single time. The things all those dancers can do with their bodies just blows my mind. Now, I really don't know anything about dance but I can appreciate a great athletic performance. And a great emotional performance. I have been known to shed a tear or two watching that show (again, don't judge). That one and So You Think You Can Dance. Between the two there have been a lot of tears. And also a lot of smiles.
But now let's chat food. Specifically this Whole30 Cauliflower Alfredo Sauce. There are so many options when it comes to this recipe! You can use it on spaghetti squash or zucchini noodles and turn it into Whole30 pasta, you can add it to other vegetables as a sauce or to meat or fish dishes to add even more flavour. My favourite way to use this sauce is to turn it into Whole30 Chicken Alfredo using spaghetti squash as my noodles. Oh yum! My mouth is watering just thinking about it. I think I might have to make this for dinner. Again. For the second time this week. Yes that's how much I love this dish. And like everything else on the blog this Whole30 Cauliflower Alfredo Sauce is totally dairy free.
This Whole30 Cauliflower Alfredo Sauce is loaded with so many nourishing ingredients. Ingredients like cauliflower, bone broth (this is the brand I use and love), coconut oil and coconut milk. And besides being Whole30 compliant it is also paleo, AIP, GAPS, SCD and vegan safe. Basically everyone can eat it. I bet that even the pickiest eaters in your life are going to love this sauce. Just don't tell them it's made from cauliflower and they will never know.
Can we also just talk about how good this Whole30 Cauliflower Alfredo Sauce would be topped with bacon!? So good right?? (sorry, all you vegans can ignore this part). And wouldn't it be even better if that bacon was free?? Yes you read that right! Free bacon. Here's how you can get it for yourself. From June 6-8, 2018, if you sign up for Butcher Box (using this link) you will get a free package of bacon in every box of meat that you get. Butcher Box is a US service that delivers grass fed and pasture raised meat directly to your doorstep. I got to sample their meat when I was in the states for vacation and it is amazing! And having it delved right to your door is so much easier than having to go to the farm like I have to do to get it yourself. I only wish we had this service in Canada. If you're interested in this deal simply go to the link below between June 6-8, 2018 and sign up! Easy peasy.
CLICK HERE TO GET FREE BACON WITH EVERY BUTCHER BOX ORDER (MUST SIGN UP BETWEEN JUNE 6-8)
I would love to know what you think of this Alfredo Sauce! Please comment below if you make it.
And until next time, happy eating everyone!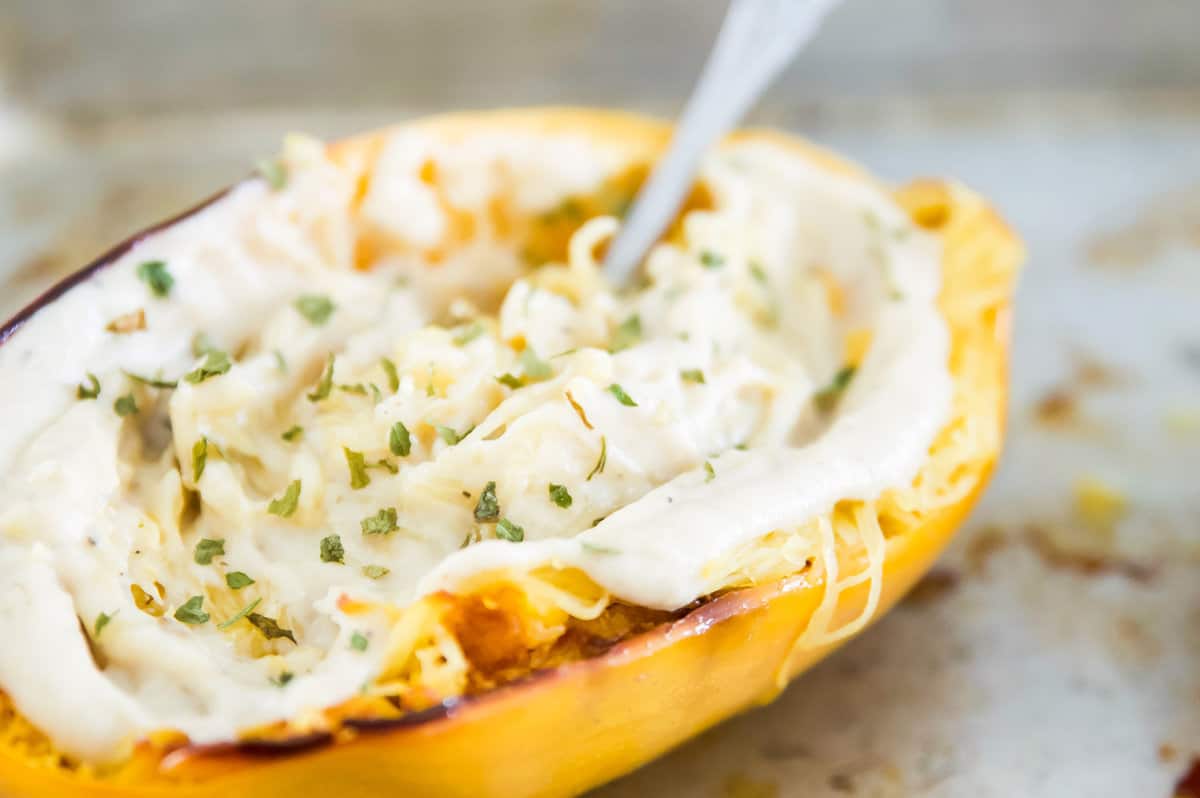 Whole30 Cauliflower Alfredo Sauce
(Paleo, AIP, Vegan, GAPS, SCD)
Instructions
Cut the cauliflower into florets and steam until tender

Once the cauliflower is finished cooking, place a medium sized pot on the stove on medium heat

Add the coconut oil to the pot and allow to melt

Add the minced garlic and sauté for 1-2 minutes, until starting to brown

Add the coconut milk, bone broth and spices to the pot and stir well to combine

Add the steamed cauliflower to the pot

Allow the mix to come to a boil

Turn down the heat and simmer for 5-10 minutes

Remove from heat and allow to cool for 5-10 minutes

Using your immersion blender, blend the sauce until smooth (alternatively you could pour the mixture into your Vitamix blender and blend until smooth)
You might also like:
Orange Ginger Chicken Stir Fry
Pin this recipe for later: