You are going to love this Piña Colada Mocktail recipe! This virgin cocktail is quick and easy to make, and has the most delicious, tropical refreshing flavour. Made with just 4 ingredients this cocktail is perfect for summer and is kid friendly too!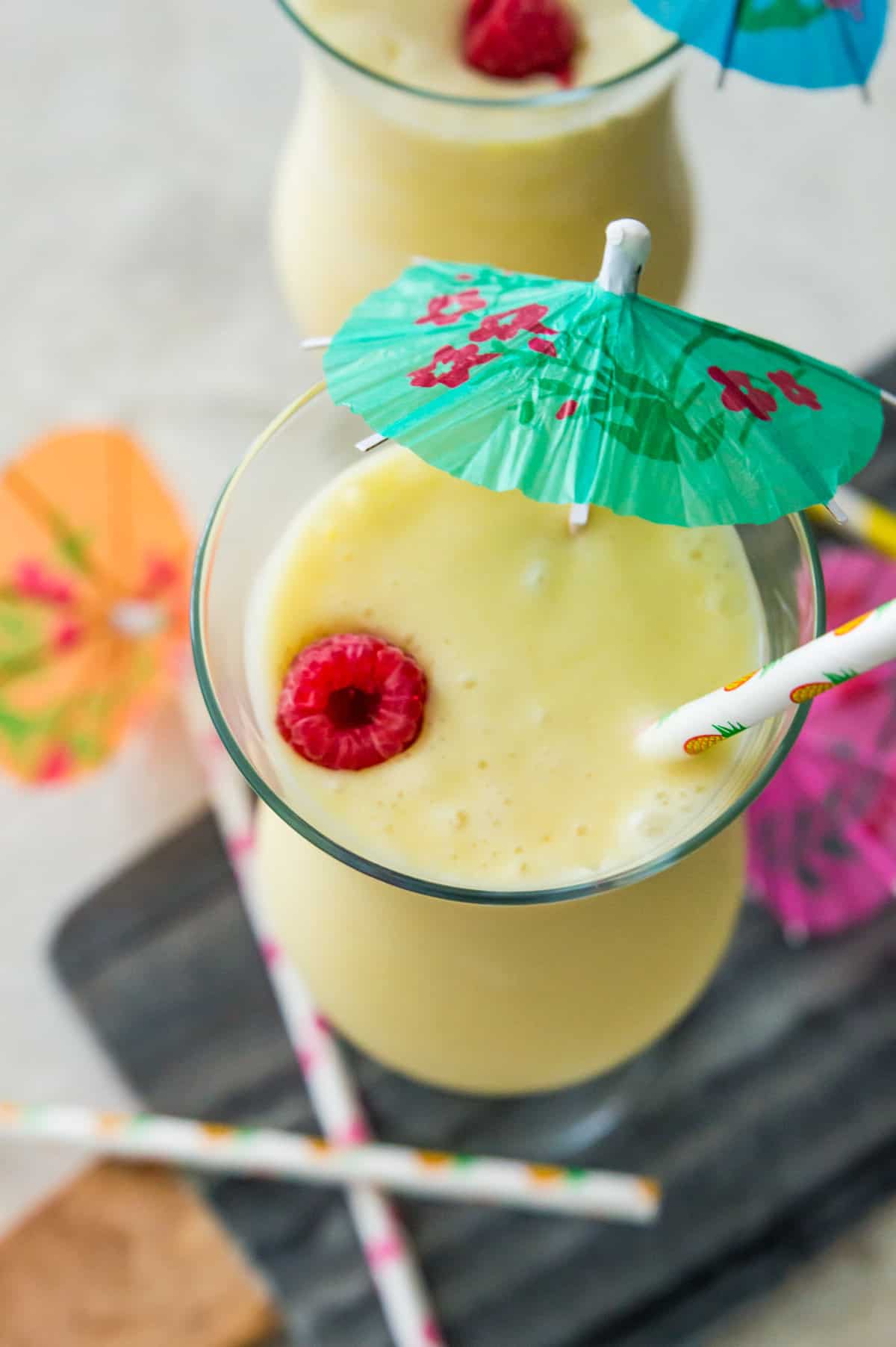 What is a Pina colada?
A classic piña colada is a cocktail made with rum, cream of coconut or coconut milk, and pineapple juice. It is usually served either blended or shaken with ice and can be garnished with a pineapple wedge or a maraschino cherry.
The drink originated in Puerto Rico in the 19th century and is rumoured to have been created by the pirate Roberto Cofresí to boost his crew's morale. The name piña colada is Spanish and when translated literally means "strained pineapple".
The virgin or mocktail version of a Pina colada is simply a version made with no alcohol.
According to the most recent guidelines, when it comes to health, no amount of alcohol is safe to drink, so decreasing the amount of alcohol you drink is very important to help prevent various health issues including heart disease, strokes, cancer, liver disease, dementia and more.
This is where virgin cocktails or mocktails come in. Just because you are trying to avoid alcohol or decrease your alcohol intake doesn't mean that you still can't enjoy delicious drinks! That is why I developed this virgin piña colada recipe for you! I hope you love it!
Why you will love this recipe:
The taste! This delicious drink will make you feel like you are on the beach enjoying an amazing tropical vacation.
It's so quick and easy to make and only takes a few minutes to prepare.
Because it's made with no alcohol it's a healthy variation on the classic alcoholic drink.
It's made with just 4 ingredients so it's such a simple drink to make.
This cocktail is healthy, dairy free, gluten free, vegan, vegetarian, and paleo. It's also safe for kids and those who are pregnant or breastfeeding.
If you love virgin drinks you will also love this delicious lemonade smoothie and passion fruit martini mocktail.
Taste and texture:
This frozen mocktail is cold, smooth, thick and so refreshing! It is sweet, but not too sweet, with flavours of both pineapple and coconut. It tastes like a delicious tropical vacation! It has a texture that is similar to a smoothie.
Key ingredients and substitutions: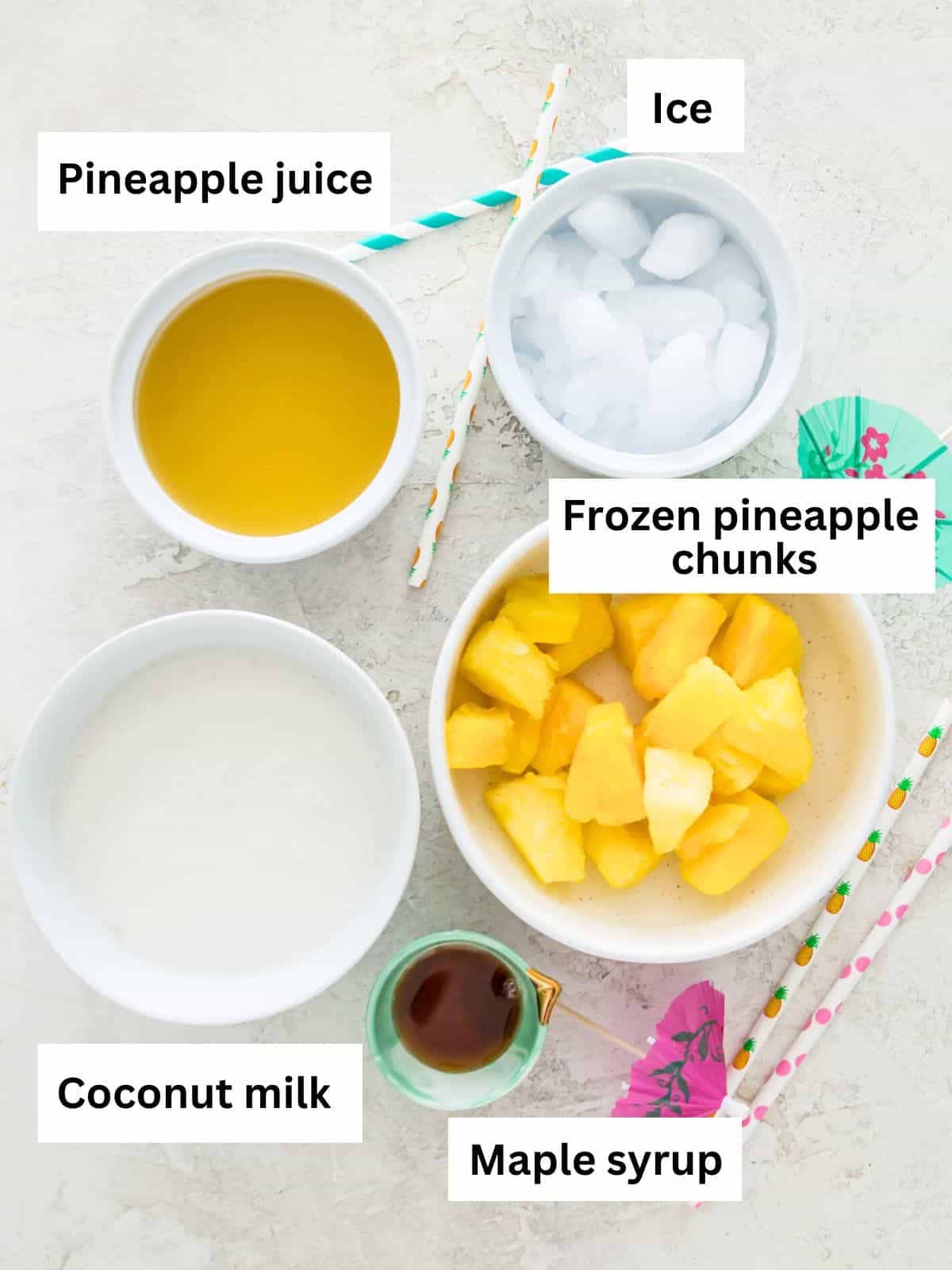 Frozen pineapple chunks - these are used to add a delicious pineapple flavour to this drink and help keep it nice and cold and refreshing. If you can't find frozen pineapple chunks to buy at the store you could cut up a pineapple and freeze the chunks yourself.
Full fat coconut milk - I highly recommend using full fat coconut milk to make this frosty drink because it is more thick and creamy and has a stronger coconut flavour. Light coconut milk is more watery and won't give this drink that nice thick texture that you want. Instead of coconut milk you could use coconut cream instead.
Pineapple juice - pineapple juice adds more natural sweetness and pineapple flavour to this tropical cocktail. I recommend using pure pineapple juice or 100% pineapple juice with no added sugar for the healthiest drink.
How to make:
Step one:
First, place all the ingredients into your high speed blender.
Step two:
Then blend everything well until you have a smooth and creamy texture.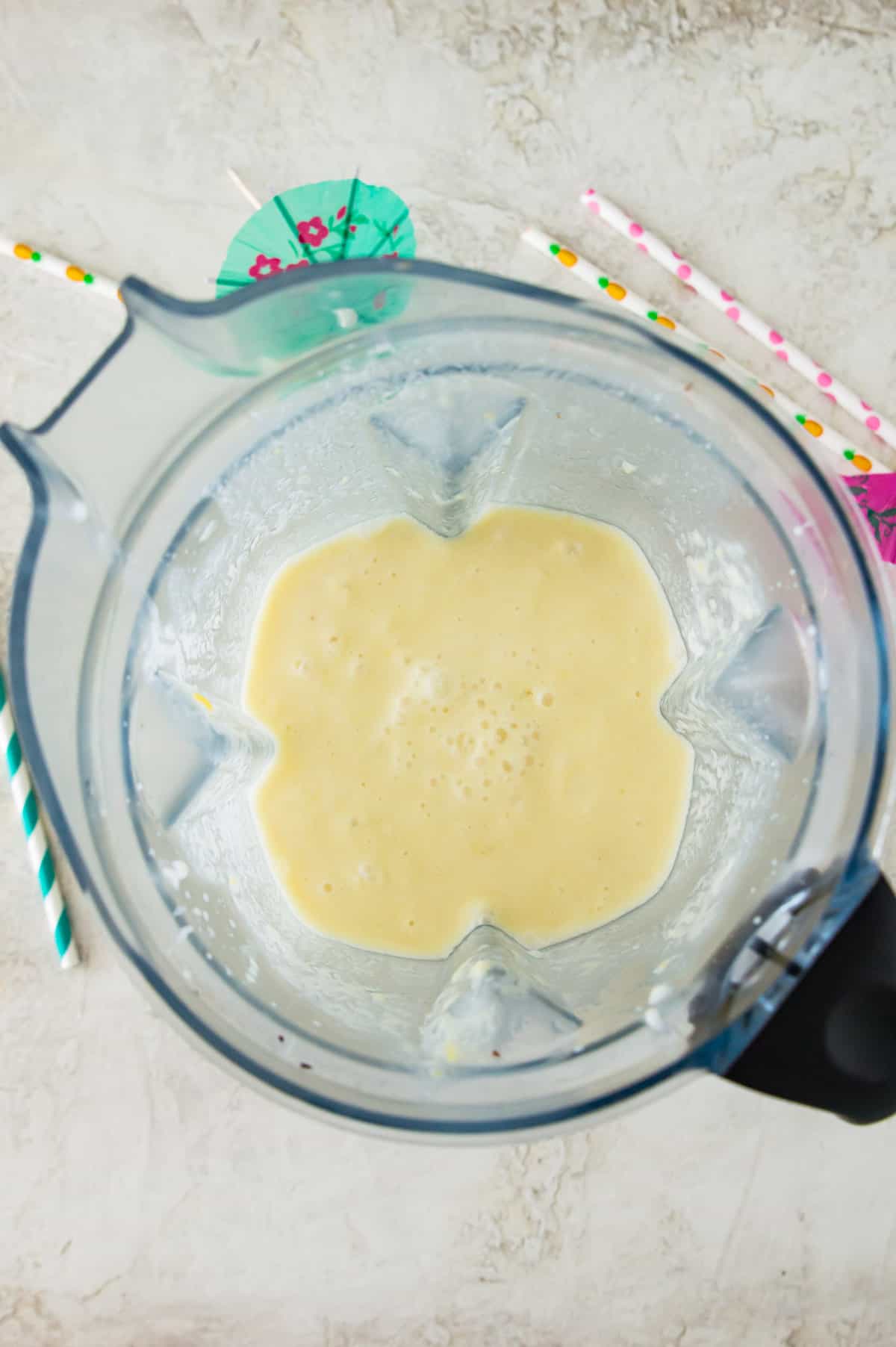 Step three:
Pour the drink into 2 glasses and enjoy!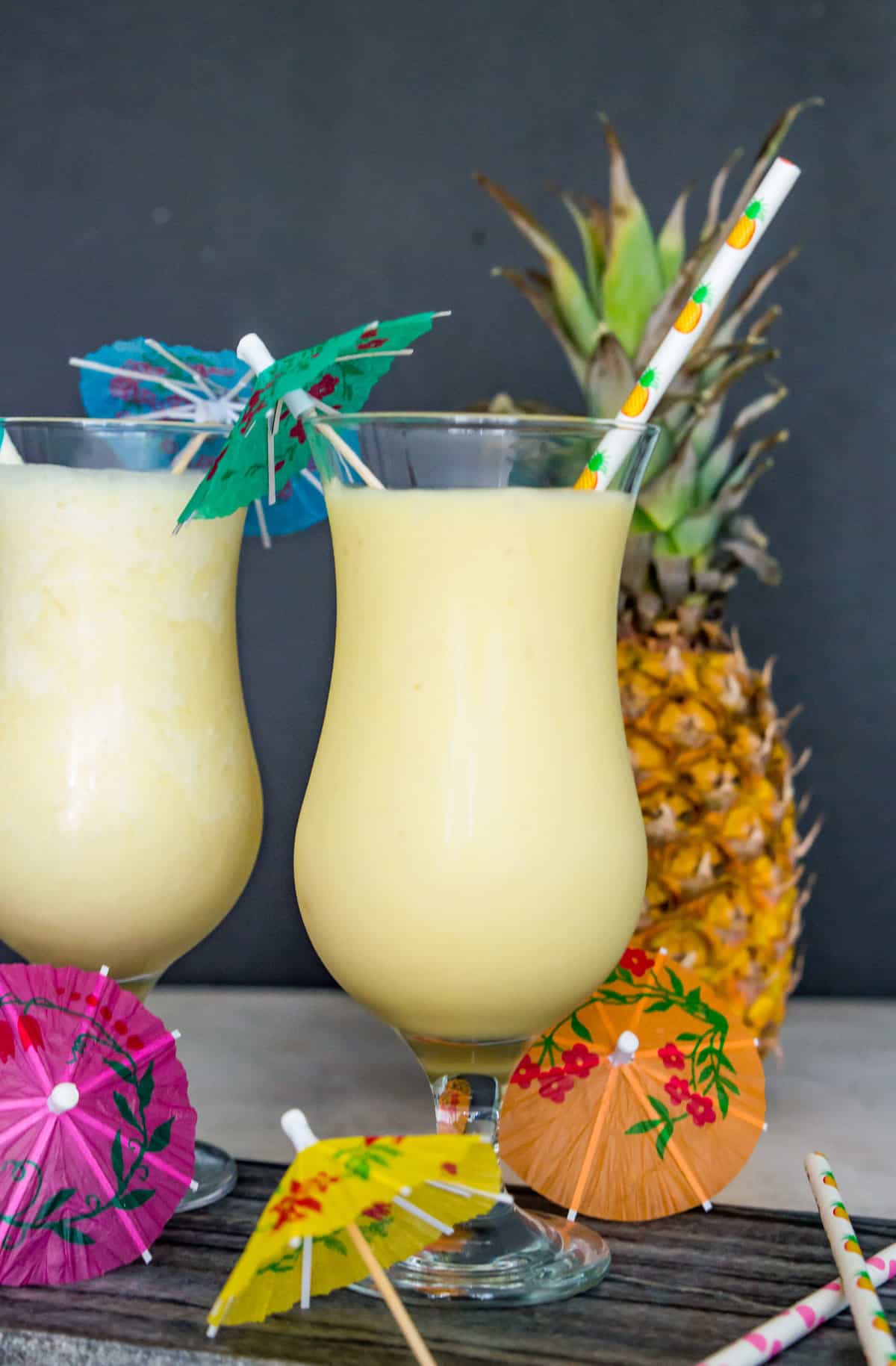 Chef's tips:
You will need a high speed blender to blend this drink. If you want to make it with no blender I recommend using a large food processor instead.
If you can't find frozen pineapple chunks at the grocery store you can cut up a fresh pineapple and freeze the chunks yourself.
This recipe is adaptable - if you want an ever thicker mocktail, add a few more frozen pineapple chunks - if you prefer a thinner drink, add a bit more coconut milk or pineapple juice.
Recipe variations:
For an even stronger pineapple flavour, replace the 1/2 cup of ice with another 1/2 cup of frozen pineapple chunks.
If you are serving a crowd feel free to double or triple this recipe.
To make this drink with no added sugar, simply omit the maple syrup or honey from the recipe.
Instead of full fat coconut milk you can use coconut cream instead.
I do not recommend using light coconut milk to make this blended drink - it is more watery and doesn't have as strong a coconut flavour as full fat coconut milk does.
If you do want to make this into a cocktail, add 3 oz of white rum to the recipe.
How to serve:
You can serve this drink in Pina colada glasses or any other type of cocktail glasses that you prefer. This cold drink is delicious served as is but you could also top it with a fresh pineapple chunk, maraschino cherry, whipped cream or other fresh fruit such as raspberries or blueberries.
To make this drink look even more fun you can add a drink umbrella, edible flowers or hibiscus flowers.
How to store:
This drink is best served right away. I don't recommend trying to store it for later or it will lose its cold, thick and creamy texture.
Nutrition info:
The nutritional information will vary depending on the exact ingredients you use to make this drink but one serving has approximately 368 calories with 41 grams of total carbohydrates, 2 grams of fiber, 39 grams of net carbs, 3 grams of protein and 24 grams of fat.
This drink is gluten free, dairy free, vegan and paleo. It is not low carb, low fat, low sugar or keto. To make it Whole30 compliant omit the maple syrup or honey from the recipe.
Frequently asked questions:
What is a Piña Colada Mocktail made of?
There are many different virgin piña colada recipes out there but this one is made with frozen pineapple, coconut milk, ice and pineapple juice.
What can I used instead of piña colada mix? 
You can use fresh ingredients like pineapple juice, coconut cream, ice or frozen pineapple.
Is coconut milk or coconut cream better for piña coladas?
Either coconut milk or coconut cream can be use to make piña coladas. Coconut cream is a little thicker than coconut milk and will have a slightly stronger coconut flavour.
Is piña colada mix the same as cream of coconut? 
No they are not the same. Piña colada mix is a combination of many different ingredients that can be used to make a piña colada whereas cream of coconut is just pure coconut so you would need to add other ingredients to it to make a piña colada.
What if I don't have a blender?
If you don't have a blender you can use a food processor to make this drink.
Other recipes you will love:
Since you made it this far we are basically best friends so be sure to follow me on Instagram, Pinterest, TikTok and Facebook where I share even more recipes and healthy living tips! And don't forget to leave this recipe a star review before you go!
Piña Colada Mocktail
These are the best Piña Colada Mocktails! This virgin cocktail is so easy to make and has the most amazing tropical flavour. It's the perfect summer drink!
Print
Pin
Rate
Ingredients
Optional
1-2

tablespoon

honey or maple syrup

(if you prefer a sweeter drink)
Instructions
Place all the ingredients into you high speed blender.

Blend everything until you have a smooth drink.
Notes
Note that the nutritional calculations are estimates and include 2 tablespoon of maple syrup in the calculation. Depending on the exact ingredients you use these values will be different. 
This drink is best served right away. 
This recipe makes two large servings. 
Nutrition
Calories:
368
kcal
|
Carbohydrates:
41
g
|
Protein:
3
g
|
Fat:
24
g
|
Saturated Fat:
21
g
|
Polyunsaturated Fat:
0.4
g
|
Monounsaturated Fat:
1
g
|
Sodium:
21
mg
|
Potassium:
511
mg
|
Fiber:
2
g
|
Sugar:
31
g
|
Vitamin A:
99
IU
|
Vitamin C:
86
mg
|
Calcium:
52
mg
|
Iron:
4
mg