Paleo Nut Butter and Chocolate Crunch Bars. That is what we are munching on this week. This paleo dessert is going to leave you coming back for seconds and maybe even thirds. If you are looking for a sweet and crunchy treat these Paleo Nut Butter and Chocolate Crunch Bars are for you! I promise that if you make these Paleo Nut Butter and Chocolate Crunch Bars you will not be disappointed.
You guys I am sharing my first post on the new blog! And it's a pretty good one if I do say so myself. These Paleo Nut Butter and Chocolate Crunch Bars make such a delicious treat or snack. For those of you that are new here, I just transferred my blog from Blogger over to Squarespace last week. And after being on Blogger for the last 4 years it has been a bit of an adjustment. Plus I had to go back and edit EVERY SINGLE POST that I transferred over from the old blog so that the recipes were actually legible. It's taken me a week to do that. What a pain. But it's done! And it was quite a trip down memory lane this last week that's for sure. Man I really had no idea what I was doing when I started this little blog of mine 4 years ago. I honestly can't believe it's been that long! Some of you have even been reading from the very beginning. Thank you! And for those of you that just found me, welcome!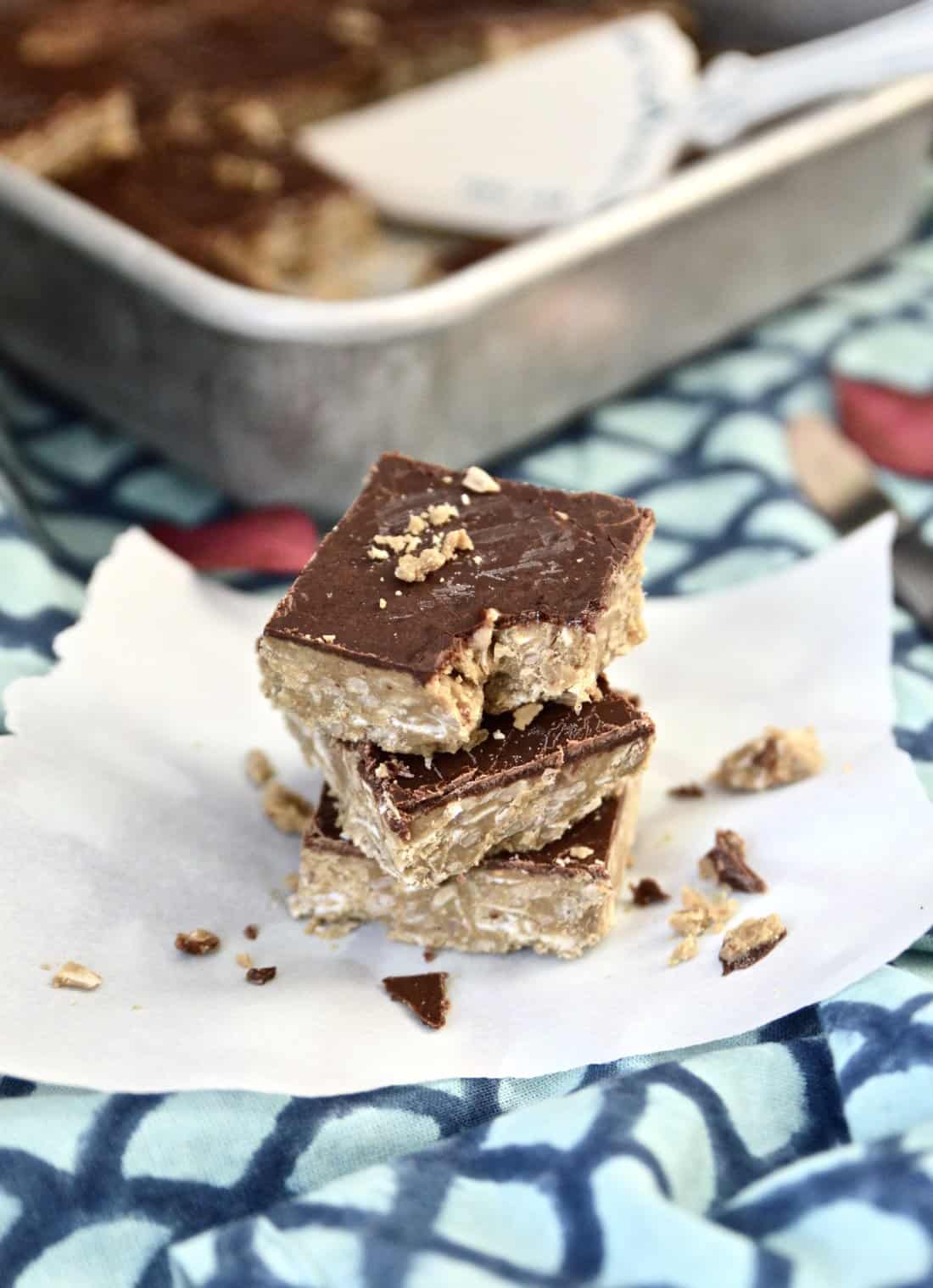 It's now January 16. For those of you doing a January Whole 30 you are halfway there! How is it going so far? Since I'm posting these Paleo Nut Butter Chocolate Crunch Bars I am sure you can tell that I am not doing a Whole 30 this month. And there is one simple explanation for that: January is my birthday month. And what fun would a birthday be while doing a Whole 30? Like none! Because everyone deserves a glass of wine and a treat on their birthday. Everyone! But for those of you who have made it this far, please don't stop now! Just simply bookmark this recipe for later. Like for February 1st maybe? Because I promise you are going to like these.
In the mean time I have a ton of Whole 30 compliant recipes to tide you over for the remaining 15 days of your challenge. In fact I have a whole page dedicated to those recipes. You can find all of my Whole 30 friendly recipes by clicking here.
So what inspired these Paleo Nut Butter Chocolate Crunch Bars? Well, way back when, before I changed to a paleo style diet I used to love a dessert that my mom made called Peanut Butter Squares. My friends and family would all tell you how amazingly addicting those things were. Think lots of peanut butter, corn syrup, cereal flakes and a sweet chocolate icing. Looking back now it was basically death in a pan when it came to my gut. But man was it tasty. I hadn't thought about that treat until recently, and decided it was time to try and make a healthier version. And these bars are the result of that little experiment. And they are pretty darn tasty if you ask me. Erik would second that statement. We have both been sneaking one or two out of the freezer every day ever since I made them. I'm sad to say there aren't many left. I may just have to make another batch in the coming days here.
Please let me know if you make these Paleo Nut Butter and Chocolate Crunch Bars! I always love hearing from you! And please send me your feedback on my new website. Is there anything I need to change? Anything else you would like to see?
And as always I would be thrilled if you followed my on my social media pages on Facebook, Instagram, Pinterest and Twitter!
Until next time, happy eating everyone!
Paleo Nut Butter and Chocolate Crunch Bars
(Paleo, Gluten Free, GAPS, Vegan)
Ingredients
Nut Butter Layer
500

g

jar of sunflower seed butter

1/3

cup

coconut oil

1/4

cup

maple syrup or honey

I recommend grade C maple syrup or local honey

1

tbsp

organic vanilla extract

1 1/2

cups

sunflower seeds

1 1/2

cups

coconut flakes
Instructions
Place medium sized pot on the stove on low heat

Add the first 4 ingredients for the nut butter layer and heat until melted together, stirring often

Once melted together remove the pot from the heat and stir in the sunflower seeds and coconut flakes

Transfer the ingredients to a 9"x9" metal baking and press down well to form an even layer

Place the pan in the freezer for ~1hr

Make the chocolate layer while the pan is in the freezer by melting the ingredients together in a small pot on the stove on medium heat, stirring the ingredients together until combined

Remove the pan from the freezer and add the chocolate layer (pour it on top of the nut butter layer and spread evenly with a spoon or knife)

Return to the freezer for an additional hour

Remove from freezer and cut the bars into desired size pieces
You Might Also Like:
Paleo Lemon and Coconut Cheesecake Bars
Pin This Recipe For Later: