With the wide variety of nut butters on the market these days, it can be difficult to decide which one best suits you but I'm here to make your decision much easier! This Macadamia Nut Butter is a game changer! Made with just 4 ingredients, this homemade macadamia nut butter has the richest flavour and perfect amount of sweetness.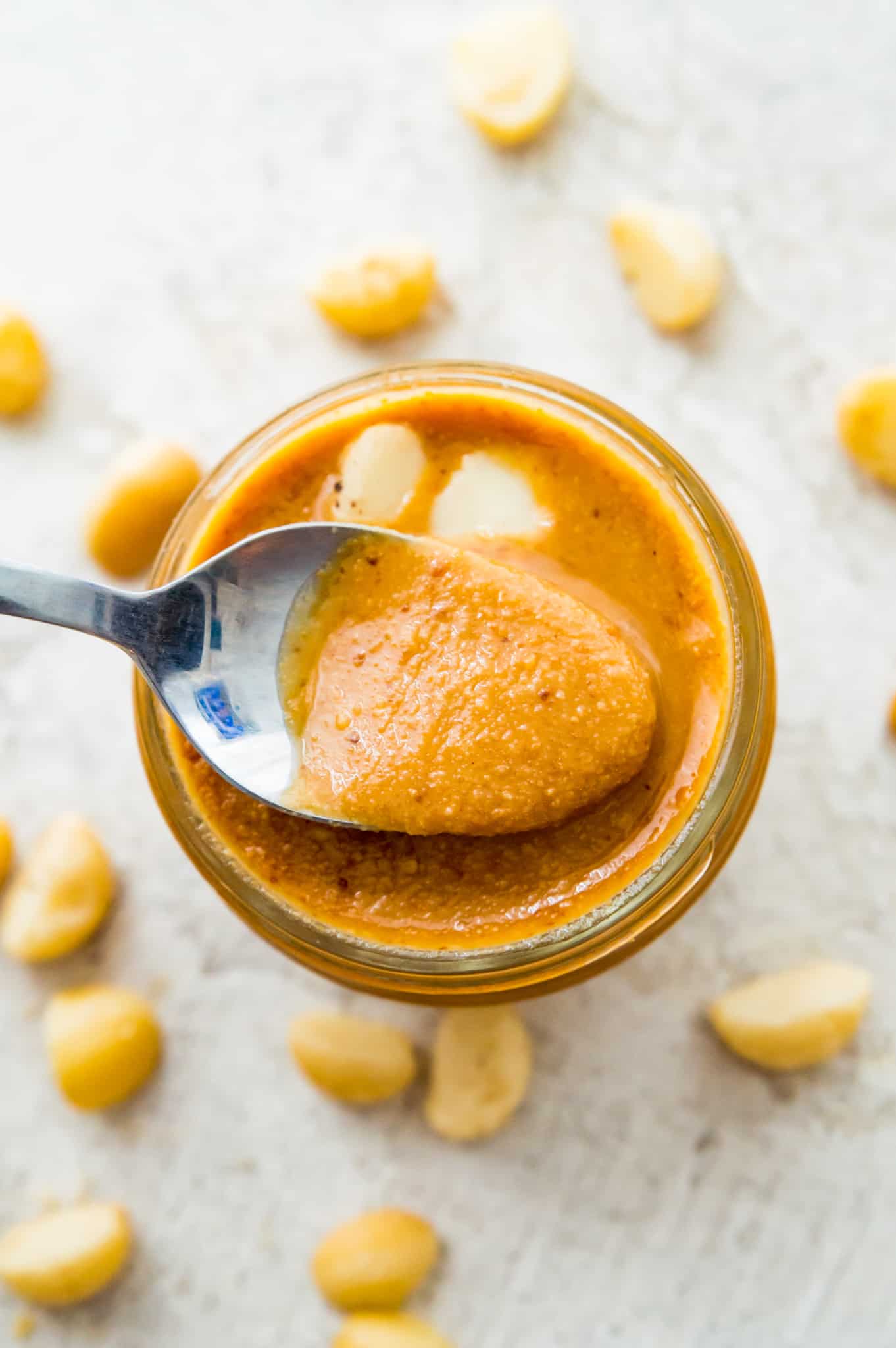 MACADAMIA NUT BUTTER RECIPE
WHY THIS IS THE BEST MACADAMIA NUT BUTTER:
Thanks to the roasted macadamia nuts, this butter is undeniably rich with flavour and has a gorgeously smooth texture.
This nut butter is ready to enjoy in just 20 minutes!
This recipe only requires 4 ingredients, it couldn't be simpler!
Macadamia nuts are packed with protein, beneficial fats and fiber making this a healthy spread and snack option.
This nut butter keeps you feeling full for longer due to the healthy fats!
This macadamia nut butter recipe is paleo, vegan and can easily be made Whole30 compliant.
KEY INGREDIENTS AND EQUIPMENT FOR MAKING HOMEMADE MACADAMIA NUT BUTTER:
Raw macadamia nuts – these nuts are a great source of protein, healthy fats, fiber and lots of other good stuff. Talk about a mighty nut!
Avocado oil – I chose avocado oil because it's neutral flavour won't take away from the rich taste of the macadamia nuts. Feel free to use any neutral oil you like!
Maple syrup – one of my favourite sweeteners out there! Real maple syrup is sourced straight from trees, so it is minimally processed and packed with healthy minerals and antioxidants.
Sea salt – just to balance out the flavour profile!
Food processor – this is my food processor if you're looking for a recommendation but any works just fine! A food processor makes the nut butter making process much easier.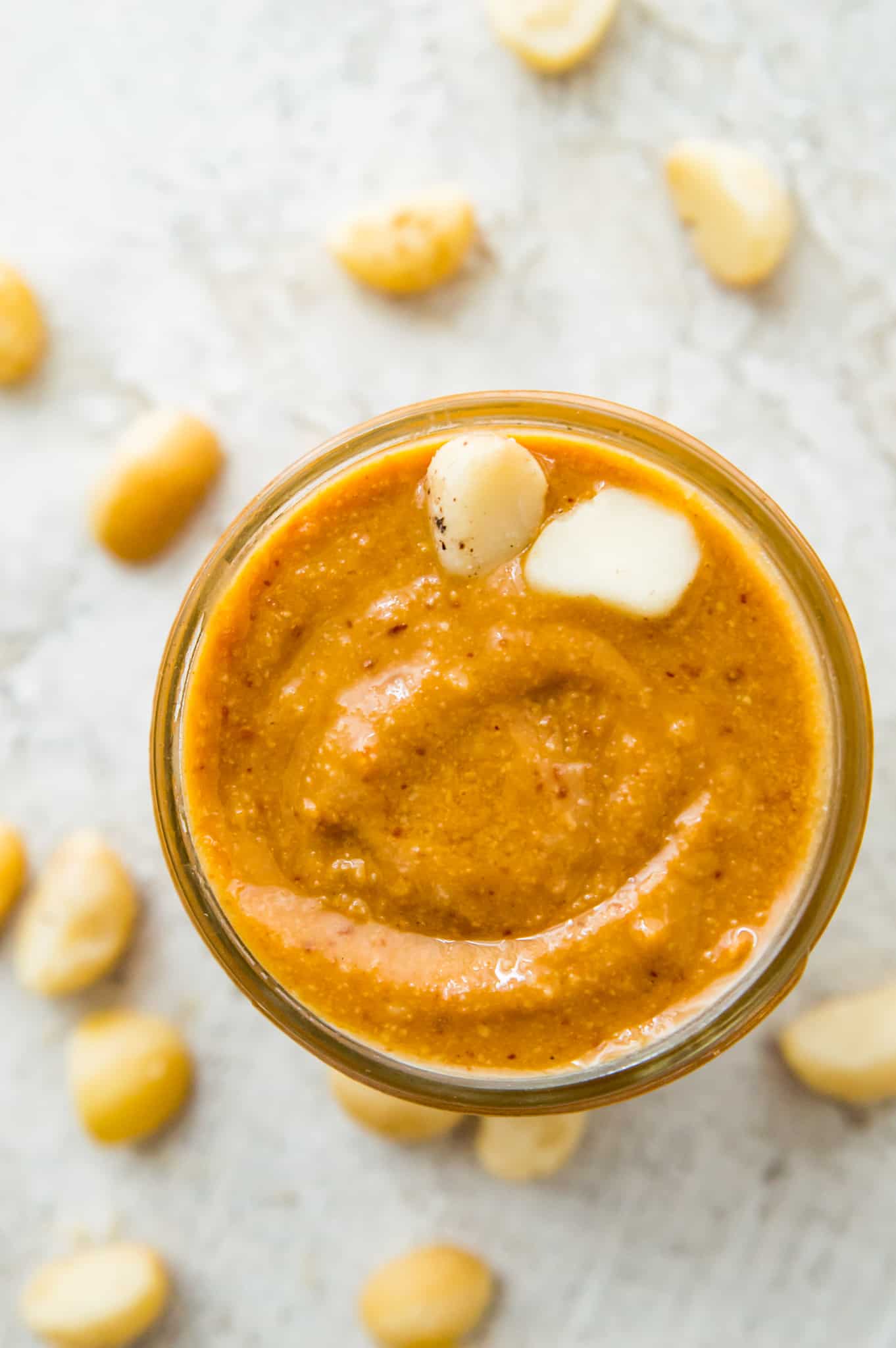 VARIATIONS OF THIS RECIPE:
To make it Whole30 compliant, omit the maple syrup.
Instead of avocado oil you could use another neutral tasting oil such as MCT oil or even macadamia oil.
Feel free to add other spices such as cinnamon or nutmeg to give it a different flavour. You could also add a splash of vanilla!
Instead of roasting the macadamia nuts you could skip that step and use them raw. Just be aware this will change the taste of the butter (it won't have as rich a flavour)
Instead of maple syrup, you could use honey (just not if you are vegan).
Avoiding sugars? Simply omit the maple syrup.
FREQUENTLY ASKED QUESTIONS:
Can I use pre-roasted macadamia nuts?
I don't recommend using pre-roasted macadamia nuts as roasting the nuts yourself adds an extra depth of flavour, plus you get to choose the oil you use. Many store bought roasted nuts are roasted in unhealthy crop oils that ideally you'll want to avoid. If you don't have access to raw macadamia nuts, you could use pre-roasted, but the flavour will probably be different. You could also skip the roasting step altogether and make this butter with raw macadamia nuts instead (but this will change the flavour).
What can I use instead of maple syrup?
You could use a variety of other sweeteners. Some of my other favourite sweeteners are honey, date syrup, and molasses. You could also omit sweetener completely!
Is macadamia nut butter healthier than other nut butters?
We could spend hours comparing the health benefits of the wide variety of nut butters on the market these days but the bottom line is that most nut butters are rich in protein and fats but macadamia nut butter is particularly healthy due to the levels of vitamin E, magnesium and antioxidants it contains.
Other recipes you will love:
SINCE YOU MADE IT THIS FAR WE ARE BASICALLY BEST FRIENDS SO BE SURE TO FOLLOW ME ON INSTAGRAM, PINTEREST AND FACEBOOK WHERE I SHARE EVEN MORE RECIPES AND HEALTHY LIVING TIPS! AND DON'T FORGET TO LEAVE THIS RECIPE A STAR REVIEW BEFORE YOU GO!
Macadamia Nut Butter
Macadamia nut butter is so easy to make and has such a rich flavour! It's such a fun alternative to peanut butter.
Ingredients
500

grams

raw macadamia nuts

(4 cups)

2

tbsp

avocado oil

1

tbsp

maple syrup

1/4

tsp

sea salt

(or more to taste)
Instructions
Preheat your oven to 350F

Line a baking sheet with parchment paper (or a silicone liner) and spread the macadamia nuts out evenly on the baking sheet. Bake for 10-12 minutes, until roasted. Remove the baking sheet from the oven and allow the nuts to cool.

Trasfer the roasted macadamia nuts to your food processor and add the remaining ingredients. Blend until smooth, scrapping down the sides of the food processor intermittently as needed.
Recipe Notes
It took about 7-8 minutes of blending to get smooth macadamia butter using the food processor that I have
You can easily omit the maple syrup if you are avoiding sugars 
Nutrition Facts
Macadamia Nut Butter
Amount Per Serving
Calories 61
Calories from Fat 54
% Daily Value*
Fat 6g9%
Sodium 10mg0%
Potassium 29mg1%
Carbohydrates 1g0%
Protein 1g2%
Vitamin C 1mg1%
Calcium 7mg1%
Iron 1mg6%
* Percent Daily Values are based on a 2000 calorie diet.