So the weather has officially turned my friends. At least here in Calgary anyways. I am not ready for summer to be over so I sure hope it is a temporary shift. I know that some people love fall, but I am just not one of them. I would trade fall and winter weather for sun and a beach any day. It is actually on my bucket list to live on a beach one day. I sure hope I can make that dream come true. My blog may have to get a bit more successful to make that dream a reality though… In the mean time I will just have to put up with the rain. We don't get much rain here in Calgary, so whenever we do I find myself stalking Hunter Rain Boots online… I have been meaning to buy a pair for years but have never been able to pick a colour. I know, I know, these are serious issues I am dealing with over here.
Anyways…
Why are these my favourite pork burgers do you ask? Two reasons. One, they are rather delicious. Two, they are super easy to make. These contain only 5 ingredients and take only a few minutes to prepare. I make these a lot because they take almost no time and I always have the ingredients on hand. I actually can't believe I haven't posted these here yet because I eat them that often. I guess I never really thought they were "blog worthy" since they are so simple. But I have come to realize that I am not the only one that appreciates simple, easy to prepare meals.
Now you will also noticed that these burgers are in a bun. Yes that is right my friends I created my first paleo bun recipe. I realize I am behind the times on this one… most paleo bloggers out there have a few grain free bun recipes on their blogs. To be honest I just didn't really miss them. But I finally decided it was time I joined in on the trend. These are sweet potato buns and I will share the recipe soon I promise. I also came up with a recipe for plantain buns. Do you have a preference for which one I share first? I personally like the plantain buns better because they aren't quite as sweet… but I will let you weigh in.
And as always I would love it if you followed me on Pinterest, Instagram and Facebook!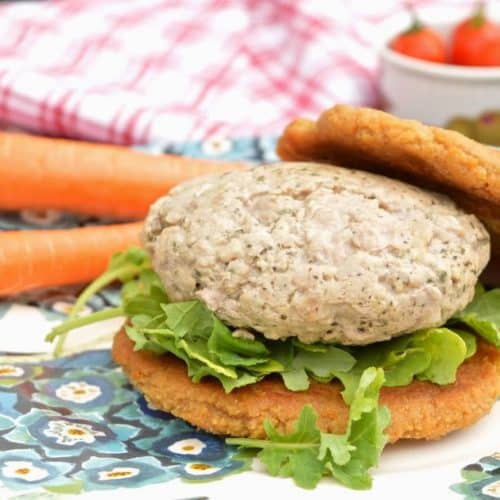 Ground Pork Burgers
These are the best ground pork burgers. They are so easy to make with just 5 ingredients and have such a delicious flavour.
Print
Pin
Rate
Instructions
In a large bowl combine all ingredients and mix well with a spoon. 

Form burger patties of desired size and place on a large plate or platter.

Place the plate in the fridge for 30-60 minutes (this helps the burgers stick together better).

Grill the burgers on the barbecue until cooked evenly on both sides OR cook these in a frying pan on medium heat with 2 tablespoon of cooking fat.

Remove from heat, serve and enjoy!
Notes
Store these burgers in an airtight container in the fridge for up to 5 days.
Nutrition
Calories:
405
kcal
|
Carbohydrates:
1
g
|
Protein:
26
g
|
Fat:
32
g
|
Saturated Fat:
12
g
|
Polyunsaturated Fat:
3
g
|
Monounsaturated Fat:
14
g
|
Trans Fat:
1
g
|
Cholesterol:
109
mg
|
Sodium:
168
mg
|
Potassium:
480
mg
|
Fiber:
1
g
|
Sugar:
1
g
|
Vitamin A:
26
IU
|
Vitamin C:
1
mg
|
Calcium:
56
mg
|
Iron:
3
mg