This is the best Whole30 Potato Salad. A twist on a classic southern dish, this salad uses red potatoes, hardboiled eggs, bacon and cucumber. The dressing is so creamy and rich and made with items from your pantry. It's easy to make and perfect for summer picnics, barbecues, tailgating and potlucks!
Whole30 Potato Salad Recipe
Potato salad is the perfect spring and summer dish, and this potato salad has the best flavour. Perfect for picnics and barbecues, the dressing on this salad is so rich and creamy with a little tang, and is made from pantry staples like mayonnaise, apple cider vinegar and mustard. This recipe is a twist on a southern classic that uses cucumber, bacon, hard boiled eggs, and red potatoes to give it the most delicious flavour with the perfect crunch.
You will love how easy this recipe is to make and how great it tastes for leftovers. It's naturally dairy-free and paleo and healthier than most potato salad recipes as there is no sugar and I kept the skin on the potatoes for the extra nutritional benefits.
Key ingredients you need to make this Whole30 Potato Salad:
Red potatoes – I left the skin on for the added vitamins and minerals but you could easily remove the skins if you prefer
Eggs (preferably free range) – this gives the salad a nice flavour and boost of protein
Long English cucumber – for some extra crunch!
Green onion – for some extra flavour!
Bacon – adds a salty crunch that everyone loves
Apple cider vinegar – for just the perfect amount of tang!
How to make this Whole30 Potato Salad:
First cook the potatoes and eggs, by boiling them in a large pot on the stove for 15 minutes
While the potatoes and eggs are cooking, chop the cucumer and onion and break the bacon into pieces and make the dressing by mixing the ingredients in a bowl
When the potatoes and eggs are cooked, remove the eggs from the pot and place them in a bowl of cold water. Then rinse the potatoes with cold water and place them in a colander to drain (you don't want them to be wet when you add them to the salad)
Remove the eggs from the cold water, peel them and chop them
Add all the ingredients to a large salad bowl and then add the dressing. Mix everything well until all the ingredients are coated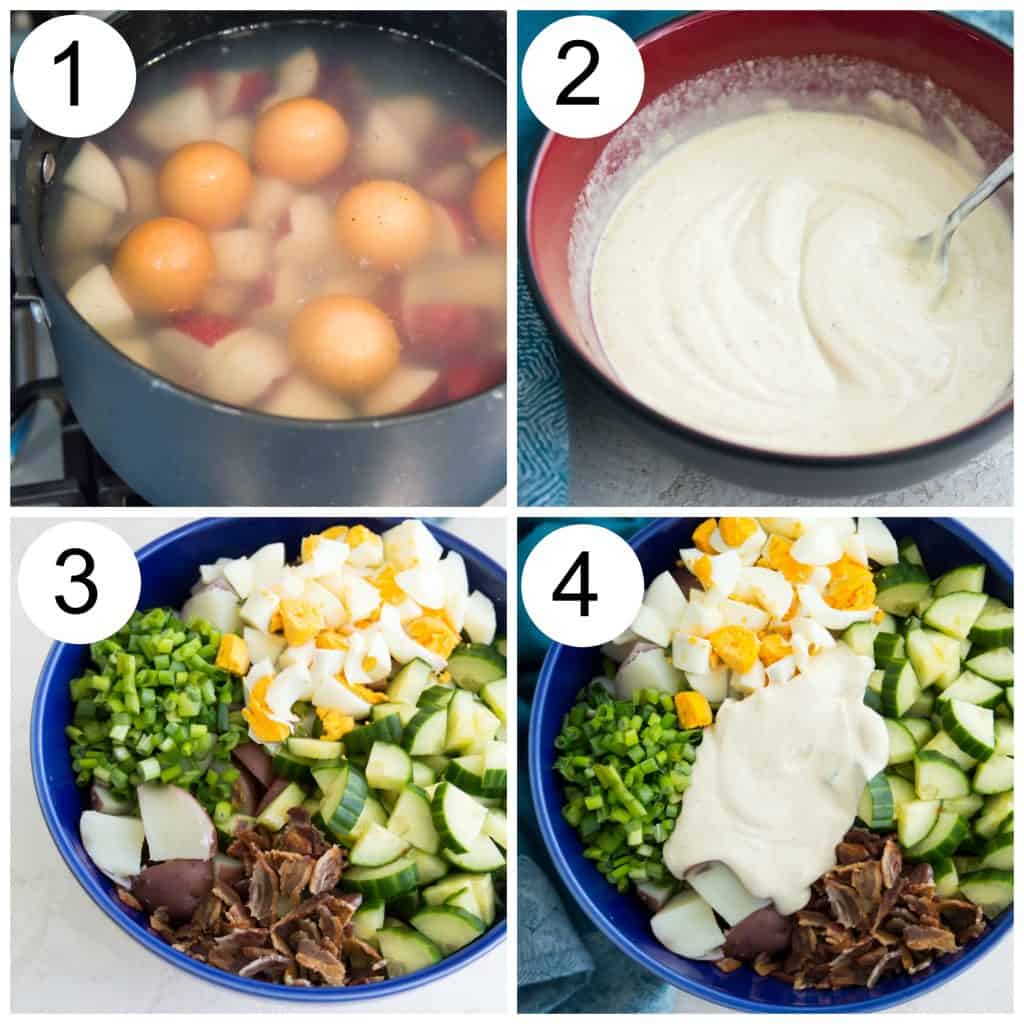 Variations on this potato salad:
If you don't like bacon, simply leave it out (or add more if you want extra!)
Add chopped celery, carrots or bell peppers for even more veggies
Add chopped dill pickles for a slightly different flavour
If you don't have green onion you can use white, yellow or red onion instead
Add fresh herbs such a parsley, dill, basil, chives, or thyme to give it a different flavour
Call me crazy but I love adding black olives to this salad
You can use lemon juice or coconut vinegar instead of apple cider vinegar
Try using different potatoes such as Russet or Yukon Gold
If you prefer peeled potatoes, peel them before you cut them and boil them
Turn this into a complete meal by adding some grilled chicken or pork
Tips for this Whole30 potato salad:
I think this salad tastes even better after it's been in the fridge for a day or overnight. This allows the flavours to become more bold and the veggies to be chilled and crisp. So feel free to make it the day ahead.
Don't skip rinsing the cooked potatoes in cold water. If you don't they will continue to cook and become mushy. Plus when you add them to the other vegetables they will warm the other veggies and make them soft and not crisp.
This recipe makes a large batch of potato salad. If you are only feeding a few people feel free to cut it in half.
Frequently asked questions:
What kind of potatoes do you use to make potato salad? I used red potatoes in this recipe but you can also use Yukon Gold, Fingerling or Russet potatoes. Sweet potatoes could also be used instead (although these would give the salad a slightly different flavour).
Do you have to peel potatoes for potato salad? You can, but I didn't for this recipe for two reasons: one, it saves so much work! And two, the skin is where most of the nutritional value of the potatoes are, so why waste them? If you prefer to use peeled potatoes, peel them before you cut and boil them.
Is mayonnaise Whole30 compliant? Yes and no. It all depends on the type of mayonnaise you use. Most brands you find in the store are not Whole30 compliant as they have sugars, natural flavours and processed ingredients. It's actually really easy to make your own mayo and I love using my homemade Whole30 mayonnaise for this recipe, but if you are looking for a store bought version I recommend this brand.
What goes well with potato salad? So many dishes! But some of my favourites are burgers, chicken wings, and grilled chicken or fish dishes. My Whole30 salt and pepper chicken wings go so well with this recipe.
How long can you keep this potato salad in the fridge? This salad keeps well in the fridge for 3-4 days and makes great leftovers.
Other recipes you will love:
SINCE YOU MADE IT THIS FAR WE ARE BASICALLY BEST FRIENDS SO BE SURE TO FOLLOW ME ON INSTAGRAM, PINTEREST AND FACEBOOK WHERE I SHARE EVEN MORE RECIPES AND HEALTHY LIVING TIPS! AND DON'T FORGET TO LEAVE THIS RECIPE A STAR REVIEW BEFORE YOU GO!
Whole30 Potato Salad (Dairy-free, gluten free, paleo)
The best Whole30 potato salad that has a creamy, rich dressing. Easy to make and full of flavour it's also paleo, dairy-free and gluten free.
Ingredients
3

lbs

red potatoes, washed and cut into bit sized pieces

6

hard boiled eggs, chopped

6

pieces of cooked bacon, broken into pieces

1

long english cucumber, chopped

1

cup

chopped green onion
Instructions
Place a large pot filled approximately 3/4 full with water on the stove and turn onto high heat

While the water is heating, wash and cut the potatoes into approximately 1 inch sized pieces

Once the water in the pot is boiling, add the chopped potatoes and eggs to the pot

Turn down the heat slightly and boil the potatoes and eggs for ~15 minutes, until the potatoes are soft but not mushy

While the potatoes and eggs are cooking, chop the cucumer and onion and break the bacon into pieces and make the dressing by mixing the ingredients in a bowl

Once the potatoes and eggs are cooked, remove the eggs from the pot and place them in a bowl of cold water

Rinse the potatoes with cold water and place them in a colander to drain (you don't want them to be wet when you add them to the salad)

Remove the eggs from the cold water, peel them and chop them

Add all the ingredients to a large salad bowl and then add the dressing

Mix well until everything is coated with the dressing
Recipe Notes
If you prefer the potatoes to be peeled, peel them after you wash them and then cut them into pieces
You can sub lemon juice for the apple cider vinegar 
Be sure to rinse the potatoes with cold water after cooking them. You don't want them to be hot when you add the other vegetables, or they will warm the other vegetables 
Store this salad in the fridge for 3-4 days
Pin this post for later: