This is the best paleo avocado bread recipe! It's easy, healthy, and delicious. Made with ingredients like ripe avocados, eggs, coconut sugar, and almond flour, this bread turns out so moist and delicious! It is grain free, gluten free, refined sugar free, and made without any yeast or oil. This bread is so easy to make and perfect for sandwiches, snacks or toast.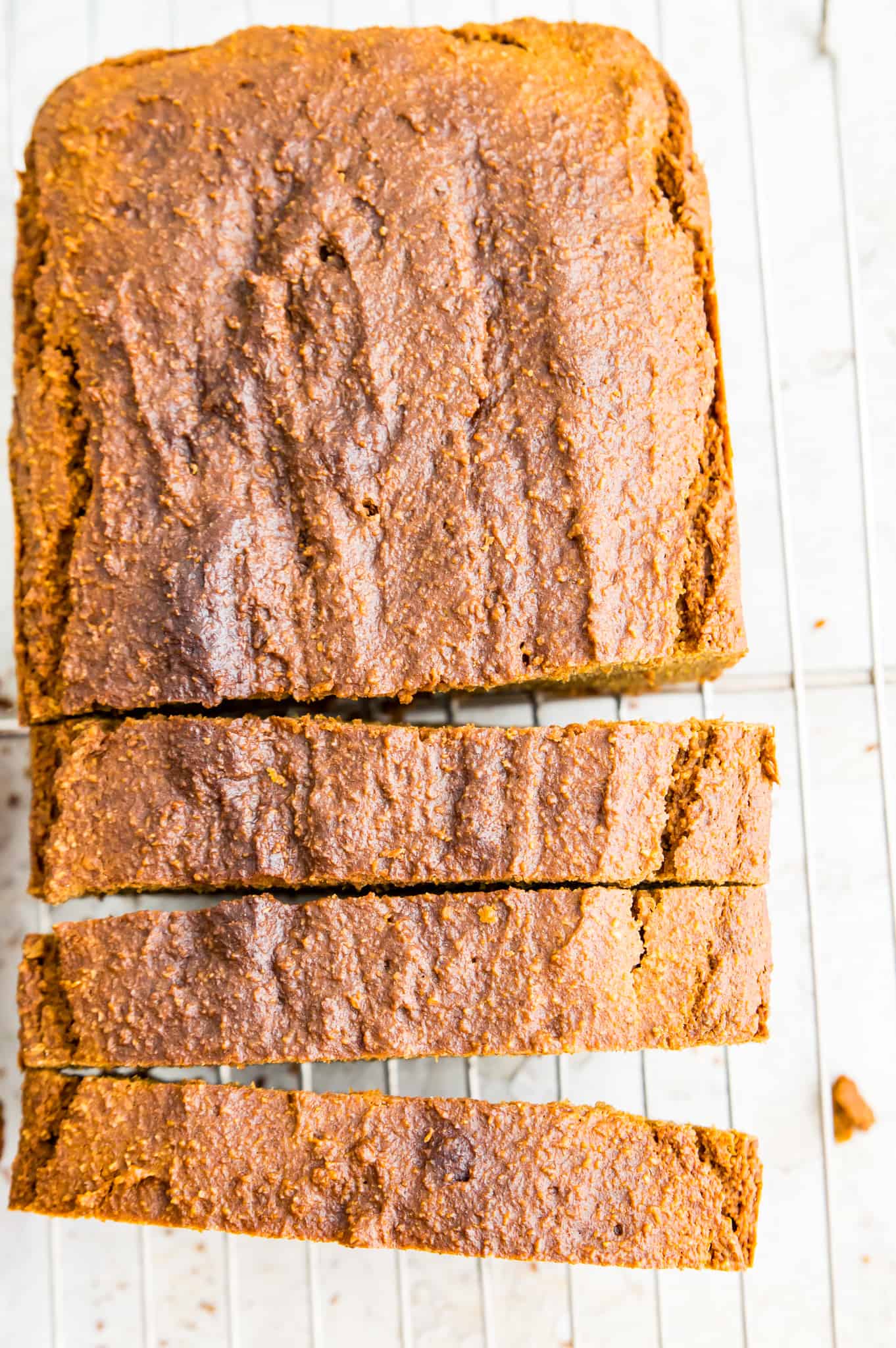 Why you'll love this recipe:
This is a healthy version of the famous 1973 TikTok avocado bread that has been making waves online recently!
This gluten free avocado bread is moist, sweet, and filled with healthy fats from the avocados.
This bread recipe is gluten free, grain free, refined sugar free and paleo.
This paleo bread is made without yeast and without oil.
It's easy to make. It requires only 5 minutes of prep time and you don't need a bread maker.
It's great for meal prep. After it's done baking, the avocado bread can be stored in the fridge or freezer and pulled out whenever you want.
This recipe is customizable. Feeling like chocolate, or nuts? Throw them into the batter before baking to give the bread a different taste and texture.
This bread can be used for so many things: eaten as is, for sandwiches, making toast or even French toast!
Key ingredients and substitutions:
Avocados – the star of this recipe. Use ripe ready-to-eat avocados for this paleo bread. You can't even taste them and they are full of vitamins, minerals, and healthy fats.
Eggs – helps to bind the bread together and adds moisture as well as protein.
Coconut sugar – a great natural sweetener. Feel free to use brown sugar instead if you are not on a paleo diet.
Apple cider vinegar – helps to activate the baking soda, allowing the bread to rise nicely. It can be substituted for lemon juice if you like.
Baking soda – makes the bread rise without any yeast. DO NOT try substituting this for baking powder.
Paleo flours – a mix of almond flour, tapioca flour, and coconut flour are used in this recipe. This grain free mix of flours helps to give the bread the perfect texture. Feel free to substitute the almond flour for cashew flour but don't make any other flour substitutions.
A pinch of sea salt – helps to balance out all the flavors in this paleo bread recipe.
Taste and texture:
This avocado bread tastes nothing like avocados. It's soft, fluffy and moist with a slightly sweet flavour. The crust also turns out perfectly with a nice firm texture.
How to make this recipe:
Step one:
First, preheat your oven to 350 degrees Fahrenheit.
Step two:
In a food processor, add the avocado flesh, eggs, and coconut sugar. Blend these ingredients together until smooth.
Step three:
Then transfer the blended ingredients to a bowl and add the apple cider vinegar and baking soda. Then stir in the dry ingredients until you have a smooth dough.
Step four:
Now transfer the dough to a bread pan lined in parchment paper and spread it out evenly. Bake the bread for 50 – 55 minutes, or until a toothpick inserted inside comes out clean.
Step five:
Allow the bread to cool and then slice it into pieces. Enjoy!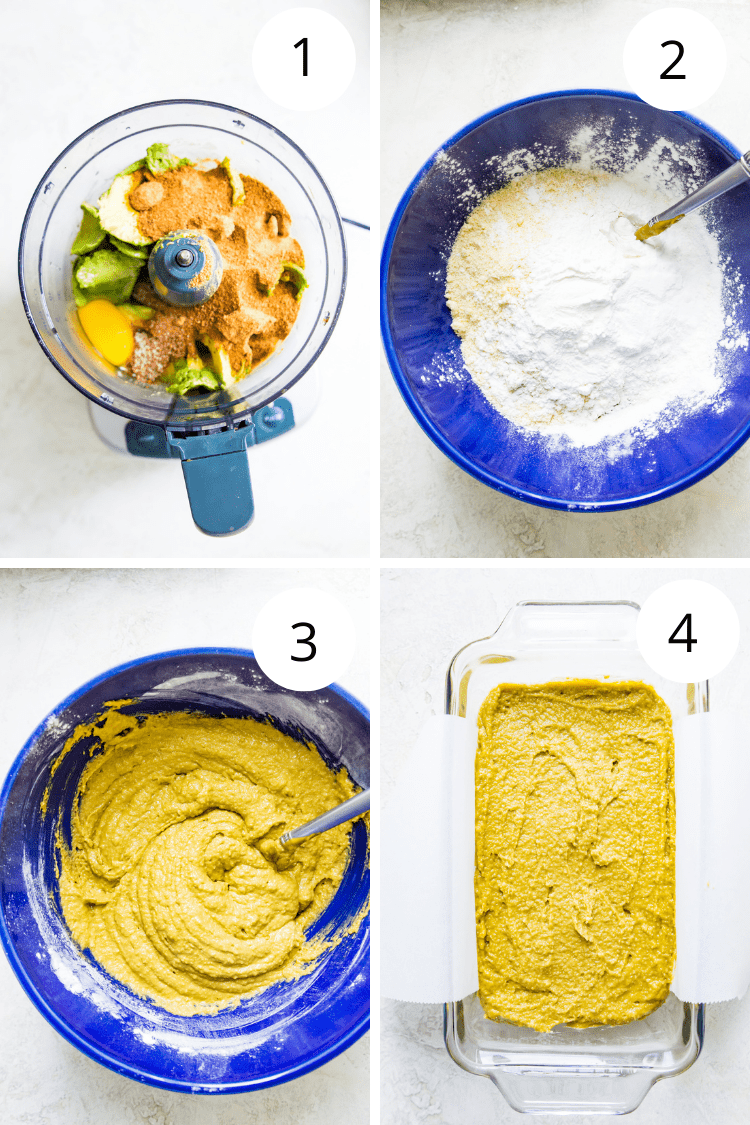 Chef's Tips:
Do not try subbing the baking soda for baking powder. It gives the bread a very weird, acidic flavour.
This bread freezes really well so feel free to make a double or triple batch and freeze loaves for later.
I used medium sized avocados for this recipe. If you have small avocados try using 4 instead.
Make sure the avocados you are using are nice and ripe with soft flesh.
Variations and add ins:
Instead of almond flour you can use cashew flour.
Instead of apple cider vinegar you can use lemon juice.
Instead of coconut sugar you can use brown sugar – just note that brown sugar is not paleo compliant.
Feel free to add raisins, chocolate chips, or nuts to this bread to give it a different flavour and texture.
How to use this bread:
Toast it – the easiest way to enjoy this paleo bread is to have a slice right out of the oven or to make toast with it.
Top with fruit preserves or jam – serve with a natural fruit preserve for a sweet treat or dessert. My blueberry chia seed jam would be delicious on this bread.
Top with nut or seed butter – serve with your favorite natural nut or seed butter for a filling snack. This macadamia nut butter is delicious on this bread.
Make your favourite sandwich. Egg salad and BLT's are my favourite!
Turn it into French toast!
How to store:
This bread is best stored in the fridge in an air tight container for up to 5 days. You can also freeze it for later.
Frequently asked questions:
Can I use baking powder instead of baking soda?
Definitely not! I actually tried a batch with baking powder and it tasted horrible! It gives the bread this weird acidic flavour so please don't try it.
Can I use different flours?
Instead of almond flour you could use cashew flour. Otherwise I don't recommend making any flour substitutions.
Instead of tapioca flour can I use cassava flour?
NO! Tapioca flour and cassava flour are very different. Cassava flour requires WAY MORE liquids to get the proper texture so if you were to try using cassava flour in this recipe as it's written you would end up with a dry, crumbly mess.
Is this avocado bread recipe keto or low carb?
This avocado bread has 34 grams of carbs, 7 grams of fibre and 27 net carbs per serving, so no, it would not be considered low carb or keto.
Can I make this avocado bread vegan?
I have not tested a vegan version of this recipe so I am not sure if it would work out. If you do want to try making it vegan, I suggest replacing the eggs with either chia eggs or flax eggs. If you do try it please let me know how it turns out.
Does this bread taste like avocados?
Nope! I had 4 people test this bread recipe and none of them could tell it was made with avocados.
OTHER RECIPES THAT YOU'LL LOVE:
SINCE YOU MADE IT THIS FAR WE ARE BASICALLY BEST FRIENDS SO BE SURE TO FOLLOW ME ON INSTAGRAM, PINTEREST AND FACEBOOK WHERE I SHARE EVEN MORE RECIPES AND HEALTHY LIVING TIPS! AND DON'T FORGET TO LEAVE THIS RECIPE A STAR REVIEW BEFORE YOU GO!
Paleo Avocado Bread
This paleo avocado bread recipe is delicious! It's so easy to make and can be used in so many ways. With the perfect texture it's such a fun healthy bread option.
Instructions
Preheat your oven to 350F.

Add the avocado flesh, eggs, and coconut sugar to your food processor and blend until smooth.

Transfer the blended ingredients to a bowl and add the vinegar and baking soda. Then stir in the dry ingredients until you have a smooth dough.

Transfer the dough to a bread pan and spread it evenly. Bake the bread for 50-55 minutes, or until a toothpick inserted inside comes out clean.

Allow the bread to cool and then slice it into pieces and enjoy!
Recipe Notes
Nutritional values are an estimate and will vary depending on the exact ingredients used. 
Store this bread in the fridge to help it last as long as possible. 
Nutrition Facts
Paleo Avocado Bread
Amount Per Serving
Calories 350
Calories from Fat 207
% Daily Value*
Fat 23g35%
Cholesterol 61mg20%
Sodium 164mg7%
Potassium 391mg11%
Carbohydrates 34g11%
Protein 8g16%
Vitamin A 199IU4%
Vitamin C 8mg10%
Calcium 121mg12%
Iron 2mg11%
* Percent Daily Values are based on a 2000 calorie diet.
Pin this recipe for later: