Blueberry Coconut Chia Seed Jam. Sounds pretty tasty doesn't it? Well that's what we're making this week.
But before we talk about this recipe I need to share my big news!
We got possession of our new house!
It was a bit of a fiasco near the end because the builder got behind in construction and we had to push our possession date back from the one we originally agreed on. But things are all good now.  Everything got done and the place looks amazing. We don't officially move in until Friday but we have started transferring things over, trying to get as much of the little stuff moved as we can before then. I can't wait to start decorating! There are so many things we need to buy so I have been busy pinning up a storm looking for furniture and decorating ideas (ps. Do you follow me on Pinterest? If not you should!).
I would love your advice on where you find your favourite house items. Of course you guys all know that I am partial to Anthropologie, but I have also found some great things at Home Sense and The Showroom in Calgary. I think I am going to get a dining room table made for us, ideally one that looks like something from Restoration Hardware, minus the Restoration Hardware prices… I had total sticker shock when I saw the prices at that store. Yikes! I will need to do a little more doctoring before I can afford to buy one of those pricey tables that's for sure…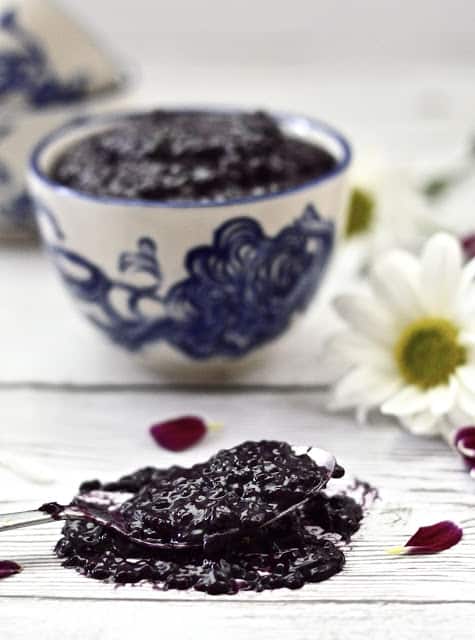 This week's recipe is another one that I have had sitting around for a while. Since the summer actually. When it was still blueberry season and there was still sunshine and warm weather happening. I miss those days… I am watching the snow fall as we speak. But let's not think about cold weather and snow. Let's talk about summer weather and summer inspired food. Like this jam.
Blueberry Coconut Chia Seed Jam to be exact.
And unlike store bought jams where the first ingredient is usually sugar, this jam doesn't actually contain any added sweetener. That's right, it's sweetened only with fruit and coconut. How is that for healthy? And I promise it still tastes delicious. Like really, really delicious. As long as you like blueberries that is. But who doesn't like blueberries? I can honestly say I have never heard someone tell me they don't like blueberries. They are one of my favourite foods. I could eat them by the bucket full. I can't wait for the day when I can live somewhere where I can grow my own… Yes friends a girl can dream…
Since we are on the topic of blueberries, let's just talk about their health benefits for a second shall we? Because there are a lot.
First of all, they are loaded with antioxidants. Antioxidants help protect your body from something called free radicals and oxidative damage, which are known to cause various health problems, including cancer.
They also have a high content of fibre, and are high in vitamin C, vitamin K and manganese.
Blueberries have also been shown in some studies to help lower cholesterol and protect against heart disease. And since heart disease is the number one killer of North Americans that is information you shouldn't take lightly.
You Might Also Like
Strawberry, Mint and Basil Vinaigrette
Blueberry Coconut Chia Seed Jam
(Paleo, Gluten Free, Sugar Free, Whole 30, Vegan)
Instructions
Place a medium sized pot on the stove and turn onto low heat

Add the blueberries, coconut milk, vanilla and sea salt to the pot

Turn down the heat and let simmer for ~10 minutes (until berries are broken up)

Turn off the burner and let set for ~10 minutes to cool

Use your immersion blender and blend until you have the desired consistency (I just bought this immersion blender)

Add the chia seeds and let sit for another 20minutes to thicken
Pin This Recipe For Later: