These air fryer diced potatoes have the most incredible flavour and turn out perfectly crispy. They are so easy to make, and only take 25 minutes to cook. These potatoes are made with pantry staples like Italian seasoning, salt, pepper, and oil. They make the perfect side dish for any healthy meal.
Why you will love this recipe:
These air fryer diced potatoes turn out so good! Nice and crispy on the outside, yet soft and tender on the inside - they are a delicious side dish to serve at any meal.
They are so easy to make! It only takes 25 minutes to cook them so you can have a healthy meal on the table in no time.
You can serve these diced potatoes for breakfast, with dinner or even as a snack.
They're made with pantry staples like avocado oil, Italian seasoning and salt and pepper.
These make the perfect air fryer breakfast potatoes. Move over hash browns, these sliced, fried potatoes have way more flavour and are just as easy to make.
This potato recipe is gluten free, dairy free, vegan, vegetarian and Whole30. 
If you love fried potatoes you will also love southern fried potatoes!
Advantages of using an air fryer:
While you can cook diced potatoes in the oven I much prefer using the air fryer. Not only is it so much faster but there is less mess and a much easier clean up. Plus, unlike the oven, an air fryer won't heat up your whole kitchen.
Taste and texture:
These fried chopped potatoes have the perfect crispy skin and the most soft and tender insides. The spices add a nice Italian flavour, which you could easily change to another seasoning to give these potatoes a different taste.
Key ingredients and substitutions:
Potatoes - any type of potato will work for this recipe, I have used Russet, red potatoes and gold potatoes and all have worked out great.
Avocado oil - to help get that nice, crispy skin! But don't worry, if you don't have avocado oil you can use olive oil instead.
Italian seasoning - to give these potatoes the most incredible flavour. You can easily change up the seasonings on these cubed potatoes to give them the flavour you prefer.
How to make this recipe:
Step one:
First you will wash and dry the potatoes. Then slice them into bite sized pieces.
Step two:
Transfer the diced, cubed potatoes to a bowl and add the avocado oil and spices. Toss everything until the potatoes are evenly coated in the oil and spices.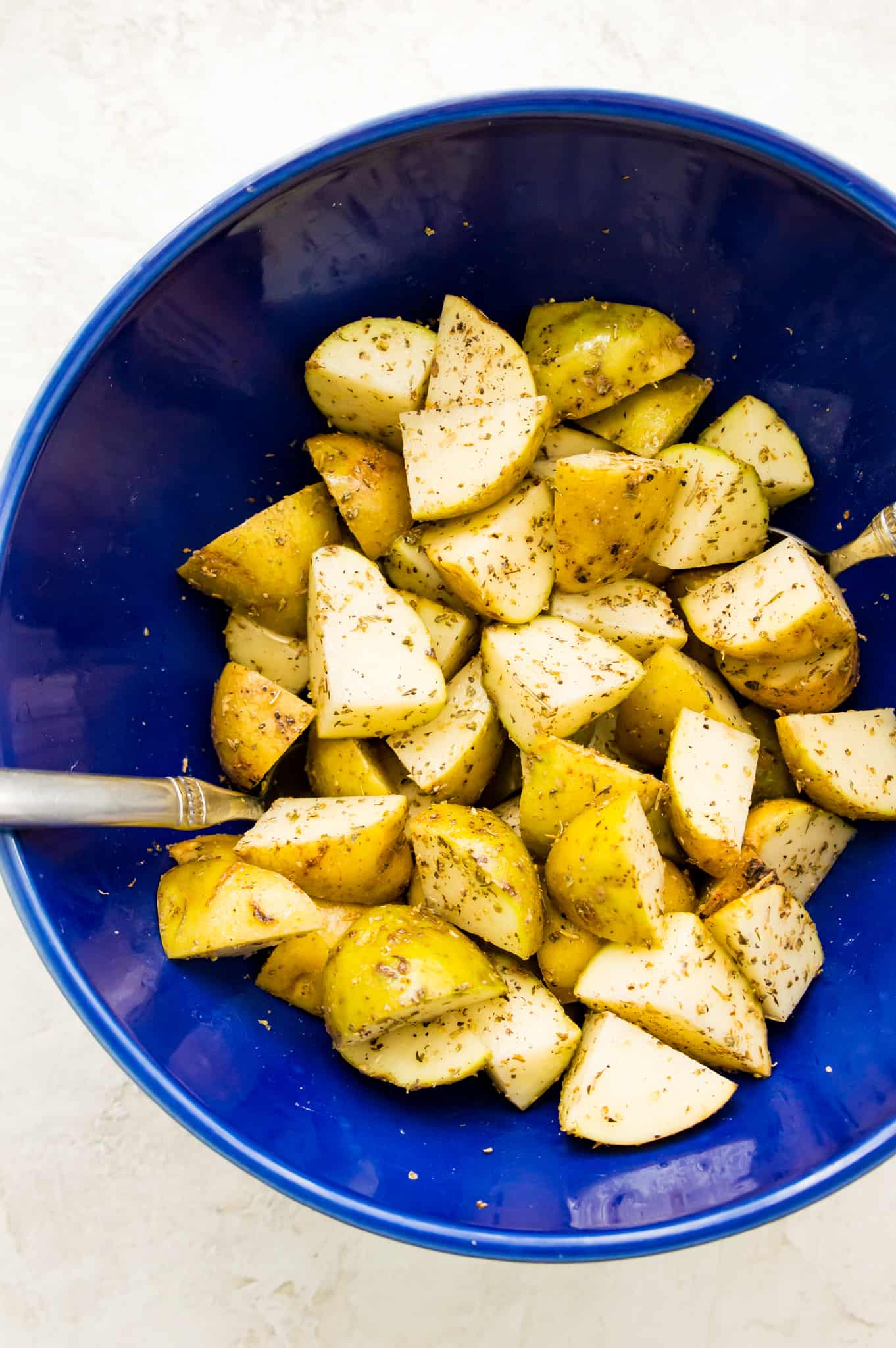 Step three:
Transfer the chopped potatoes to your air fryer (either the trays or basket). Then cook them for 25 minutes at 400 degrees Fahrenheit, rotating the racks or shaking the basket half way through to ensure the potatoes cook evenly.
Chef's tips:
Every model of air fryer is different, so you may have to adjust the cooking time if you are using a different model than I do.
Depending on how small you slice your potatoes, you may need to adjust the cooking time (smaller potatoes will cook more quickly).
Try not to overlap the potatoes when they are in the air fryer or they won't cook as well. They turn out more crispy if there is space around the potatoes when they cook. Depending on how big your air fryer is, you may have to cook these potatoes in batches.
If you are using a basket style air fryer you will want to give the basket a shake half way through.
Recipe variations:
Feel free to change up the spices on these potatoes. Swap the Italian seasoning for whatever you like.
Don't have avocado oil? No worries, you can use olive oil instead.
To make diced potatoes and onions simply serve the cooked potatoes with some cooked onions.
How to serve:
These crispy potatoes make a great addition to any meal including breakfast, lunch or dinner. I love serving them with bacon, sausages, eggs, pork chops, steak, lamb chops or even adding them to salads.
How to store:
Store any leftover potatoes in the fridge in an air tight container for up to 5 days. I don't recommend trying to freeze these potatoes.
How to reheat:
To reheat any leftover diced potatoes, preheat your air fryer to 350 degrees Fahrenheit. Then place the potatoes in a single layer in your air fryer and cook them for 3-5 minutes, until they are warm.
Frequently asked questions:
Why do you soak potatoes before air frying?
Some air fryer potato recipes ask you to soak the potatoes in ice water before air frying them to help the potatoes crisp up even more in the air fryer when you cook them. This is typically recommended when cooking potato wedges in an air fryer but is not needed when making these diced potatoes.
Do you parboil potatoes before air frying?
There is no need to parboil potatoes before air frying them. They turn out perfectly when you cook them from raw.
Why are my air fryer potatoes not crispy? 
If you don't cook potatoes at a high enough temperature they won't become crispy. I recommend cooking them at 400 degrees Fahrenheit to get them as crispy as possible. As well, if you overcrowd the potatoes when you cook them in the air fryer they won't crisp up as well.
Can you use olive oil in air fryer? 
Yes! Olive oil and avocado oil both work really well for cooking food in an air fryer.
What is the best temperature for air fryer diced potatoes? 
I find that 400 degrees Fahrenheit is the best temperature to cook diced potatoes in an air fryer. The potatoes turn out nice and crispy on the outside when cooked at this temperature.
Can you fry potatoes from raw?
Absolutely! When you fry potatoes typically you add some oil and spices to the raw, chopped potatoes and then fry them either in a pan, in the oven, or in an air fryer.
Are potatoes gluten free?
Yes!
Other air fryer recipes you will love:
Since you made it this far we are basically best friends so be sure to follow me on Instagram, Pinterest, TikTok and Facebook where I share even more recipes and healthy living tips! And don't forget to leave this recipe a star review before you go!
Recipe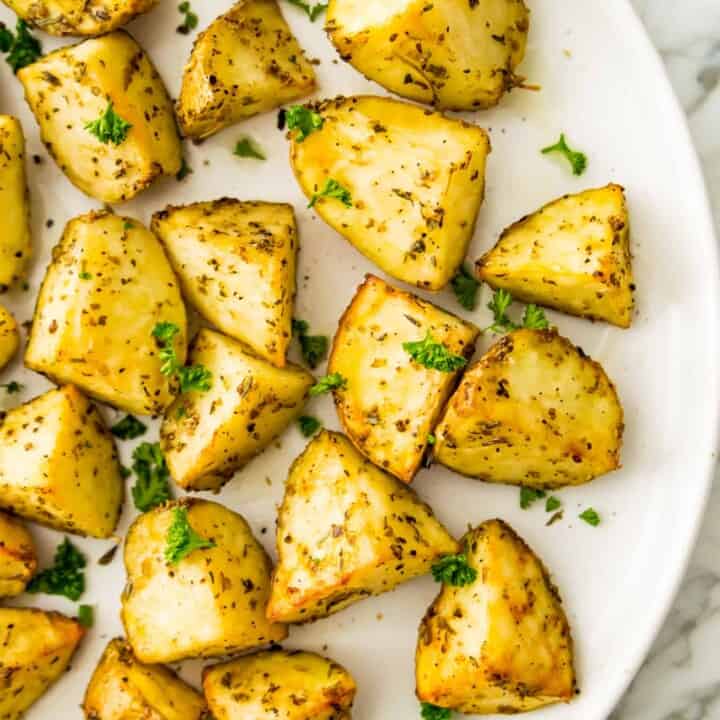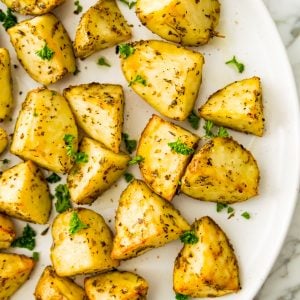 Air Fryer Diced Potatoes
Air fryer diced potatoes are the perfect side dish. So easy to make they turn out perfectly crispy and are ready in just 25 minutes.
Print
Pin
Rate
Instructions
Wash, dry and cut the potatoes into bite sized pieces.

Transfer the diced potatoes to a large bowl and add the oil and spices and stir well to coat the potatoes evenly.

Transfer the potatoes to the trays of your air fryer and air fry at 400F for 25 minutes, rotating the trays half way through or tossing the basket half way through.
Notes
Nutritional values are based on an online calculator and will vary depending on the type of potatoes you use, the oil you use and the spices you use. 
Store these potatoes in the fridge in an air tight container for up to 5 days. 
Feel free to change up the spices on these potatoes to give them the flavour you want. 
Nutrition
Calories:
105
kcal
|
Carbohydrates:
20
g
|
Protein:
2
g
|
Fat:
2
g
|
Saturated Fat:
1
g
|
Polyunsaturated Fat:
1
g
|
Monounsaturated Fat:
1
g
|
Sodium:
298
mg
|
Potassium:
487
mg
|
Fiber:
3
g
|
Sugar:
1
g
|
Vitamin A:
14
IU
|
Vitamin C:
22
mg
|
Calcium:
24
mg
|
Iron:
1
mg