Whole30 Stuffed Peppers with Avocado Crème will be going on your meal plan this week. These Whole30 Stuffed Peppers with Avocado Crème make the perfect dinner solution and your whole family is going to love these Whole30 Stuffed Peppers with Avocado Crème. Whole30 Stuffed Peppers with Avocado Crème also make a great lunch or appetizer options.
You guys I am a liar. I told you I would have this recipe for these Whole30 Stuffed Peppers with Avocado Crème for you last week and that just didn't happen. Don't hate me! Things have just been a little crazy on my end. I've had to make some choices lately as to whether I spend more time on the blog or more time on my Beautycounter business and since I am making good money from Beautycounter, and only pennies from the blog I have decided to dedicate more of my free time (which I have very little of) to Beautycounter. Because I realize that in the future the money that I make from Beautycounter will allow me way more freedom in my work life so that I can ultimately spend more time on Pure and Simple Nourishment. You see, I have the long term goals in mind but in the short term you may not see me as much around here while I have to prioritize other things. Especially over the summer when I will also be taking some much needed time off.
Speaking of time off I am currently enjoying a little vacation of my own. If you follow me on Instagram you have probably seen that I am busy relaxing at the lake. Erik couldn't come so it's just me and the puppies enjoying a lot of sunshine, long walks, good books, delicious food and some much needed rest and relaxation. I also went and saw Ocean's 8 which I (and my parents) really liked. I am here for 2 weeks and I must admit that the time is flying by way too fast. Next year I am debating taking the entire summer off and getting a locum to cover my practice. Doesn't that sound amazing? I sure think so! I'll just need to save up some money so that I can afford to take 2 months off without getting paid… Hence the even bigger motivation to earn even more money from Beautycounter! I actually expect that I will be able to replace my physician income with my Beautycounter income over the next couple years. How crazy is that? Spend 15 years in school to be a doctor and spend 3 years working from home with Beautycounter and make the same money? It actually blows my mind. In the best way possible of course. I can only imagine how much my quality of life will improve when I am no longer tied to the office or dependent on patients showing up to make money. Because if there is one thing I have learned in my short career as a doctor so far it is that patients (well not all, but many) are just not reliable. Not reliable at all. It's one thing that I will never understand. Is it really too much to ask to get you to do your bloodwork when you are supposed to? Or cancel your appointment if you can't come? Apparently.
But I digress. I am supposed to be talking about these Whole30 Stuffed Peppers with Avocado Crème aren't I? Because while some of you like hearing about my medical practice and Beautycounter, I know most of you are simply here for the recipes. So I will give you what you want. Which is Whole30 Stuffed Peppers with Avocado Crème goodness. Before making these I had never actually made stuffed peppers before. I'm not exactly sure why. I definitely should have made them sooner because they are so delicious (if I do say so myself). And these are topped with the Avocado Crème that I shared a couple weeks ago that just takes them over the top. I really wish I had made a double batch of these stuffed peppers because they did not last long. Not long at all. One supper and leftovers for lunch the next day and that was it. You know a recipe is good when even the leftovers get inhaled quickly. And these Whole30 Stuffed Peppers with Avocado Crème are loaded with healthy, gut healing ingredients like grass fed ground beef, coconut oil, vegetables and of course all of the healthy fats from the Avocado Crème. I am pretty sure you are going to love the. And besides being Whole30 compliant they are also paleo, GAPS and SCD safe. Enjoy friends!
Leave your email to be sent subscriber exclusive deals, recipes and other goodies. No spam ever. Promise!
Whole30 Stuffed Peppers With Avocado Crème
Ingredients
3

tbsp

coconut oil

1

small white onion, diced

3

bell peppers

I used one of each colour

3

tomatoes, chopped

1 1/2

lbs

grass-fed ground beef

2

tbsp

dried oregano

1

tsp

sea salt

plus a little more for seasoning the peppers

1

tsp

ground black pepper

plus a little more for seasoning the peppers

1

tsp

ground cumin
Instructions
Preheat your oven to 350F

Place a medium pan on the stove on medium heat

Add the coconut oil and allow to melt

Add the diced onion and start cooking

While the onion is cooking, cut one of the bell peppers in half and dice half of the pepper

Add the diced pepper to the onion and cook together until the onion is clear

Add the ground beef, tomatoes and spices to the pan and mix well

Cook until the ground beef is browned and the tomatoes are fully cooked

Cut the remaining bell peppers in half, remove the stems and seeds, and place on a baking sheet (face up) lined with parchment paper

Sprinkle the peppers with salt and pepper

Scoop the ground beef filling into each pepper

Place the baking sheet in the oven and cook for 30-40 minutes (I actually like the meat crispy in these so I cook them longer but cook them to your preference)
You might also like: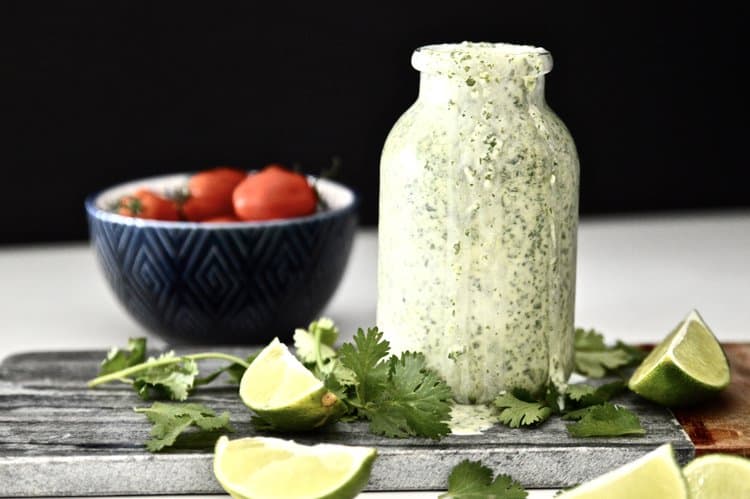 Whole30 Cilantro Lime Dressing
Pin this recipe for later: