This is the best dairy free sour cream recipe! It is so good that you would never know it's also vegan and plant based. Easy to make with only five ingredients including cashews and coconut milk, it's the perfect topping for baked potatoes. It also makes a great dip and is Whole30, paleo and low in sugar too!
Why you will love this recipe:
This plant based sour cream is made with just a few simple ingredients including cashews, coconut milk, sea salt, apple cider vinegar and lemon juice.
It's so quick and easy to make and is ready in less than five minutes.
This vegan sour cream is so creamy and delicious!
This

lactose free sour cream is the perfect topping for baked potatoes and also makes a great dip for crackers, chips or raw vegetables and goes great with nachos.

This recipe is also gluten free, paleo and Whole30 compliant.
This sour cream is made with no yogurt and no tofu.
There is no need to ferment this sour cream, or add any bacterial cultures to make it.
You can use this sour cream in so many ways! For topping potatoes, adding to soups, topping nachos or making dips, dressings or sauces.
If you like vegan sauces you will also love homemade vegan cheese sauce and vegan mascarpone.
Taste and Texture:
This sour cream is thick and creamy with a flavour this is a little tangy, and a little sour.
Key ingredients and substitutions:
Raw cashews - Cashews form the base of this creamy sour cream. Be sure to use raw cashews and not roasted or salted cashews. If you can't have cashews I would use pine nuts instead.
Coconut milk - Coconut milk is used to help make this sour cream thick and creamy. I recommend using full fat coconut milk to keep this sour cream as thick as possible.
Sea salt - Just a pinch of salt is all you need to enhance the flavours of this recipe.
Apple cider vinegar - Apple cider vinegar is used to help give this recipe that perfect tangy taste, just like traditional sour cream.
Freshly squeezed lemon juice - To add just a bit more sour flavour to bring it as close as possible to true sour cream.
How to make this recipe:
Step one:
First, place all the ingredients into your food processor or high speed blender.
Step two:
Then blend all the ingredients until they are smooth and creamy.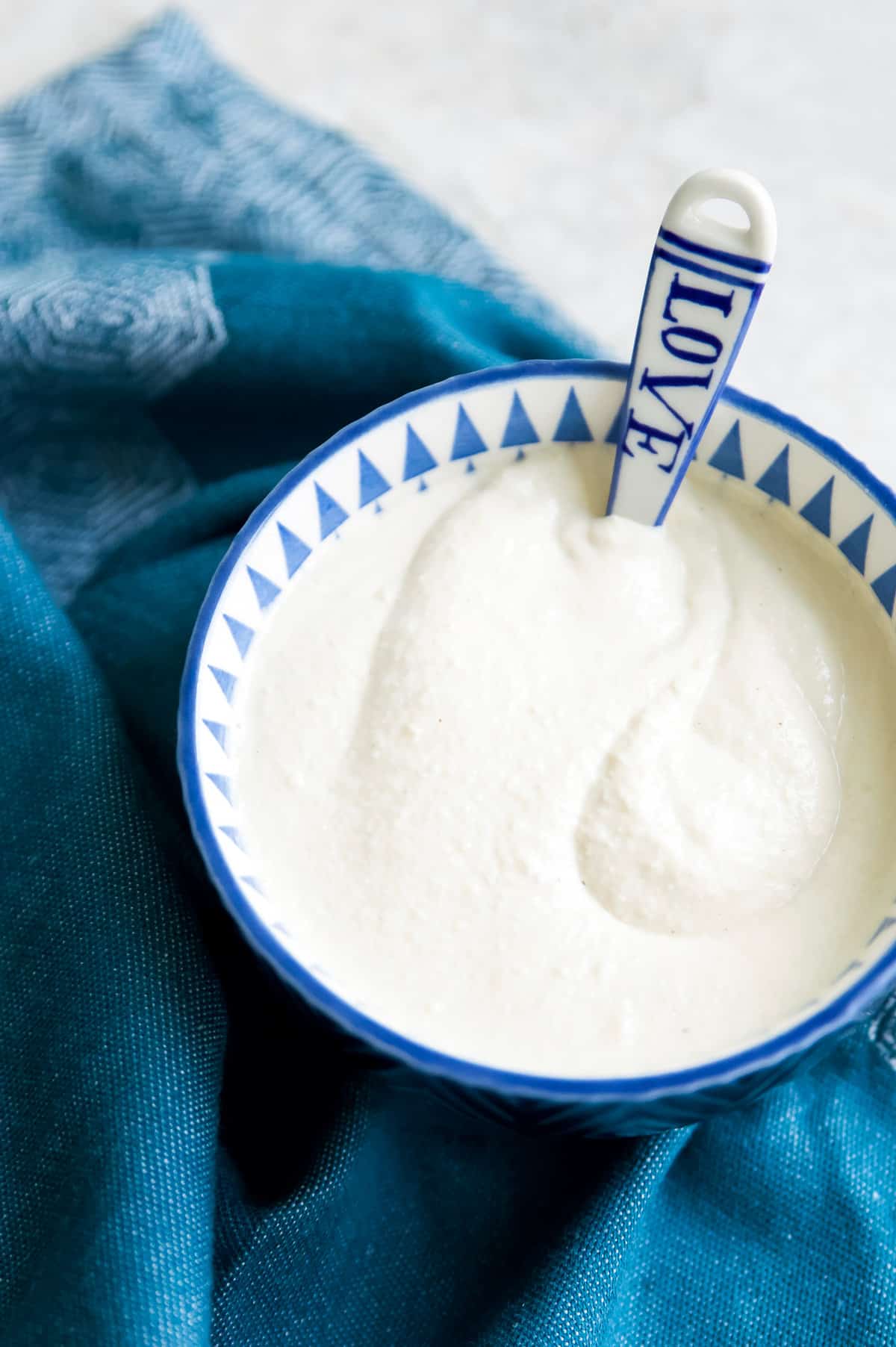 Chef's tips:
You may want to add a little extra apple cider vinegar, lemon juice or water if you want a slightly thinner texture.
This sour cream will become firm in the fridge. If you want to make it creamy again simply place it back in your food processor with a little extra liquid (choose from lemon juice, apple cider vinegar or water) and blend it until smooth.
How to serve:
You can use this sour cream in so many ways! You can use it to top baked potatoes or baked sweet potatoes, as a dip for crackers, tortilla chips or raw vegetables. It can also be used to top nachos or as a topping for soups and chilis. You can also use this sour cream to make sauces, dips and dressings.
How to store:
If you still have some of this sour cream left over you can store it in the fridge in an airtight container for up to a week. Just note that it will firm up in the fridge (see the above tips for how to deal with this).
Frequently asked questions:
What is vegan sour cream made of?
I made this vegan sour cream recipe with cashews and coconut milk as the base but I have seen other recipes use tofu or vegan yogurt for the base as well.
Can you have sour cream on paleo?
The paleo diet does not allow dairy, so you cannot have regular dairy sour cream on the paleo diet, but you can eat dairy free sour cream if it is made with paleo approved ingredients. 
Is sour cream Whole30 approved? 
Sour cream is not Whole30 approved. The Whole30 program does not allow dairy and as such sour cream is not to be eaten while you are doing a Whole30. However, some dairy free sour cream recipes would be allowed as long as they are made with Whole30 approved ingredients. 
What is plant based sour cream made of? 
Plant based sour cream recipes can be made with various ingredients including dairy free yogurt, cashews, tofu, coconut milk, coconut cream or pine nuts. 
Is Chipotle sour cream vegan? 
No it is not. Chipotle sour cream is made with 100% cultured cream which is a dairy product, and thus not vegan compatible. 
What is a non dairy substitute for sour cream? 
You can make non dairy or dairy free sour cream from ingredients such as cashews, tofu, dairy free yogurt or coconut milk or coconut cream. 

Other recipes you will love:
Since you made it this far we are basically best friends so be sure to follow me on Instagram, Pinterest, TikTok and Facebook where I share even more recipes and healthy living tips! And don't forget to leave this recipe a star review before you go!
Recipe
Dairy Free Sour Cream
A dairy free version of sour cream that is so easy to make and tastes so creamy and delicious. You'll love that it's also vegan, paleo and Whole30 compliant. 
Print
Pin
Rate
Instructions
Place all of the ingredients into your food processor.

Blend the ingredients until smooth.
Notes
Depending on your preference, feel free to add more liquid (more lemon juice, apple cider vinegar or water) to give it a thinner texture.
Store this vegan sour cream in the fridge for up to a week.
This will become firm in the fridge. Simply add a bit more liquid and blend it again in your food processor to make it smooth. 
Nutrition
Calories:
121
kcal
|
Carbohydrates:
6
g
|
Protein:
3
g
|
Fat:
10
g
|
Saturated Fat:
4
g
|
Polyunsaturated Fat:
1
g
|
Monounsaturated Fat:
4
g
|
Sodium:
77
mg
|
Potassium:
145
mg
|
Fiber:
1
g
|
Sugar:
1
g
|
Vitamin A:
1
IU
|
Vitamin C:
2
mg
|
Calcium:
9
mg
|
Iron:
2
mg