Paleo carrot cake donuts are going to become your new favourite gluten free dessert. You can indulge on these donuts as a snack or as as sweet breakfast option. Your whole family is going to love these delicious donuts.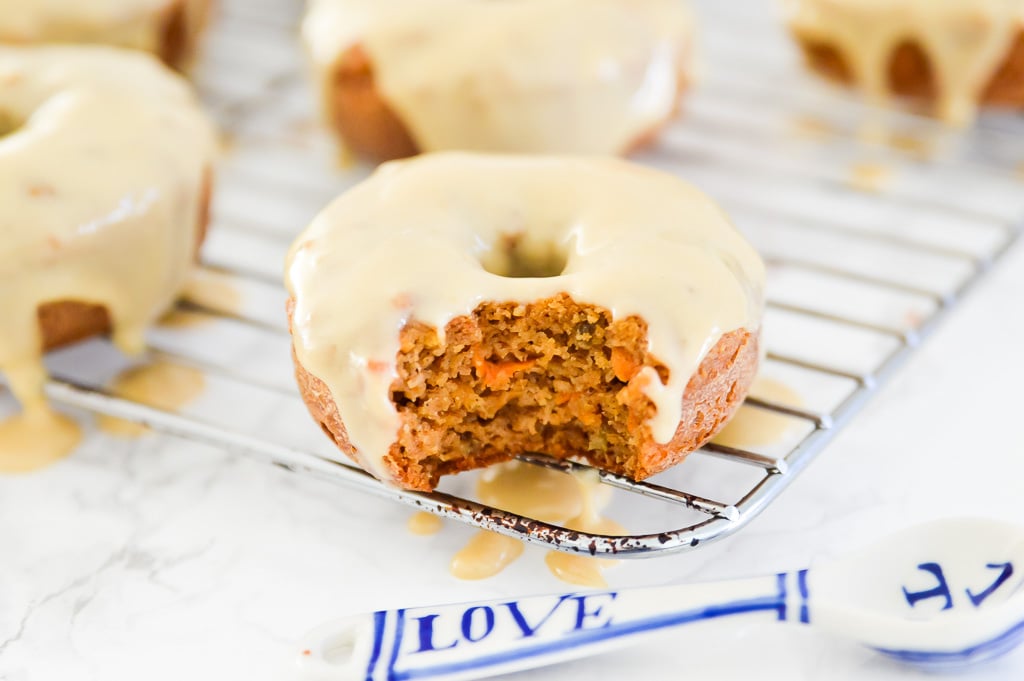 Are you looking for the perfect paleo treat? These Paleo Carrot Cake Donuts are just what you need. They are filled with both carrots and apples so not only will you get to enjoy a delicious treat when you make these but you will also be nourishing your body at the same time. Because remember my number one rule: real food really is medicine. And real, healthy food can still be delicious. Really, really delicious!

So great news friends! I am now 2 weeks post my fecal transplant and fingers crossed but so far I am still relapse free! Since getting C.diff almost 3 months ago this is the longest I have gone without treatment without having a relapse. My bowel function is still far from normal but I am doing everything that I can to help support the healing process. Things like probiotics, L-glutamine, DGL, aloe vera, zinc, collagen peptides and a pretty simple diet free from gut irritants, heavy sugars and fats. I've been told it can take months to heal so I am trying to be patient and just take things one day at a time. I also just got to Florida a few days ago and will be spending 2 weeks in the sunshine to hopefully help speed up my recovery process. If you ask me there is almost nothing that the sunshine and ocean can't fix. My soul is just so much happier by the sea.
Since arriving I have been busy going for runs, bike rides, reading books, watching basketball (anyone else out there March Madness fans??), and relaxing. Yes relaxing. Because one thing that always impairs the healing process is stress, so I am trying my best to limit that as much as possible right now. I will still be checking my patients' lab results and doing some work on the blog but otherwise I am trying to keep my work to a minimum for the next two weeks. I wish I could totally step away from work for these two weeks, but sadly as a physician that just isn't possible. There really is no such thing as a true vacation with this job. It's one of the things that is really challenging about a career in medicine. I envy those people with jobs that they can truly step away from when they go on holiday. If that's you please don't take it for granted! You have no idea how lucky you are!
Can you believe it's almost Easter? I sure cant! I don't know where the time is going but it is sure flying by. Easter food is some of my favourite though so I wanted to get you a new recipe to make just for the occasion. And these Paleo Carrot Cake Donuts are the delicious treat that I came up with. The donuts themselves aren't super sweet (which I prefer) but the glaze on top has just the right amount of sweetness to take these Paleo Carrot Cake Donuts over the top. I actually used my Paleo Honey Glaze as the icing for these donuts and it is the perfect pairing if you ask me.  One key thing about making donuts is using the right mold. I had made so many failed batches trying to use a metal donut pan but I finally had success after investing in silicone donut molds. Friends, they are a total game changer! Honestly one of the best kitchen tools I have ever bought. And they are actually really affordable. You can see the ones that I use and love here. 
If you haven't realized it yet, I am a huge Carrot Cake fan. It's one of my favourite desserts. So if donuts aren't your thing, you could make my Paleo Carrot Cake Banana Bread as an alternative. Or if you are more of a chocolate fan my Paleo Dark Chocolate Orange Fudge or Paleo Double Chocolate Avocado Brownies or Paleo Chocolate Raspberry Cups might be more your style. You can't go wrong with any of those recipes if you ask me. They are all reader favourites.
And in honour of Easter and the upcoming holiday I wanted to do a little something special for you guys. So from now until the end of March (2018) I am giving away FREE Beautycounter Face Sunscreen Sticks. Yes FREE! So here's the deal: Spend $100 or more on products with Beautycounter through me (you can shop through my link here), email me at erin.carter.md@gmail.com with your order number and I will give you the sunscreen stick for FREE. Easy peasy! Using safe sunscreen is something that is extremely important when it comes to your health. So important that I have written an entire post about it before, so if you are interested in learning more you should read my post, The Safest Sunscreens That Actually Work. I also give everyone $15 off their first Beautycounter order with me, so if you combine those deals you can save yourself a lot of money! If you have any questions or need any help with products please email me. I am happy to chat!
Until next time, happy eating friends! And Happy Easter!
Paleo Carrot Cake Donuts (Grain Free, Gluten Free, Dairy Free)
Paleo carrot cake donuts are the perfect dessert. The icing on these donuts is also incredible. They are grain free, gluten free and dairy free.
Instructions
Preheat your oven to 350F

Add all of the ingredients to your standing mixer

Mix on low until blended well

Spoon the batter into your silicone donut molds and spread until even (you want each donut mold to be about 3/4 full)

Place in the oven and cook for 20-22 minutes (or until a toothpick inserted inside comes out clean)

Remove from the oven and let cool

Add the icing (Use my Paleo Honey Glaze recipe)
Recipe Notes
You can also eat these donuts for breakfast or as a snack. They also store well in the freezer if you don't eat them all. 
You might also like
Paleo Chocolate Raspberry Cups (Vegan, GAPS)
Paleo Slow Cooker Cranberry Maple Beef Roast
Pin this recipe for later: