Paleo carrot cake donuts are going to become your new favourite gluten free dessert. You can indulge on these donuts as a snack or as as sweet breakfast option. Your whole family is going to love these delicious donuts.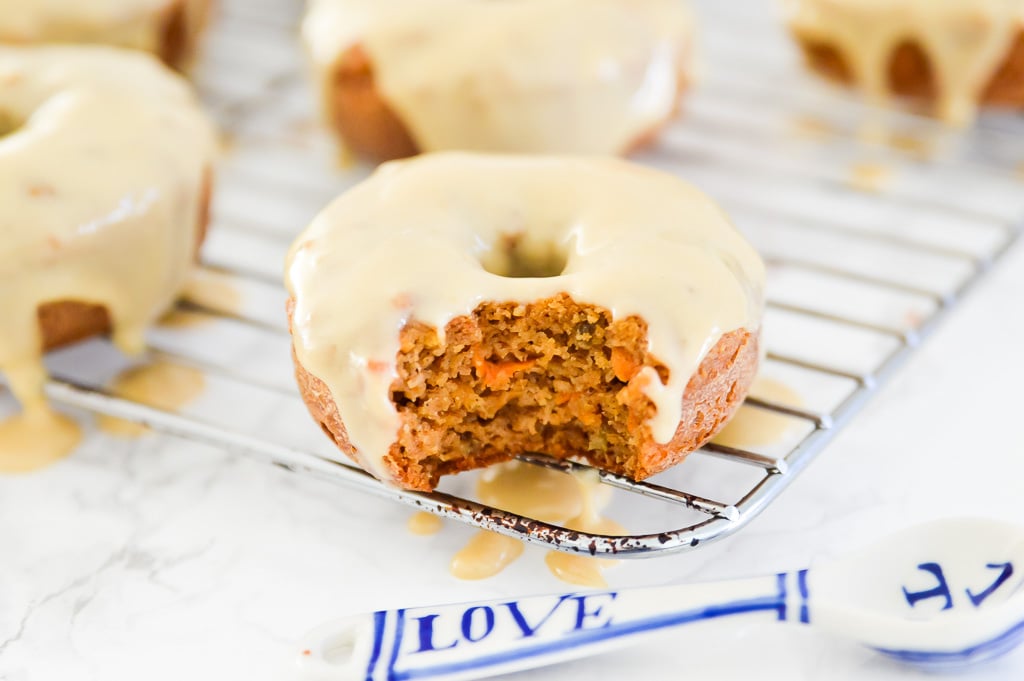 Are you looking for the perfect paleo treat? These Paleo Carrot Cake Donuts are just what you need. They are filled with both carrots and apples so not only will you get to enjoy a delicious treat when you make these but you will also be nourishing your body at the same time. Because remember my number one rule: real food really is medicine. And real, healthy food can still be delicious. Really, really delicious!
Why these paleo carrot cake donuts are so good: 
They taste amazing! They have that classic carrot cake taste that you know and love
They have the perfect texture. Slightly firm on the outside and moist on the inside
They are easy to make and the clean up is simple!
Besides being paleo they are also gluten free and dairy-free.
What you need to make these paleo carrot cake donuts: 
How to make these paleo carrot cake donuts: 
You are going to love how easy these donuts are to make!
First you'll preheat your oven to 350F
While the oven is heating mix all the ingredients well using your standing mixer
Fill the donut mold until each one is approximately 3/4 full
Then bake the donuts for 20-22 minutes
Use my Paleo Honey Glaze to ice these donuts
Tips for making these paleo donuts: 
If you don't tolerate almond flour I would use cashew flour instead
Do not substitute the tapioca flour for cassava flour. The donuts will not turn out!
If you need to substitute the tapioca flour I suggest trying potato starch instead
Do not try any other flour substitutions. They will not work! You will just waste valuable ingredients.
You can use maple syrup instead of honey as a sweetener
You can freeze the donuts if you want to save some for later (freeze them without the icing)
Other paleo baked goods you will love: 
SINCE YOU MADE IT THIS FAR WE ARE BASICALLY BEST FRIENDS SO BE SURE TO FOLLOW ME ON INSTAGRAM, PINTEREST AND FACEBOOK WHERE I SHARE EVEN MORE RECIPES AND HEALTHY LIVING TIPS! AND DON'T FORGET TO LEAVE THIS RECIPE A STAR REVIEW BEFORE YOU GO!
Paleo Carrot Cake Donuts (Grain Free, Gluten Free, Dairy Free)
Paleo carrot cake donuts are the perfect dessert. The icing on these donuts is also incredible. They are grain free, gluten free and dairy free.
Instructions
Preheat your oven to 350F

Add all of the ingredients to your standing mixer

Mix on low until blended well

Spoon the batter into your silicone donut molds and spread until even (you want each donut mold to be about 3/4 full)

Place in the oven and cook for 20-22 minutes (or until a toothpick inserted inside comes out clean)

Remove from the oven and let cool

Add the icing (Use my Paleo Honey Glaze recipe)
Recipe Notes
You can also eat these donuts for breakfast or as a snack. They also store well in the freezer if you don't eat them all. 
Pin this recipe for later: