You are going to love this homemade brown sugar simple syrup recipe. It's so easy to make with only 2 ingredients and can be used in so many ways including for your coffee, tea, cocktails and mocktails!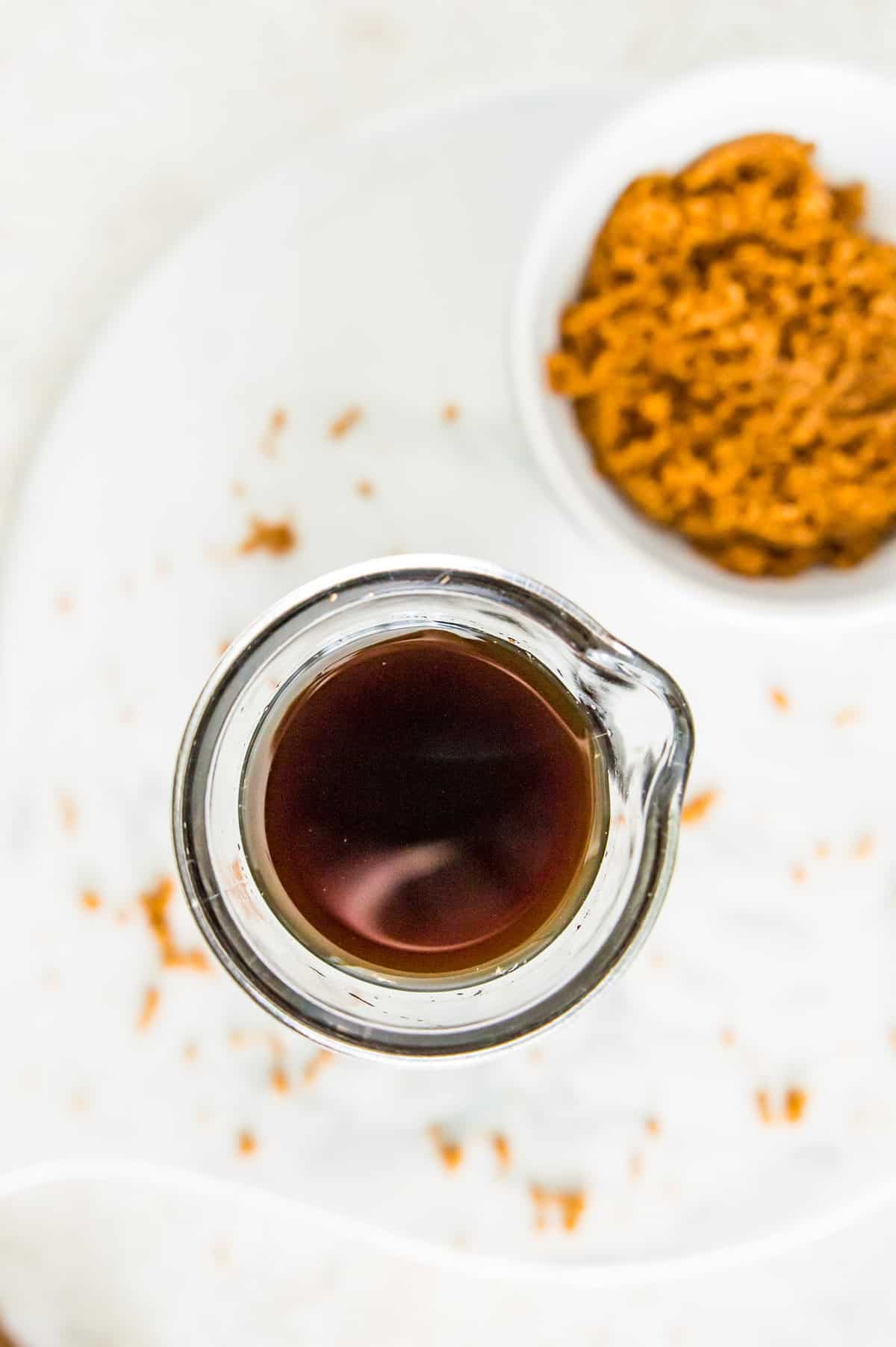 What is simple syrup?
Simple syrup is a liquid sweetener that is made with equal parts sugar and water. Simple syrups are often used to make cocktails, but they are very versatile and can be used in many other ways as well such as sweetening coffee or tea or for topping desserts.
Why you will love this recipe:
It's so quick and easy to make and only requires 2 ingredients to create.
This sugar simple syrup can be used in so many ways - use it to sweeten coffee or tea or to make cocktails or virgin mocktails. You can even use it to serve with pancakes, crepes, waffles or to top desserts such as cakes or cheesecakes.
It's ready in under 5 minutes!
It stores well so is great for meal prep.
It's cheaper than buying brown sugar simple syrup and still tastes just as good as the store bought stuff.
Taste and texture:
This syrup is dark, sweet and nice and smooth. It is not too thick and is never clumpy or lumpy. It has hints of caramel, molasses and vanilla.
Key ingredients and substitutions: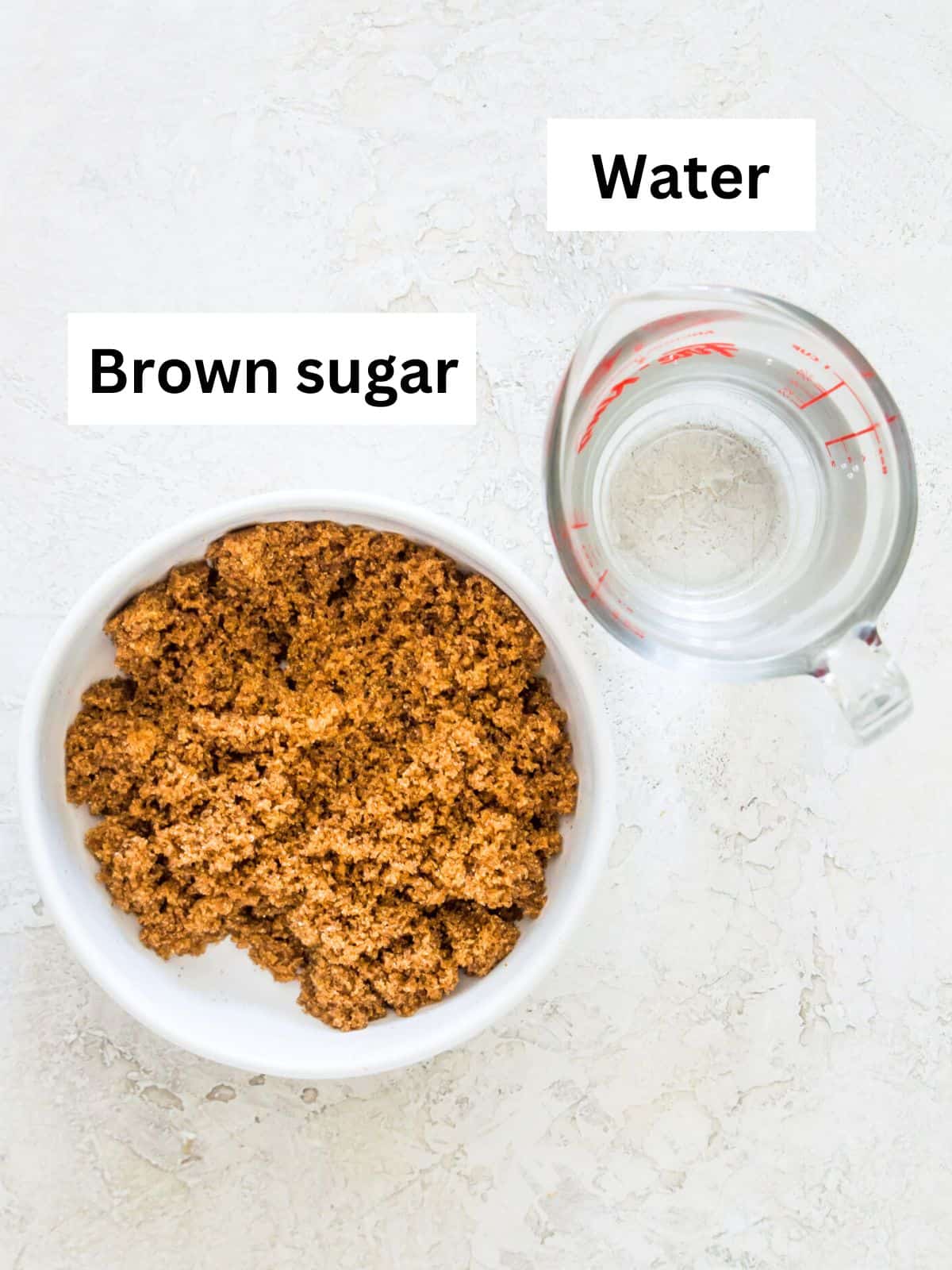 Brown sugar - you can use any type of brown sugar that you like to make this simple syrup recipe. There are actually many different types of brown sugar available to buy so you have a number of different options for what you can use:
Light brown sugar is the most popular type of brown sugar and is the the one you are most likely used to baking with. It is made with a combination of refined white sugar and a small amount of molasses.
Dark brown sugar which is also known as old-fashioned brown sugar, is basically just light brown sugar with even more molasses.
Demerara sugar is a type of raw cane sugar, which is a minimally refined sugar. It has a bold amber colour with subtle hints of molasses flavour.
Turbinado sugar is another type of raw cane sugar that is minimally processed and has a delicious caramelized flavour.
Muscovado sugar has a more sticky, sand-like texture with a more earthy flavour and comes in both light and dark options.
Coconut sugar - while not actually a brown sugar, coconut sugar can also be used to make this simple syrup recipe. Coconut sugar is a type of unrefined palm sugar that comes from the sap of the flower bud stem of the coconut palm. It has a lighter brown color but a delicious vanilla caramel flavour.
Water is the only other ingredient you need to make this syrup recipe. If possible I recommend using filtered water to make this syrup as filtered water will help the syrup last even longer and stay fresh for as long as possible.
How to make:
Step one:
Place the water and brown sugar into a saucepan and place it on a burner on low-medium heat.
Step two:
Heat the sugar and water, stirring regularly, until the sugar is melted.
Step three:
Let the syrup cool, then serve and enjoy!
Chef's tips:
Don't let the syrup come to a boil when you are heating it! It won't turn out properly if you do as the sugar will start to thicken and caramelize.
If you want a larger batch of simple syrup you can easily double or triple this recipe.
Recipe variations:
The typical ratio of sugar to water for making simple syrup is one-to-one sugar to water. However, if you prefer a different consistency for your simple syrup you can change up these ratios - for a thicker syrup, use a 1.5:1 or 2:1 sugar to water ratio instead. For a thinner syrup us a 1:1.5 or 1:2 ratio of sugar to water.
You can use any type of brown sugar that you like to make this simple syrup - dark brown sugar will give a stronger molasses flavour, while light brown sugar will give it more of a caramel flavour.
To give this syrup more of a vanilla flavour add 1 teaspoon of vanilla extract.
To give this syrup a cinnamon flavour add a cinnamon stick to the pot when heating the ingredients and then remove it before serving.
How to serve:
You can use this simple syrup in so many ways! A few ideas include:
Use it to sweeten hot or cold coffee drinks.
Use it to sweeten tea or bubble tea. You could even use it to sweeten Hokkaido milk tea or boba.
Use it to sweeten iced tea or lemonade.
Add it to cocktails or mocktails to help sweeten them and give them a unique flavour. One popular drink option is to make a brown sugar simple syrup old fashioned.
Use it to top desserts such as ice cream, cakes or cheesecakes.
How to store:
Store any leftover simple syrup in the fridge in an airtight bottle or jar for up to a month. If it starts to go cloudy that means it's time to make a new batch.
Nutrition info:
One tablespoon of this simple syrup has approximately 42 calories with 11 grams of carbohydrates, and 11 grams of sugar.
This recipe is dairy free, gluten free, vegan and vegetarian. It is not low carb, keto, low in sugar, refined sugar free, paleo or Whole30 compliant.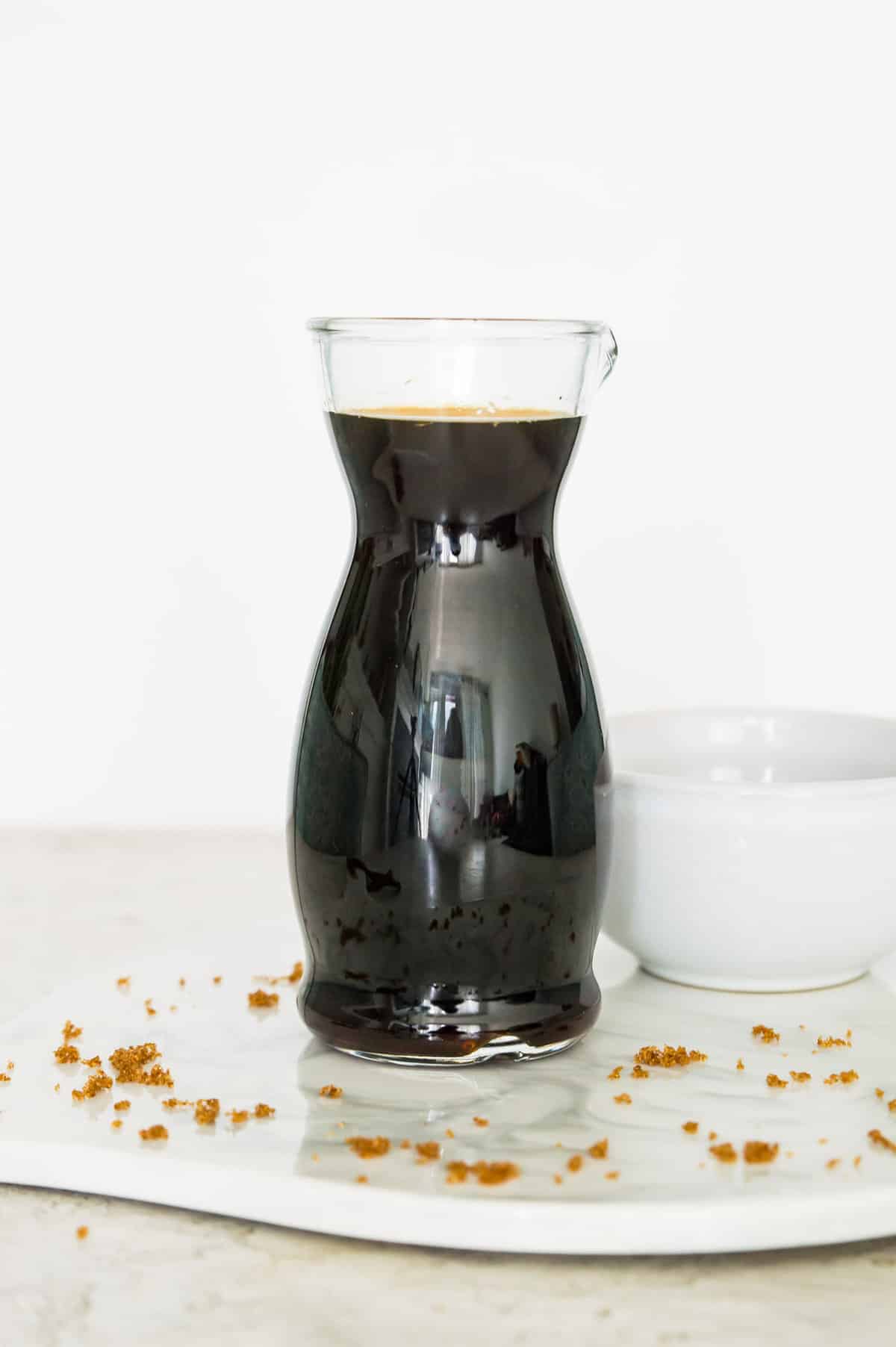 Frequently asked questions:
Can you use brown sugar instead of white sugar for syrup?
Yes! You can make simple syrup with either white sugar or brown sugar.
How long does brown sugar simple syrup last in the fridge?
It will last for up to 30 days in a sealed jar or bottle.
Is brown sugar simple syrup the same as Demerara syrup?
Yes they are basically the same thing. Demerara syrup is just a type of brown sugar simple syrup made with Demerara sugar.
Other recipes you will love:
Since you made it this far we are basically best friends so be sure to follow me on Instagram, Pinterest, TikTok and Facebook where I share even more recipes and healthy living tips! And don't forget to leave this recipe a star review before you go!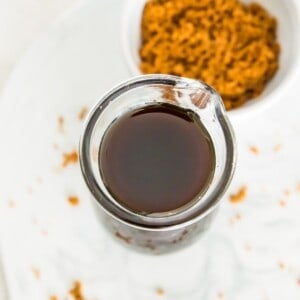 Brown Sugar Simple Syrup
You are going to love this homemade brown sugar simple syrup! It's so easy to make and has the perfect sweet flavour.
Print
Pin
Rate
Instructions
In a medium saucepan over low-medium heat, combine the sugar and water. Heat and stir until the sugar has dissolved (this will only take 2-3 minutes). Do not let it boil.

Remove the syrup from heat and let it cool completely before serving. If adding the vanilla extract stir it in once you remove the syrup from the heat.
Notes
Store this syrup in an airtight jar or bottle in the fridge for up to 30 days.
Do not let this syrup come to a boil when you are heating it. It won't turn out if you do.
One serving of this syrup is 1 tablespoon and nutritional information is based on that serving size.
Nutrition
Calories:
42
kcal
|
Carbohydrates:
11
g
|
Protein:
0.01
g
|
Sodium:
4
mg
|
Potassium:
15
mg
|
Sugar:
11
g
|
Calcium:
10
mg
|
Iron:
0.1
mg