This is the best sweetened coconut condensed milk recipe! Easy to make, this homemade sweetened condensed milk is made with just 2 ingredients including coconut milk and cane sugar. It's also dairy free and vegan. You can use this non dairy condensed milk for so many recipes including cookies, brownies, caramel and dessert balls.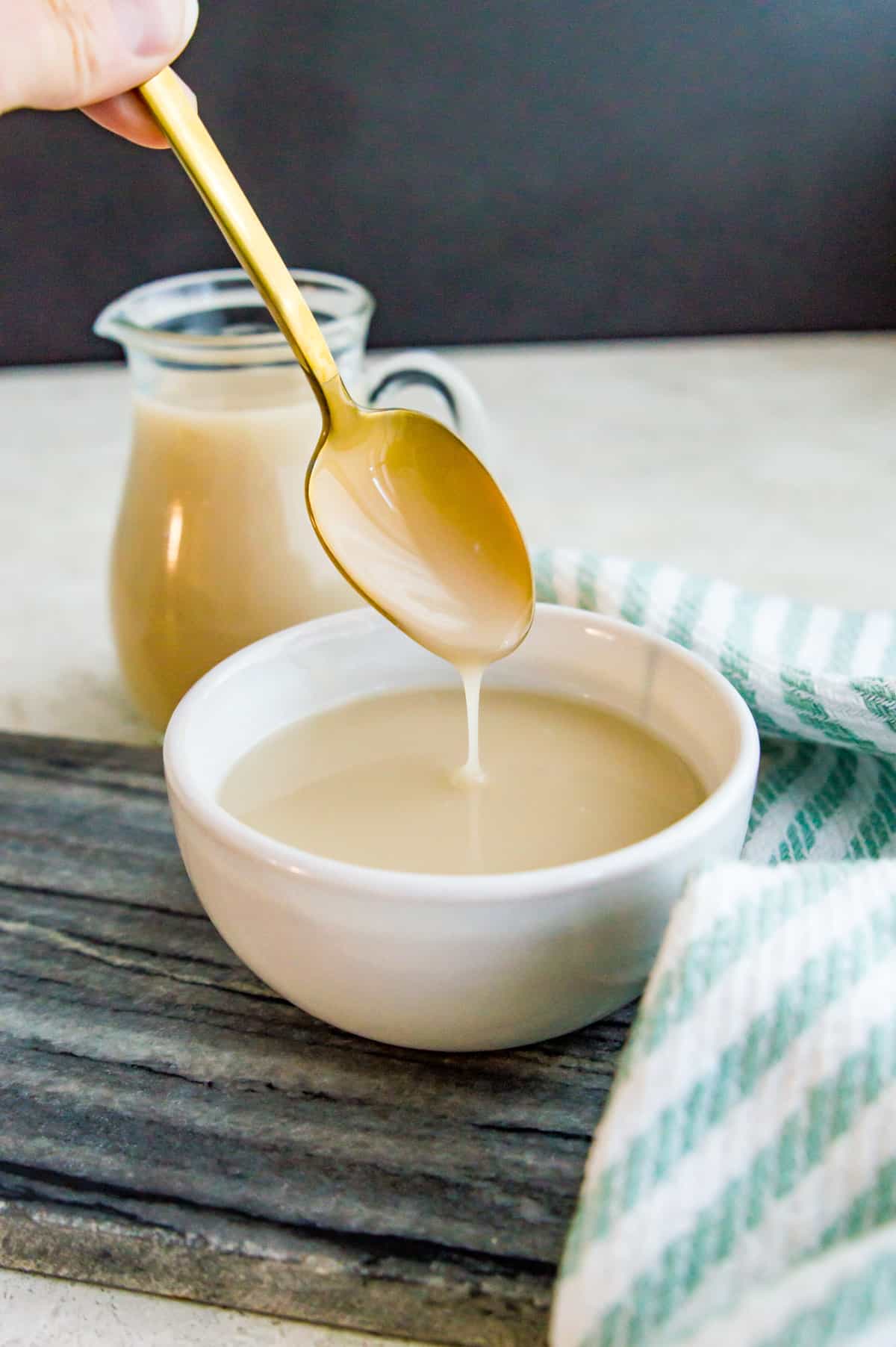 Why you will love this recipe:
It tastes amazing! This homemade dairy free condensed milk is so rich, creamy and sweet. It's the perfect dairy free alternative to regular sweetened condensed milk.
It's so quick and easy to make this simple recipe and it can be used in so many of your favourite sweet treats including cookies, caramel and dessert balls.
You only need 2 ingredients to make this homemade version - coconut milk and cane sugar.
This vegan sweetened condensed milk is great if you are lactose-free or want a healthier alternative to store-bought sweetened condensed milk.
This sweetened milk is a great substitute for store bought condensed milk and it can be used in so many ways including adding to desserts, in your morning coffee, tea, hot chocolate, drizzled over cakes and brownies and more!
It's cheaper to make your own condensed milk at home rather than buying the canned stuff at the grocery store so it's a great way to save money on groceries
This is a great recipe to have on hand for the holiday season for all that delicious baking that happens during that special time of year.
You can use this sweet milk to make condensed milk brownies!
Taste and texture:
This condensed milk recipe tastes very similar to traditional sweetened condensed milk. It's thick, creamy and perfectly sweet.
Key ingredients and substitutions: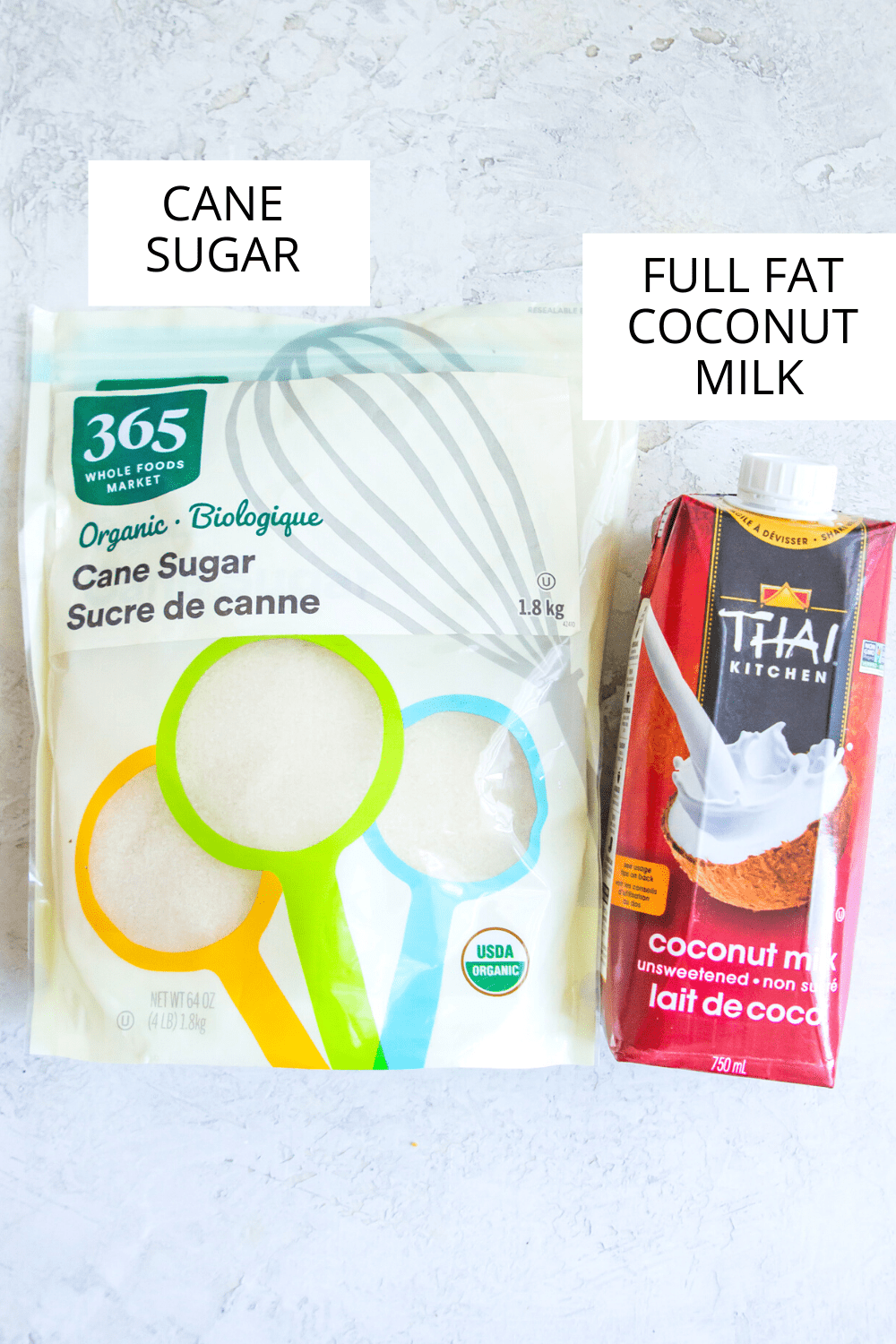 ​Please refer to the recipe card for the exact measurements for these ingredients.
Coconut milk - coconut milk is the base of this recipe and is used instead of dairy milk, cow's milk or heavy cream. Make sure to use full-fat coconut milk or coconut cream (which is basically really thick coconut milk), because light or low-fat coconut milk has too much water in it and won't create the thick and creamy condensed milk that you are looking for. You can find regular coconut milk in health food stores, in the asian isle of grocery stores or at an asian market. You can use coconut milk with or without guar gum for this recipe and either regular or organic coconut milk.
Cane sugar or coconut sugar - to sweeten the coconut milk. Cane sugar will give a light caramel colour and coconut sugar will make it a little darker. You could also use white sugar if that's all you have on hand. I prefer to use organic cane sugar if I can. Just don't try to use a liquid sweetener such as maple syrup or honey as this recipe won't work out.
Sea salt (optional) - feel free to add a pinch of salt to help balance out the sweetness. This is optional, so you can easily leave it out.
Vanilla extract (optional) - this ingredient is also optional but it adds a nice flavour to this vegan condensed milk.
What is cane sugar?
Cane sugar is a natural, granulated sugar made from the sugar cane plant. To make it, cane juice is evaporated and then crystallized to create a granulated sweetener. Cane sugar can be unrefined, raw, or refined, and this refers to how much molasses is left in the sugar and how much it was processed.
What is the difference between cane sugar and white sugar?
Cane sugar is made exclusively from sugar cane, while white sugar can be made from either sugar cane, sugar beets, or a combination of the two.
The biggest difference between these sugars is that natural cane sugar is less processed than white sugar. Because of this, the crystals are slightly larger in size and have a light golden color.
How to make:
Step one:
First, add the coconut milk and cane sugar to a medium-sized saucepan set over medium-high heat. Stir, and bring the mixture to a boil.
Step two:
Next, turn down the heat and let the mixture simmer. Stir frequently to prevent the sugar from sticking to the bottom and sides of the pot and the milk from clumping. You will want to be sure the sugar dissolves completely.
Step three:
Now simmer the coconut milk mixture until it has reduced by half and the colour has darkened slightly. It will need to simmer for about 55-60 minutes. It requires a little patience, but trust me, it's worth it!
Step four:
Now allow the condensed milk to cool completely, then it's ready to use in your favourite recipes!
Chef's tips and variations:
Be sure to use full fat coconut milk and not light coconut milk for this recipe. Light coconut milk is too watery.
To cool the condensed milk more quickly, place the pot in the fridge after the coconut milk is done cooking. Just be sure to put it on a hot pad so as not to damage your fridge shelves.
Instead of cane sugar you can use coconut sugar but it will make the condensed milk a darker color.
If you are serving a crowd or want leftovers to have on hand you can easily make a double batch or triple batch of this recipe.
What to use condensed milk for:
Use it to make cookies, bliss balls, brownies, coconut macaroons, scones, pies and other baked goods.
To make dairy free or vegan caramels or fudge.
Use it to make key lime pie or pumpkin pie!
Add a spoonful to your coffee drinks, tea or hot chocolate for a rich and decadent warm drink.
Make it into a caramel sauce to drizzle over brownies, cookies, dessert balls, or ice cream.
You can use it as the creamy base to make icing or frosting.
Use it to make a delicious Pina colada.
Add it to oatmeal, rice pudding, or overnight oats to give them a bit of sweetness.
Serve it on pancakes or waffles instead of syrup.
Use it to make the most delicious iced coffee.
How to store:
Store any leftover condensed milk in an airtight container or mason jar for 5-7 days in the fridge. I do not recommend storing this dairy-free version of condensed milk at room temperature.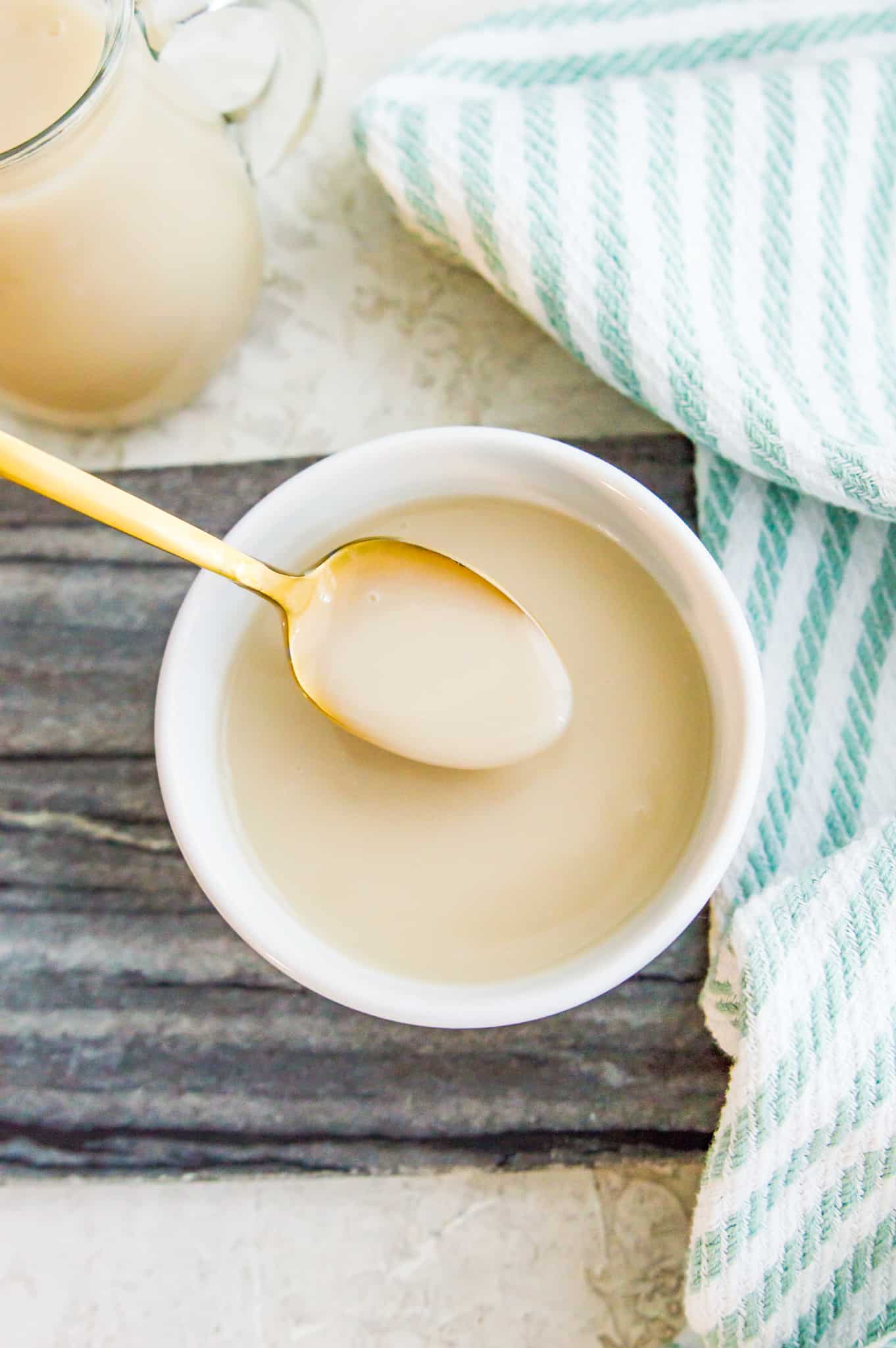 Frequently asked questions:
Is condensed milk the same as coconut condensed milk?
No. Regular condensed milk is made with dairy milk and coconut condensed milk is made with coconut milk. This is a dairy-free condensed milk alternative. 
Can you replace condensed milk with condensed coconut milk?
Absolutely! Non-dairy condensed milk can be used in any recipe calling for regular condensed milk. 
Does coconut condensed milk taste like coconut?
A little. It has a rich and creamy texture with hits of coconut flavour.
What is the difference between condensed and evaporated coconut milk? 
Condensed coconut milk is made by cooking coconut milk with sugar until it reduces in volume and thickens, while evaporated coconut milk is just coconut milk cooked until most of its water content has evaporated and the milk has reduced in volume. It is often used as a substitute for regular milk in many recipes. 
Is condensed milk the same as heavy cream?
No. While condensed milk does have a similar texture to heavy cream, they are not the same. Condensed milk is made from either dairy or nondairy milk and cooked with sugar until it thickens. Heavy cream is a high-fat dairy cream with no added sugar. 
Other recipes you will love:
Since you made it this far we are basically best friends so be sure to follow me on Instagram, Pinterest, TikTok and Facebook where I share even more recipes and healthy living tips! And don't forget to leave this recipe a star review before you go!
Recipe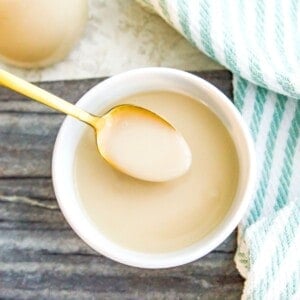 Coconut Condensed Milk
This is the best coconut condensed milk recipe. It's easy to make with just 2 ingredients and can be used for so many recipes!
Print
Pin
Rate
Instructions
Add the coconut milk and sugar to a sauce pan and bring it to a boil over medium heat.

Once boiling, turn down the heat and let it simmer for approximately 55-60 minutes, stirring frequently to prevent the sugar from sticking to the pot and the milk from clumping.

You will know it's done when it has reduced in volume by about half and has slightly darkened in colour.

Let the condensed milk cool completely and then use as you wish.
Notes
This recipe yields ~2 cups of condensed milk.
Nutritional values are an estimate and will vary depending on the exact ingredients used. 
The colour of the condensed milk will vary depending on the type of sugar you use - it can be slightly darker or lighter.
Store this condensed milk in an air tight container in the fridge for up to 7 days. 
Nutrition
Calories:
126
kcal
|
Carbohydrates:
14
g
|
Protein:
1
g
|
Fat:
9
g
|
Saturated Fat:
8
g
|
Polyunsaturated Fat:
1
g
|
Monounsaturated Fat:
1
g
|
Sodium:
6
mg
|
Potassium:
98
mg
|
Sugar:
13
g
|
Vitamin C:
1
mg
|
Calcium:
8
mg
|
Iron:
1
mg