Paleo Chocolate Raspberry Cups. These chocolate raspberry cups are not only delicious, but they are also so simple to make. Plus, these chocolate raspberry cups are refined sugar free, dairy free and vegan. 
Are you Valentine's Day fans? I will be honest and admit that I am not really, but, what I am a fan of is chocolate. Lot's of chocolate. So any excuse to come up with more chocolate recipes is good with me. And it should be good with you too, because it means you get to enjoy these Paleo Chocolate Raspberry Cups for dessert this week. And perhaps even for Valentines Day…
So good news my friends! I am officially off of antibiotics for my C.diff infection! It has now been 3 days and knock on wood, but things seem to be going well (thank goodness). If you remember, I totally failed my first course of antibiotics and my symptoms just came back with a vengeance as soon as I stopped them the first time around, so the second time I had to go on a different, more powerful regimen. But thank the lord it seems to have worked. Now I am busy focusing on healing all the damage that was done to my gut. All the experts I have talked to says it usually takes 1-2 months for the bowels to recover and for gut function to return to normal. So I am busy loading up on probiotics, L-glutamine, zinc, DGL, marshmallow root, NAC, bone broth and collagen peptides. I am on a mission my friends. A an intense gut healing mission. I am thinking about writing a post about my C.diff experience because it was so brutal. So, so brutal. Basically a month of hell. I cannot remember ever being that sick for that long. I could hardly eat that entire month, couldn't work out, and basically lived on the couch or in bed. Netflix and bone broth were my two best friends (although who am I kidding, they are still my best friends). But would you guys be interested in a post about my C.diff experience? And all of the gut healing supplements and foods I am using? Let me know! I am happy to start working on that one.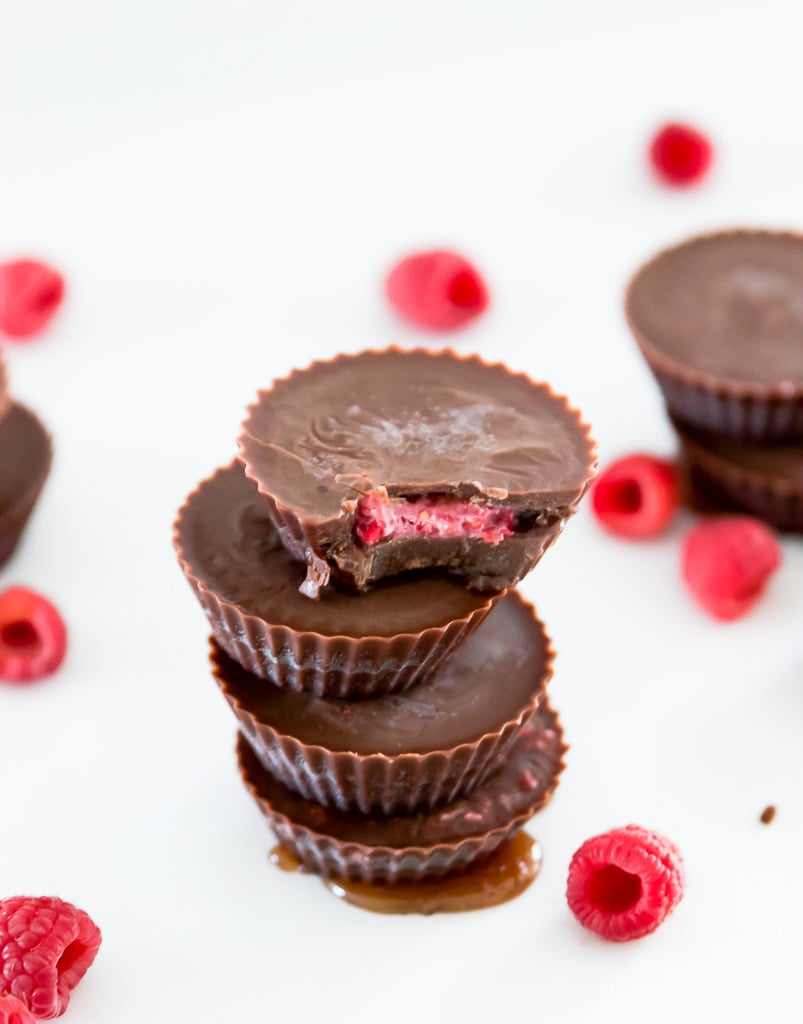 We should probably talk about these Paleo Chocolate Raspberry Cups shouldn't we? Because they are amazing! And super simple to make. I served these at a recent Beautycounter event that I hosted and they were a huge, huge hit. In fact I had to make another batch so that I could get them photographed for you guys. It was a real sacrifice let me tell you, a whole other batch that I was forced to eat myself. The things I do for you…
These Paleo Chocolate Raspberry Cups are not only paleo but they are also vegan and GAPS safe. They are dairy free and refined sugar free as well so you can feel good about eating them even if you are trying to eat healthy. It's like I always say, real food really is delicious! And even if the idea of chocolate and raspberry doesn't appeal to you, I have many other chocolate recipes on the blog that you could choose instead. Recipes like my Paleo Dark Chocolate Orange Fudge, Paleo Double Chocolate Avocado Brownies, Paleo Chocolate Ice Cream and Paleo Nut Butter and Chocolate Crunch Bars. So many delicious chocolatey options!
I wanted to take a second and highlight a couple of the ingredients in these Paleo Chocolate Raspberry Cups and what makes them so healthy. So here's a little breakdown of a few of my favourite ingredients in these treats:
Coconut Oil: Coconut oil is one of the healthiest fats on the planet. Unfortunately, organizations like the American Heart Association have recently condemned coconut oil because it is a saturated fat, but to simply say that coconut oil is unhealthy because it is a saturated fat is just not true. Not at all. Coconut oil is a unique plant fat because it is 60% saturated fat, but different from animal saturated fats in that it is also a medium chain triglyceride. Saturated fats are the easiest fats for us to use for energy and medium chain fats only need one step to produce energy within the body. The reason they are such a great energy source is because they don't require bile salts to be absorbed in the small intestine so they enter the bloodstream very quickly, and can even be easily digested by people without a gallbladder. Coconut oil also has many other amazing properties like being anti-microbial and anti-inflammatory, and is important for cellular health, immune health, gut health and so much more. So please don't be scared of coconut oil! This is my personal favourite brand of coconut oil. You can also read all about my favourite uses for coconut oil here. 
Raw Honey: Raw honey has so many health benefits! It has anti-bacterial and anti-fungal properties, is a great source of antioxidants and also contains many vitamins and minerals. it can also be great for helping to treat seasonal allergies (it is important to be getting local honey for this purpose) and can help heal a sore throat. Raw, local, honey is actually my favourite natural sweetener. It's additional health benefits just can't be beat.
Paleo Chocolate Raspberry Cups
Ingredients
Raspberry Layer
1

cup

fresh raspberries

2

tbsp

coconut manna, melted
Instructions
In a medium sized bowl whisk together the chocolate layer ingredients, until smooth

Line a muffin tray with silicone muffin cups

Spoon approximately 2 TBSP of the chocolate sauce into each muffin cup


Place the tray in the freezer for 20-25 minutes

While the chocolate is freezing, using another bowl, stir together the raspberry layer ingredients until smooth

Add a small amount of the raspberry layer onto each chocolate cup

Cover the raspberry layer with the remaining chocolate sauce

Place the tray back in the freezer for an additional 45-60 minutes
You might also like
Paleo Double Chocolate Avocado Brownies
Whole30 Cilantro Lime Dressing
Pin this recipe for later: