In this article we will discuss "is stainless steel cookware safe?" Stainless steel pots and pans are a great option for cooking and are safer than many other cookware materials. They key is to use high quality stainless steel and to ensure you care for them properly.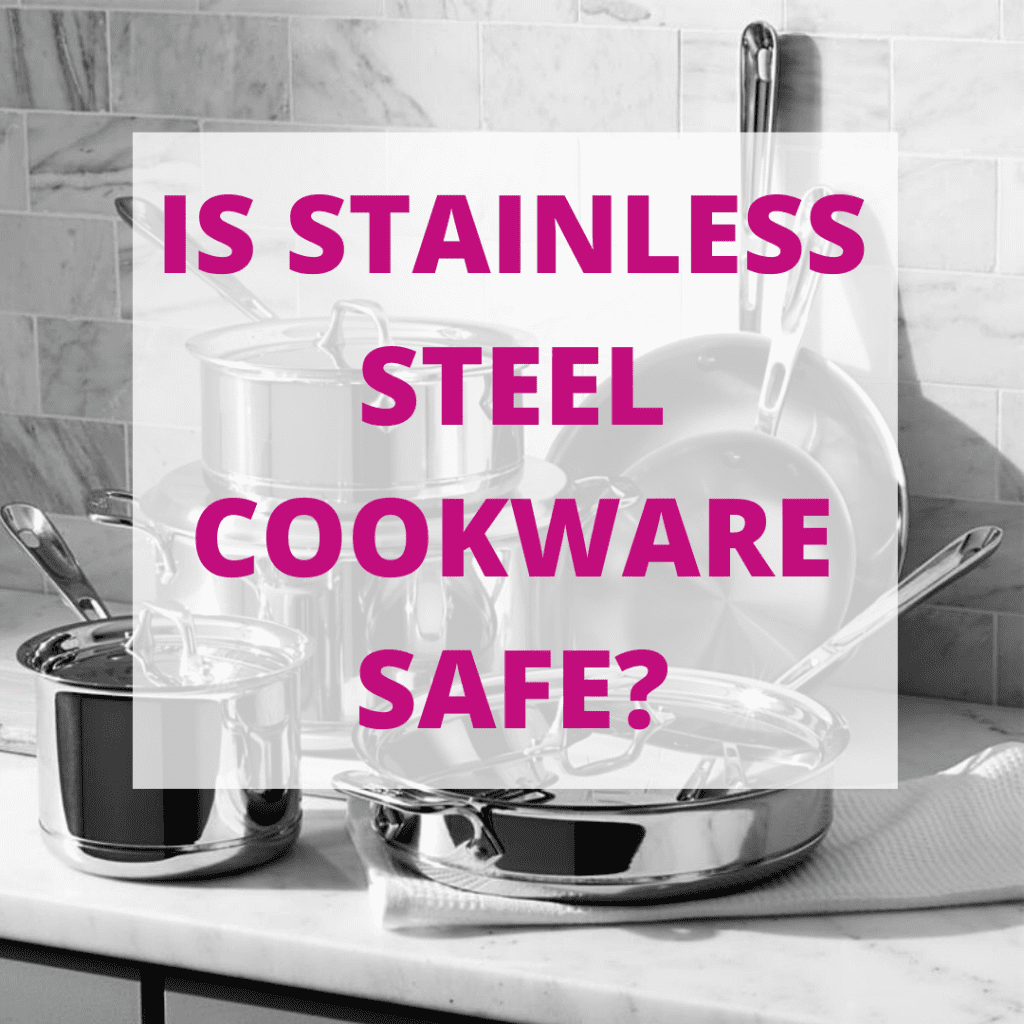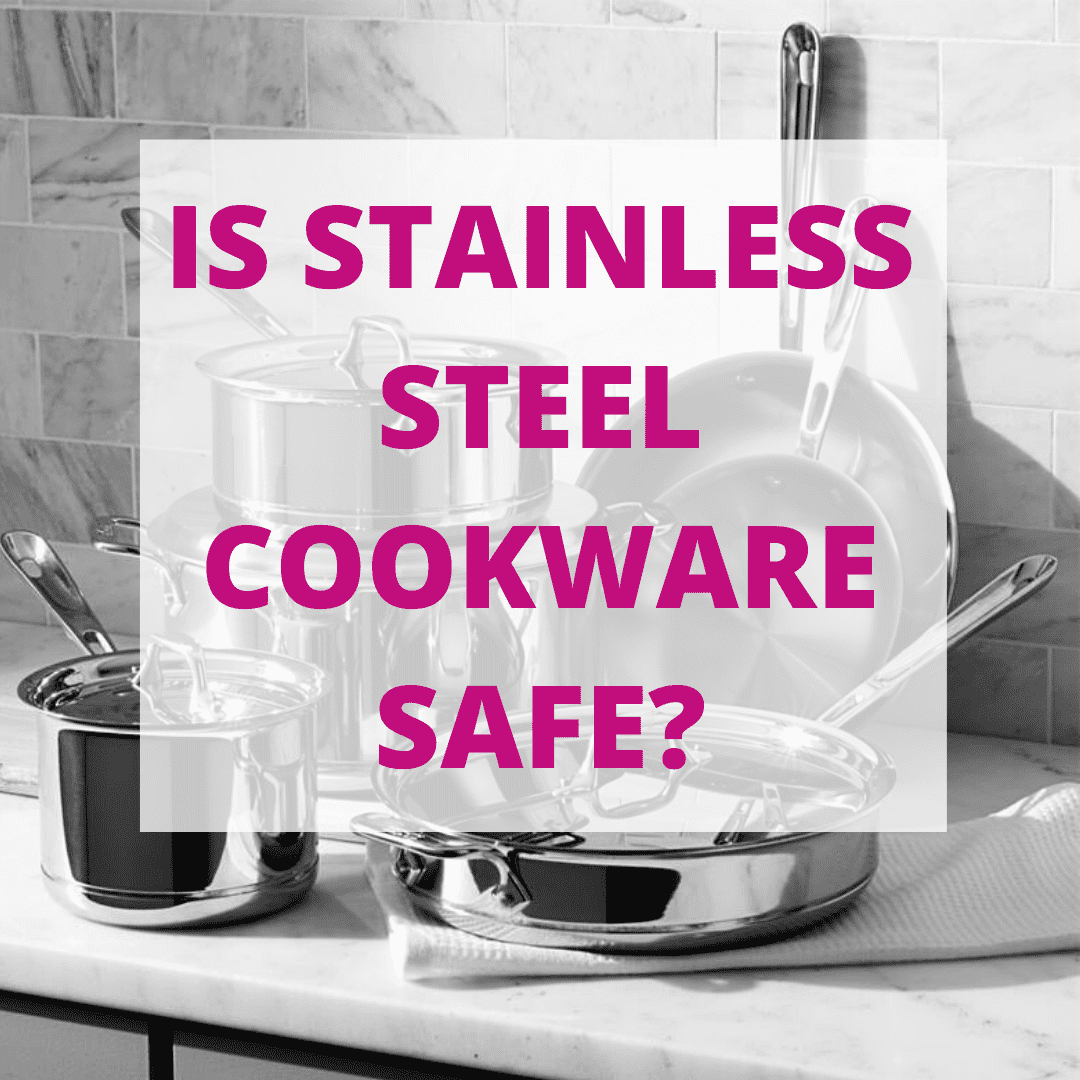 Is stainless steel cookware safe?
For the most part the answer is yes. Just be aware that stainless steel cookware does release low levels of nickel and chromium, especially if you are cooking acidic foods like tomatoes. For most people the release of these low levels of nickel and chromium should not be a concern, but for those who have a nickel or chromium sensitivity or allergy this would be problematic.
As well, any damaged stainless steel pots and pans should be discarded to decrease your heavy metal exposure. Damaged stainless steel pots and pans will release higher levels of nickel and chromium, which you want to avoid. Additionally, the amount of heavy metal leaching will depend on the stainless steel grade, cooking time, cookware use, and cookware care, so I recommend using high-quality, surgical-grade stainless steel cookware, and it's even better if it's nickel-free. Stainless steel lined copper cookware is also safe because the copper surface doesn't come into contact with the food. It's also important to care for your stainless steel cookware properly to prevent it from becoming damaged.
How to care for stainless steel cookware
To help prevent your stainless steel cookware from becoming damaged it's important to care for it properly. When using cooking utensils, choose those made from materials that won't scratch the surface such as silicone or wood (avoid plastic utensils as they will release hormone disruptors into your food). You should also be sure to clean your stainless steel cookware gently, being careful not to damage the surface of your pots and pans or compromise the integrity of your cookware. If you take these steps your stainless steel cookware should last for a very long time.
Frequently asked questions:
Is stainless steel cookware safer than non-stick? For the most part yes. Of course that will depend on the type of non-stick cookware and the type of stainless steel cookware being compared. In general, the coatings used to make non-stick cookware are not good for our health. The chemicals used to make Teflon and other similar coatings have be found to cause many different health problems including thyroid disease, colon cancer, inflammatory bowl disease, birth defects and more. Even most ceramic non-stick coatings have questionable health effects due to the nano-particles used to make them. If you are interested in learning more about this I highly recommend reading this article, The Best Non-Toxic Cookware.
What is the safest cookware for your health? As I discuss in my article, How To Choose Safe Cookware there are a few different options that are safe for your health including:
Cast iron and carbon steel
Pure ceramic (Xtrema is the only brand I know of that is pure ceramic)
High quality stainless steel
Here is a list of safe cookware options:
Pure Ceramic:
Stainless Steel:
**Remember to avoid any stainless steel with non-stick surfaces or with ceramic enamel coatings.
Stainless Steel Lined Copper:
Cast Iron:
Carbon Steel:
I hope you found this helpful. If you have any questions please let me know!
If you liked this post you will also love my post: Is ceramic cookware safe?
Other information you might be interested in:
IF YOU ARE INTERESTED IN MORE HEALTH INFORMATION BE SURE TO FOLLOW ME ON INSTAGRAM, PINTEREST AND FACEBOOK WHERE I SHARE EVEN MORE HEALTHY LIVING TIPS!
If you found this helpful be sure to grab my FREE guide, Healthy Living 101 where I share many more healthy living tips and information!
Pin this post for later:
References:
Design, methods, and population for a study of PFOA health effects among highly exposed mid-Ohio valley community residents and workers.
 Perfluorooctanoic Acid (PFOA) Exposures and Incident Cancers among Adults Living Near a Chemical Plant 
Inverse association of colorectal cancer prevalence to serum levels of perfluorooctane sulfonate (PFOS) and perfluorooctanoate (PFOA) in a large Appalachian population
The Navigation Guide – evidence-based medicine meets environmental health: integration of animal and human evidence for PFOA effects on fetal growth.
Exposure to Polyfluoroalkyl Chemicals and Cholesterol, Body Weight, and Insulin Resistance in the General U.S. Population
Association between Serum Perfluorooctanoic Acid (PFOA) and Thyroid Disease in the U.S. National Health and Nutrition Examination Survey 
Exposure to perfluoroalkyl substances and thyroid function in pregnant women and children: A systematic review of epidemiologic studies.
Polyfluoroalkyl chemicals in the U.S. population: data from the National Health and Nutrition Examination Survey (NHANES) 2003-2004 and comparisons with NHANES 1999-2000
Exposure to polyfluoroalkyl chemicals and attention deficit/hyperactivity disorder in U.S. children 12-15 years of age
Health Effects of Arsenic and Chromium in Drinking Water: Recent Human Findings