Knowing how to choose safe cookware is very important. Many types of cookware are harmful to our health. In this post I share the best non-toxic cookware and the types of cookware to avoid and why.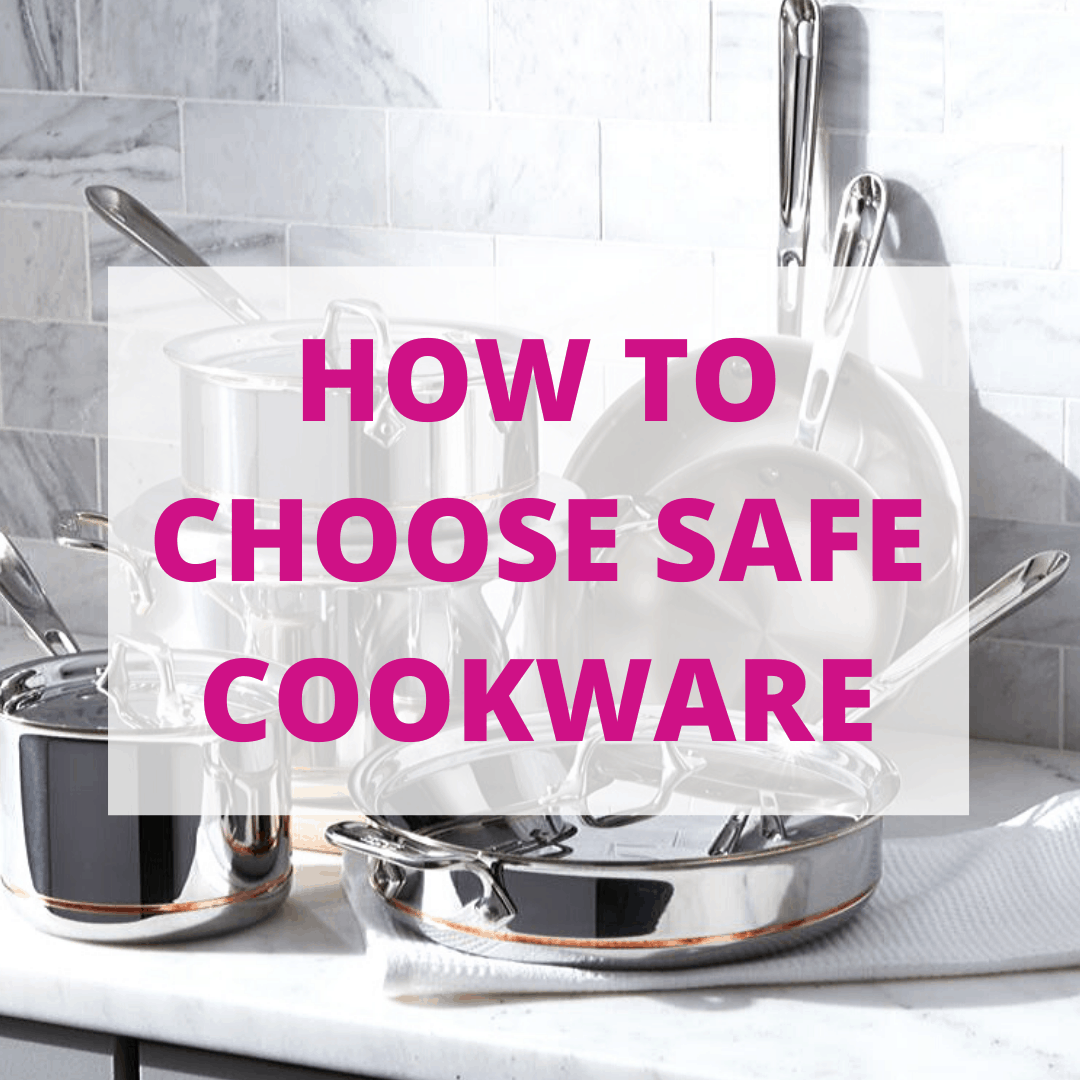 The Best Non-Toxic Cookware
By far the most common question I get asked on Instagram is how to choose safe cookware, or what is the best non toxic cookware. Between pots, pans and bakeware I answer more direct messages about this than any other question. So I decided it was finally time to write a whole post dedicated to this topic to help you choose the best non-toxic cookware, and cookware that is free from toxic chemicals. Cookware can be expensive, and I want to ensure you are spending your money on quality items that are also good for your health. There is also a lot of misleading information out there that can make deciding what to buy that much more challenging.
Unfortunately, many of the materials used to make pots and pans can be quite harmful to our health, and many brands contain toxic chemicals that are not good for us. It's important to do your research before purchasing the cookware so that you can avoid toxic cookware brands and choose the safest cookware possible.
In this article I will review the best non-toxic cookware, the materials to avoid when choosing cookware, which materials are safe to purchase as well as my favourite brands and what I use in my own home, including non toxic cookware sets, the best affordable non toxic cookware options and the best non toxic non stick cookware. And if you are interested in the research, I have included the references I used to write this article at the end of the post.
The best non-toxic cookware: materials to avoid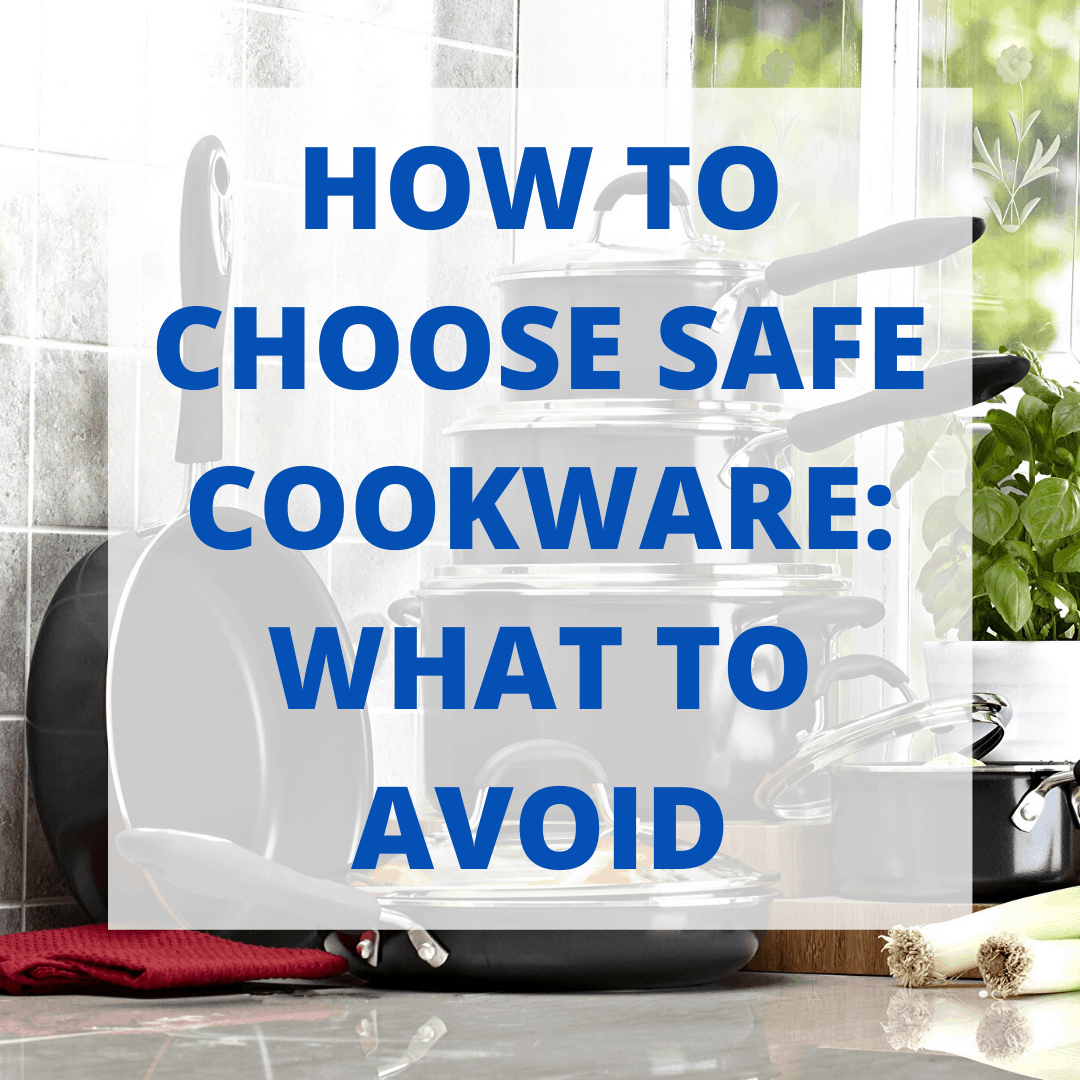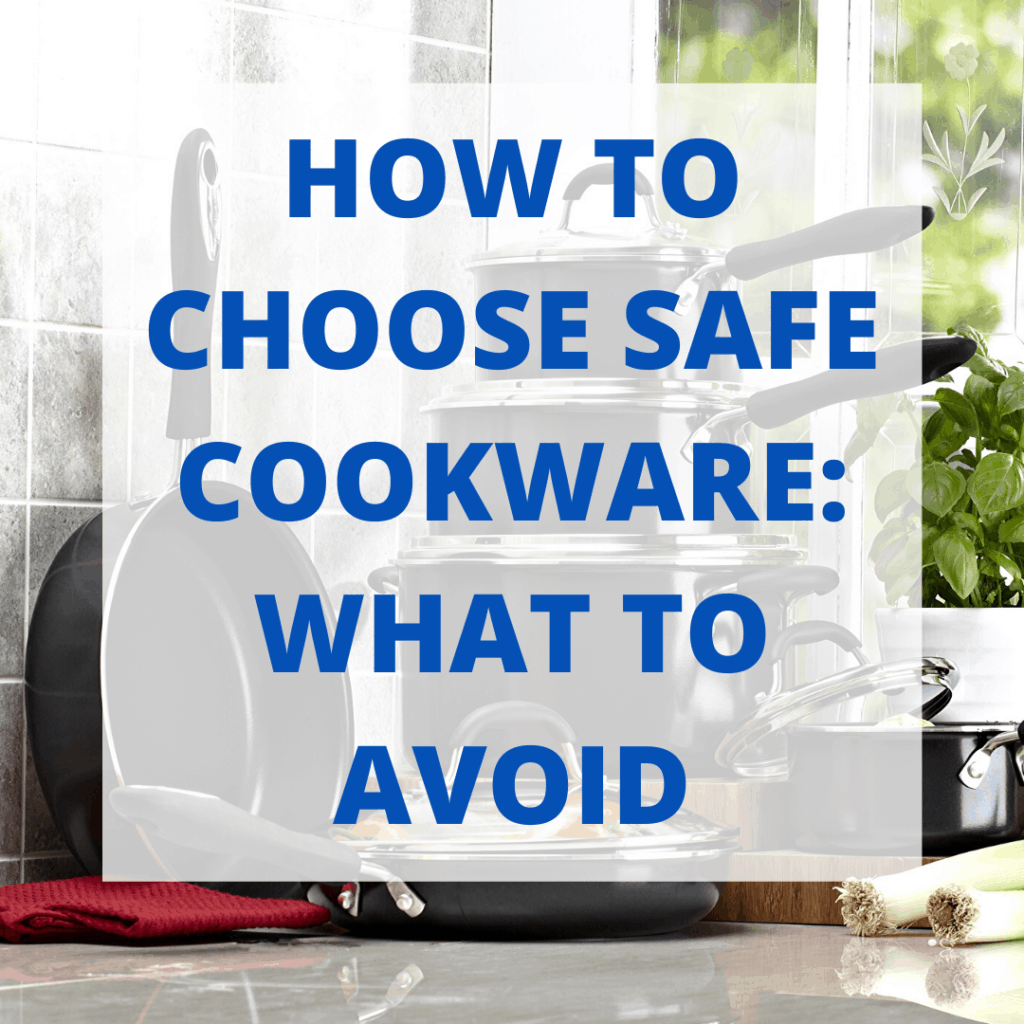 Non-Stick or Teflon Coatings
Non-stick cookware including cookware made with Teflon coatings are one of the most toxic materials you could have in your home. The chemicals used to make nonstick cookware are extremely bad for our health. And sadly they aren't just isolated to use in cookware. They are used for many different purposes including making fabrics stain-proof or waterproof, making floss "non-stick" etc. For the purpose of this article I will just focus on their use in cookware, but if you are curious to learn more about the health effects and coverup that has allowed these materials to be used to such a huge extent in many different industries, I highly recommend watching the documentary, The Devil We Know.
Non-stick or Teflon coatings are made with Perfluorooctanoic acid (which is also known as PFOA, or C8). PFOA is a synthetic 8-carbon perfluorinated compound used in manufacturing fluoropolymers such as polytetrafluoroethylene, which is the material used to create non-stick pots, pans and bakeware.
PFOA is persistent in the environment, is not metabolized by the body, and has a half-life in humans of 2–3.4 years (meaning it stays in the body for many years after you get exposed). We get exposed to PFOA through many different means including through our cookware, drinking water and air. And unfortunately, most of us have high levels of PFOA in our systems, with greater than 99% of the U.S. population found to have PFOA in their serum when tested in the 2003–2004 National Health and Nutrition Examination Survey (NHANES).
The problem with PFOA is that it is extremely harmful to our health. PFOA can cause or contribute to many different health problems including:
Colon cancer (interestingly the risk is highest with low level exposure, typical of what is seen in the general population compared to those with higher exposure levels)
Thyroid disease
Inflammatory bowel disease (including ulcerative colitis and Crohn's disease)
Kidney cancer
Testicular cancer
Reduced fetal growth
Increased cholesterol
ADHD
In other words, you want to avoid PFOA exposure, and thus non stick cookware as much as you can. And one of the easiest ways to do so is to avoid any non-stick or Teflon coated cookware including pots, pans or bakeware (baking sheets, muffin pans, donut pans etc).
Lead
Lead is very difficult to avoid in cookware. Most brands claim to be lead-free, but it's been shown multiple times that there are actually low levels of lead (below Prop 65 standards) in many cookware products. This is a huge problem because lead is extremely harmful to our health and accumulates very easily in the body, so even small amounts of exposure accumulate overtime.
Lead is toxic, especially to children. Lead harms almost every system in the body and has been linked to numerous health problems including brain damage, hearing loss, miscarriages, premature births, increased blood pressure, kidney damage, hormone imbalances and nervous system problems.
Cadmium
Cadmium is a heavy metal that may be used in ceramic bakeware to give it those bright, pretty colors. Unfortunately cadmium is toxic to the kidneys and can also cause bone demineralization (thinning of the bones). Ideally you should avoid cookware items that are red, orange or yellow as those colors tend to have intentionally added lead and/or cadmium.
Nickel
Nickel is used in stainless steel cookware to prevent corrosion and heat damage. The most common harmful health effect of nickel is an allergic reaction. Approximately 10-20% of people are sensitive or allergic to nickel. In high concentrations nickel can harm the kidneys, cause heart problems, congenital abnormalities, miscarriages and blood disorders. If inhaled, nickel can cause bronchitis, decreased lung function and lung cancer.
Chromium
Chromium is used to make stainless steel. Fortunately, less than 10% of the chromium we ingest gets absorbed. The body actually requires a certain amount of chromium to properly use insulin so that the body can use sugars, proteins and fats. However, high levels of chromium exposure can increase the risk of cancer, asthma, impair the immune system, and cause DNA damage.
Aluminum
Aluminum is used very frequently in cookware. And besides being found in aluminum cookware, it can also be found in lower levels in some ceramic and stainless steel cookware as well. At high doses aluminum is known to be toxic to many organ systems including the brain, liver, skeletal muscles, heart, and bone marrow. At lower exposure levels, aluminum has been associated with a higher risk of Alzheimer's disease as well as breast cancer (this is related to antiperspirant use). However, not all studies have shown these increased risks so until we have better, more definitive studies I suggest taking a cautious approach and avoiding aluminum cookware if possible. There are many other healthier alternatives.
Nano Particles (used in most Ceramic Coated Cookware and Ceramic Enameled Cookware)
Most people consider ceramic coated cookware or ceramic enameled cookware to be safe and a better choice than most other non-stick pots and pans (like the ones coated in Teflon). And some brands are. But unfortunately, many brands are not, and the reason has to do with nanoparticles. Nano literally means "very small" or to be more specific, nanoparticles are particles between 1 and 100 nanometres in size. Nanoparticles are used in many different industries, not just in cookware.
Because of their small size, nanoparticles can easily enter many bodily tissues or organs, leading to many different health problems (for example asbestos is an example of a nanoparticle that can cause cancer).
When looking at ceramic cookware or ceramic enameled cookware, the ceramic coatings used by many brands have been found to release titanium dioxide nanoparticles from the non-stick coating into food.
This is a problem as nano titanium dioxide has been shown to cause immune system problems, lung cancer and pre-cancerous lesions in the gut and ingestion of nano titanium dioxide has been shown to cause many health problems in animals including causing harmful effects on male fertility (including damaging sperm), damaging the liver, testicles, heart, brain, kidneys, as well as altering the gut microbiome.
And since nano titanium dioxide is a very recently recognized material that has just started to be studied I suspect we will hear of even more health problems as time goes on and more studies are done.
The good news is that in undamaged ceramic coatings, the titanium dioxide nanoparticles don't get released until exposed to temperatures of 500 °C or higher. So, with typical cooking temperatures the nanoparticles shouldn't be released. However, mechanical degradation studies showed that any surface scratches or damage to the ceramic coating (which would occur with normal use) leads to significant release of the titanium dioxide nanoparticles. So, if your ceramic coated pots or pans or ceramic enameled cookware is in perfect condition (no scratches or signs of use) and you don't heat them to excess you should be safe. However, once the surface of those pots or pans or cookware items have any scratches or imperfections they would no longer be safe to use.
The other problems with ceramic coated cookware, is the materials used underneath the ceramic coating can also be harmful or dangerous, so if the coating ever gets scratched or damaged you then get exposed to even more harmful materials (such as aluminum or other heavy metals).
So while I do believe that ceramic coated cookware or ceramic enameled cookware is a safer choice compared to Teflon or other non-stick coatings, it is still not as safe as many brands would like you to believe. I do have some ceramic coated cookware in my home, and I can say with certainty that with regular use, the surfaces do get scratched or damaged (indicating that they are releasing those harmful nanoparticles and other potentially harmful materials into food) which is why I have a hard time recommending this type of cookware. However, the good news is that pure ceramic cookware is safe to use, so keep reading to find out more!
In summary- types of cookware to avoid and why:
Here is a quick list of cookware to avoid, and why
Non-stick cookware–Avoid because of PFAS chemicals
Aluminum cookware–Avoid because of heavy metals
Ceramic enameled aluminum cookware–Avoid because of nanoparticles
Hard-anodized aluminum cookware–Avoid because of heavy metals
Ceramic enameled hard-anodized aluminum–Avoid because of nanoparticles
Ceramic enameled cast iron–Avoid because of nanoparticles
Soapstone–Avoid because of trace asbestos
Unlined copper cookware–Avoid because of heavy metals
Stoneware and porcelain bakeware–Avoid because of heavy metals
Ceramic coated cookware - Avoid because of nanoparticles (found in most brands - I share one safe ceramic brand further down this article)
The best non-toxic cookware: materials that are safe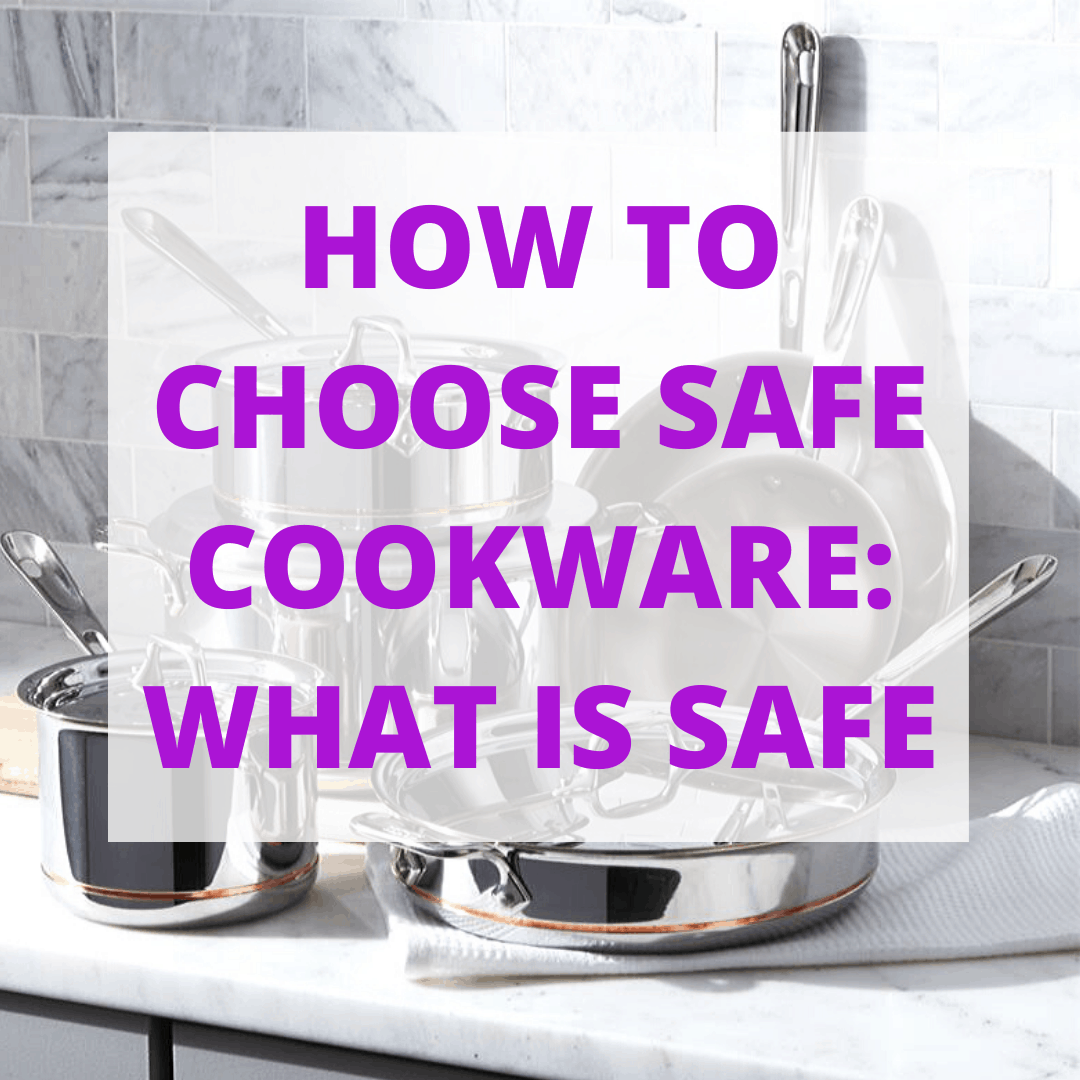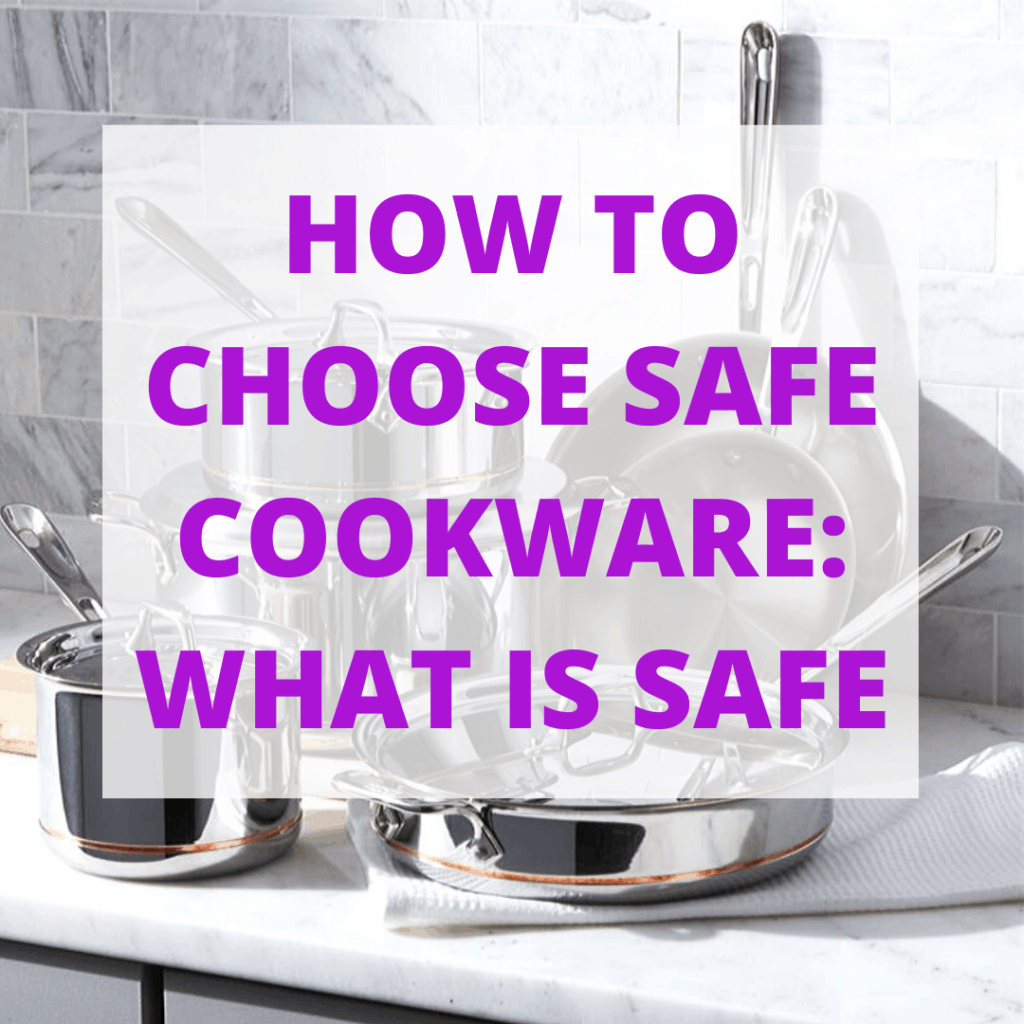 Pure Ceramic
Unfortunately it is very difficult to find brands of cookware that are purely ceramic. In fact, I have only been able to find one: Xtrema. Their products are made from pure clay and they do not use nanoparticles (I even emailed them to ensure this). Their products are also third-party tested for lead and cadmium migration and they pass all Prop 65 leaching tests, meaning that any heavy metals that naturally occur in the clay are unable to migrate out of the product.
The great thing about pure ceramic cookware is they are easy to clean, dishwasher safe and are eco friendly. You can get pure ceramic cookware pots, pans, dutch ovens, skillets and bakeware.
Shop for Xtrema cookware here.
Stainless Steel
For the most part stainless steel is a safe option when it comes to cookware. Just be aware that it does release low levels of nickel and chromium, especially when cooking acidic foods like tomatoes. For most people this is not a big concern, but if you do have a nickel or chromium sensitivity or allergy this would be problematic.
With this in mind, any damaged stainless steel pots and pans should be discarded to decrease heavy metal exposure. As well, the amount of heavy metal leaching depends on the stainless steel grade, cooking time, and cookware use, so I recommend using high-quality, surgical-grade stainless steel cookware, and it's even better if it's nickel-free. Stainless steel lined copper cookware is also safe because the copper surface doesn't come into contact with the food. Another benefit of stainless steel cookware is that most brands are dishwasher safe and some brands come with a lifetime warranty.
Cast Iron and Carbon Steel
Yep your grandmother's favourite cast iron pan is a great option. Both cast iron and carbon steel are safe to use. Both contain a type of iron called ferric iron which does get absorbed into the food you cook in these pans so I would recommend alternating these types of cookware with others to help prevent getting too much iron exposure. Just be sure to avoid enameled cast iron, and stick to non-coated cast iron cookware instead. The materials used in the enameled coatings are not good for our health.
The best non-toxic cookware: Safe options to buy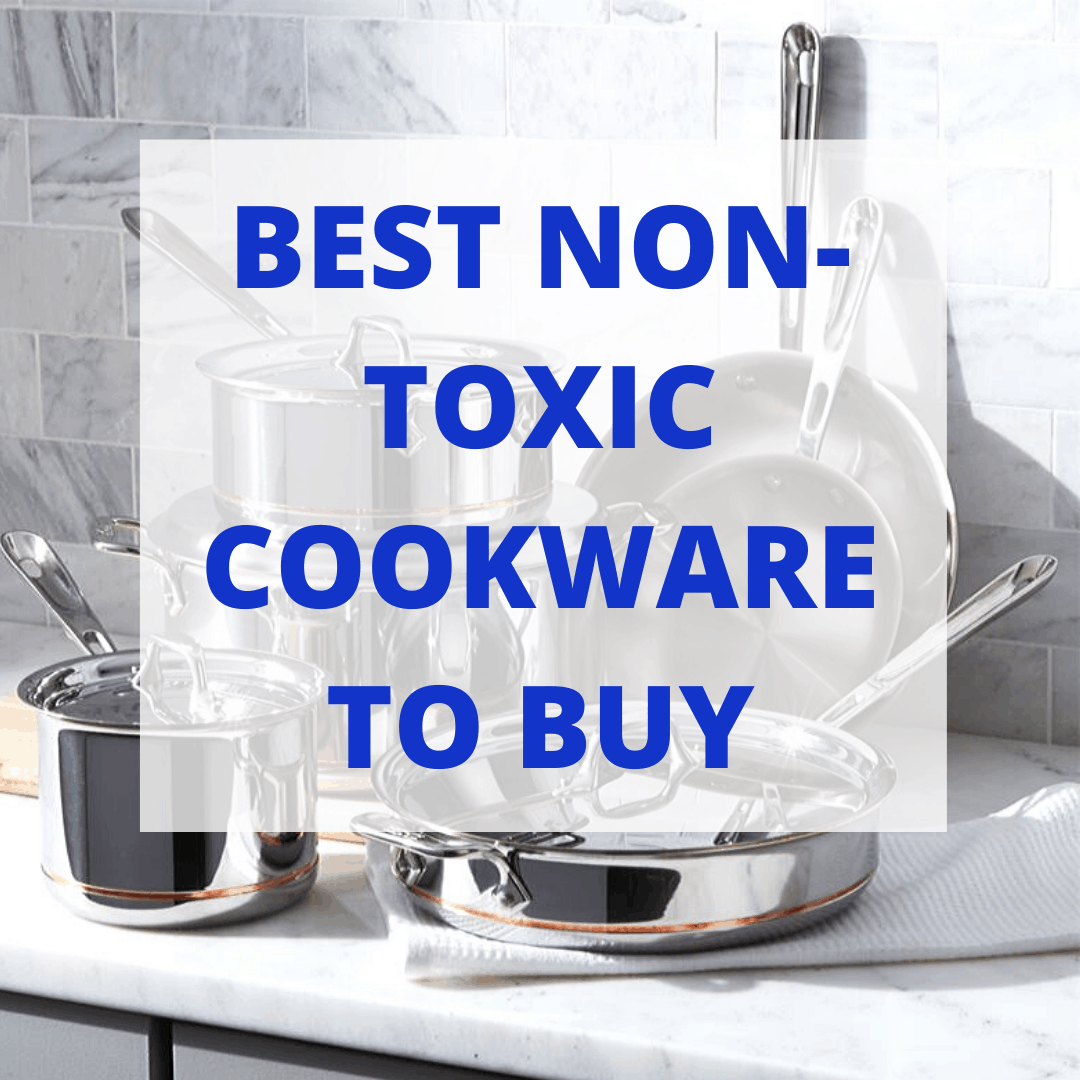 Here is a list of safe cookware options that I recommend:
Ceramic:
Stainless Steel:
**Remember to avoid any stainless steel with non-stick surfaces or with ceramic enameled coatings.
Stainless Steel Lined Copper:
Cast Iron:
Carbon Steel:
The best non-toxic cookware: What I use in my home
I have several different types of cookware in my home. My pots and pans are all stainless steel (an older version of this set) and then I have a couple cast iron pans and one Xtrema ceramic pan.
I hope you found this post helpful! Of course there was no way that I could review every single type of pot and pan on the market so if you have specific questions please let me know. And stay tuned for the next review I am doing on bakeware! Make sure you are signed up to my email list to be the first to know when it comes out.
Frequently asked questions:
Are stainless steel pans non toxic?
Stainless steel pans are a great non toxic cookware option. They are made without harmful chemicals or toxic coatings and also last a really long time so they are a great investment.
Is Lodge cookware non toxic?
That depends on which Lodge cookware you are looking at. Their cast iron cookware or carbon steel cookware are great non toxic options, but be sure to avoid their ceramic enameled cookware due to the risk of titanium dioxide nanoparticles.
Other posts you will love:
SINCE YOU MADE IT THIS FAR WE ARE BASICALLY BEST FRIENDS SO BE SURE TO FOLLOW ME ON INSTAGRAM, PINTEREST AND FACEBOOK WHERE I SHARE EVEN MORE RECIPES AND HEALTHY LIVING TIPS!
References:
Design, methods, and population for a study of PFOA health effects among highly exposed mid-Ohio valley community residents and workers.
 Perfluorooctanoic Acid (PFOA) Exposures and Incident Cancers among Adults Living Near a Chemical Plant 
Inverse association of colorectal cancer prevalence to serum levels of perfluorooctane sulfonate (PFOS) and perfluorooctanoate (PFOA) in a large Appalachian population
The Navigation Guide - evidence-based medicine meets environmental health: integration of animal and human evidence for PFOA effects on fetal growth.
Exposure to Polyfluoroalkyl Chemicals and Cholesterol, Body Weight, and Insulin Resistance in the General U.S. Population
Association between Serum Perfluorooctanoic Acid (PFOA) and Thyroid Disease in the U.S. National Health and Nutrition Examination Survey
Exposure to perfluoroalkyl substances and thyroid function in pregnant women and children: A systematic review of epidemiologic studies.
Polyfluoroalkyl chemicals in the U.S. population: data from the National Health and Nutrition Examination Survey (NHANES) 2003-2004 and comparisons with NHANES 1999-2000
Exposure to polyfluoroalkyl chemicals and attention deficit/hyperactivity disorder in U.S. children 12-15 years of age
Health Effects of Arsenic and Chromium in Drinking Water: Recent Human Findings
Adverse Health Effects of Child Labor: High Exposure to Chromium and Oxidative DNA Damage in Children Manufacturing Surgical Instruments
Characterisation of food contact non-stick coatings containing TiO2 nanoparticles and study of their possible release into food