This post shares the best non toxic bakeware and will teach you the types of bakeware that are safe to buy, and the types of bakeware you should avoid. The safest bakeware options include stainless steel, glass and pure ceramic.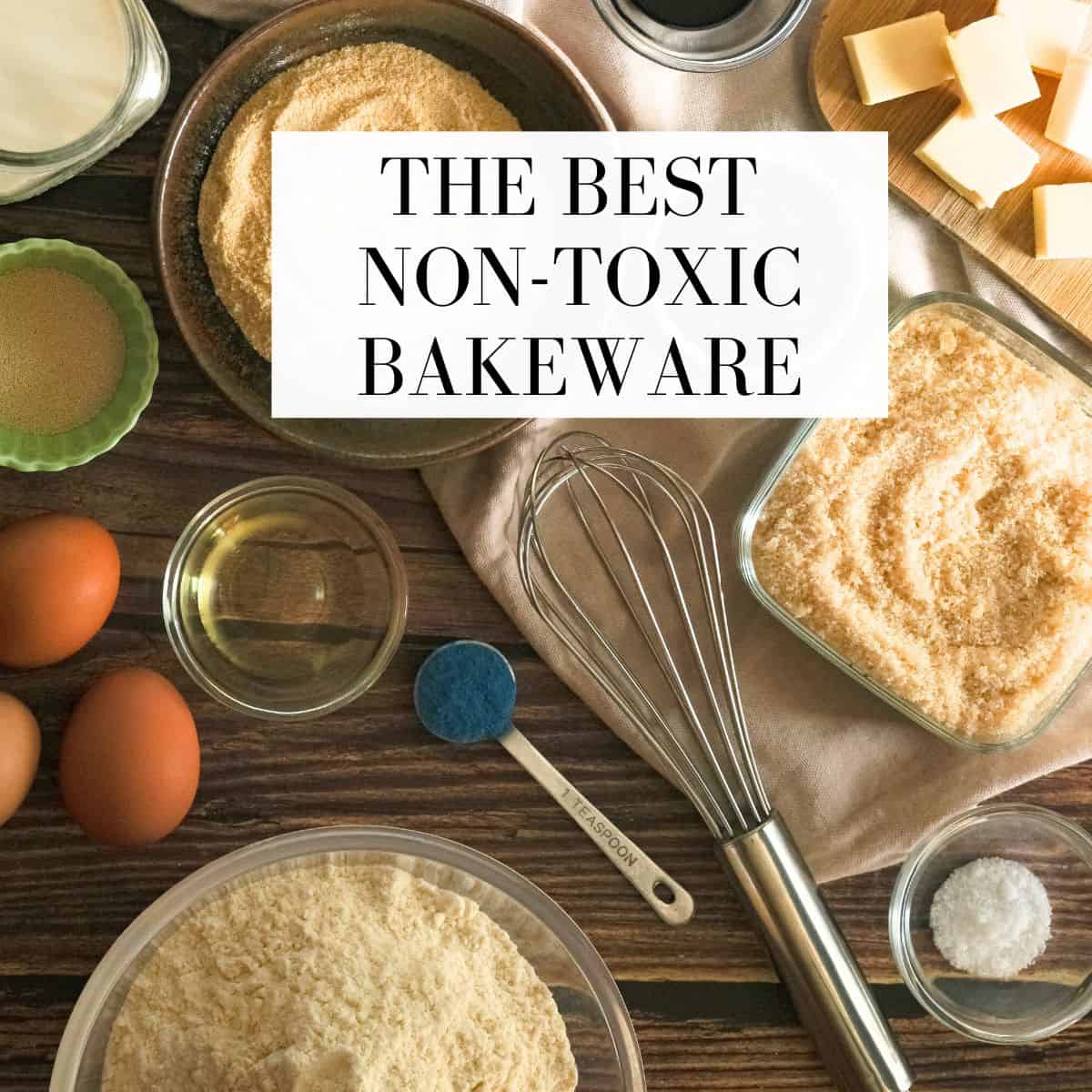 If you are like me, you love to bake. But when you do bake, you want to be sure that the bakeware you are using is safe and non toxic. Unfortunately, many of the chemicals that are used in bakeware, mainly the nonstick chemicals and coatings, can be quite bad for our health, so you want to be sure to avoid them.
In this post I will teach you what types of bakeware are safe and worth investing in, and what types of bakeware you will want to avoid so that you can steer clear of any toxic cookware or bakeware.
Jump to:
The Best Non Toxic Bakeware
Glass Baking Dishes
Glass is one of my favourite, non toxic bakeware options. In fact, glass is great because it doesn't leach any harmful chemicals into your food. And as long as you are careful with it, it will last a lifetime! Glass bakeware is also really nice because it's dishwasher safe so cleaning it is a breeze. When it comes to glass bakeware, you can get baking dishes and pans in may different shapes and sizes including:
Glass baking dish options:
You can also get glass baking dish sets that will give you a wide variety of baking dish sizes to choose from and are a more cost effective way to buy them.
Glass Loaf Pans
Like baking dishes, glass loaf pans are another great option. They are easy to clean and are oven safe and won't leach any harmful chemicals into your food.
Glass loaf pan options:
Glass Pie Plates
Who doesn't love pie? And baking pies in glass pie pans not only looks beautiful but glass is a great non toxic option for baking with. You can get glass pie plates with either smooth or scalloped edges to make your pie presentation as pretty as possible.
Glass pie plate options:
Stainless Steel Baking Sheets
Stainless steel is one of my favourite safe cookware and bakeware options. I've written about why stainless steel is so great in other posts like Is Stainless Steel Cookware Safe and How to Choose Safe Cookware. Most people use nonstick baking sheets for baking and I highly recommend ditching those nonstick baking sheets. The chemicals in those nonstick coatings are really bad for our health (read more about this here and at the end of this post).
When it comes to stainless steel bakeware, just be aware that stainless steel does release low levels of nickel and chromium, (this is especially true if you are cook acidic foods like tomatoes in stainless steel). For most people, the release of these low levels of nickel and chromium should not be a concern, but for those who have a nickel or chromium sensitivity or allergy this would be problematic.
Additionally, any damaged stainless steel bakeware should be discarded to decrease your heavy metal exposure. Damaged stainless steel will release higher levels of nickel and chromium, which you want to avoid. As well, the amount of heavy metal leaching will depend on the stainless steel grade, cooking time, cookware use, and cookware care, so I recommend using high-quality, surgical-grade stainless steel bakeware, and it's even better if it's nickel-free.
One great way to make your stainless steel baking sheets nonstick is to line them with a piece of parchment paper. This will make your clean up so much easier when you bake with stainless steel. Stainless steel is also dishwasher safe and really easy to clean, and since it doesn't have any coatings it should hold up and last forever as long as you treat them well.
You can shop for stainless steel baking sheets here:
Stainless Steel Muffin Pans
Like the baking sheets, stainless steel muffin pans are a safe option for making muffins and cupcakes. Ditch those toxic non-stick muffins pans and just use parchment paper muffin cups to line the baking tray and bake the muffins with.
Stainless steel muffin pan options:
Stainless Steel Pizza Pan
Bake the perfect pizzas at home using stainless steel pizza pans. Just throw them in the dishwasher after you're done baking and your clean up will be done in no time. You can get many sizes of stainless steel pizza pans including 10 inches, 12 inches, 13.5 inches, and 16 inches.
Stainless Steel Baking Pans
Stainless steel baking pans are great for baking cakes of any size. You can also use them for things like casseroles and lasagnas. You can get stainless steel baking pans in many different sizes for all your baking needs.
Stainless Steel Loaf Pans
Bake the perfect loafs, breads and meatloaf in stainless steel loaf pans. They are both oven safe and dishwasher safe and are a great non toxic baking option.
You can shop for stainless steel loaf pans here:
Stainless Steel Cake Pans
The final stainless steel bakeware option I will mention are stainless steel cake pans. These round pans are perfect for making cakes for any occasion including birthday cakes or wedding cakes. You can get round stainless steel cake pans in various sizes including 8 inches, 9 inches and 9.5 inches. They are also great because stainless steel is very affordable and durable.
Pure Ceramic Muffin Pans
They key here is pure ceramic. This is not the same as ceramic coated bakeware, which is not a safe option (there is more information on this later in this post and I discuss the health risks of ceramic coated cookware here) so make sure you are being careful.
There is only one brand that I know of that makes pure ceramic muffin pans, and that is Xtrema. If you happen to know of another brand please let me know. Xtrema cookware and bakeware is made from 100% pure ceramic, is all-natural, non-toxic, inorganic and nonreactive. It contains no PFOA, PTFE, glues, polymers, coatings or dyes and doesn't leach chemicals, metal, cadmium, or lead into food.
Xtrema tests for the presence of heavy metals and meets California Prop 65 standards, certifying that it is free of more than 800 compounds that may cause cancer, birth defects or reproductive harm. It's also oven safe, microwave safe, stove top safe, and dishwasher safe. They really do go over the top to ensure their cookware and bakeware is safe.
Now, Xtrema products are not cheap, but they will last a lifetime unlike ceramic coated or non-stick bakeware which needs to be replaced every few years when the coatings wear down, so in the end, even though it's more of an investment up front, in the long run it will likely actually save you money since you don't have to keep re-purchasing the items every few years.
Pure Ceramic Loaf Dish
Like the ceramic muffin pans, pure ceramic loaf dishes are a great safe, non toxic baking option. Like the muffin pans, the only pure ceramic loaf dishes I know of are from Xtrema.
Pure Ceramic Baking Dish
Another great option are pure ceramic baking dishes. Great for making cakes and casseroles pure ceramic baking dishes are safe for the oven, the microwave, the dishwasher and even the bbq.
Pure Ceramic Pie Plate
The final ceramic option I will discuss are pure ceramic pie plates. Great for making any type of pie, like the previous ceramic baking options you want to be sure you are getting pure ceramic and not ceramic coated bakeware. Again, the only brand I know of that makes these is Xtrema.
How to choose non toxic bakeware
Now that we have gone over the best non toxic bakeware options, I wanted to discuss in more detail how to choose non toxic bakeware including what materials you want to avoid and why.
Avoid non stick bakeware
Non-stick or Teflon coatings that are used by most nonstick cookware brands are made with chemicals like per- and polyfluoroalkyl substances (PFAS) including perfluorooctanoic acid (PFOA). PFOA is a synthetic compound that is used in manufacturing fluoropolymers such as polytetrafluoroethylene, the material used to create nonstick pots and pans and bakeware.
PFOA is persistent in the environment, is not metabolized by the human body, and has a half-life in humans of 2–3.4 years (meaning it stays in your body for many years after you get exposed). We get exposed to PFOA through many different sources including through our cookware, our drinking water, and the air we breathe.
The problem with PFOA and its related chemicals (other PFAS) is that they are toxic chemicals that are known to cause or contribute to many different health problems including many types of cancer, thyroid disease, inflammatory bowel disease, fertility effects, ADHD, elevated cholesterol and more. Hence why you want to avoid tradition non stick cookware and bakeware.
Avoid ceramic coated bakeware
Ceramic coated cookware and bakeware is often advertised as a safe, non toxic or green option compared to non stick cookware, but sadly this is not the case in the majority of cases. I have done an extensive review on this topic before so please refer to that post for more information, but to summarize, the ceramic coatings used by many brands have been found to release titanium dioxide nanoparticles from the non-stick ceramic coating into food.
This is concerning because ingestion of nano titanium dioxide has been shown to cause many different health issues in animal studies including: causing harmful effects on male fertility (including damaging sperm), damaging the liver, testicles, heart, brain, kidneys, as well as altering the gut microbiome. Because of these concerns, France recently banned the use of nano titanium dioxide as a food additive.
Another compound which many non-stick ceramic coated cookware brands use is Thermolon. Besides silicon, it is unknown what other ingredients are in Thermolon so it's impossible to know if these coatings are safe for health or not.
Avoid glazed bakeware
Some ceramic cookware and bakeware brands use glazes and coatings to seal the ceramic. Unfortunately, these glazes can contain harmful chemicals or materials including heavy metals that can leach into food. There are even case reports of people getting lead toxicity from glazed ceramic cookware. This is why you want to avoid any glazed bakeware or glazed ceramic bakeware, unless the brand tests their glazes for heavy metal leaching to ensure they are safe.
Stick to safe bakeware materials
In summary, safe bakeware materials include glass, stainless steel, and pure ceramic. These are the only materials I personally recommend using for baking your food. You want to avoid nonstick bakeware, ceramic coated bakeware, and metal bakeware other than stainless steel.
Shop for my favourite safe bakeware here:
Frequently asked questions:
I hope you found this post helpful! If you have any questions or comments please leave them in the comment section.
Other health info you will like:
References:
Heat stability and migration from silicone baking moulds

Titanium Dioxide Nanoparticles in Food and Personal Care Products—What Do We Know about Their Safety?

Characterisation of food contact non-stick coatings containing TiO2 nanoparticles and study of their possible release into food
Design, methods, and population for a study of PFOA health effects among highly exposed mid-Ohio valley community residents and workers.
Perfluorooctanoic Acid (PFOA) Exposures and Incident Cancers among Adults Living Near a Chemical Plant
Inverse association of colorectal cancer prevalence to serum levels of perfluorooctane sulfonate (PFOS) and perfluorooctanoate (PFOA) in a large Appalachian population
The Navigation Guide – evidence-based medicine meets environmental health: integration of animal and human evidence for PFOA effects on fetal growth.
Exposure to Polyfluoroalkyl Chemicals and Cholesterol, Body Weight, and Insulin Resistance in the General U.S. Population
Association between Serum Perfluorooctanoic Acid (PFOA) and Thyroid Disease in the U.S. National Health and Nutrition Examination Survey
Exposure to perfluoroalkyl substances and thyroid function in pregnant women and children: A systematic review of epidemiologic studies.
Polyfluoroalkyl chemicals in the U.S. population: data from the National Health and Nutrition Examination Survey (NHANES) 2003-2004 and comparisons with NHANES 1999-2000
Exposure to polyfluoroalkyl chemicals and attention deficit/hyperactivity disorder in U.S. children 12-15 years of age