These are the best non toxic deodorants that actually work! Deodorants that are aluminum free, fragrance free, paraben free and phthalate free. You can still smell good while using safe, clean deodorants that are made with natural, healthy ingredients.
Disclaimer: Some of the links in this post are affiliate links whereby if you purchase the product through that link I make a small commission. This does not cost you anything extra and allows me to keep this website running.
Table of Contents
Non Toxic Deodorant Brands
Most of us use deodorant every day. It's one of those products that almost everyone starts using at a young age to keep you smelling good. However, most people don't consider that when we apply deodorant, the ingredients don't stay on the surface of the skin. In fact, many of the ingredients get absorbed through our skin, into our blood stream and can thus impact our internal organs. This would be fine if all the ingredients used in deodorants were good for our health, but unfortunately, many conventional deodorants contain ingredients that can have negative health effects.
Conventional deodorants and antiperspirants can contain many different ingredients including aluminum, triclosan, phthalates, parabens and fragrances that are linked to a number of negative health effects including breast cancer, heart disease, diabetes, obesity, impaired fetal development, hormone imbalances, infertility, allergies, neurological effects, decreased sperm counts and more.
If you are interested in further reading around these issues please see the reference list at the end of this post, or read this article on my favourite safe deodorant or this article which discusses pregnancy safe deodorants where I talk more about them in detail.
Some of the ingredients used in conventional deodorant are also bad for the environment. That's why it's so important to choose non toxic deodorants, natural deodorants, or organic deodorants, which are both good for our health, and good for the environment. And to help you find the best non toxic deodorant brands and organic deodorants I am sharing a round up of my favourite brands that offer non toxic deodorants.
If using healthy products is important to you, you will also love my post on the best non toxic mascaras.
15 Non Toxic Deodorant Brands
Beautycounter Deodorant
The Beautycounter Clean Deo is my personal favourite safe deodorant stick. It neutralizes body odors, goes on clear with no white cast, absorbs sweat, smells amazing, comes in refillable containers (so it's better for the environment) and doesn't contain any harmful ingredients or harmful chemicals. Beautycounter also checks every batch of their products for contaminants to ensure they are truly safe and that unwanted contaminants like benzene don't end up in the product by mistake. Plus it actually works!
You buy the initial deodorant, and then simply purchase the refills once your first one runs out. This way it's better for the environment as it produces less waste.
Beautycounter deodorant is free from parabens, phthalates, triclosan and fragrances and is also scented with essential oils.
My personal favourite scents of the Beautycounter deodorant are the Coconut and Lavender ones. It also comes in a Clean Rose scent and crisp sequoia scent which is popular with men.
Featured Ingredients: Corn starch, coconut oil, sodium bicarbonate, candelilla wax, shea butter, jojoba esters, carnauba wax, beeswax and essential oils.
Size: 60 g / 2.11 oz
Price: $31 USD for the original and then $20 USD for the refills (see below for how to get 20% off)
Beautycounter has been kind enough to give me a 20% discount code for new customers! Simply shop through this link and use the code CLEANFORALL20 at checkout to get 20% off your order (this will work for other products on the site too so if there is anything else you are interested in add it to your cart at the same time).
Primally Pure Deodorant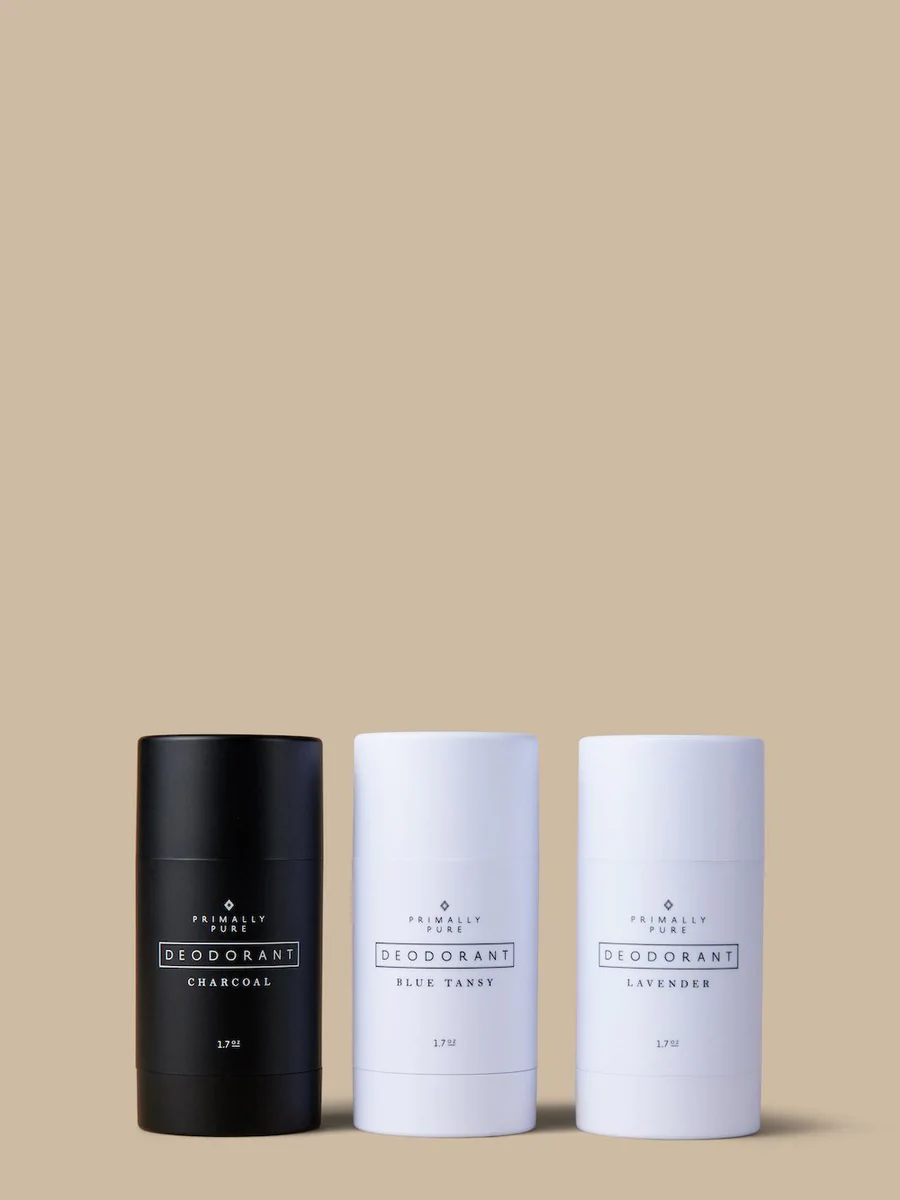 My second favourite non toxic deodorant! The Primally Pure deodorant is also a great option because it's made with all natural ingredients, is paraben free and is only scented with essential oils and contains no artificial or synthetic fragrances.
It also comes in many different scents including lavender, blue tansy, charcoal, geranium, lemongrass, tea tree and unscented. My favourite scents are the lavender and blue tansy. And if you are sensitive to baking soda or have sensitive skin, their baking soda free options are a great choice.
Featured Ingredients: coconut oil, arrowroot powder, tallow from grass-fed cows, baking soda, beeswax, non-nano zinc oxide, kaolin clay, essential oils.
Size: 2.5 ounces or 1.7 ounces
Price: $16 for 1.7 oz or $22 for 2.5 oz (USD)
If you are interested you can get 10% off Primally Pure products by clicking this link and entering the code PUREANDSIMPLE at checkout.
Routine Deodorant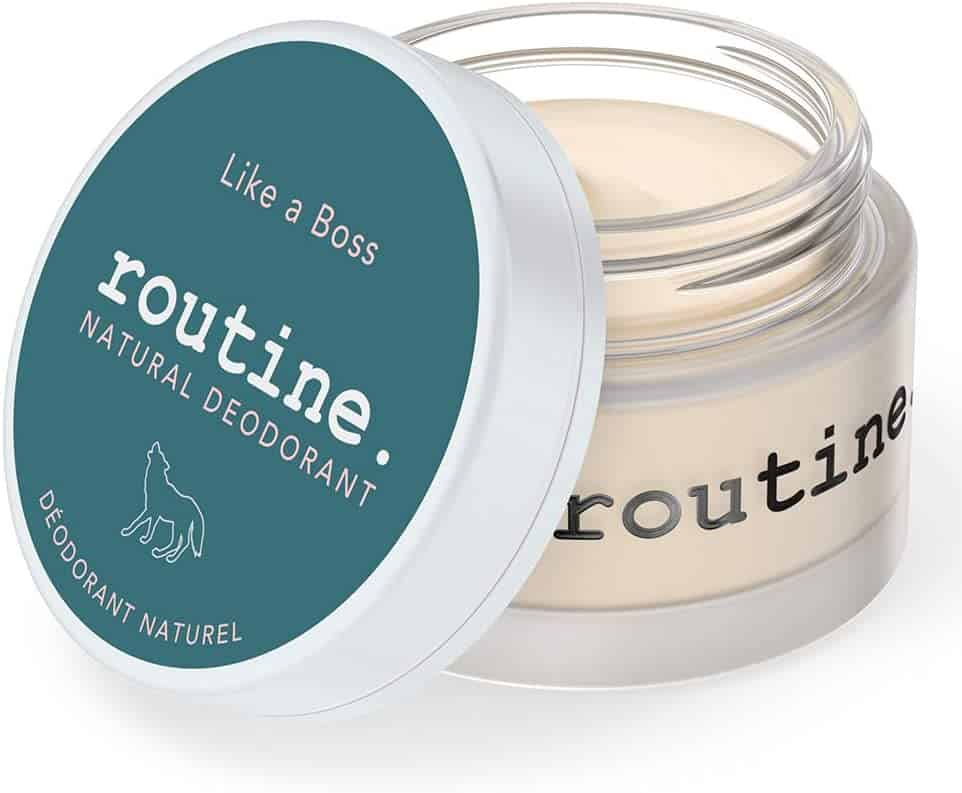 This is a deodorant brand that is locally produced in Calgary where I live, so of course, I had to include them!.
Routine is an all-natural deodorant that comes in glass jars or sticks. The glass jars are refillable. So they are great for the environment as they don't produce any waste.
Routine deodorant comes in over 20 different scents so no matter what smells you like you are sure to find a formula you like. They also offer vegan options, deodorants with charcoal, prebiotics and deodorants without baking soda depending on your needs and sensitivities.
Featured ingredients: cocos oil, magnesium hydroxide, kaolin, corn starch, sodium bicarbonate, beeswax, cacao seed butter, shea butter, essential oils.
Size: 50 grams (stick or jar)
Price: $28 - $42 (CAD)
Ursa Major Deodorant
Another popular natural deodorant brand, Ursa Major deodorant, comes in many different formulas including deodorant sticks and also deodorant sprays.
This award-winning natural deodorant eliminates underarm odor causing bacteria, while absorbing excess moisture and also soothing the skin.
Ursa Major deodorant is formulated without petrochemicals, SLS, SLES, parabens, synthetic fragrance or color, glycols, silicones or PEGs.
Featured ingredients: water, tapioca starch, saccharomyces ferment filtrate, shea butter, essential oils.
Size: 2.6 ounces
Price: $18 USD
Acure Fragrance Free Deodorant
The Acure fragrance free deodorant is another great clean option. It is aluminum free and great for those with sensitive skin. This deodorant stick is made with organic ingredients and is also vegan, certified cruelty-free, paraben free, sulfate free, mineral oil free, petrolatum free and formaldehyde free.
Size: 2.1 ounces or 60 grams
Price: $11.99 USD
BeNat All Natural Deodorant
The BeNat All Natural Deodorant is a great clean deodorant option. It is aluminum free and plastic free and made with all natural ingredients. It is formulated without parabens, phthalates, and talc. This deodorant is scented with essential oils and has long lasting odor protection. This natural deodorant is also eco-friendly and biodegradable. It's formulated for men, women and teens and is more affordable compared to some other deodorants in this list.
Ingredients: coconut oil, beeswax, vegetable emulsifier, cornstarch, baking soda, avocado seed oil, and essential oil.
Size: 3 ounces
Price: $12.99 USD
Soapwalla Deodorant
The Soapwalla deodorant cream is another all natural deodorant that comes in a recyclable jar. It is made with vegetable powder, clay, and essential oils to help keep you odor free. It comes in a variety of scents and their deodorant is vegan and cruelty free.
Featured ingredients: shea butter, corn starch, baking soda, sunflower seed oil, jojoba seed oil, tea tree leaf oil, cocoa seed butter, essential oils.
Size: 58 grams
Price: $18 USD
Each & Every Deodorant
The Each & Every Deodorant is one of the highest rated natural deodorants I have come across. It is made with 6 clean ingredients and essential oils and uses dead sea salt instead of baking soda so it's great for sensitive skin. Since it's made with no baking soda it's great for all skin types and comes in a variety of scents. Each & Every deodorant is EWG verified and made recyclable plant-based packaging made from sugarcane.
Featured ingredients: tapioca starch, earth wax, magnesium hydroxide, essential oils.
Size: 2.5 ounces or 70 grams
Price: $20 USD
Earth Mama Deodorant
Earth Mama makes many great natural products including a clean deodorant. The Earth Mama deodorant is made with baking soda and magnesium yet is still great for those with sensitive skin. It is dermatologist tested for irritation and this cruelty-free deodorant stick contains organic lavender, calendula and coconut oil, and is formulated especially for sensitive skin, pregnancy, and breastfeeding.
Featured ingredients: coconut oil, corn starch, beeswax, arrowroot powder, essential oil.
Size: 2.65 ounces or 75 grams
Price: $12.99
Schmidt's
Schmidt's is another very popular deodorant brand that is easily found in most drug stores and grocery stores. In fact, they were one of the first natural deodorant brands and have been making natural deodorant since 2010!
Schmidt's award winning deodorant is another deodorant stick that comes in many different scents and they also have a sensitive skin formula as well. They use essential oils to scent their deodorants meaning that they are free from synthetic fragrances and are a great clean beauty option.
Ingredients: Magnesium, Coconut Oil, Arrowroot Powder, Fractionated Coconut Oil, Shea Butter, Baking Soda, Vitamin E, Lavandula Angustifolia (Lavender) Oil, Salvia Sclarea (Clary Sage) Oil
Size: 2.6 ounces/ 75 grams
Price: $9.99 USD
Humble
Humble is a natural skincare brand which I just heard of recently. They make a few different personal care products, including natural deodorant sticks.
In addition, they make many different deodorants including vegan formulas and formulas with CBD.
Another great thing about Humble deodorant is that the deodorant containers are made from recycled plastic (75% PCR).
Featured ingredients: caprylic/capric triglycerides, corn starch, baking soda, beeswax, essential oils.
Size: 2.5 ounces or 70 grams
Price: $13.99 USD
Piper Wai Deodorant
The Piper Wai Deodorant comes in both a stick and a jar format depending on your preference. This deodorant is formulated with clean ingredients that absorb moisture, and provide long-lasting odor protection. It is formulated with activated charcoal to help absorb even more moisture and uses a proprietary blend of 11 therapeutic-grade essential oils to give PiperWai deodorant its signature spa-like scent of citrus and mint.
Feature ingredients: tapioca starch, coconut oil, candelilla wax, shea butter, cocoa seed butter, witch hazel leaf extract, activated charcoal, essential oils.
Size: 1.7 ounces or 50 grams
Price: $15.00 USD
Pretty Frank Deodorant
The Pretty Frank Deodorant is another brand that offers natural deodorant in both sticks and jars depending on your preference. Pretty Frank deodorant is made with natural and organic ingredients and is free from harsh chemicals or harsh ingredients. This deodorant uses ingredients that are safe enough to eat, cruelty-free, vegan, sulfate-free, gluten-free, and without parabens or GMOs.
Ingredients: Organic Arrowroot Powder, Caprylic/Capric Triglyceride, Magnesium Hydroxide, Organic Coconut Oil, Brassica Alcohol, Organic Shea Butter, Candelilla Wax, Zinc Oxide, Vitamin E
Size: 2.7 ounces or 77 grams
Price: $13.49 USD
Primal Pit Paste
Primal Pit Paste is another brand of natural deodorant that is owned and sold by Pretty Frank. This deodorant has been on the market for over ten years and has great reviews online. It is made with natural ingredients and comes in a variety of scents.
Ingredients: Caprylic/Capric Triglyceride (Fractionated Coconut MCT Oil), *Manihot Esculenta Powder (Arrowroot Powder), Magnesium Hydroxide (Magnesium), Euphorbia Cerifera (Candelilla Wax), *Cocos Nucifera (Coconut Pulp Extract), Vanilla Planifolia (Vanilla Extract), Tocopherol (Non-GMO Vitamin E Sunflower)
Size: 2 ounces or 56 grams
Price: $14.99 USD
Rocky Mountain Soap Deodorant
Rocky Mountain Soap is another local, Canadian brand who makes so many great natural personal care products, including natural deodorant. In fact, their hand soap is my favorite!
Rocky Mountain Soap makes both deodorant creams and deodorant sticks that also come in many different scents including tea tree, lavender, lemongrass, unscented, citron, geranium, vanilla sage, neroli and spruce.
Another great thing about their jar deodorant (the cream deodorant) is that the jar made from 100% repurposed plastic and is returnable so it's better for the environment and the stick deodorant container is 100% recyclable.
Featured ingredients: coconut oil, abyssinian seed oil, kaolin clay, magnesium hydroxide, and arrowroot powder.
Size: 60 grams of 60 mL
Price: $14 - $24 CAD depending on formula
Think Magnesium Deodorant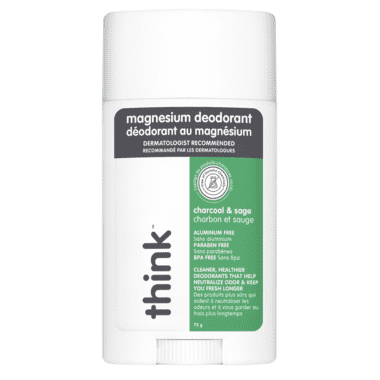 Think makes amazing, high performing natural products and the Think Magnesium Deodorant is no exception. It is a non-toxic deodorant that is infused with coconut oil to help soften the skin. Some of the other ingredients in the Think deodorant are shea butter, jojoba esters, corn starch and magnesium hydroxide. All the ingredients rate a 0 or 1 on the EWG database and this deodorant is produced in the USA. It comes in a variety of scents including coconut and pineapple, rose and lavender and charcoal and sage.
Size: 2.65 ounces or 75 grams
Price: $8.49 USD
Violets are Blue Deodorant
The Violets are Blue baking soda free magnesium deodorant is another great natural deodorant with many five star reviews. It is made with just a few simple ingredients and does not contain any baking soda, aluminum, or essential oils so it's great for those with sensitive skin. It is also formulated with tapioca starch to keep you feeling dry throughout the day, while sunflower oil nourishes skin. This deodorant is also vegan, gluten free and soy free.
Ingredients: magnesium hydroxide, cocos nucifera (coconut) oil, helianthus annuus (sunflower) seed oil, euphorbia cerifera (candelilla) wax, tapioca starch, copemnicia cerifera (camauba) wax, tocopheryl acetate, glyceryl caprylate.
Size: 3.2 oz or 91 grams
Price: $25 USD
Tips for switching to a non-toxic deodorant:
If you are ready to make the switch to a non-toxic deodorant, here are a few tips to help you with the transition:
1. Expect a transition period
When you first switch your deodorant it may take a few days or weeks for your body to adjust. At first, you may even be more sweaty and have a stronger odor. Give your body a couple weeks to adjust to the new formula. One thing that can help with the transition phase is doing armpit detoxes a couple times a week with a charcoal mask.
2. You may need to try more than one product
Every body is different, so a natural deodorant that works well for another person may not work well for you. It may take you a few tries to find the right formula for your body.
Ingredients to avoid in deodorant:
Of course I couldn't review every deodorant on the market, so if you are out shopping for deodorant here is a list of some of the more common ingredients to watch for and avoid. This is not a complete list of harmful ingredients but it is a great place to start. You will need to read the ingredient label in order to see if these ingredients are found in that deodorant. For more information and further reading on some of these ingredients please refer to the reference section at the end of this post. You can also download my free handout on ingredients to avoid in skincare and cosmetics below.
Aluminum
Aluminum used in antiperspirants can clog pores and hinder the body's natural detoxification process (sweating is a way that your body releases toxins, so do don't want to block this process).
The other concern is that long term exposure to aluminum from deodorant can lead to accumulation of aluminum in breast tissue, which may increase your risk of breast cancer. There are a couple ways that aluminum can do this:
Aluminum build up can lead to alterations in DNA which can lead to cancer development.
Aluminum can also interfere with estrogen receptors, and estrogen has a well established role in the development of breast cancer.
Whether or not aluminum in antiperspirants can actually lead to breast cancer is still not clear, as there have been very few studies examining this issue directly, and of the studies that have been done, there have been conflicting results with some showing an increased risk, while others do not.
The most recent study done in 2017, which was a case control study, did show an increased breast cancer risk in those using deodorant or antiperspirant.
Parabens
Parabens are preservatives found in many beauty and skincare. Parabens have weak estrogenic and anti-androgenic activity and can be hormone disruptors or endocrine disruptors. Parabens have been linked to breast cancer, skin cancer, decreased sperm counts and infertility.
Phthalates
Phthalates are used to make products flexible and bendy.
Certain phthalates are known hormone disruptors or endocrine disruptors and have been shown to have many negative health effects including decreasing sperm counts, contributing to heart disease, contributing to early death, weight gain and diabetes.
Phthalates can also be included in a products fragrance formula so also be sure to avoid products with the terms fragrance, perfume or parfum in the ingredient lists.
Ethanolamines (DEA, TEA, MEA)
The European Commission and Health Canada prohibit the use of DEA in cosmetics and personal care products due to concerns regarding the formation of carcinogenic nitrosamines. However, these chemicals are still allowed to be used in other countries.
There is also concern that these chemicals can negatively impact male fertility as in vitro studies have shown they impair sperm motility and viability. Animals studies also shown concering neurological effects. TEA is also an immune and respiratory toxin.
To avoid ethanolamines, look for DEA, TEA and MEA when reading ingredient lists.
PEGS
PEG compounds are formed by condensing water and ethylene oxide. While PEG compounds themselves are usually safe for our health, they can be contaminated with 1,4-dioxane, which is a known carcinogen and because they are penetration enhancers, depending on what other ingredients are in the product, they can potentially make other toxic chemicals more harmful as well.
Talc
Talc is used in the personal care industry for many different reasons including to increase absorbency, as an anti-caking agent, bulking agent, and anti-slip agent. The problem with talc is that it can often be contaminated with asbestos which is a known carcinogen and can cause respiratory toxicity.
Studies done by the National Toxicology Panel have also demonstrated that cosmetic-grade talc free of asbestos is a form of magnesium silicate that also can be toxic and carcinogenic.
Fragrance
The issue with fragrances is that they are considered to be trade secrets, meaning that companies don't have to disclose the ingredients they use to make up their fragrances. The problem with this is that fragrances can be made with many different ingredients, including potentially harmful ingredients like endocrine disruptors such as phthalates and parabens. Avoid any deodorants with the word "fragrance", "perfume" or "parfum" in the ingredient list.
Propylene glycol
Propylene glycol can be irritating to the skin and can cause allergic reactions.
Frequently asked questions:
Is Dove a safe deodorant? 
Dove's deodorants and antiperspirants are not safe or non toxic. Moreover, some of their products contain aluminum which is a big no-no. And in fact, all of them contain fragrances (even the ones labelled as "fragrance free"). Fragrances often contain ingredients that are hormone disruptors. And can also have other negative health effects.
Why is baking soda bad in deodorant?
Baking soda itself isn't bad, but some people are sensitive to it. Baking soda is very alkaline with a pH of around 8.3, so when it's used in deodorant, especially in larger concentrations, a reaction can occur with your slightly acidic skin where you may develop a rash or redness.
How do you detox your armpits? 
Detoxing your armpits is where you mask your armpits using a charcoal mask or clay mask. In addition, this can help with the transition from switching from conventional deodorant to natural or non toxic deodorant.
Other health information you will like:
Since you made it this far we are basically best friends so be sure to follow me on Instagram, Pinterest, TikTok and Facebook where I share even more recipes and healthy living tips! 
Our expertise:
Dr. Erin Carter, MD, FRCPC, is a physician with board certifications in internal medicine and rheumatology. She is passionate about nutrition, environmental health and low toxicity living and has been doing research and publishing information in this area for years. She is also a self-trained chef and has been creating and publishing recipes since 2015. Her recipes have been featured on many different websites and online publications.
References: