Lavender Vanilla Popsicles are the perfect summer treat. So easy to make and so, so tasty, these vanilla popsicles are going to become your new favourite paleo and vegan dessert. When it's hot outside these popsicles will be the perfect way to cool off.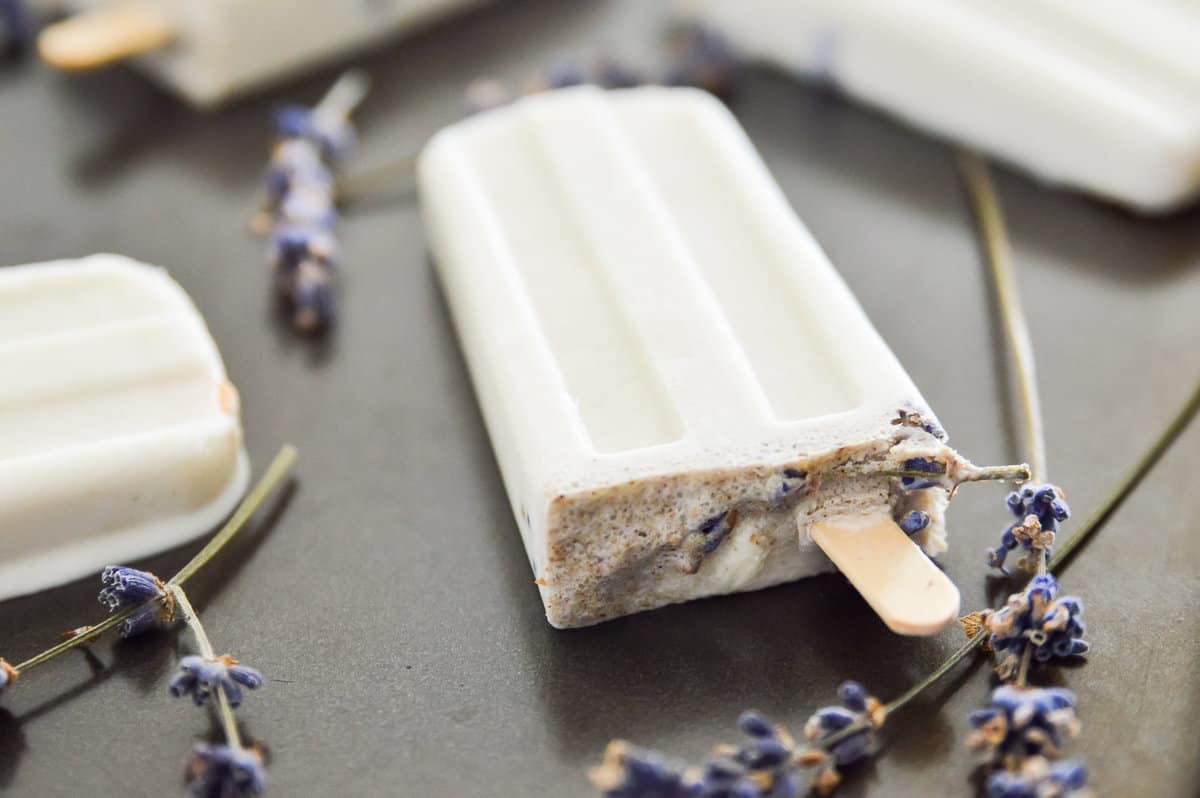 Is there anything that screams summer more than popsicles? I think not. Well maybe ice cream. Ice cream and popsicles are both summer food staples in my opinion. And before summer ended I needed to share at least one popsicle recipe with you. So this week we are eating these Lavender Vanilla Popsicles. These popsicles were inspired by my recent trip to BC where there was lavender everywhere. Literally everywhere. My parents had bushels and bushels of it in their backyard. So of course I had to take a bunch home with me. If you love lavender you are going to love these Lavender Vanilla Popsicles.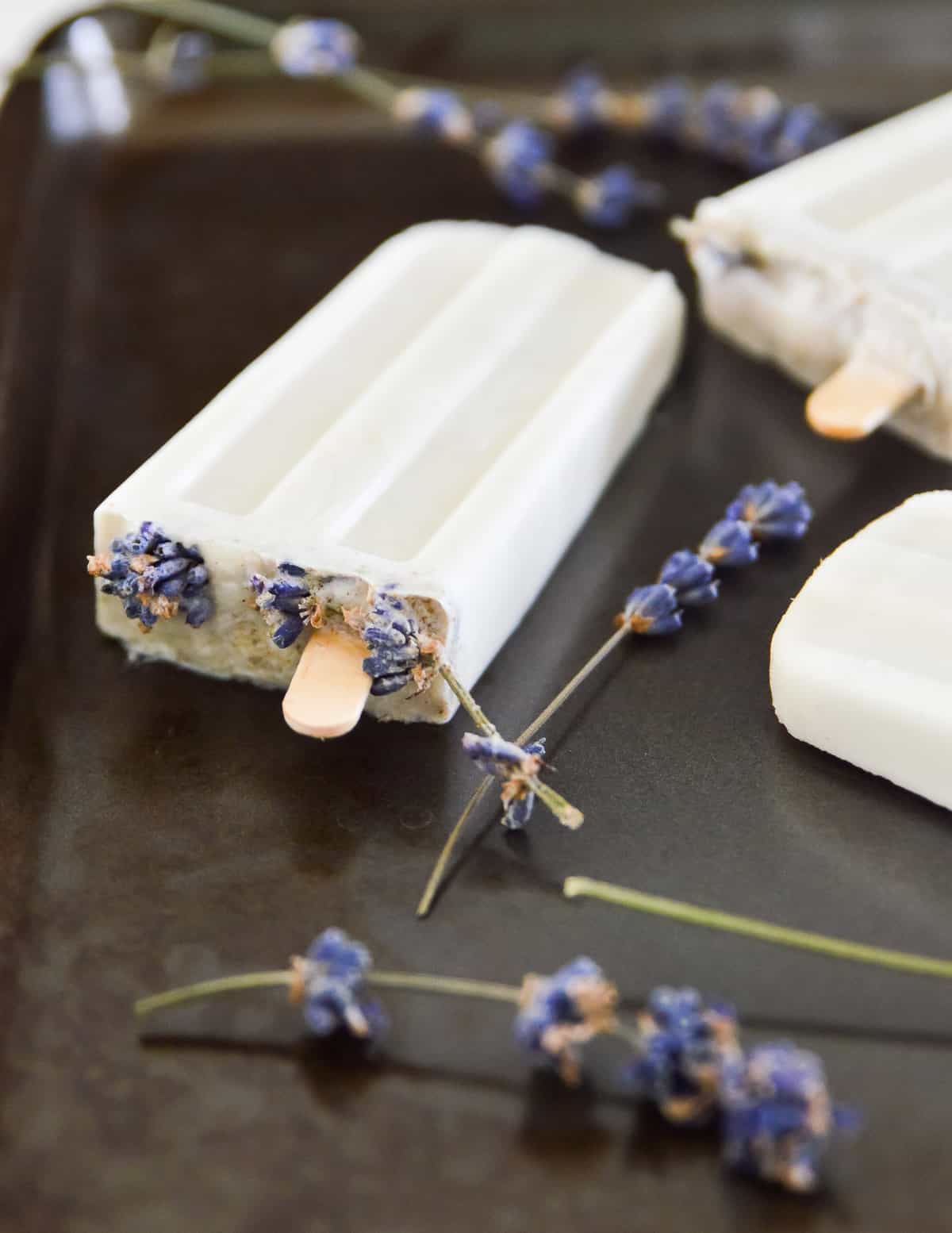 As I write this post I am currently hibernating indoors. I am on vacation at my parents house in BC but it is so insanely smokey that we can't go outside. If you follow me on Instagram you have seen my stories and how bad it is. At the moment we can't even see the lake the smoke is so thick. Every time I go outside I get an instant headache and sore throat. It's so, so sad. I was supposed to be spending this vacation laying outside in the sun reading by the pool. Because lord knows that this girl needs some good rest and relaxation. I've been working pretty crazy hours between my actual work, Beautycounter, and the blog. If you haven't figured it out by now I am a pretty driven person, and have a hard time taking days off and getting rest. It's great for productivity, not so great for healing. And since I am still working on healing my gut from my post infectious colitis I am trying to make resting more of a priority. Trying being the optimum word there….
Speaking of resting, so far on this trip I have read two books. Girl Wash Your Face and Educated. I Loved Educated. Like loved! One of the best books I have read in a long time. I honestly cannot believe the upbringing that girl had. It's insane. It's stories like that that make me so grateful for the parents and the family that I do have. And sadly I really didn't like Girl Wash Your Face. I had heard so many great things about the book that I had high hopes for it and was really hoping to be inspired. Sadly the book didn't resonate with me at all. I think mainly because I am not a mother and not religious. Basically all I took from the book was: set your goals, work hard, ask for help when you need it. Things I all knew before. Luckily it only took me a day to read so I didn't waste too much time on it…
Today we are enjoying some Lavender Vanilla Popsicles. I honestly don't know what inspired me to create this recipe other than the fact that I had a lot of lavender and wanted to use it. I personally love lavender. Both the smell and the taste. I find it extremely grounding. I also realize that lavender is one of those things you either love or hate. Both the smell and the taste. So if you are one of the lavender haters out there I apologize as this recipe probably isn't for you. But these Lavender Vanilla Popsicles are paleo, vegan, SCD, GAPS and AIP friendly. How great is that? Whatever your dietary restrictions, pretty much everyone can enjoy these popsicles. Plus there are only 5 ingredients in these popsicles and they come together in just seconds in your Vitamix (or other blender). And if you really don't like lavender you could simply turn these into vanilla popsicles by leaving it out.
If you don't love lavender you will probably love my Paleo Strawberry Vanilla Popsicles or Raspberry Coconut Popsicles instead. Or if ice cream is more your thing I have a ton of recipes to make you happy including Avocado Mint Chocolate Chip Ice Cream, Paleo Chocolate Ice Cream or Paleo Double Berry Coconut Ice Cream.
If you aren't already don't forget to follow me over on Instagram and Facebook. I share things on those feeds that I never share here so you don't want to miss out.
You might also like:
Paleo Strawberry Vanilla Popsicles
Paleo Double Berry Coconut Ice Cream
Lavender Vanilla Popsicles
(Paleo, Vegan, AIP, GAPS, SCD)
Instructions
Place all the ingredients into your Vitamix Blender and blend well until smooth

Transfer the blended ingredients to your popsicle molds

Freeze for ~3 hours (or until fully frozen)

Remove from the freezer and run the molds under hot water for a few seconds to make the popsicles easier to remove
Pin this recipe for later: