Sweet Curry Cashews and Almonds are going to become your new favourite go to snack. Not only are these Sweet Curry Cashews and Almonds super easy to make but they are the perfect combination of sweet and savoury crunchy goodness. You might even want to make a double batch of these Sweet Curry Cashews and Almonds, they are just that good!
Sweet Curry Cashews and Almonds are what we are snacking on this week. I have been getting more and more requests for healthy, easy to make snack foods so I am trying to give you what you want. These nuts only take minutes to make and make the perfect, sweet yet savoury, crunchy snack.
You may have noticed that I haven't posted for a few weeks. To be honest I have just been feeling pretty burned out and un-inspired recently. I have been thinking about giving up blogging altogether almost daily for the last 6 months so I decided it was time to take some time away from it to give myself a break. I am sure being as sick as I have been for the last few months with C.diff hasn't helped anything either. So I went to Florida, soaked up the sun, read amazing books, went for runs on the beach and didn't worry about the blog at all. It was lovely.
If you are a reader like me, I read four amazing books while I was on vacation: The Women in the Castle, My Grandmother Sends Her Regards and Apologies, The Silver Star and Alias Grace. Of the four, my favourite was probably My Grandmother Sends Her Regards and Apologies but they were all actually really good.
I must admit that coming back home to snow and cold was not easy. If I could have spent another four weeks in Florida in the sunshine I would have. Sadly, real life doesn't just stop when I go on vacation. My patients wouldn't do so well if I abandoned them for six weeks. Not well at all. So it's back to the real world for me. Although I am feeling much more refreshed than before I left. Sadly my guts still aren't doing great. I now have post-infectious colitis so I am trying to deal with that as best as I can. They may need me to have a colonoscopy which I am really not wanting to do. So if you guys have any ideas of things I can do to help heal please send me your thoughts! Right now I am using bone broth (I love this brand), probiotics, L-glutamine (buy here), zinc, DGL (this is the brand I am using), digestive enzymes (this is the kind I use), psyllium husk (for prebiotics) and saccharomyces (this is a type of yeast that is great for healing antibiotic related diarrhea). I am also planning to start getting acupuncture soon as well. But any additional ideas are welcomed and appreciated!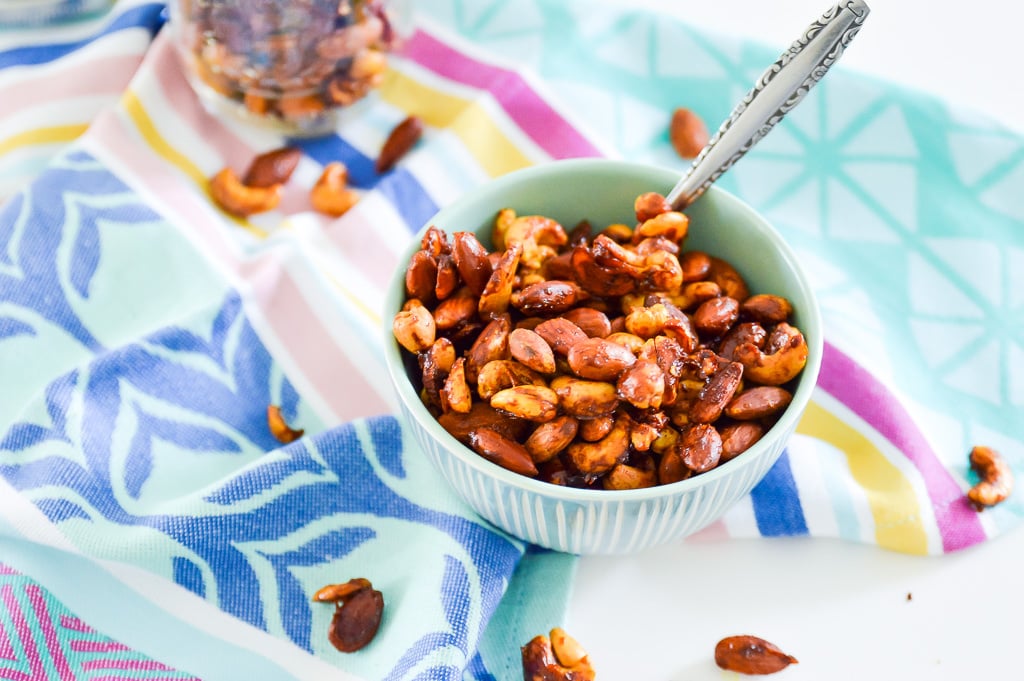 I think you guys are going to like this week's recipe. These Sweet Curry Cashews and Almonds are a new favourite snack in our house. I know that finding healthy, easy to make snacks are hard when you have dietary restrictions so I am trying to come up with more snack recipes for all of you. I have a few other great ones on the blog already like Roasted Honey Dijon Pecans, Slightly Sweet Grain Free Granola (which is even Whole30 compliant), Paleo Morning Butter Biscuits, and Paleo Orange Chocolate Energy Balls. If you head to the Snacks Section of the blog you will find even more delicious options!
Now for any of you dealing with any gut issues or working on gut healing, I highly recommend soaking and dehydrating your nuts before eating them. This will help neutralize the protective enzymes contained in nuts which make them hard on the digestive tract. I have found that soaking and dehydrating nuts has made a huge difference in my ability to digest them. I really don't tolerate nuts well unless they have been prepared this way. I will be publishing a guide next week that outlines just exactly how to soak and dehydrate nuts. Because each type of nut and seed requires a different soaking time, dehydrating time and dehydrating temperature (just to make things more confusing right?). I invested in an Excalibur Dehydrator last year (this is the one I got) for this purpose and, not to sound overly dramatic, but it has changed my life. It has made dehydrating large batches of nuts so much easier. I try and do a big batch of nuts every few months so that I don't have to go through the process frequently. Not that it's hard, but it does take time, and I know that none of us like spending hours on end in the kitchen. Because who has time for that?
Learn how to soak and dehydrate your nuts and Seeds by clicking here
https://www.pureandsimplenourishment.com/why-you-should-soak-and-dehydrate-nuts-and-seeds/
You might also like
Chocolate Avocado Mousse (Paleo, Vegan, GAPS)
Slightly Sweet Grain Free Granola (Paleo, Whole30, Vegan, GAPS, SCD)
Paleo Chocolate Raspberry Cups (Vegan, GAPS)
I would love to hear what you think of these Sweet Curry Cashews and Almonds!
Until next time, happy eating friends!
Sweet Curry Cashews and Almonds
(Paleo, Vegan, GAPS, SCD)
Ingredients
2 1/2

cups

raw cashews

preferably soaked and dehydrated first for easier digestion

1 1/2

cups

raw almonds

preferably soaked and dehydrated first for easier digestion

3

tbsp

avocado oil

3

tbsp

honey or maple syrup

Note: use honey for SCD and GAPS and maple syrup for vegan

2

tbsp

organic curry powder

1/2

tsp

sea salt
Instructions
Preheat your oven to 325F

Place the cashews and almonds in a large glass or ceramic bowl

Add the remaining ingredients and combine well with a spoon

Line a baking sheet with parchment paper

Spread the nuts evenly on the parchment paper

Place in the oven and bake for 30 minutes

Remove from the oven and let cool for ~20 minutes
Pin this recipe for later: