These are the best pregnancy safe deodorant brands. Brands that are free from hormone disruptors, parabens, aluminum, phthalates, artificial fragrances, and other ingredients that can be harmful to your health, and the health of your baby.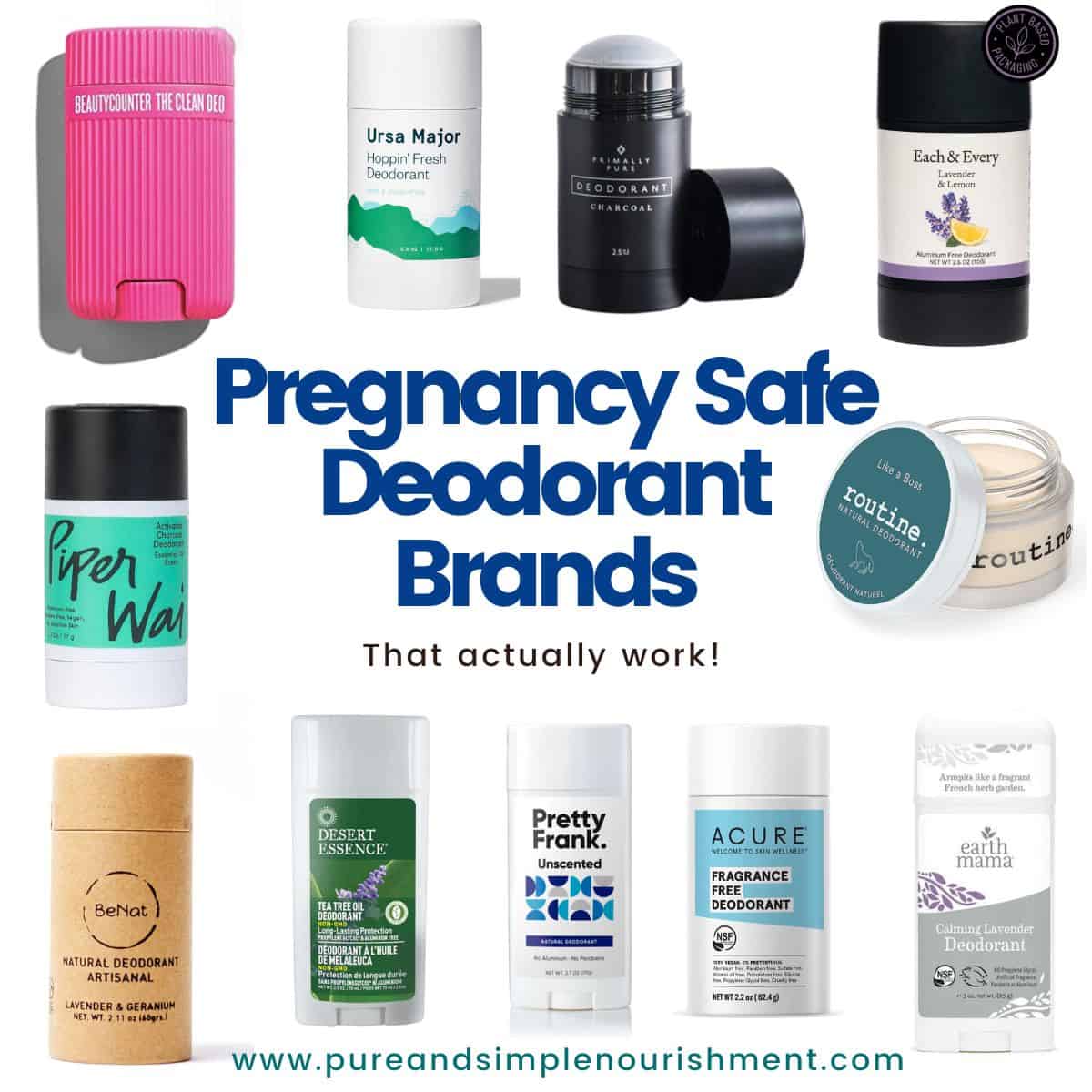 There are a lot of changes that happen to your body when pregnant. The hormone shifts that happen during pregnancy can cause some women to sweat more than usual. Some women also notice a change in the smell or odour of their sweat when pregnant. With all these changes, having a good smelling deodorant on hand can be so helpful. Deodorants can help keep you smelling good all day so that you never have to worry about your body odors or any excessive sweating.
However, when you are pregnant, there are some ingredients and active ingredients in personal care products that you need to stay away from for health and safety reasons. There are some ingredients in deodorants that can be teratogenic or are unsafe in pregnancy, and there are other ingredients that can be hormone disruptors or even possibly carcinogens that you will want to avoid (even when you aren't pregnant). With all this in mind I thought it was important to share the ingredients you need to watch for in deodorants, and the best pregnancy safe deodorants for you to choose from.
14 Pregnancy Safe Deodorant Brands
Before we get into the best deodorants for pregnancy, I thought it was important to quickly review some of the ingredients you want to watch for and avoid in deodorants (both when you are pregnant and when you aren't pregnant). If you want to do more reading around these ingredients, please see the references at the end of this post.
Ingredients to avoid in deodorant:
Aluminum
It's been shown that long-term exposure to aluminum from deodorant can lead to the accumulation of aluminum in breast tissue, which may increase the risk of breast cancer. There two main ways that aluminum can do this:
Aluminum accumulation can lead to alterations in DNA which can contribute to cancer development.
Aluminum can interfere with estrogen receptors, and estrogen has a well established role in the development of breast cancer.
However, whether or not aluminum in antiperspirants actually leads to breast cancer is still not clear. As there have been very few studies examining this issue. And of the studies that have been done, there have been conflicting results with some showing increased risk, and some not. However, since there are many other safer ingredients that can be used in deodorant instead of aluminum, why bother taking that risk if you don't need to?
When it comes to pregnancy, aluminum is especially concerning as aluminum is known to be toxic to all fetal developmental stages during pregnancy, even at low concentrations.
The other issue with aluminum in antiperspirants is that it can clog pores and alter the body's natural detoxification process (sweating is a way that your body releases toxins. So you don't want to block this process, especially during pregnancy).
Parabens
Parabens are preservatives found in many skincare products to help increase their shelf life. In fact, Parabens have weak estrogenic and anti-androgenic activity, meaning that they are hormone disruptors or endocrine disruptors. Hormone disruptors can lead to many health problems. Parabens are linked to breast cancer, skin cancer, decreased sperm counts and infertility. That is why it's so important to choose a paraben free deodorant. Especially when you are pregnant so you're developing baby doesn't get exposed to these hormone disrupting chemicals.
Tricolsan
Triclosan is a common antibacterial chemical. Like parabens, tricolasn is an endocrine disruptor and it also has been linked to breast cancer. Sadly it's also bad for the environment because it doesn't break down and ends up in our water systems and is toxic to aquatic life. Fortunately, in 2017, triclosan was banned from soaps. But it is still allowed in other products, including deodorant.
Phthalates
Another class of hormone disrupting chemicals, phthalates, are used to help scents and fragrances last longer. If you can still smell your personal care products (such as body lotion, deodorant, or shampoo) a few hours after using them that is a good sign there are phthalates in that product. Because phthalates are often used in the fragrances that make up a product, they are often not listed on the ingredient list, making it very hard for you to know if your deodorant or other products do contain phthalates.
Especially concerning for pregnant women, phthalates can cross the placenta and have been shown to impact fetal development, and "phthalate exposure is associated with a shorter duration of pregnancy" -so you'll want to be sure to avoid any deodorants with phthalates or the word "fragrance" in the ingredient list.
Fragrances
If you look at the ingredient list do you see the words "fragrance", "parfume" or "scent"? If so that means there are fragrances in that deodorant. The problem with fragrances is that they are trade secrets. This means that a company doesn't have to disclose any of the ingredients used to create that fragrance. Hidden in that term could be hundreds of chemicals that are harmful to your health, and you don't get to know what any of them are. Fragrances often contain ingredients that are hormone disruptors (including parabens and phthalates) and they can also contain ingredients that are carcinogens, allergens, airway irritants, neurological-toxins and ingredients linked to infertility, hence why you want to avoid them.
Now that we've gone over the ingredients in deodorant that you'll want to avoid during pregnancy (and all the time really) let's go over the best pregnancy safe deodorant brands.
Pregnancy Safe Deodorant Brands
Beautycounter Deodorant
This is my personal favourite pregnancy safe deodorant stick. It neutralizes body odors, absorbs sweat, smells amazing, comes in refillable containers (so it's also better for the environment) and doesn't contain any harmful ingredients or harmful chemicals. You buy the initial deodorant, and then simply purchase the refills once your first one runs out. This way it's better for the environment as it produces less waste. It is free from parabens, phthalates, triclosan and fragrances. In fact, it's scented with essential oils, which are safe for pregnancy. Also made with shea butter. So it helps nourish and hydrate that sensitive underarm skin.
Beautycounter also checks all their products for contaminants to ensure they are truly safe. Plus it actually works! So if you are like me you might have tried other safe or natural deodorants that didn't work at all and left you a sweaty mess.
My personal favourite scents of the Beautycounter deodorant are the Coconut and Lavender ones.
Beautycounter has been kind enough to give me a 20% discount code for my readers! Simply shop through this link and use the code CLEANFORALL20 at checkout to get 20% off your order (this will work for other products on the site too so if there is anything else you are interested in add it to your cart at the same time).
Primally Pure Deodorant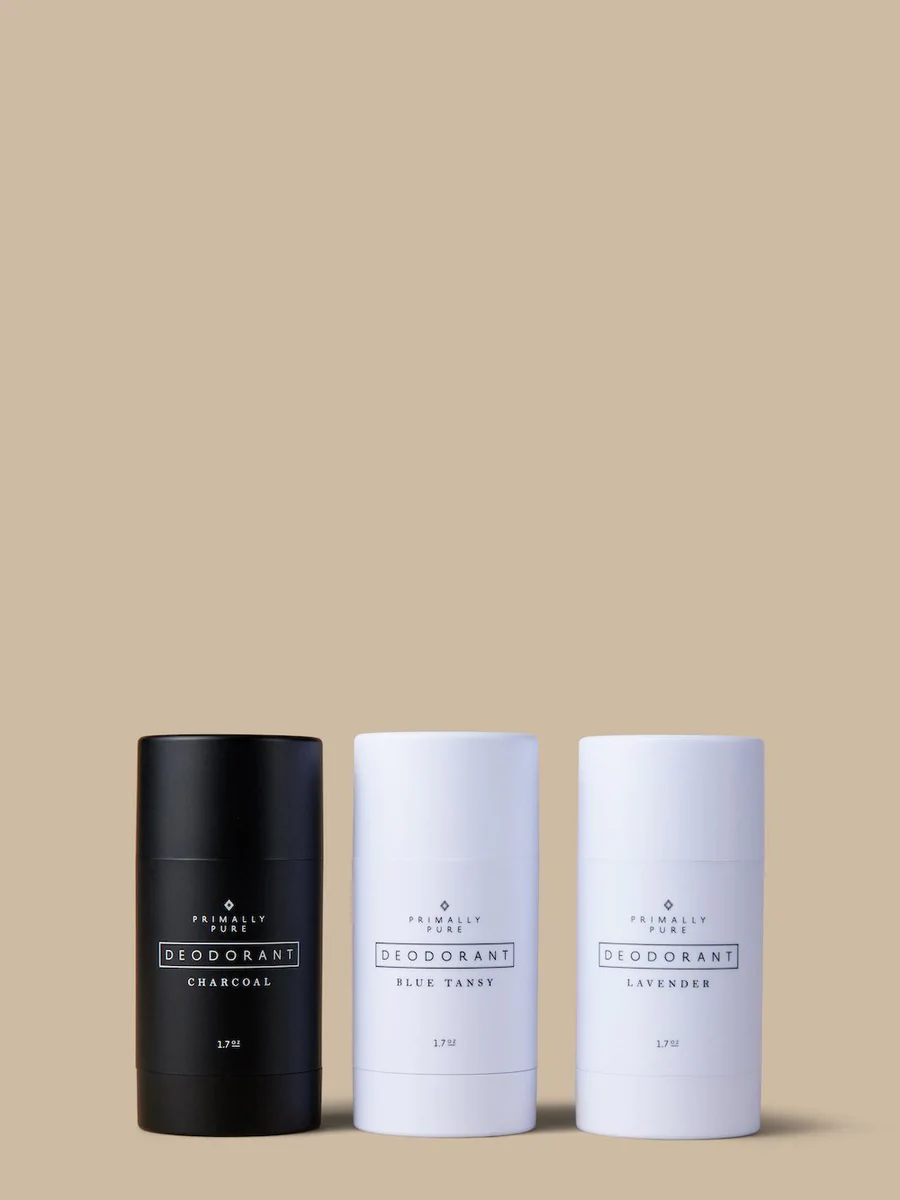 My second favourite pregnancy safe deodorant sticks. This is the brand of deodorant I used until I found Beautycounter. The Primally Pure deodorant is also a great option because it's made with all natural ingredients, is paraben free and only scented with essential oils. Other ingredients in the Primally Pure deodorant include grass-fed tallow, fair trade coconut oil, arrowroot powder, beeswax, kaolin clay (to help detoxify and non-nano zinc oxide (to help soothe irritation).
My favourite scents are the lavender and blue tansy. And if you are sensitive to baking soda or have sensitive skin the baking soda free options are also a great choice.
You can also get 10% off Primally Pure products by clicking this link and using the code PUREANDSIMPLE at checkout.
Routine Deodorant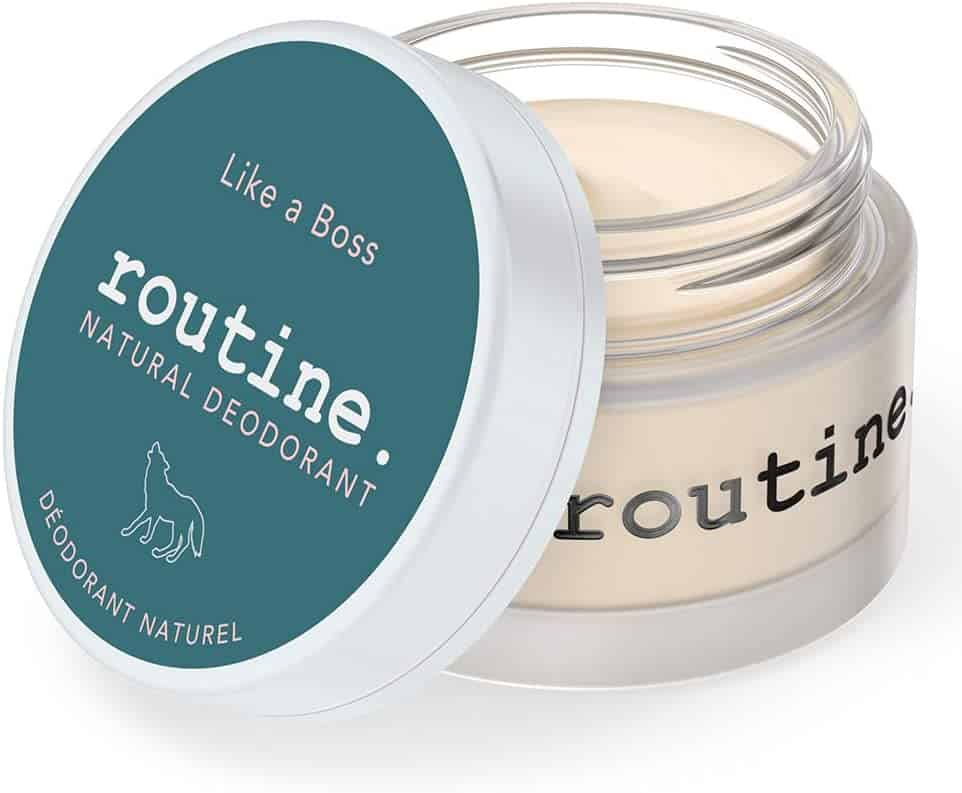 Routine is a brand that is locally produced in Calgary where I live, so of course, I had to include it here. It is an all-natural deodorant that comes in glass jars or sticks. In addition, you can get refills because these deodorants come in glass and jars. Which cuts down on waste and is better for the environment. Routine deodorant is also free from parabens and other harmful chemicals and comes in many different scents. There is also a baking soda free option for those who are sensitive to baking soda.
I don't have a discount code for Routine deodorant but you can shop for it here.
Schmidt's Deodorant
Schmidt's is another very popular non toxic deodorant brand that is easily found in most drug stores and grocery stores. In fact, they were one of the first natural deodorant brands and have been making natural deodorant since 2010!
Schmidt's deodorant is another deodorant stick that comes in many different scents and they also have a sensitive skin formula as well.
Some of the ingredients in Schmidt's deodorant include: Magnesium Hydroxide, Coconut Oil, Arrowroot Powder, Fractionated Coconut Oil, Shea Butter, Baking Soda, Candelilla Wax, and Vitamin E. They use essential oils to scent their deodorants meaning that they are free from synthetic fragrances and are a great clean beauty option and safe for pregnancy and breast feeding.
I don't have a discount code for the Schmidt's deodorant but you can shop for it here.
Ursa Major Deodorant
Another popular natural deodorant that is safe for pregnancy and breast feeding, Ursa Major deodorant, comes in many different formulas including deodorant sticks and also deodorant sprays.
This award-winning natural deodorant eliminates underarm odor causing bacteria, while absorbing excess moisture and also soothing the skin.
Ursa Major deodorants are formulated without petrochemicals, SLS, SLES, parabens, synthetic fragrance or color, glycols, silicones or PEGs.
You can shop for the Ursa Major deodorant here.
Acure Fragrance Free Deodorant
The Acure fragrance free deodorant is another great clean deodorant option that is safe for pregnancy and breastfeeding. This deodorant stick is aluminum free and great for those with sensitive skin. Acure deodorant is made with organic ingredients and is also vegan, certified cruelty-free, paraben free, sulfate free, mineral oil free, petrolatum free and formaldehyde free.
BeNat All Natural Deodorant
The BeNat All Natural Deodorant is a great clean deodorant option that is safe for breastfeeding and pregnancy. It is aluminum-free and plastic-free and made with all natural ingredients. It is formulated without parabens, phthalates, and talc. This deodorant is scented with essential oils and has long lasting odor protection. This natural deodorant is also eco-friendly and biodegradable.
Each & Every Deodorant
The Each & Every Deodorant is one of the highest rated natural deodorants I have found. It is made with six clean ingredients and essential oils and uses dead sea salt instead of baking soda so it's perfect for sensitive skin. Since it's made without baking soda it's great for all skin types and comes in a variety of scents. Each & Every deodorant is EWG verified and comes in recyclable plant-based packaging made from sugarcane.
Earth Mama Deodorant
Earth Mama makes many great natural products including a clean deodorant that is safe for both pregnancy and breastfeeding. The Earth Mama deodorant is made with baking soda and magnesium yet is still great for those with sensitive skin. It is dermatologist tested and this cruelty-free deodorant stick is made with organic lavender, calendula and coconut oil, and is formulated especially for sensitive skin, pregnancy, and breastfeeding.
Desert Essence Deodorant
Another deodorant brand that is easily found in drug stores and grocery stores that is safe for both pregnancy and breast feeding is the Desert Essence Deodorant. This deodorant is free of chemicals like propylene glycol and aluminum that can irritate the skin and this formula is also cruelty free and vegan. The Desert Essence deodorant is also one of the more affordable safe deodorant options.
Native Deodorant
Native deodorant is one of the more popular and readily available natural deodorant brands. In fact, many grocery stores and drug stores carry the Native deodorant. It's aluminum free, paraben free, synthetic fragrance free and also free of other harmful chemicals. It also comes in many different scents and there are ones for both men and women.
I would personally only recommend using their unscented option, as they don't disclose the ingredients in their fragrances which always makes me a little hesitant because we don't know exactly what ingredients they are using in those fragrances.
I don't have a discount code for Native deodorant but you can see all the scents and versions that are available here.
Piper Wai Deodorant
The Piper Wai Deodorant comes in both a stick and a jar, depending on your preference. This deodorant is formulated with clean ingredients that absorb moisture, and provide long-lasting odor protection and that are safe for pregnancy and breast-feeding. This deodorant is formulated with activated charcoal to help absorb sweat and moisture and uses a blend of 11 therapeutic-grade essential oils to give PiperWai deodorant its signature spa-like scent of citrus and mint.
Pretty Frank Deodorant
Pretty Frank Deodorant is another pregnancy safe deodorant brand that offers natural deodorant in both sticks and jars depending on your preference. Pretty Frank deodorant is made with natural and organic ingredients and is free from harsh ingredients. This deodorant uses ingredients that are safe enough to eat, cruelty-free, vegan, sulfate-free, gluten-free, and without parabens or GMOs.
Rocky Mountain Soap Deodorant
Rocky Mountain Soap is a local, Canadian brand who makes so many great natural personal care products, including natural deodorant. In fact, their hand soap is my favorite!
Rocky Mountain Soap makes both deodorant creams and deodorant sticks that also come in many different scents including tea tree, lavender, lemongrass, unscented, citron, geranium, vanilla sage, neroli and spruce. All of their deodorants are safe for pregnancy and breast feeding.
Some of the ingredients in the Rocky Mountain Soap deodorant include: coconut oil, abyssinian seed oil, kaolin clay, magnesium hydroxide, and arrowroot powder. You'll love to know that it's also vegan and GMO free.
You can shop for the Rocky Mountain Soap deodorant here.
Frequently asked questions:
Is Degree Deodorant safe for pregnancy?
Sadly no. Most of the Degree deodorants contain aluminum which are not safe to use when pregnant. And even though Degree has started making some aluminum free deodorants, they all still contain fragrances. And Degree doesn't disclose the ingredients used to make their fragrances, so you have no idea what is actually in them. For those reasons I wouldn't recommend using them during pregnancy (or anytime for that matter).
Is Dove Deodorant safe for pregnancy?
Dove's deodorants and antiperspirants are not safe for pregnancy. Some of their products contain aluminum which is a big no-no, and all of them contain fragrances (even the ones labelled as "fragrance free") which is also a big no-no when it comes to pregnancy.
Can you use regular deodorant during pregnancy?
Many regular deodorants are not safe to be used in pregnancy as they contain aluminum, fragrances, and other potentially harmful ingredients. You will want to stick to deodorant brands that are aluminum free, fragrance free, paraben free and phthalate free while you are pregnant or breast feeding.
Is Dove's 0% Aluminum safe for pregnancy?
No, the Dove aluminum free deodorant would not be considered safe for pregnancy or breast feeding as it contains fragrances, which can contain endocrine disruptors or hormone disruptors.
I hope this information was helpful! If you have any questions about the best pregnancy safe deodorant brands please reach out and I would be happy to chat.
Since you made it this far we are basically best friends so be sure to follow me on Instagram, Pinterest, TikTok and Facebook where I share even more recipes and healthy living tips!
Other health information you will like:
References:
2. Underarm antiperspirants/deodorants and breast cancer.
4. McGrath KG. An earlier age of breast cancer diagnosis related to more frequent use of antiperspirants/deodorants and underarm shaving.
5. Darbre PD. Aluminium, antiperspirants and breast cancer.
6. Darbre PD, Mannello F, Exley C. Aluminium and breast cancer: Sources of exposure, tissue measurements and mechanisms of toxicological actions on breast biology.
7. Willhite CC, Karyakina NA, Yokel RA, et al. Systematic review of potential health risks posed by pharmaceutical, occupational and consumer exposures to metallic and nanoscale aluminum, aluminum oxides, aluminum hydroxide and its soluble salts.
8. Mirick DK, Davis S, Thomas DB. Antiperspirant use and the risk of breast cancer.
9. Fakri S, Al-Azzawi A, Al-Tawil N. Antiperspirant use as a risk factor for breast cancer in Iraq.
10. Dieterich M, Stubert J, Reimer T, Erickson N, Berling A. Influence of lifestyle factors on breast cancer risk.
11. Breast Cancer and Deodorants/Antiperspirants: a Systematic Review
12. Potential interference of aluminum chlorohydrate with estrogen receptor signaling in breast cancer cells
13. Use of Underarm Cosmetic Products in Relation to Risk of Breast Cancer: A Case-Control Study
14. Human exposure to endocrine disrupting compounds: Their role in reproductive systems, metabolic syndrome and breast cancer. A review.
15. Methylparaben stimulates tumor initiating cells in ER+ breast cancer models.
16. Parabens can enable hallmarks and characteristics of cancer in human breast epithelial cells: a review of the literature with reference to new exposure data and regulatory status.
17. Epigenetic alterations induced by genotoxic occupational and environmental human chemical carcinogens: A systematic literature review.
18. Fragrance: emerging health and environmental concerns.
19. Environmental Determinants of Chronic Disease and Medical Approaches: Recognition, Avoidance, Supportive Therapy, and Detoxification.
20. Inhibition of Polyisoprenylated Methylated Protein Methyl Esterase by Synthetic Musks Induces Cell Degeneration.
21. Prenatal Exposure to Aluminum and Status of Selected Essential Trace Elements in Rural South African Women at Delivery
22. In Utero Exposure to Aluminium and Other Neurotoxic Elements in Urban Coastal South African Women at Delivery: An Emerging Concern
23. Aluminum reproductive toxicity: a summary and interpretation of scientific reports