This post will review the best non toxic body lotions and creams. Lotions that are made from healthy ingredients, and are free from parabens, phthalates, artificial fragrances and irritants. Many of these moisturizers are organic, cruelty free and natural too.
Most people have at least one body lotion in their home. These moisturizers can help skin stay moisturized, lock in hydration, smooth the skin, and can also help you smell really nice. Some lotions even come with added benefits and properties such as including ingredients like collagen, certain vitamins and minerals or having anti-aging properties.
Unfortunately, not all body lotions are created equally. Some contain ingredients that are not so great for our health. Sadly, the regulations for the personal care industry are rather lacking in many countries (including both Canada and the US), which means that harmful ingredients, toxic chemicals, toxic ingredients, synthetic fragrances, and other skin irritants can end up in the products that are sold on shelves. That is why it's important to always read product labels and only choose personal care products, such as body lotions, creams and moisturizers, that are made with safe, non-toxic ingredients.
The reason this is so important is that our skin is our largest organ, and many of the ingredients that we put on our skin get absorbed directly into our bloodstream, meaning that they can then impact every organ in our body. This is why it's so important that the ingredients you are using on your skin be safe for health.
When it comes to body lotions, luckily there are now many brands that make your health and safety their priority, and formulate their products with safe ingredients. More and more brands are using natural, organic ingredients that are also often vegan, cruelty free, fragrance free and nontoxic.
In this post I will share a round up of the best non-toxic body lotions that are great for many different skin types, ages and budgets.
Non Toxic Body Lotion Roundup
Beautycounter Hydrating Body Lotion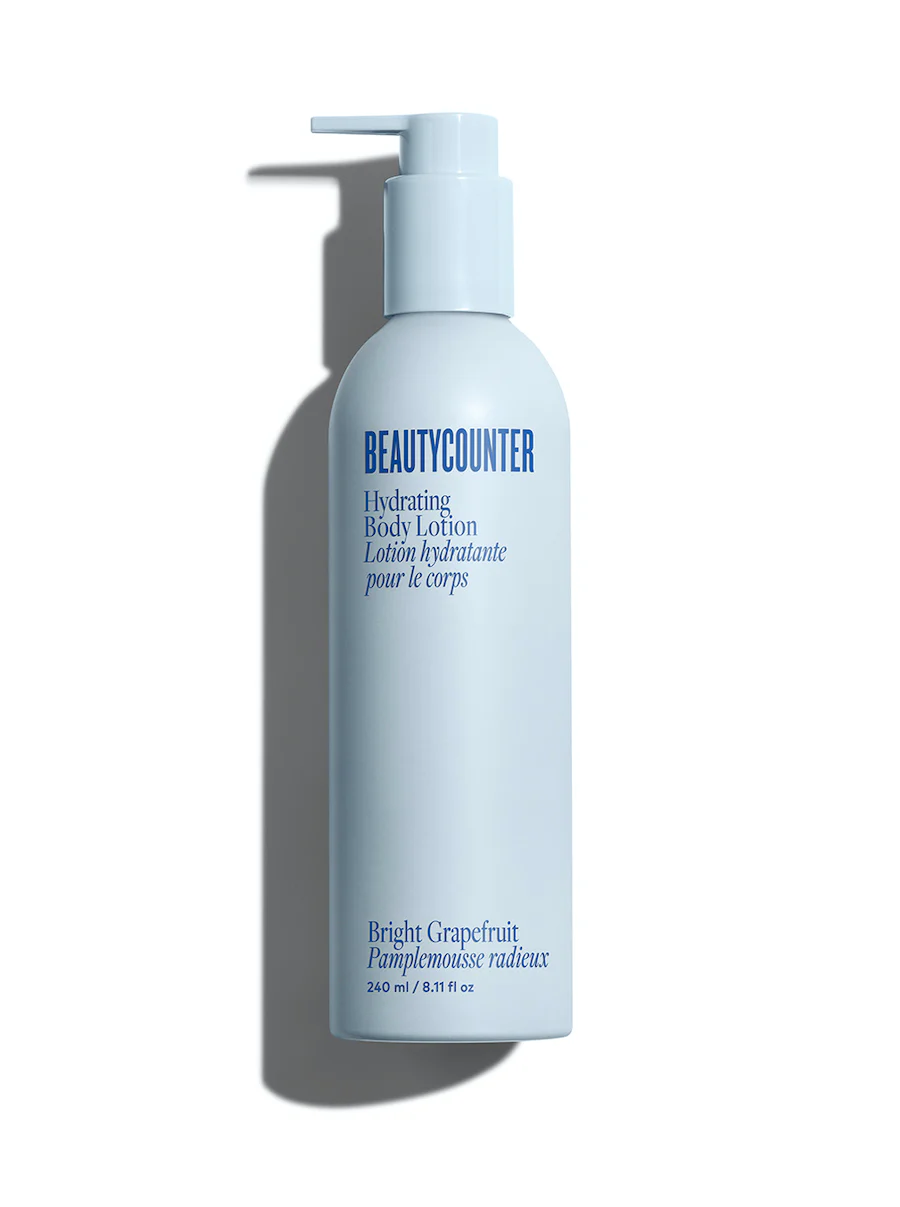 The hydrating body lotion from Beautycounter is my personal favourite safe body cream. Beautycounter takes the safety of their products very seriously, even going as far as testing every batch of products for contaminants to ensure that no harmful ingredients end up in their products.
The Beautycounter body lotion is light weight and non greasy. It's made with safflower seed oil, coconut oil and is scented with essential oils and is made without synthetic fragrances, parabens or phthalates. This lotion is also cruelty free and vegan. It's great for those with sensitive skin and the product is also eco friendly because you initially buy a bottle, and then simply purchase the refills after that.
And if you want even more hydration, the Beautycounter Melting Body Balm or Citrus Mimosa Body Butter are for you. They are both thicker and more moisturizing than the body lotion and are still formulated with safe, non-toxic ingredients. I personally love the smell of the body balm, it makes me feel like I am on a tropical vacation.
Beautycounter has also been kind enough to give me a 20% off code for you! Simply shop through this link and use the code CLEANFORALL20 to get 20% off your purchase!
Primally Pure Body Butter
Primally Pure makes amazing natural body care products, and their body butter is my absolute favourite. It's made with all natural ingredients including tallow from grass fed cows which is rich in Vitamins A, D, E and K, anti-inflammatory conjugated linoleic acid and deeply moisturizes the skin. It also contains organic mango butter, shea butter, coconut oil, sweet almond oil and extra virgin olive oil to provide even more hydration.
This body butter is great for all skin types and comes in a few different scents, which are all naturally scented with essential oils.
Primally Pure has also been kind enough to offer me a discount code for you. Simply shop through this link and the code PUREANDSIMPLE at checkout to get 10% off your first order!
100% Pure Body Butter and Body Lotion
100% Pure is another well known clean beauty or clean skincare brand. They make both body butters and body lotions in various fragrances including Coconut Whipped Body Butter, Honey Almond Whipped Body Butter, Cream Coconut Lotion. The body butter is great for dry, flaky skin. Made with with enriching cocoa butter and avocado oil for extra hydration. You'll also love that their products are cruelty free, gluten free, made with natural ingredients and is vegan.
Alaffia Body Lotion
Alaffia makes a few different body lotions depending on your skin type. Their Everyday Lotion is great for those with normal to dry skin, while their Everyday Shea Body Lotion is great if you have normal to very dry skin. You can get these lotions in different scents, like lavender and coconut, and they also have an unscented or fragrance free option.
Alaffia products are all clean, fair trade, sulfate-free and contain no parabens, phthalates, silicones, mineral oil, artificial color or synthetic fragrances. They are also cruelty free and
Attitude Body Lotion
Attitude body lotions are an affordable option that are easily found in many drug stores and grocery stores. They are made with hypoallergenic, natural ingredients that are great for all skin types, including sensitive skin. Attitude body moisturizers also have anti inflammatory ingredients and properties. Their products are made in Canada, are cruelty free, vegan, EWG verified, recyclable and Ecologo certified (meaning they are eco friendly).
Acure Seriously Soothing Body Lotion
Acure body lotion is another great non toxic option. It's made with cocoa butter, colloidal oatmeal, sunflower seed oil and deeply moisturizing aloe. It is even clinically shown to provide moisture for 24hrs when used as directed. This lotion is also vegan, paraben free, sulfate free, mineral oil free, petrolatum free, formaldehyde free, and cruelty free. This lotion is also unscented so if you are sensitive to scents or fragrances this is a great option.
Babo Botanicals Lotion
Babo Botanicals makes amazing non toxic and clean products for babies and adults with sensitive skin. They offer a variety of body lotions, some being fragrance free, and some scented with essential oils such as lavender. Made with plant based ingredients their moisturizers are hypoallergenic to reduce the risk of allergic reactions. Their lotion is gluten free, soy free and dairy free.
Dr. Bronners Organic Hand and Body Lotion

Dr. Bronner's has been making natural and organic soaps and body lotions for over 100 years. Their organic hand and body lotion comes in many different scents and is vegan and made without any animal products. Dr. Bronner's organic lotion is also cruelty free, non GMO, and fair trade. Made with organic jojoba oil to heal and soothe the skin, organic coconut oil to moisturize, plus organic U.S grown hemp and avocado oils to keep skin extra smooth and supple. It's good for most skin types, including sensitive, dry, rough or combination skin.
Everyone Body Lotion

Everyone makes very affordable body lotions in many different scents. Their lotion is plant based and made with pure essential oils, coconut oil, aloe vera and vitamin E. Everyone Nourishing Lotion is EWG verified, GMO free, cruelty free, gluten free, paraben free, triclosan free, and synthetic fragrance free.
Pipette Body Lotion
Pipette is another great clean beauty brand. They make safe products for babies and those with sensitive skin. Their baby body lotion is a daily moisturizer that you can use all over, head-to-toe. It's lightweight and quick absorbing and helps to restore the moisture balance baby's skin using essential fatty acids, ceramides, and plant-derived squalane.
Rocky Mountain Soap Body Lotion
Rocky Mountain Soap Company is local to where I live and they make amazing non toxic and natural personal care products so I had to include them in this roundup. They make natural body butters, foot butters, belly butters, natural body lotions and hand creams. Their products are made in Canada from all natural ingredients and their products are vegan and GMO free. They also offer a recycling program where you can return your empty containers to the store so they can be re-used.
Puracy Organic Hand and Body Lotion
Puracy Organic hand and body lotion is a scent-free moisturizer that is designed for use on sensitive skin. It can help restore the skin's moisture barrier, and hyaluronic acid helps moisturize the skin and reduce water loss. It is light weight and non greasy and dries quickly. It is made with natural ingredients and is hypoallergenic, vegan, gluten-free, biodegradable, certified cruelty free and made in the USA
Carina Organics Body Lotion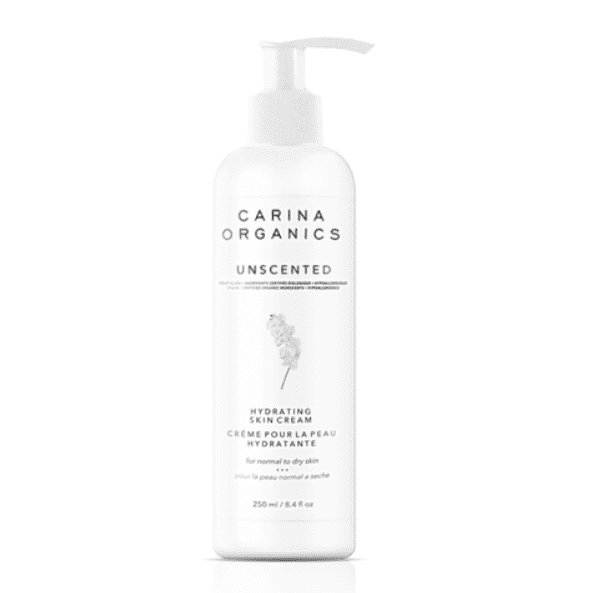 Carina Organics makes many different body lotions and creams including unscented and scented options. I personally love the unscented option, which is a daily moisturizing and hydrating skin cream that's made with natural and certified organic plant, vegetable, flower, and tree extracts. Their products are hypoallergenic, cruelty free, paraben free, biodegradable, vegan and gluten free.
Earth Mama Body Lotion
Earth Mama is a great non toxic brand that makes products that are gentle enough for kids and babies. Their body lotion is moisturizing and soothing, calming, and cruelty-free, so it's great for those with sensitive skin, or even for babies. The lotion is dermatologist tested, NSF/ANSI 305 Certified by Oregon Tilth and Leaping Bunny Certified. Earth Mama is also Plastic Neutral - for every item sold, Earth Mama funds the recovery and processing of the same amount of plastic waste from the environment in partnership with rePurpose Global.
Earth Mama makes a few different body lotions including Calming Lavender, Unscented and Sweet Orange.
Pure Haven Body Lotion
Pure Haven makes a great hand and body lotion that is lightweight, non greasy and hydrating. It leaves leaves skin soft and smooth and absorbs really nicely. It has a subtle, refreshing scent that doesn't linger, but smells amazing.
Weleda Skin Food
Weleda is a popular non toxic personal care brand that is found in many locations including Whole Foods stores and on Amazon. Their Skin Food lotion is formulated with plant based ingredients, and hydrates the skin with extracts of rosemary, chamomile, and pansy in a nourishing base of sunflower and sweet almond oils. There is an ultra rich hydrating option, as well as a more lightweight lotion depending on your needs.
Avalon Organics Hand and Body Lotion
Avalon Organics makes a hydrating hand and body lotion that is certified organic, plant-based and made with botanicals and essential oils. Their products are also cruelty free and Leaping Bunny certified. Their hand and body lotion comes in lavender and unscented options, depending on your preference.
Of course there is no way for me to possibly include all the safe and non toxic lotions out there in this post. As such, I thought it would be helpful to share a list of ingredients or harmful chemicals to watch for and avoid when you are out shopping for lotions.
Ingredients to avoid in lotions:
In case you are out shopping and trying to read labels, here is a handy list of ingredients to watch for when you read ingredient lists. If you see any of these terms I would recommend avoiding the product.
Fragrance or parfum
Ethanolamines
Parabens
Petroleum-based ingredients:

PEG ingredients
petrolatum
polysorbate ingredients
propylene glycol

Formaldehyde-releasing preservatives:

quaternium ingredients
DMDM hydantoin
diazolidinyl urea
imidazolidinyl urea

Methylchloroisothiazolinone
Methylisothiazolinone
Retinyl Palmitate - you can read more on why I avoid retinol in this post.
Sodium Laureth Sulfate
Sodium Lauryl Sulfate
You can read more about these ingredients and why I recommend avoiding them in this post.
Frequently asked questions:
What is the difference between body cream and body lotion?
While both are moisturizers, generally lotions are lighter in texture and formulated with more water compared to creams which are usually thicker and more hydrating.
How should you apply body lotion?
You can apply body lotion anytime, but it works especially well if you apply it after bathing to help lock in moisture.
Is Bath and Body Works lotion non toxic?
No it is not. Bath and Body Works products contain artificial fragrances as well as other unsafe ingredients which I would recommend avoiding.
I hope you found this post helpful. If you have any questions please let me know.
Other health information you will like:
Since you made it this far we are basically best friends so be sure to follow me on Instagram, Pinterest, TikTok and Facebook where I share even more recipes and healthy living tips!
References:
Queckenberg, Christian, et al. "Absorption, pharmacokinetics, and safety of triclosan after dermal administration." Antimicrobial Agents and Chemotherapy 54.1 (2010): 570-572.
Janjua, Nadeem Rezaq, et al. "Urinary excretion of phthalates and paraben after repeated whole‐body topical application in humans." International journal of andrology 31.2 (2008): 118-130.
Gong, Mengyan, Yinping Zhang, and Charles J. Weschler. "Measurement of phthalates in skin wipes: estimating exposure from dermal absorption." Environmental science & technology 48.13 (2014): 7428-7435.
Zalko, Daniel, et al. "Viable skin efficiently absorbs and metabolizes bisphenol A." Chemosphere82.3 (2011): 424-430.
Matta, Murali K., et al. "Effect of sunscreen application on plasma concentration of sunscreen active ingredients: a randomized clinical trial." Jama 323.3 (2020): 256-267.