There are many health benefits of air frying food including it being a healthier alternative to deep frying, decreasing the calorie content of food, and being a lower fat method of cooking. In this post we will review the many air fryer health benefits.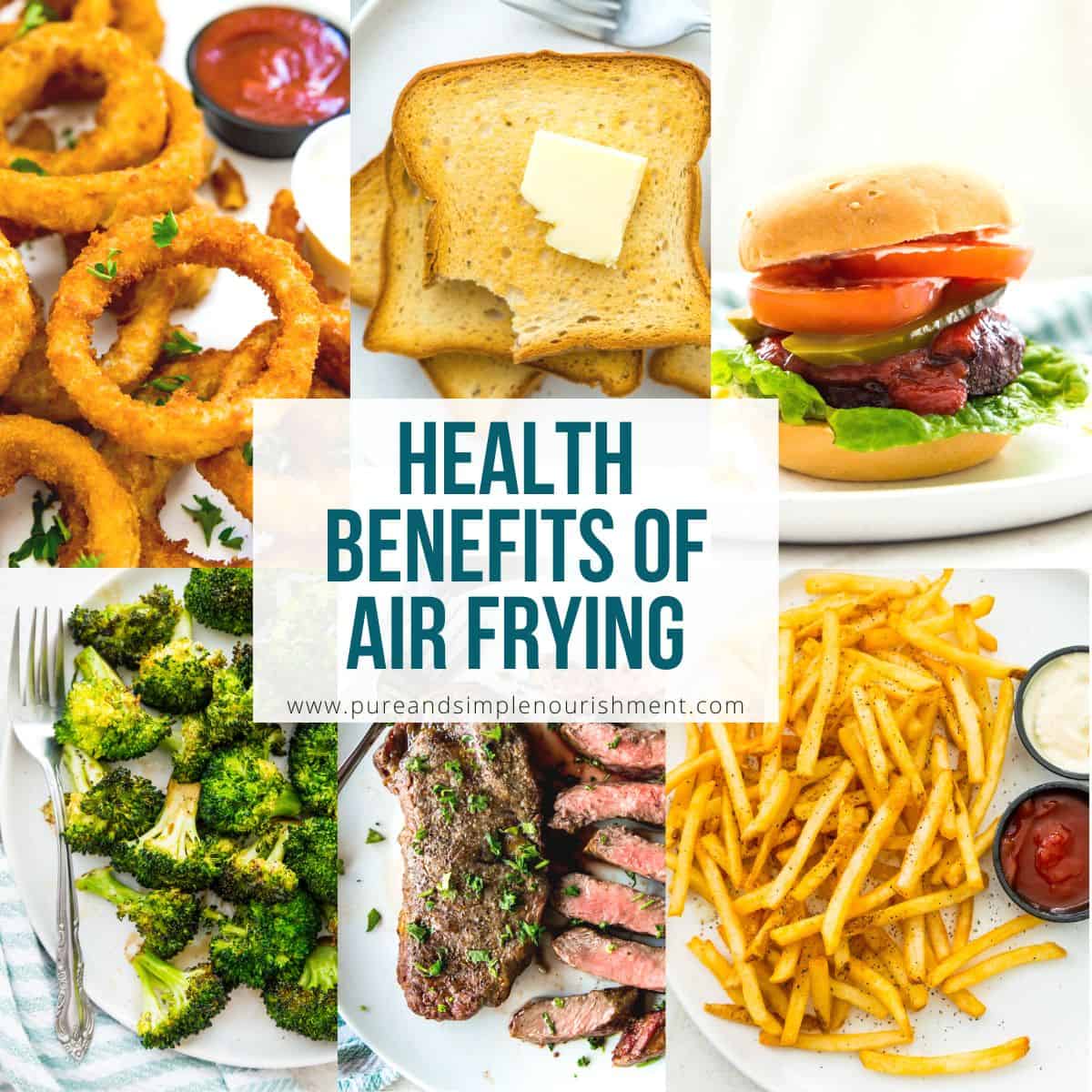 If you've been following me for a while now you know that I love using my air fryer to cook. It saves so much time, doesn't heat up my whole kitchen, and is actually a healthier way of cooking compared to some other cooking methods. 
How Air Fryers Work
Air fryers work by circulating hot air around the food to produce a crunchy, crispy exterior. It's basically like a small convection oven. When food is cooked this way, it results in a chemical reaction known as the Maillard reaction, which occurs between an amino acid and a reducing sugar in the presence of heat. This reaction leads to changes in the color and flavour of food.
Because it uses circulating hot air to cook food, air fryers can grill and bake food, using little to no oil, and they can make delicious fried foods, without actually having to deep fry them. 
You can cook many different foods in an air fryer, and because they are so quick and easy to use they have become a very popular kitchen appliance. They are touted as a healthier way of preparing your favorite fried foods, so I thought it was important to review the health benefits of air frying, and whether the benefits do outweigh the risks of using an air fryer.
Healthy Benefits of Air Frying
Using Less Oil
Air fryers require a fraction of the cooking oil that deep fryers need, so compared to deep frying, using an air fryer is a much healthier option for traditional fried food. Not only are you using less cooking oil, this also often leads to food that is lower in both fat and calories. You only need a small amount of oil to cook foods that taste just like they've been deep fried. Foods like French fries, fish sticks, fried chicken, egg rolls, onion rings and more!
Plus most deep dried foods are cooked in oils that are not great for our health. Like canola oil, soy oil, sunflower seed oil, corn oil and more. By using an air fryer at home, you can choose healthier oils to cook your food in like coconut oil, avocado oil, butter or even ghee!
Even when compared to frying food in a pan, you will use much less oil when you cook food in an air fryer instead.
Weight Loss
Eating deep fried food is associated with weight gain, obesity and other health conditions like heart disease and type 2 diabetes. Hence if we are able to switch from eating deep fried food to home made food in the air fryer it should assist in weight loss. Of course there have been no actual studies examining this yet but hopefully there will be!
Safer than Deep Fryers
One of the dangers of deep frying food is that you can easily get burned by the hot oil or grease. While air fryers do get hot, there is no risk of spilling, splashing, or accidentally touching any hot oil like there is when cooking with deep fryers. Of course, always follow your air fryer instructions to use your appliance safely.
Other Benefits of Air Frying
Besides the health benefits, there are other benefits to air frying. Most important to me is that cooking food in an air fryer saves so much time! It is so much faster to cook food in an air fryer compared with baking, frying or deep frying foods.
Another benefit is that the clean up is so simple. You just stick the racks and the tray in your dishwasher after you're done using them. You also don't have to worry about making a mess of your counters or your oven.
Risks of Air Fryer Cooking
No cooking methods are perfect. And there are some risks with using an air fryer which I thought it was important to discuss.
Like any other high heat cooking method, cooking meat in an air fryer can lead to the formation of polycyclic aromatic hydrocarbons and heterocyclic amines. Like acrylamide, these compounds have been associated with an increased cancer risk in animals. However, whether or not they actually cause cancer in humans is still unclear.
You can still cook unhealthy food in an air fryer. Just because you aren't deep frying your food doesn't mean the food itself is healthy. Always be sure to read ingredient lists and try to avoid processed or refined ingredients as much as you can.
Sadly, many air fryers on the market are coated with non-stick coatings. Unfortunately, non-stick coatings are not good for our health. Typically the term "non-stick" usually means that the surfaces have been coated with perfluorinated chemicals or PFAS like PFOA. These chemicals are toxic to both humans and the environment and have been linked to numerous health effects including colon cancer, thyroid diseases, inflammatory bowel disease, kidney cancer, testicular cancer, reduced fetal growth, increased cholesterol and ADHD.
Fortunately, there are a few models of air fryers on the market that don't use non-stick coatings. So if you are looking into buying an air fryer I recommend these specific models:
Frequently asked questions: 
Do air fryers decrease the formation of acrylamide? 
In doing research for this article I came across some articles online that claim that air fryer cooking is safer than deep frying because it reduces the risk of acrylamide formation. However, sadly this isn't true. Acrylamide forms in certain foods cooked during high-heat or high temperature cooking methods, including deep frying, baking and air frying. Because of this acrylamide is found in up to 1/3 of the food we eat, including air fried foods. Acrylamide has been classified as a probable carcinogen and exposure to acrylamide causes numerous cancers in animal models. However, whether acrylamide increases cancer risk in humans is still not clear. The majority of the evidence doesn't seem to show an increased risk, which is reassuring. 
To summarize:
In summary, no method of cooking is perfect. But cooking with an air fryer is a fast and easy way to cook so many different foods. Yes, there are some risks associated with air fryer cooking (as there are with other cooking methods), but if you choose a safe model of air fryer, air frying can be a healthy alternative to some other cooking methods, especially deep frying. 
I hope you found this helpful! If you have any questions please let me know. 
Other posts you will be interested in: 
Since you made it this far we are basically best friends so be sure to follow me on Instagram, Pinterest, TikTok and Facebook where I share even more recipes and healthy living tips!
References: