Coconut oil can be used for so many things besides cooking and eating. In this post I will share the 15 best uses for coconut oil including things you might never have guessed such as as a shaving cream, lip balm, lubricant, moisturizer, makeup remover and more!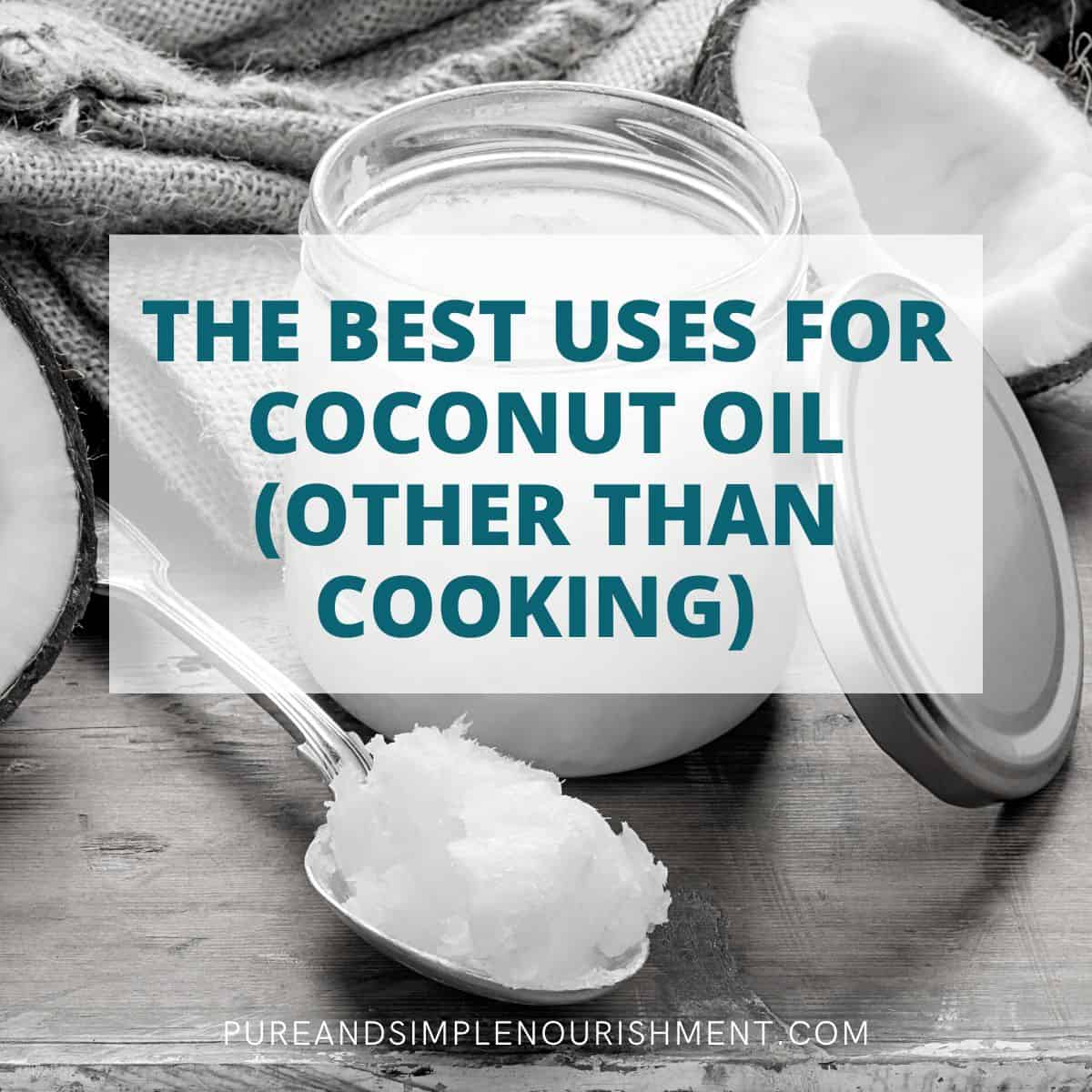 Disclaimer: some of the links in this post are affiliate links where I make a small commission if you purchase the product through that link. This does not cost you anything extra and helps me keep this website running.
Coconut oil. Do you have a jar in your kitchen, bedroom or bathroom? Yes you read that right. I said bedroom and bathroom. Because not only is coconut oil one of the best cooking oils, it is also great for so many other things.
But first things first. Why is coconut oil one of my favourite oils to cook with? There are many reasons. It's a great source of medium chain triglycerides, is heat stable, and contains a lot of lauric acid.
Medium chain triglycerides (MCTs) are a special type of short chain saturated fat. This type of saturated fat is different than the longer chains found in animal fat. MCTs are special because they don't require bile salts for absorption in the gut - they diffuse directly from your gut to your blood and can be used by yours cells for energy without modification. Cool right?
Coconut oil is also heat stable and has a high smoke point. This means that you can heat it to high temperatures without worrying, making it an ideal cooking oil. It won't produce any free radicals or oxidize when it is heated.
Coconut oil contains a lot of lauric acid. Almost 50% of the fatty acids in coconut oil are lauric acid, which actually has anti-bacterial, anti-viral and anti-fungal properties. Coconut milk is another great source of lauric acid as well.
Plus there are many other health benefits associated with eating coconut oil, including weight loss, increasing HDL cholesterol (the good cholesterol), improving brain function and more.
But, coconut oil has so many other great uses besides coking and eating, so let's review 15 uses for coconut oil, other than cooking and eating!
The best uses for coconut oil (other than cooking):
1. Moisturizer
Coconut oil is a great natural moisturizer because it absorbs quickly and is non-comedogenic. I use it on my body, but I know many people that use it as their facial moisturizer as well. Just be cautious if you are acne prone, in some people it seems to help their acne, but in others it can make it worse. Again, everyone is different so you will need to see for yourself. An added tip is to add a few drops of your favorite scented essential oil to your coconut oil to make a scented moisturizer without the artificial scents found in conventionally scented products. One of my favourite additions is peppermint oil. But lemon and lavender are also great.
2. Improve dental health
Oil pulling is a great way to help improve your oral health. Not only can this method whiten your teeth, but it can restore your gum health and even help heal certain chronic diseases.
Coconut oil can help fight certain bacteria, including Streptococcus mutans, the bacteria in your mouth that causes dental plaque, tooth decay, and gum disease. One study showed that oil pulling with coconut oil for 10 minutes a day reduced these bacteria as effectively as rinsing with an antiseptic mouthwash. And in another study, swishing daily with coconut oil significantly reduced the amount of inflammation and plaque in teenagers with gingivitis.
To oil pull, you put a bit of coconut oil (~1 tablespoon of oil) in your mouth, first thing in the morning, and swish it around in your mouth for 5-20 minutes. Then you rinse your mouth, brush your teeth, and carry on with your day. Since I started oil pulling my dentist has been amazed at the improvements in my gum health.
You could also add a bit of baking soda to your coconut oil and made a homemade toothpaste!
3. Wound Healing
As I mentioned, coconut oil contains a lot of lauric acid which has anti-bacterial, anti-fungal and anti-viral properties. Hence it has the potential to help heal cuts and wounds. One study did find that rats whose wounds were treated with coconut oil had a reduction in inflammatory markers and increased production of collagen and as a result, their wounds healed much faster compared to wounds where coconut oil was not used.
Now I would never recommend that you go against medical advice if antibiotics are recommended for a more seriously infected skin wound or infection, but most day-to-day scrapes, cuts and injuries don't require antibiotics. Simply use a small amount of coconut oil as you would polysporin or other topical agents. You can even add a few drops of an essential oil with anti-bacterial properties for even more potency.
4. Face Wash and Makeup Remover
Oil cleansing. Have you heard of this? Basically it's a way to wash your face with oil. Yes I realize this might sound a little crazy, but the idea is that you are trying to restore the natural oil production of your face by not stripping away the oil the way that some cleansers tend to do.
To oil cleanse you apply a small amount of the oil of your choice to your face, and massage it in for 1-2 minutes. You then apply a hot face cloth to your face for 1 minute, or until the cloth cools. Then you remove all the oil with a washcloth. You can use coconut oil, olive oil, jojoba oil etc etc for this. And different oils are better for different skin types so make sure you do your research before starting.
The other thing you can use coconut oil for is as a makeup remover. I especially like using it to help remove my mascara.
5. Lubricant
Yes I really mean lubricant. I have to say that when I started my blog a couple years ago I never would have thought I would be talking about sex. But since we are discussing all things health related here it was bound to come up eventually. And a healthy sex life is so important to a healthy relationship and your overall health, so it's time we talk about it. So here goes.
Coconut oil makes a great natural lubricant. It melts quickly, contains no chemicals and even tastes good. So go to your cupboards and please throw out all your jars/bottles/tubes of convention lubricants. You don't even want to look at the ingredient lists. They are horrifying. If you ask me that stuff has no business being near your genital area. Or your mouth for that matter. For an added bonus you can even add a few drops of peppermint essential oil to the coconut oil for a cooling/ tingly sensation.
6. Sunscreen
When applied to the skin, coconut oil can offer minimal protection from the sun's ultraviolet (UV) rays. In fact, one study found that coconut oil blocks about 20% of the suns' UV rays. However, this 20% is quite low compared to conventional sunscreens which normally block about 90-99% of the sun's UV rays so I would not recommend relying on coconut oil as your sunscreen. If you are looking for a safe, non-toxic sunscreen I have got lots of great options for you in my sunscreen review post.
7. For skin irritation and eczema
Studies have shown that coconut oil can work just as well as well as mineral oil and other conventional moisturizers for dermatitis, eczema and other types of skin irritation.
8. To improve the health of your hair
Coconut oil can be used to help improve the health of your hair. A study compared the effects of coconut oil, mineral oil, and sunflower oil on hair health and it was only the coconut oil that helped significantly reduced protein loss from hair when applied before or after shampooing. This benefit was seen with both damaged hair as well as healthy hair. The authors of the study felt it was the unique structure of the lauric acid in coconut oil that penetrated the hair shaft in a way that the other fats couldn't which accounted for the benefits seen with the coconut oil compared to the other oils.
10. Insect repellant
In one study, combining certain essential oils with coconut oil and applying it to the skin provided over 98% protection from the bites of certain mosquitoes. How cool is that?
11. Stain remover
Coconut oil can be used to help get rid of stains, including spills on carpets and furniture. To use coconut oil as a stain remover, combine one part coconut oil with one part baking soda and mix these in to a paste. Apply this paste to the stain, wait five minutes, and then wipe it away.
12. Deodorant
Because of its antibacterial and moisturizing properties, coconut oil is used as the base for many natural deodorants. You can find many easy recipes for natural deodorants made with coconut oil and other natural ingredients online.
13. Furniture polish
Coconut oil can be used to help keep your wood furniture healthy and shiny.
In addition to bringing out the beauty in natural wood, coconut oil also seems to act as a dust repellent to help keep your wooden furniture looking as clean and shiny as possible.
14. Lip balm
Coconut oil makes a great natural lip balm because it's not only moisturizing but it also has antibacterial and wound healing properties to help heal your lips if they are chapped. Coconut oil goes on smoothly, will help moisturize your lips for hours, and offers some minimal sun protection too.
15. Shaving cream
Coconut oil can be used as a natural shaving gel or shaving cream. You can shave with pure coconut oil or mix it with other skin-friendly ingredients, such as aloe vera or shea butter, to create a more traditional cream-like texture.
Summary
As you can see, besides being used for cooking or eating, coconut oil can be used in a variety of ways. This natural, affordable plant based oil is a great option for everyone to have in their pantry.
What else do you use coconut oil for? I would love to hear!
Other health information you will be interested in:
Our expertise:
Dr. Erin Carter, MD, FRCPC, is a physician with board certifications in internal medicine and rheumatology. She is passionate about nutrition, environmental health and low toxicity living and has been doing research and publishing information in this area for years. She is also a self-trained chef and has been creating and publishing recipes since 2015. Her recipes have been featured on many different websites and online publications.
References: