This is a Beautycounter deodorant review and summary of my results. It is such a great non toxic deodorant that works well, smells, amazing, is good for your health, is paraben free and fragrance free, and is refillable, meaning that it cuts down on waste and is better for the environment.
If you've been following me for a while you know how important I think it is for people to use a non-toxic deodorant. In fact, it's one of the first things I tell people to swap when they are trying to switch to safe personal care products. I have written extensively on this topic before, in this post, Deodorant Health Risks, but if you are new to the idea that deodorants can contain ingredients that are harmful to our health, I will do a quick overview before we get to my Beautycounter deodorant review.
Deodorant Health Risks: Aluminum
Some deodorants and antiperspirants on the market contain aluminum. One of the issues with aluminum in antiperspirants is that it can clog pores and hinder the body's natural detoxification process (sweating is a way that your body releases toxins, so do don't want to block this process).
The other concerns is that it has been shown that long term exposure to aluminum from deodorant can lead to accumulation of aluminum in breast tissue, which may increase your risk of breast cancer. There are a couple ways that aluminum can do this:
Aluminum build up can lead to alterations in DNA which can lead to cancer development.
Aluminum can also interfere with estrogen receptors, and estrogen has a well established role in the development of breast cancer.
Aluminum and breast cancer
Whether or not aluminum in antiperspirants can actually lead to breast cancer is still not clear, as there have been very few studies examining this issue, and of the studies that have been done, there have been conflicting results with some showing an increased risk, while others do not (please see the references at the end of this post if you are interested in reading the studies yourself).
There are also no randomized controlled trials (the best type of study) examining the relationship between aluminum in antiperspirant and breast cancer. The most recent study done in 2017, which was a case control study, did show an increased breast cancer risk in those using deodorant or antiperspirant, which is very concerning (reference 13 in the reference list).
Hopefully with time there will be further studies done in this area so that we can learn more, but in the mean time, since there are many options that don't require the use of aluminum, I personally choose to avoid this ingredient and err on the side of caution when shopping for deodorant.
Deodorant health risks: parabens
Another class of ingredients that can be found in deodorants and antiperspirants are parabens. Parabens are preservatives found in many beauty and skincare products to help increase their shelf life and stability. Parabens have weak estrogenic and anti-androgenic activity. To put this another way, they are hormone disruptors or endocrine disruptors, which can lead to various health problems. Parabens have been linked to breast cancer, skin cancer, decreased sperm counts and infertility. In other words, you want to be sure you are using a paraben free deodorant.
Deodorant health risks: fragrances
Most deodorants come in all sorts of fancy scents. If you look at the ingredient list do you see any of the words "fragrance", "parfume" or "scent"? If so that means there are fragrances in that product. The problem with fragrances is that they are considered to be trade secrets. This means that a company doesn't have to disclose any of the ingredients used to make up that fragrance. Hidden within that term could be hundreds of chemicals or ingredients that are harmful to your health. And you don't get to know what any of them are. There are over 3000 different ingredients that a company can use to make a fragrance, and ingredients in fragrances can be carcinogens, hormone disruptors, allergens, airway irritants, neurological-toxins and ingredients linked to infertility, hence why you want to avoid them.
Switching to a non-toxic deodorant
I switched to a non-toxic deodorant years ago. And it took me a LONG time to find ones that worked. I probably tried 10-15 brands. Most left me really smelly and some even gave me a skin rash. It was a long and painful process. However I finally found the Primally Pure deodorant which I used for a couple years until I switched to the Beautycounter deodorant about 8 months ago (as a consultant I got early access). For me, both brands work equally well, but I have switched to the Beautycounter deodorant for a few different reasons which I will outline at the end of this post. However, before I explain why I switched I wanted to give you a full review of Beautycounter's deodorant, The Clean Deo.
Beautycounter Deodorant Review
Beautycounter deodorant pros
Safety and Certifications
The Beautycounter deodorant is formulated without aluminum, without parabens and without synthetic fragrances. As with all the fragrances Beautycounter uses, The Clean Deo fragrances are screened for trace contaminants (which are often present in raw materials) to ensure they are truly safe. As well, all of the fragrance ingredients are disclosed on the ingredient list, so you know exactly what is in each one.
Like all Beautycounter products, the deodorant is tested for contaminants to ensure that unwanted ingredients like hormone disruptors do not end up in the final product. You can feel good knowing it is made with no aluminum, no synthetic fragrances and no harmful ingredients. It is also cruelty free and Leaping Bunny certified.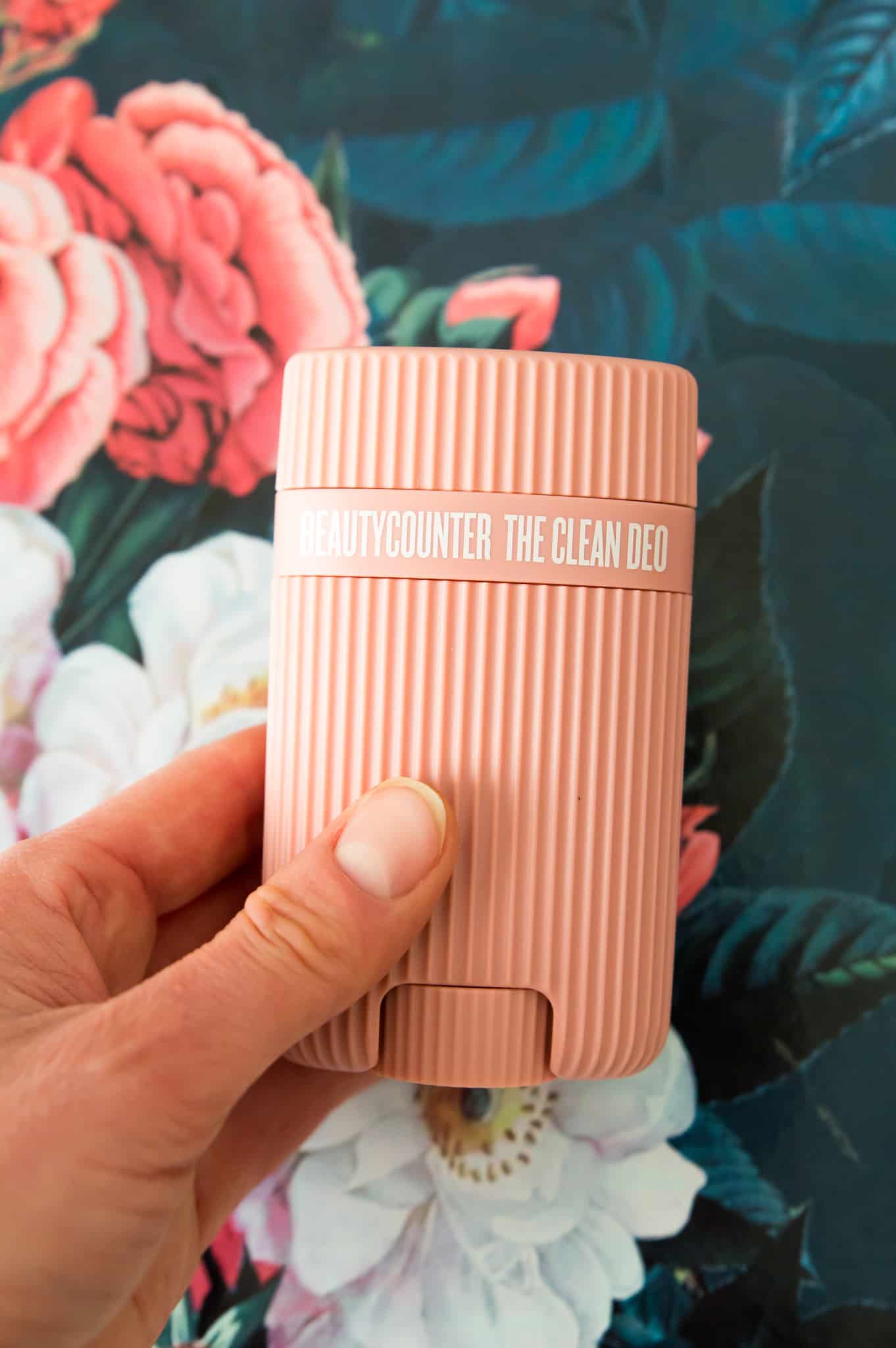 Effectiveness
Did you know it took Beautycounter five years to create their deodorant? It's actually really difficult to make a safe deodorant that actually works. They were determined to get it right, which is why it took so long. As I mentioned before, I've tried A LOT of safe deodorants and Beautycounter's is one of the only ones I've ever found that works for me, even during intense workouts and stressful work days.
Sustainability
One of the biggest things that sets Beautycounter's deodorant a part from other clean brands, is that the deodorant is refillable, and the refills are recyclable, which means it cuts down on waste!
To refill the deodorant, pop The Clean Deo refill out of the case and replace it with a new refill (see the photos below). When the refill is finished, you put it in the recycling.
By making the deodorant refillable and recyclable, Beautycounter cut its water, fossil fuel, and greenhouse gas emissions by an estimated 47%! The refillable case also helps minimize waste in landfills.
No Stains
This is so important! The Beautycounter deodorant is stain free, which I cannot say is true for all clean deodorants. So many leave a grosss film on your clothes and ruin the underarms of shirts. I haven't experienced this with the Clean Deo, and that is something I experienced with other brands.
Non-irritating
100% of participants in the Beautycounter pre-launch product study said the clean deodorant was non-irritating after using it for 2 weeks. Irritation is a VERY common complaint for those using natural deodorants with baking soda since it can cause redness, bumps and itchiness but the Clean deodorant was formulated specifically to be non irritating. They key is the amount of baking soda they use, in combination with the other ingredients which work together to make the deodorant soothing and non-irritating.
Beautycounter deodorant ingredients:
Here are the key ingredients in Beautycounter's deodorant:
Cornstarch and Baking Soda
these work together to help absorb wetness and keep skin dry. They also help to neutralize and control body odour.
Coconut oil and shea butter
These are natural emollients that are rich in essential fatty acids and nutrients to help skin feel hydrated, nourished, and smooth.
Candelilla wax and beeswax
These aid in conditioning and hydrating skin.
Clean deo scents
Beautycounter's deodorant comes in 4 different scents:
Fresh Coconut: A blend of tropical coconut, sandalwood, and sweet vanilla. This one is my favourite!
Soft Lavender: Soothing notes of lavender.
Clean Rose: A modern bouquet of freshly cut roses, with notes of geranium and pepper tree berry.
Crisp Sequoia: Inspired by sequoia trees, this is a woody blend of geranium and vetiver.
You should also know, that no matter what scent you purchase initially, you can refill the container with whatever scent you like! Just purchase the refill of the scent you want.
How to use Beautycounter's deodorant
Simply glide it onto clean, dry underarms.
Note that it is meant for external use only and should not be used on broken skin.
Tips for switching to a non-toxic deodorant
It is normal to go through a detox period when you switch to a safer deodorant. It can take several weeks (usually between 2-4 weeks) for your underarms to detox from the toxins that have been trapped in sweat glands by antiperspirants and other deodorants, and you will likely sweat more for a period of time, and you might also notice increased odour for a period of time. This is normal and it will get better. Just don't give up too soon!
To help speed the detoxification process along, I recommend doing a charcoal mask (this is my favourite charcoal mask) on your underarms once a week, and washing your underarms daily with a charcoal bar.
Why I switched to Beautycounter's deodorant:
I mentioned earlier that I used to use the Primally Pure deodorant but I switched to the Beautycounter one about 8 months ago. Personally, both brands work equally well for me, but I switched to the Beautycounter one for a few different reasons:
Smell: I like the scents of the Beautycounter deodorant more! I LOVE the smell of the Coconut Clean Deo from Beautycounter. It reminds me of being on a beachside vacation which just makes me happy. I also really like the Lavender Clean Deo and will alternate between the two depending on my mood and what I prefer to smell like that day.
Price: Being in Canada I would have to pay a large shipping fee plus duty fees every time I ordered the Primally Pure deodorant, so the Beautycounter one ends up being much more affordable.
Sustainability: Since the Beautycounter deodorant is refillable, and recyclable it will produce less waste which is a huge plus.
Beautycounter Deodorant Cons
The Price
Compared to some other clean deodorants on the market, the Clean Deo is a little pricey. However, if you are like me and were used to paying shipping and duty fees on deodorant, the Beautycounter deodorant is actually cheaper after accounting for all the costs. And to help with the price I have a 20% off code for you that you can use! See the end of the post for those details. 
The Refill is Hard to Remove
While I love that this deodorant is refillable, I will say the refill is a little tricky to remove. Especially the first time you go to change the refill. I have found that with subsequent refills it does get easier and loosens up over time.
Limited Scent Options
Right now the Beautycounter deodorant only comes in 4 different scents so if you don't happen to love any of those options you may not like the Clean Deo.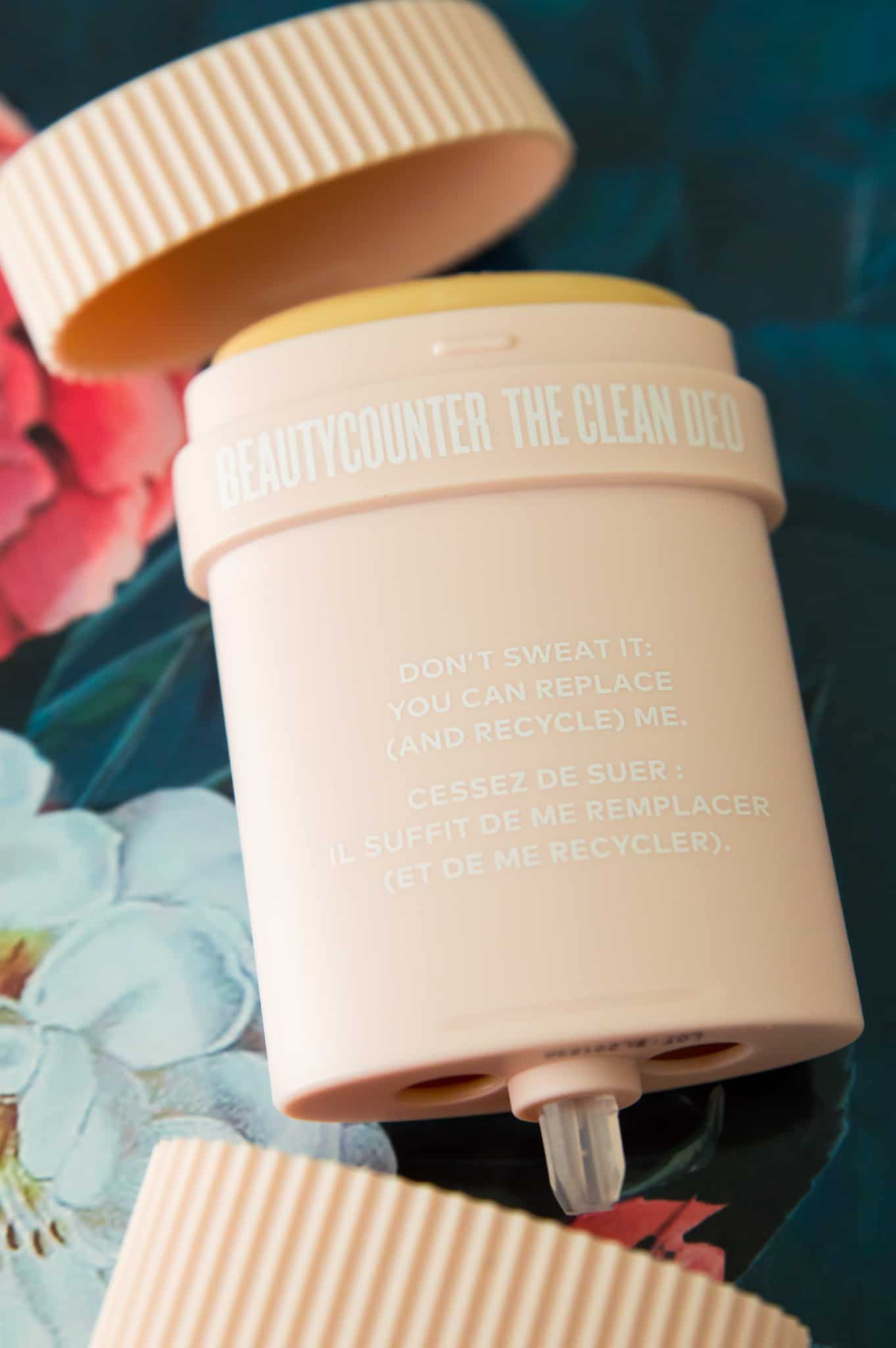 Frequently asked questions:
How much does the Beautycounter deodorant cost?
It costs $28 US/ $37 CAD and then the refills are $18US/ $24 CAD. But if you are a new customer Beautycounter has given me a 20% off code for you! Simply shop through this link and use the code CLEANFORALL20 at checkout to take advantage of the discount.
How can I buy it?
You can shop through this link and be sure to choose me (Erin Carter from Calgary Canada) as your consultant when you checkout. If you are interested in getting recommendations for your skin, please fill out my skincare survey and I will get back to you with my suggestions.
What if I don't like it or it doesn't work for me?
No worries! We have an amazing 60 day money back guarantee so you can just return it and get your money back. If you shop with me I will help you with this process. Just reach out!
Baking soda gives me a rash? Will this deodorant do the same?
It's hard to know. I have heard from many people who are normally sensitive to deodorants with baking soda that they can use the Beautycounter one without any problem, but of course everyone is different and some may be more sensitive to baking soda than others. If you have sensitive skin, I suggest doing a patch test on the inside of your wrist prior to full underarm application. And if you do get a rash you don't have to worry, we have an amazing 60 day money back guarantee! 
Is it vegan?
No it's not. The deodorant does contain beeswax so would not be considered vegan.
I hope you found this helpful! If you have any questions please let me know.
Since you made it this far we are basically best friends so be sure to follow me on Instagram, Pinterest, TikTok and Facebook where I share even more recipes and healthy living tips!
Other health information you will like:
References:
2. Underarm antiperspirants/deodorants and breast cancer.
3. Underarm antiperspirants/deodorants and breast cancer.
4. McGrath KG. An earlier age of breast cancer diagnosis related to more frequent use of antiperspirants/deodorants and underarm shaving.
5. Darbre PD. Aluminium, antiperspirants and breast cancer.
6. Darbre PD, Mannello F, Exley C. Aluminium and breast cancer: Sources of exposure, tissue measurements and mechanisms of toxicological actions on breast biology.
7. Willhite CC, Karyakina NA, Yokel RA, et al. Systematic review of potential health risks posed by pharmaceutical, occupational and consumer exposures to metallic and nanoscale aluminum, aluminum oxides, aluminum hydroxide and its soluble salts.
8. Mirick DK, Davis S, Thomas DB. Antiperspirant use and the risk of breast cancer.
9. Fakri S, Al-Azzawi A, Al-Tawil N. Antiperspirant use as a risk factor for breast cancer in Iraq.
10. Dieterich M, Stubert J, Reimer T, Erickson N, Berling A. Influence of lifestyle factors on breast cancer risk.
11. Breast Cancer and Deodorants/Antiperspirants: a Systematic Review
12. Potential interference of aluminum chlorohydrate with estrogen receptor signaling in breast cancer cells
13. Use of Underarm Cosmetic Products in Relation to Risk of Breast Cancer: A Case-Control Study
14. Human exposure to endocrine disrupting compounds: Their role in reproductive systems, metabolic syndrome and breast cancer. A review.
15. Methylparaben stimulates tumor initiating cells in ER+ breast cancer models.
16. Parabens can enable hallmarks and characteristics of cancer in human breast epithelial cells: a review of the literature with reference to new exposure data and regulatory status.
17. Epigenetic alterations induced by genotoxic occupational and environmental human chemical carcinogens: A systematic literature review.
18. Fragrance: emerging health and environmental concerns.
19. Environmental Determinants of Chronic Disease and Medical Approaches: Recognition, Avoidance, Supportive Therapy, and Detoxification.
20. Inhibition of Polyisoprenylated Methylated Protein Methyl Esterase by Synthetic Musks Induces Cell Degeneration.
21. Human exposure to nitro musks and the evaluation of their potential toxicity: an overview.