This is my review of Beautycounter's Overnight Resurfacing Peel including my results, before and after photos, how to use it and the key benefits of the resurfacing peel.
Disclaimer: some of the links in this post are affiliate links, where if you purchase the product through that link I make a small commission. This does not cost you anything extra and helps me keep this website running.
Table of Contents
Beautycounter Overnight Resurfacing Peel Review
I've been using the Beautycounter Overnight Peel for about 2 years now (ever since it was released). In that time I have seen some amazing changes in my skin. Below are my before and after photos from how my skin looked a few years ago, to how it looks now.
Before and After Photos: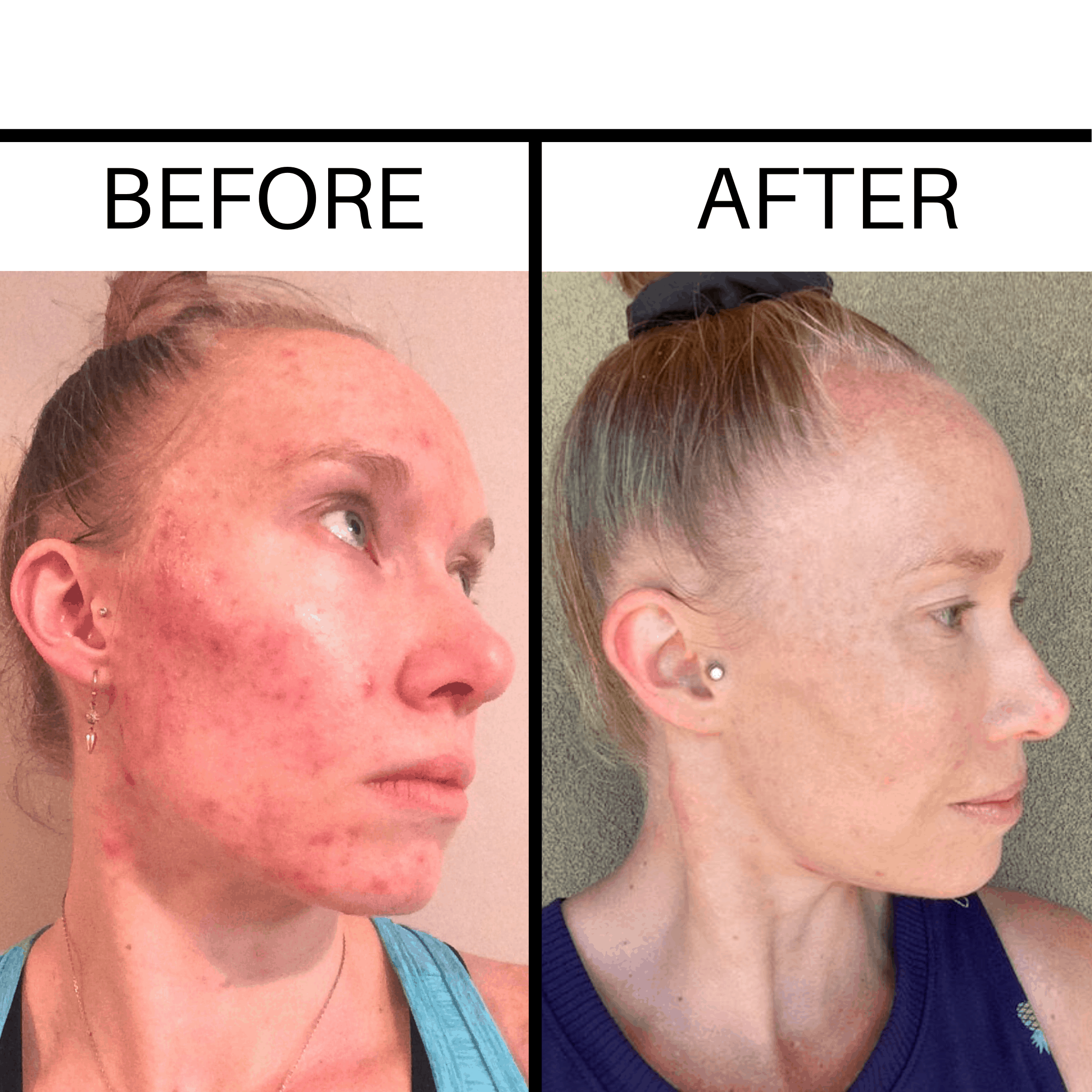 Neither of these photos have been edited or re-touched. As you can see, I have seen some amazing changes in my skin over the past few years (you can also appreciate how much better camera phones have gotten!). And while the overnight resurfacing peel is not the only product that has helped heal my skin, it is one of the products that has made the biggest difference when it comes to my acne, acne scars and overall skin appearance and texture (the Beautycounter Vitamin C serum has also been a game changer for me). I've also noticed an overall healthier and brighter appearance to my skin since adding the peel to my regimen.
What does the Beautycounter overnight resurfacing peel do?
I have personally noticed:
Healing and decrease of my acne
Softer and smoother skin
Fading of acne scars and pigmentation
Overall brighter and healthier appearance to my skin
Other benefits of the peel:
Improves skin texture, evens skin tone and boosts radiance
Promotes increased cell turnover for a smoother, brighter complexion
Minimizes and reduces the appearance of pores, fine lines and wrinkles
Reduces appearance of dark spots, sun spots and age spots
Reduces acne (by helping the skin to turnover faster and by acting as an exfoliant)
Helps heal melasma, rosacea and Keratosis Pilaris
Key ingredients:
You can find the full list of ingredients on the product page, but some of the ingredient highlights include:
Glycolic Acid: glycolic acid improves skin texture, resurfaces the skin, and exfoliates.
Lactic Acid: lactic acid stimulates cell renewal and turnover, promoting a smoother, radiant-looking complexion.
Citric Acid: citric acid helps refine and renew the skin.
Arginine and Fatty Acids: arginine and fatty acids helps in conditioning and moisturizing skin.
How to use the peel:
You want to use the peel at night. First start by washing and drying your face. You want to be sure that your face is really clean so I often do a double cleanse, first with this cleansing oil which is also great for removing makeup, and then second with this charcoal bar which is amazing at removing impurities from your pores.
Once your skin is dry, add one to two pumps of the peel to your hand, and apply it to your face and neck (and chest if you like). It may tingle a bit when you first apply it and some people notice a little redness when they first apply it (these are just the acids at work).
Let the peel dry for 2-5 minutes, and then apply your night cream over top. Then head to bed and simply wash your face in the morning! That's it. It's that easy. And your skin won't actually peel with this product so you don't have to be nervous about when you use it. You will likely notice that your skin feels softer and smoother the next morning after you wash it off, even after the first use.
I personally use the peel two to three nights per week, but some people even use it nightly because it is very gentle. I would start off slowly, using it about twice a week and then increasing the frequency over time if you wish. Since the peel is only meant to be used at night, a great day time companion to this product is the Vitamin C Serum which I talk about in this post.
Tips for using the peel:
Don't skip the moisturizer step! If you don't already use a night cream you are definitely going to want one for the nights you are using the peel.
Your skin will be more sensitive to the sun the day after you use it so make sure you wear SPF the next day (and every day ideally). This is the tinted moisturizer with SPF that I love. Using a vitamin C serum during the day will also help protect your skin from sun damage (both by blocking UVA and UVB rays and by preventing free radical damage).
The peel works best when using a night cream over top rather than a face oil. You can still use an oil but it the results will likely not be as good.
Other uses for the resurfacing peel:
How the resurfacing peel works:
Now that I've told you all the amazing things this product can do you for your skin, you may be wondering how it does all that. The product is made with of a combination of both alpha-hydroxy acids (AHAs) and beta-hydroxy acids (BHAs). In fact, the product contains a total of 15 different botanically derived acids to help resurface as well as smooth and nourish the skin.
Let's take a closer look at some of the acids it contains and what they do:
Glycolic Acid improves skin texture, resurfaces, and exfoliates (reference).
Lactic Acid stimulates cell renewal, which leads to a smoother, more radiant-looking complexion (reference).
Citric Acid helps refine and renew skin (reference).
Malic acid, phytic acid, and ascorbic acid help gently resurface the skin (reference).
Sodium hyaluronate is used instead of hyaluronic acid because of its molecule size. Sodium hyaluronate has a much smaller molecular size so it can more easily penetrate the skin and thus lead to more effective results.
Arginine, linoleic acid, linolenic acid, and oleic acid help soothe and moisturize skin.
Safety and certifications:
One of the best things about Beautycounter is how safe their products are. The peel is formulated without synthetic fragrances, parabens, phthalates, PEGs, or formaldehyde-based preservatives that may be found in other peels.
Many other peels on the market also use high levels of one or two resurfacing acids that may cause skin irritation. The Beautycounter peel uses a combination of both resurfacing acids and soothing acids to aid in cell turnover to improve skin texture while being gentle yet effective on the skin.
Every ingredient used by Beautycounter goes through rigorous raw material screening and testing to ensure its safety. Beautycounter tests every batch of their products for contaminants to ensure they are safe, and all of their products are formulated with the most vulnerable populations in mind, meaning that they are safe for everyone, including women who are pregnant or breast feeding.
The also comes in glass packaging, which ensures that chemicals such as hormone disruptors won't leach from the packaging into the product (which can happen with certain types of plastic packaging). This also makes it eco-friendly and recyclable.
The peel is tested for peanut, soy and gluten allergens and is formulated without animal-derived ingredients. It's also vegan and Leaping Bunny certified.
Price and how to buy:
The peel costs $77 USD or $101 CAD USD for 1 oz/ 30 mL. It typically lasts a few months with regular use.
You can purchase the overnight peel through the link below. Beautycounter has also been kind enough to give me a 20% off code for you to use!
Frequently asked questions:
Is Beautycounter's Overnight Resurfacing Peel safe for pregnancy?
Yes! As I mentioned, all of Beautycounter's products are safe for those who are pregnant and breast feeding. Now of course everyone has unique health problems and allergies and every pregnancy is unique so always check with your own doctor as for which products are safe for you to personally use. Some women do choose to avoid topical salicylic acid during pregnancy (which is found in the peel) as the evidence regarding salicylates in pregnancy is controversial as there have been no studies done on topical salicylic acid in pregnancy. It is known that oral salicylates do cross the placenta, and because there can be some systemic absorption of topical salicylates it has been given a pregnancy rating of level C (meaning that risk cannot be ruled out) so always talk to your own doctor about which products are safe or not for you to use (please refer to the references at the end of this post for further information and reading if you are interested).
Is it good for all skin types?
Yes! This is a very gentle peel which is good for all skin types, including those with sensitive skin. Of course we all react differently to different ingredients so I always recommend doing a spot test with any new products, and of course if you are allergic to any of the ingredients in the peel do not use it. As well, make sure to avoid putting the peel on any areas of broken or injured skin.
Can you use Beautycounter resurfacing peel every night?
Yes you can. You can use it as often as you like! As infrequently as once a week and up to nightly depending on how your skin reacts. When you first start using it I would recommend using it once or twice a week and then building up from there. 
Can you use it during the day?
Do not use it during the day. It will make your skin too sensitive to the sun. During the day I recommend using a vitamin C serum instead.
Will it make my face peel?
Nope! This is a gentle peel so no actually peeling of the skin will occur.
Is the smell normal?
Yes! The Beautycounter overnight resurfacing peel smell is normal. It's all the active acids in the product. I find that the more you use it the more used to the smell you get but I don't want you to be alarmed or worried the first time you use it.

Can you use Beautycounter overnight resurfacing peel with retinol?
I wouldn't recommend it. I actually don't recommend using retinol at all. You can read why in this post, why I don't use retinol. 
I hope you found this helpful! Please let me know if you have other questions!
Since you made it this far we are basically best friends so be sure to follow me on Instagram, Pinterest, TikTok and Facebook where I share even more recipes and healthy living tips! And don't forget to leave this recipe a star review before you go!
Other information you will like:
References: