This Beautycounter charcoal mask review shares the benefits of this non toxic charcoal mask, how to use it, and it's benefits. This mask is a great way to detoxify your skin and clear your pores. It's also great for acne, to use as a spot treatment, and to use on bug or mosquito bites!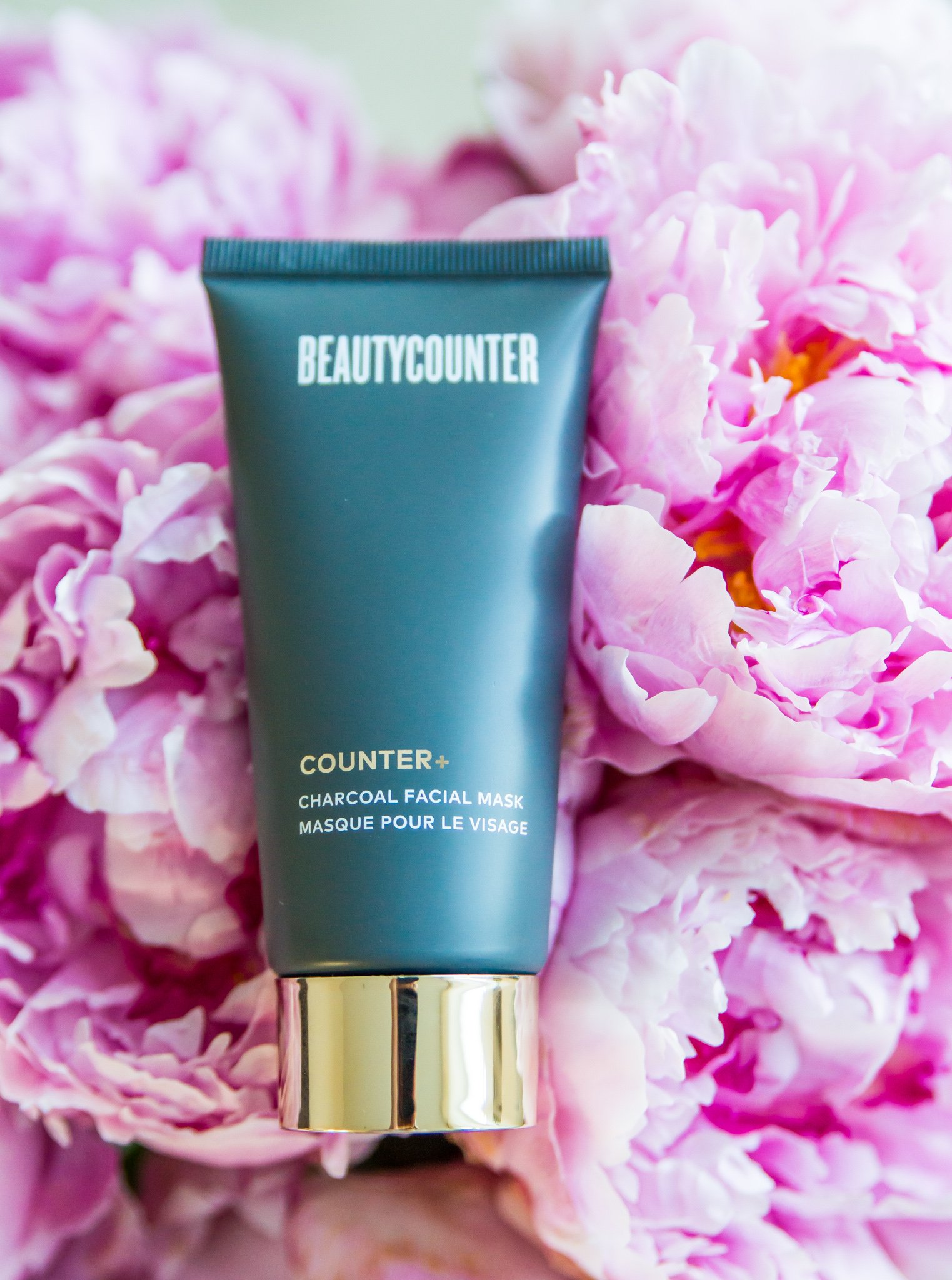 Today I am talking about one of my all time favourite skin care products, the Beautycounter charcoal mask. If you follow me on Instagram you know just how much I love this face mask as you'll see me wearing it all the time. It is one of the products that has helped me heal my acne and I have been using it religiously for the past 3 years. If you aren't familiar with Beautycounter, you can read this article to learn more about the brand and their products.
Beautycounter Charcoal Mask Review
I have been using Beautycounter's charcoal mask for the past 3 years (ever since they released it). It has worked wonders for my skin. I have dry, acne-prone skin and it has been one of the best products I have found for treating my acne. I use it nightly as a spot treatment, and once to twice a week as a full face mask. Charcoal is great for clearing our your pores and will help your other skincare products work that much better so it's beneficial for everyone. Plus, this mask is the best acne spot treatment I have ever found!
As I mentioned, this charcoal mask is one of the main products that has helped me heal my adult acne. You can see my before and after photos below of what my skin used to look like (the before photo is about 4 years ago). If you struggle from acne I know how frustrating and embarrassing it can be. And while my skin isn't perfect, it is so much better than it used to be! I also still have some minor scarring that I am dealing with but I am at the point now where I am comfortable leaving the house without makeup which is a huge, huge deal!
How to use Beautycounter's charcoal mask:
I use this mask a couple different ways: as a full face mask a couple times per week plus nightly as a spot treatment.
To use as a spot treatment:
To use Beautycounter's charcoal mask as a spot treatment, I perform my usual nighttime skincare routine which includes removing my makeup with this oil cleanser (if I am wearing any), then washing my face with this charcoal bar, then using this toner. Then I apply this all over acne treatment, followed by this serum and night cream. Then I simply apply the charcoal mask to any acne lesions or areas of congestion (see the photo below). Once it's dry I go to bed and then just wash it off in the morning.
And if you are a skin picker like I am (it's very common among acne sufferers) the other benefit of using the charcoal mask is that it will prevent you from picking those pesky acne lesions! We all know that skin picking can make acne worse but it can be very difficult to stop that bad habit. I have found that wearing the charcoal mask around the house as a spot treatment prevents me from absentmindedly picking at my acne.
To use as a face mask:
To use the charcoal mask as a full face mask, I first wash my face with this charcoal bar and then pat it dry. Then using my fingers I apply the mask to my whole face. If you like, you can also use a makeup brush to apply the mask. I let it dry for 10-15 minutes and then take a shower and wash it off. I prefer to wash it off in the shower as it can be a bit messy to take off in the sink. If you do wash it off in the sink I recommend using a wet washcloth to do so.
Beautycounter charcoal mask ingredients:
A few of the featured ingredients in this mask include:
Charcoal Powder: which is rich in natural minerals to help balance and purify the skin
Salicylic Acid and Lactic Acid: to gently exfoliate and smooth skin's surface
Peppermint oil and peppermint extract: these give the mask a nice cooling feeling when you apply it (which is part of the reason it's great for treating bug and mosquito bites!)
Charcoal mask benefits:
Using face masks regularly can be very beneficial for your skin. A few specific benefits of this mask include:
It absorbs excess skin oil
Can help minimize the appearance of your pores
Helps detoxify the skin and clean out your pores (including helping with blackheads and whiteheads)
Helps clarify the complexion and decrease redness
Helps calm skin irritation
Helps smooth and even skin tone
Helps decrease the size and appearance of acne lesions
Other uses for the Beautycounter charcoal mask:
The fun thing about this mask is that it has a few other uses that you would never expect! A couple other uses include:
As a treatment for mosquito bites or other bug bites - simply apply the mask directly to your insect bites. It will help take away the itch and also seems to help them heal faster.
As a treatment for headaches - if you get a headache, apply the charcoal mask to your temples. I have a feeling it's the peppermint essential oils in the mask that help with calming the headache.
As an armpit detox - this is a great way to help your arm pits clear out those toxins, especially if you are switching to a natural deodorant (read about why you should make that switch here)
Frequently asked questions:
Can you leave Beautycounter charcoal mask on overnight?
The Beautycounter charcoal mask is great to wear overnight. It works great as an overnight spot treatment on acne lesions and areas of congestion. Just don't use it as a full face mask overnight as that could be drying or irritating to the skin. 
Will the charcoal mask stain your sheets if you use it as an overnight spot treatment?
Nope! Once it's dry the mask stays in place pretty well, and even if it rubs off it's just dry clay, so it doesn't stain or ruin your bedding, clothes or pillow sheets.
Is the mask good for all skin types?
Yes! All skin types can benefit from using face masks regularly. They help clear out your pores so that all your other products work that much better. If you have dry skin I would recommended starting off using the mask just once a week as charcoal can be a bit drying, and if your skin tolerates you can then work up to using it twice a week.
What do you put on your skin after a charcoal mask?
I would follow your charcoal mask with your regular skincare routine. Another one of my favourite tricks is to follow the charcoal mask with the Overnight Resurfacing Peel. Doing the charcoal mask first allows the peel to work even better!
I hope you found this helpful! If you have any questions please let me know. Simply email me at erin.carter.md@gmail.com
And don't forget to take my Skin Quiz so I can help you find the perfect products for your skin type.
Since you made it this far we are basically best friends so be sure to follow me on Instagram, Pinterest, TikTok and Facebook where I share even more recipes and healthy living tips!
Other information you will like: