In this post I'm sharing my Beautycounter vitamin C serum review and results as well as my before and after photos. I also share how to use it, how I incorporate it into my routine and the benefits of using a non toxic vitamin C serum.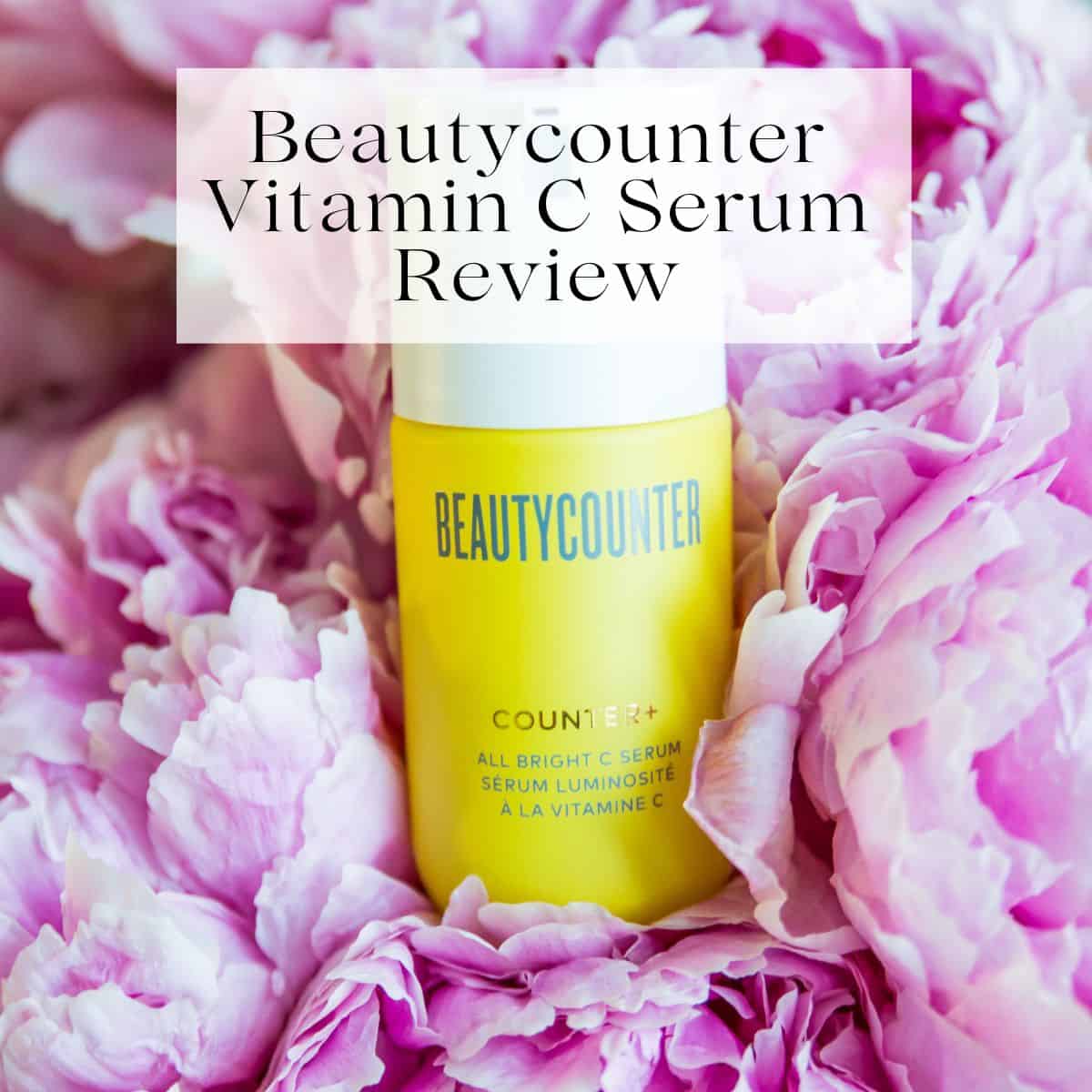 Disclaimer: some of the links in this post are affiliate links whereby I make a small commission if you purchase the product through that link. This does not cost you anything extra and helps me to keep this website running.
In this post I will share my honest review of Beautycounter's vitamin C serum, including my before and after photos.
Table of Contents
My Beautycounter Vitamin C Serum Review and Results
Since Beautycounter released their Counter+ All Bright C Serum a few months ago I have been using it daily since then and have seen huge improvements in my skin! It has decreased redness, healed blemishes, faded dark spots, increased brightness and overall improved my skin's complexion.
Here are my before and after photos after using the serum daily for 2 months:
Before and after photos: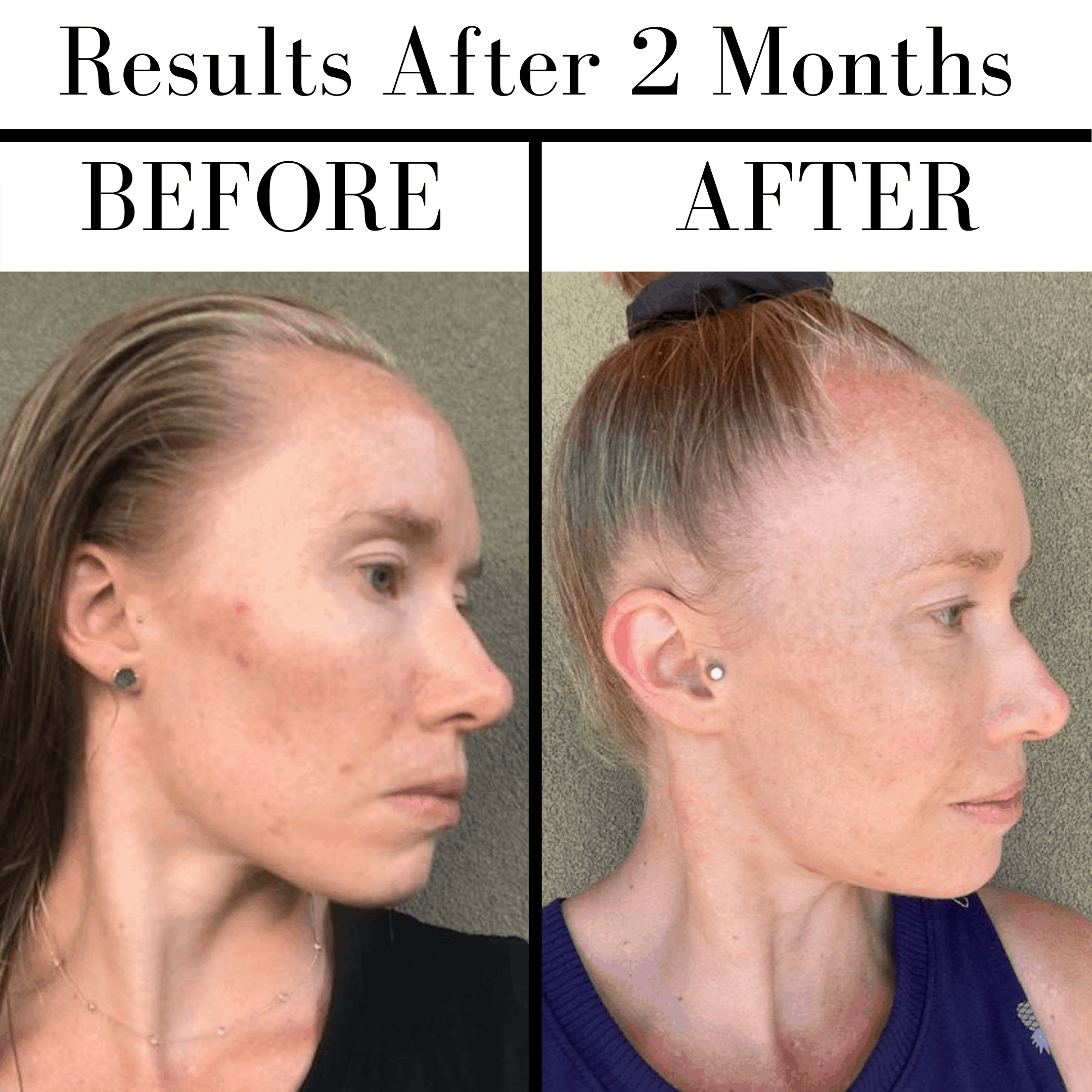 You can see in the before photo that I still had areas of redness, blemishes, more dark spots and pigmentation and my skin was more dull. In the after photo my redness has improved, the pigmentation and dark spots that I had have decreased, my freckles are more obvious and my skin is brighter overall.
What does the Beautycounter vitamin C serum do for skin?
According to the Beautycounter website the serum has many benefits including:
Leads to glowing skin and promotes an even skin tone
Brightens skin
Reduces the appearance of dark spots
Makes skin look more youthful
Evens skin tone
Improves skin radiance
Helps protect against the formation of new dark spots
Helps defend the skin from the damaging effects of environmental stressors
You can see the product page here, along with results from a clinical study which showed some amazing results!
Since using the vitamin C serum I have personally noticed:
Decreased redness
Less blemishes
Reduction in dark spots and pigmentation
Increased brightness and overall improvement in complexion
Has evened out my skin tone
What are the benefits of using a vitamin C serum?
According to the literature there are many benefits to using a vitamin C serum on your skin (note that these are general vitamin C serum benefits and are not specific to the Beautycounter serum) .
Helps reduce the appearance of dark spots and helps protect against the development of new ones (reference)
Has powerful anti-aging effects (reference)
Decreases acne
Helps defend skin from the damaging effects of environmental stressors such as pollution and smoke (reference)
Helps decrease melasma (reference)
Supports skin's natural collagen production to help make skin look more youthful (reference)
Helps decrease sun damage from UVA and UVB rays (reference)
Prevents sun damage by neutralizing free radicals, an effect which is not seen with sunscreens - for those of you who are science lovers, under laboratory conditions, the application of 10% topical vitamin C shows reduction of UVB-induced redness by 52% and sunburn cell formation by 40-60% (reference)
Acts as a potent anti-oxidant which protects the skin from oxidative stress and environmental damage (reference)
Decreases skin pigmentation and hyperpigmentation (reference)
Has anti-inflammatory effects which is helpful for treating many skin conditions and can promote wound healing and help prevent scarring (reference)
Helps replenish the skin's vitamin E levels, which has anti-oxidant effects and helps prevent against oxidative stress and maintains the collagen network in the skin (reference)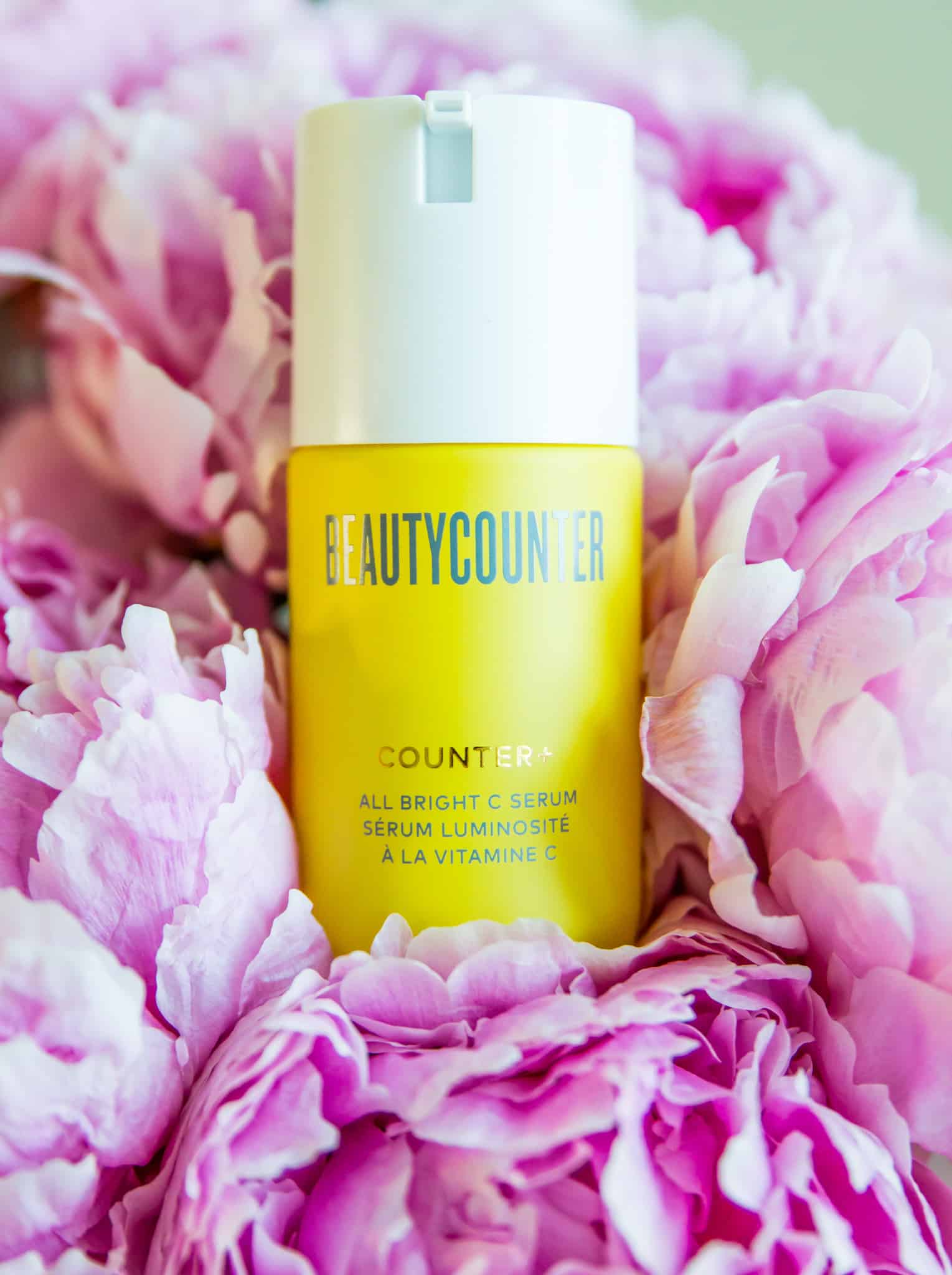 Which vitamin C serum is best?
There are many vitamin C serums on the market, so deciding which one to choose can be tricky. You might assume that the higher the percentage of vitamin C, the better, but this is not always the case. If you get too high a percentage, this can be irritating to the skin, while if the concentration is too low, the product won't be very effective. Most brands on the market use 15% vitamin C, but you need to consider how stable that type of vitamin C is. As well, many brands that claim 15% concentration don't live up to the claim when tested.
Most vitamin C serum's on the market use L-ascorbic acid as their form of vitamin C. Brands like Skinceuticals, Drunk Elephant, and Paula's Choice. The problem with L-ascorbic acid is that it is not very stable. It gets oxidized when it is exposed to light (reference). This means that while the concentration starts at 15% when the product is first formulated, that percentage decreases quickly, so after being exposed to light the product becomes much less effective and the concentration of stable vitamin C in the product decreases dramatically.
Alternatively, the Beautycounter All Bright C Serum uses a total of 10% vitamin C, from two forms of ultra-stable Vitamin C. It uses 5% bis-glyceryl ascorbate and 5% tetrahexyldecyl ascorbate. These were specifically selected for their stability and effectiveness over time (reference).
Both bis-glyceryl ascorbate and tetrahexyldecyl ascorbate are effective at lower concentrations, which also means they have less potential to irritate the skin. They are also lipid-soluble, so the effects are deeper and longer-lasting in the skin. These forms of vitamin C are able to penetrate the skin, while L-ascorbic acid, loses efficacy when it comes into contact with water, making it difficult to formulate with and harder to penetrate the skin (reference). This is why you are seeing many high-end skincare brands selling do it yourself products where you mix the L-ascorbic acid vitamin C with a serum just before using. They are trying to maximize the stability of an ingredient that is very unstable and losses effectiveness quickly.
So when it comes to deciding what type of vitamin C serum is the best, I recommend checking the ingredients to determine what type of vitamin C is used in the product. Ideally you want to avoid products with L-ascorbic acid and instead choose products with either (or both) bis-glyceryl ascorbate and tetrahexyldecyl ascorbate which will be more effective and a bigger bang for your buck.
Let's also look at cost. One of the leading vitamin C serums on the market by Skinceuticals costs $198 for 30 ml, while the Beautycounter Vitamin C serum is $90 for 30 ml. That is less than half the price! The Skinceuticals serum also uses L-ascorbic acid, and as we already discussed that form of vitamin C is not very stable. So you are paying twice the amount for a product that will lose effectiveness overtime.
Key ingredients:
Besides vitamin C, the All Bright Serum also contains:
Curcuma Longa (Turmeric) Root Extract: The turmeric gives the serum a bright yellow color, and is a powerful antioxidant that helps even skin tone and improve the appearance of fine lines and wrinkles.
Myrciaria Dubia (Camu Camu) Fruit Extract: Camu camu is another powerful antioxidant that helps reduce the appearance of dark spots and improves signs of skin fatigue.
How to use:
You want to use your vitamin C serum during the day, not at night. At night, a great pairing to your vitamin C serum is this Overnight Resurfacing Peel.
To use the vitamin C serum, first wash and dry your face. Then use your toner and your regular serum if you use one. Then layer the All Bright C Serum on top, applying it to your face, neck, and décolletage. Follow with your daytime moisturizer and SPF.
I personally recommend using the vitamin C serum every day. You will notice the most improvement by doing so. I find that I only need one pump, which will be enough to cover your whole face.
Safety and Certifications:
Another great thing about Beautycounter's All Bright C serum is its safety. Beautycounter's vitamin C serum is formulated without ethoxylated ingredients (including PEGs) due to their reproductive and developmental concerns. It's also made without any dyes or fragrances. It is also free from parabens, phthalates and artificial fragrances.
Every ingredient used by Beautycounter goes through rigorous raw materials screening and testing to ensure it's safety. Beautycounter tests every batch of their products for contaminants to ensure they are safe, and all of their products are formulated with the most vulnerable populations in mind, meaning that they are safe for everyone, including women who are both pregnant and breast feeding.
This vitamin C serum is vegan, Leaping Bunny certified and EWG certified. It's also gluten free!
Sustainability:
Beautycounter's vitamin C serum comes in glass packaging, and by using glass from North America instead of plastic this saves an estimated 26% of water and fossil fuels. Glass packaging also ensures that hormone disruptors won't leach from the packaging into the product (which can happen with certain types of plastic packaging).
Price and how to buy:
The Beautycounter vitamin C serum costs $90 USD or $117 CAD for 30 mL or 1 oz. The serum typically lasts 2-3 months with daily use.
Beautycounter has also been kind enough to give me a 20% off code for you!
Frequently asked questions:
Can I apply vitamin C serum overnight?
Nope! Vitamin C serums are meant to be used during the day, when your skin is being exposed to various environmental stressors, the sun and stress. At night a great pairing to your day time vitamin C serum is this Overnight Resurfacing Peel.
Should I moisturize after vitamin C serum?
Yes! You want to apply your vitamin C serum before your day time moisturizer.
How is this different from Beautycounter's Brightening Face Oil?
The concentration of vitamin C in the serum is higher than the face oil. That means the vitamin C serum will be much more effective at brightening the skin and reversing the signs of aging. The main job of a face oil is to improve hydration, but if brightening the skin, reducing dark spots, decreasing the signs of aging, decreasing melasma or scarring are your main goals, you'll want the Vitamin C serum rather than the Brightening Oil.
I hope you found this helpful! Please let me know if you have other questions!
Since you made it this far we are basically best friends so be sure to follow me on Instagram, Pinterest, TikTok and Facebook where I share even more recipes and healthy living tips!
Other information you will be interested in:
References: