The Beautycounter vitamin C serum is a great way to brighten skin, decrease pigmentation, fade scars, help with acne and rosacea, and decrease the signs of aging. In this post I share how to use it and the results I have seen after just 2 months of use.
Truth be told I didn't know a lot about vitamin C serums until recently. I had never used one before. It turns out, that was a big mistake! Beautycounter released their Counter+ All Bright C Serum a couple months ago and I have been using it daily since then and have seen such dramatic improvements in my skin! I almost can't believe it. It has decreased my acne, faded scars, increased brightness and overall improved my skin's complexion.
I've found myself needing less makeup and most days go without it completely! I'm typically a Skin Twin Foundation wearer since I like a bit more coverage, but since adding the Vitamin C serum I've found a little Dew Skin Tinted Moisturizer is all I need!
Here are my before and after photos after using the serum for 2 months: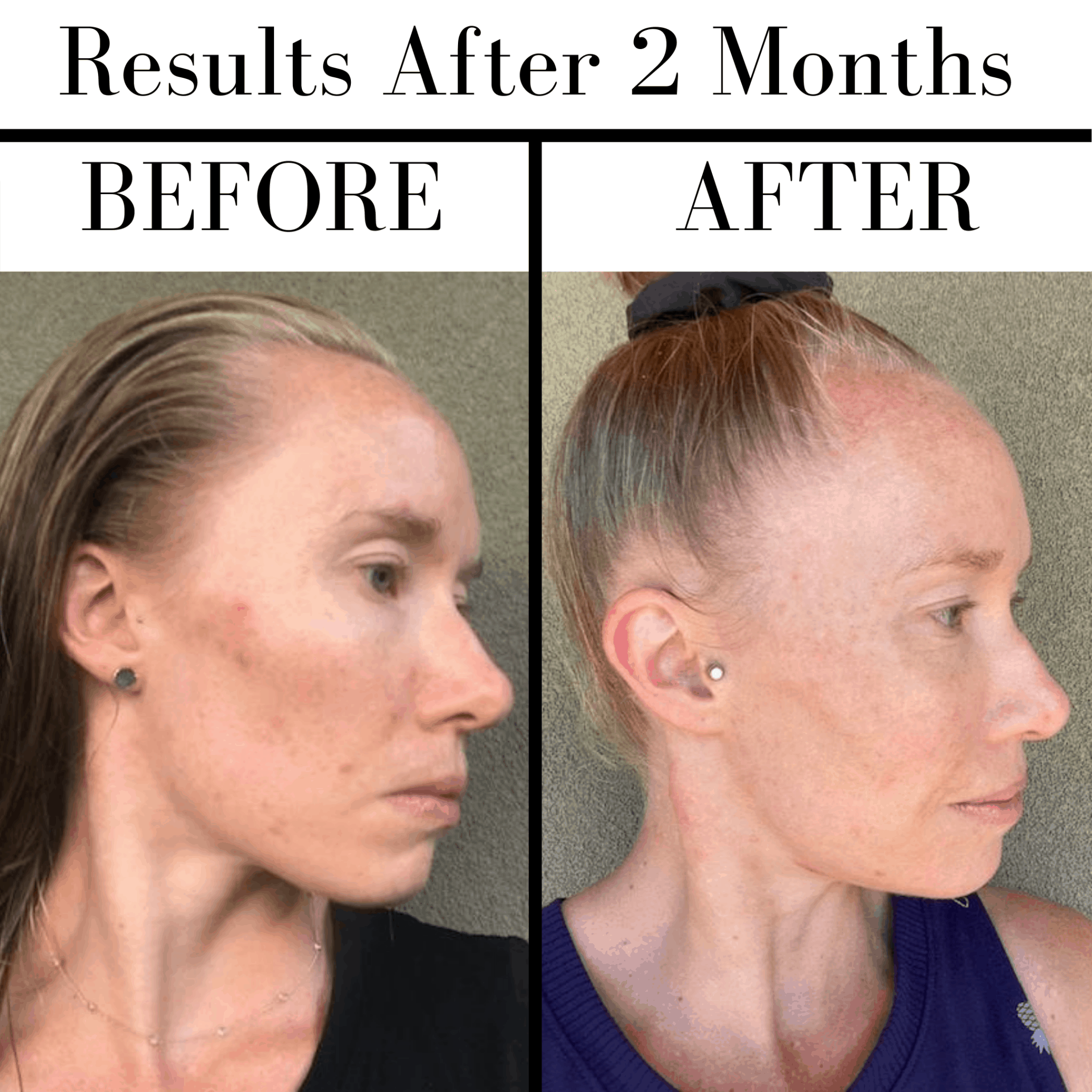 You can see in the before photo that I still had a few acne lesions, more scars and pigmentation and my skin was more dull. In the after photo my acne has completely healed, the pigmentation and scarring that I had has decreased, my freckles are more obvious and my skin is brighter overall. And this is after just 2 months! I can't wait to see what even longer use will do.
What does the Beautycounter Vitamin C Serum do for skin?
I have personally noticed:
Decreased acne
Reduction in scarring and pigmentation
Increased brightness and overall improvement in complexion
Other benefits of vitamin C serums include:
You can see the product page here, along with results from a clinical study which showed some amazing results!
Which Vitamin C Serum is best?
There are many vitamin C serums on the market, so deciding which one to choose can be tricky. You might assume that the higher the percentage of vitamin C, the better, but this is not always the case. If you get too high a percentage, this can be irritating to the skin, while if the concentration is too low, the product won't be that effective. Most brands on the market use 15% vitamin C, but you need to consider how stable that type of vitamin C is. As well, many brands that claim 15% concentration don't live up to the claim when tested.
Most vitamin C serum's on the market use L-ascorbic acid as their form of vitamin C. The problem with L-ascorbic acid is that it is not very stable. It gets oxidized when it is exposed to light (reference). This means that while the concentration starts at 15% when the product is first formulated, that percentage decreases quickly, so after being exposed to light the product becomes much less effective and the concentration of stable vitamin C in the product decreases dramatically.
Alternatively, the. Beautycounter All Bright C Serum uses a total of 10% vitamin C, from two forms of ultra-stable Vitamin C. It uses 5% bis-glyceryl ascorbate and 5% tetrahexyldecyl ascorbate. These were specifically selected for their stability and efficacy over time (reference).
Both bis-glyceryl ascorbate and tetrahexyldecyl ascorbate are effective at lower concentrations, which also means they have less potential to irritate the skin. They are also lipid-soluble, so the effects are deeper and longer-lasting in the skin. These forms of vitamin C are able to penetrate the skin, while L-ascorbic acid, loses efficacy when it comes into contact with water, making it difficult to formulate with and harder to penetrate the skin (reference). This is why you are seeing many high-end skincare brands selling do it yourself products where you mix the L-ascorbic acid vitamin C with a serum just before using. They are trying to maximize the stability of an ingredient that is very unstable and losses effectiveness quickly.
So when it comes to deciding what type of vitamin C serum is the best, I recommend checking the ingredients to determine what type of vitamin C is used in the product. Ideally you want to avoid products with L-ascorbic acid and instead choose products with either (or both) bis-glyceryl ascorbate and tetrahexyldecyl ascorbate which will be more effective and a bigger bang for your buck.
Let's also look at cost. One of the leading vitamin C serums on the market costs $166 for 30 ml, while the Beautycounter Vitamin C serum is $79 for 30 ml. That is less than half the price! That other serum also uses L-ascorbic acid, and as we already discussed that form of vitamin C is not very stable. So you are paying twice the amount for a product that will lose effectiveness overtime.
Beautycounter's vitamin C serum also contains both turmeric root extract and camu camu fruit extract. The turmeric gives the serum a bright yellow color, and is a powerful antioxidant that helps even skin tone and improve the appearance of fine lines and wrinkles. Camu camu is another antioxidant that helps reduce the appearance of dark spots and improves signs of skin fatigue.
How to use the Beautycounter vitamin C serum:
You want to use your vitamin C serum during the day, not at night. At night, a great pairing to your vitamin C serum is this Overnight Resurfacing Peel.
To use the vitamin C serum, first wash and dry your face. Then use your toner and your regular serum if you use one. Then layer the All Bright C Serum on top, applying it to your face, neck, and décolletage. Follow with your daytime moisturizer.
I personally recommend using the vitamin C serum every day. You will notice the most improvement by doing so. I find that I only need one pump, which will be enough to cover your whole face.
For my skin, which is dry and acne prone I have found the best daytime skincare regimen for me is: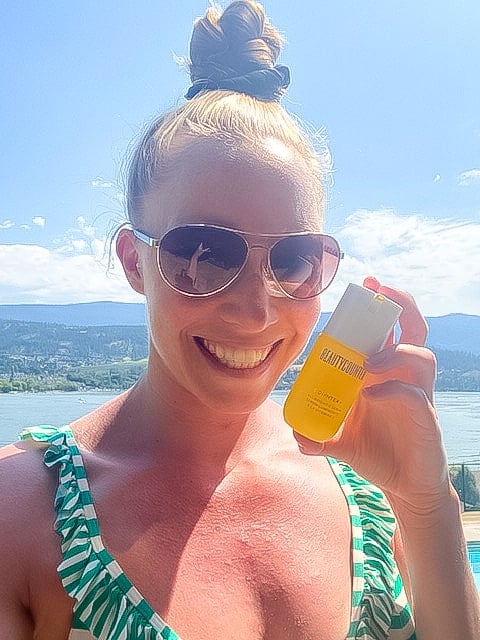 Beautycounter's Vitamin C Serum: Safety
Another great thing about Beautycounter's All Bright C serum is its safety. I have written a lot more about why this is so important to me before, but as someone with chronic health issues and an autoimmune disease, I will only use skincare products that I know are good for my health.
Beautycounter's vitamin C serum is formulated without ethoxylated ingredients (including PEGs) due to their reproductive and developmental concerns. It's also made without any dyes or fragrances. Every ingredient used by Beautycounter goes through rigorous raw materials screening and testing to ensure it's safety. Beautycounter tests every batch of their products for contaminants to ensure they are safe, and all of their products are formulated with the most vulnerable populations in mind, meaning that they are safe for everyone, including women who are both pregnant and breast feeding.
This vitamin C serum is also vegan, Leaping Bunny certified and EWG certified. It's also gluten free!
Beautycounter's vitamin C serum also comes in glass packaging, and by using glass from North America instead of plastic they are saving an estimated 26% of water and fossil fuels. Glass packaging also ensures that harmful chemicals and hormone disruptors won't leach from the packaging into the product (which can happen with certain types of plastic packaging).
Frequently asked questions about vitamin C serums:
Should I use my vitamin C serum at night?
Nope! Vitamin C serums are meant to be used during the day, when your skin is being exposed to various environmental stressors, the sun and stress. At night a great pairing to your day time vitamin C serum is this Overnight Resurfacing Peel.
How is this different from Beautycounter's Brightening Face Oil?
The concentration of vitamin C in the serum is higher than the face oil. That means the vitamin C serum will be much more effective at brightening the skin and reversing the signs of aging. The main job of a face oil is to improve hydration, but if brightening the skin, reducing dark spots, decreasing the signs of aging, decreasing melasma or scarring are your main goals, you'll want the Vitamin C serum rather than the Brightening Oil.
Is this vitamin C serum good for all skin types?
Yes! I have clients with many types of skin who all love this product. Even those with really sensitive skin including those with rosacea are seeing amazing results. Of course, everyone's skin is different, so I always recommend doing a spot test with any new product to ensure you won't have any reactions.
Where can I get the Beautycounter Vitamin C serum?
You just order it online! You can grab it through this link, and be sure to choose me (Erin Carter from Calgary Canada) as your consultant when you checkout. If you are interested in trying anything else, please fill out my skincare survey and I will get back to you with my suggestions. Before you order I also recommend contacting me as I always do something special for my first time customers! Just email me at erin.carter.md@gmail.com and we can chat!
I hope you found this helpful! Please let me know if you have other questions!
BEFORE YOU GO BE SURE TO FOLLOW ME ON INSTAGRAM, PINTEREST AND FACEBOOK WHERE I SHARE EVEN MORE HEALTHY LIVING TIPS AND RECIPES!
You might also like:
Pin this post for later:
References: