This Baked Oats for One recipe is about to become your go-to breakfast. So easy to make, you get to choose your preferred fillings, whether it be chocolate, fruit, or chopped nuts. Naturally sweetened with honey this baked oatmeal recipe is an easy, healthy breakfast that even your kids will love.
Why you will love this recipe:
This baked oatmeal for one is such a delicious breakfast option that is so versatile.
You get to choose what you add to your baked oatmeal, whether that be chocolate, blueberries, raspberries, bananas, chopped nuts etc. Whatever you like!
This healthy baked oatmeal recipe is made with rolled oats, the milk of your choice, eggs, and it's naturally sweetened with honey.
This oatmeal recipe is gluten free and you can make it dairy free by swapping dairy milk for any dairy free milk that you like including almond milk, coconut milk etc.
You can make this baked oats for one recipe with no banana.
This recipe is so easy to make and only requires a few minutes of hands on time.
It makes great leftovers so it's a great option for meal prep.
Depending on your allergies and dietary needs you can easily make this recipe gluten free, dairy free and vegan.
Ingredients and substitutions:
Rolled oats – The base of this delicious healthy baked oatmeal for one. I use these gluten free sprouted rolled oats which are easier to digest. Make sure you use rolled oats and not quick oats for this recipe.
Eggs – to help the oats hold together when they bake, plus they add an extra bit of protein to this breakfast.
Milk – choose any type of milk you like whether that be dairy milk or a dairy free milk such as almond milk or coconut milk.
Honey – My favourite natural sweetener which is filled with vitamins and minerals! You could swap this for maple syrup.
Ground cinnamon – to give this oatmeal just a bit more flavour.
Fillings of your choice – the options are endless: chocolate chips, blueberries, raspberries, blackberries, bananas, strawberries, chopped nuts etc. Whatever you like!
How to make this recipe:
You are going to love how easy this recipe is to make!
Step one:
First, preheat your oven to 350 degrees Fahrenheit.
Step two:
In a large bowl, add the wet ingredients and whisk them together until they are smooth.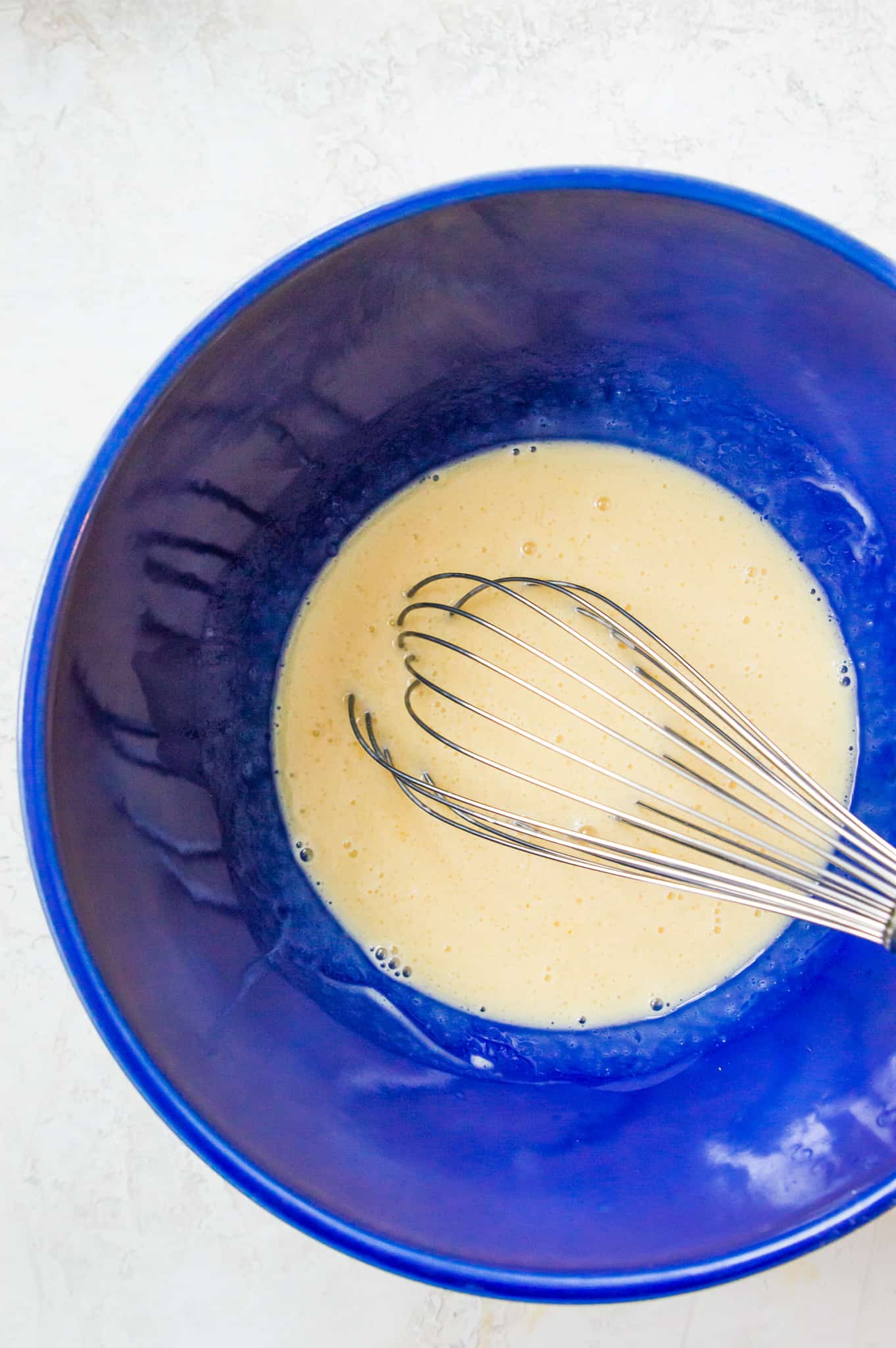 Step three:
Add the dry ingredients to the wet ingredients and stir everything together.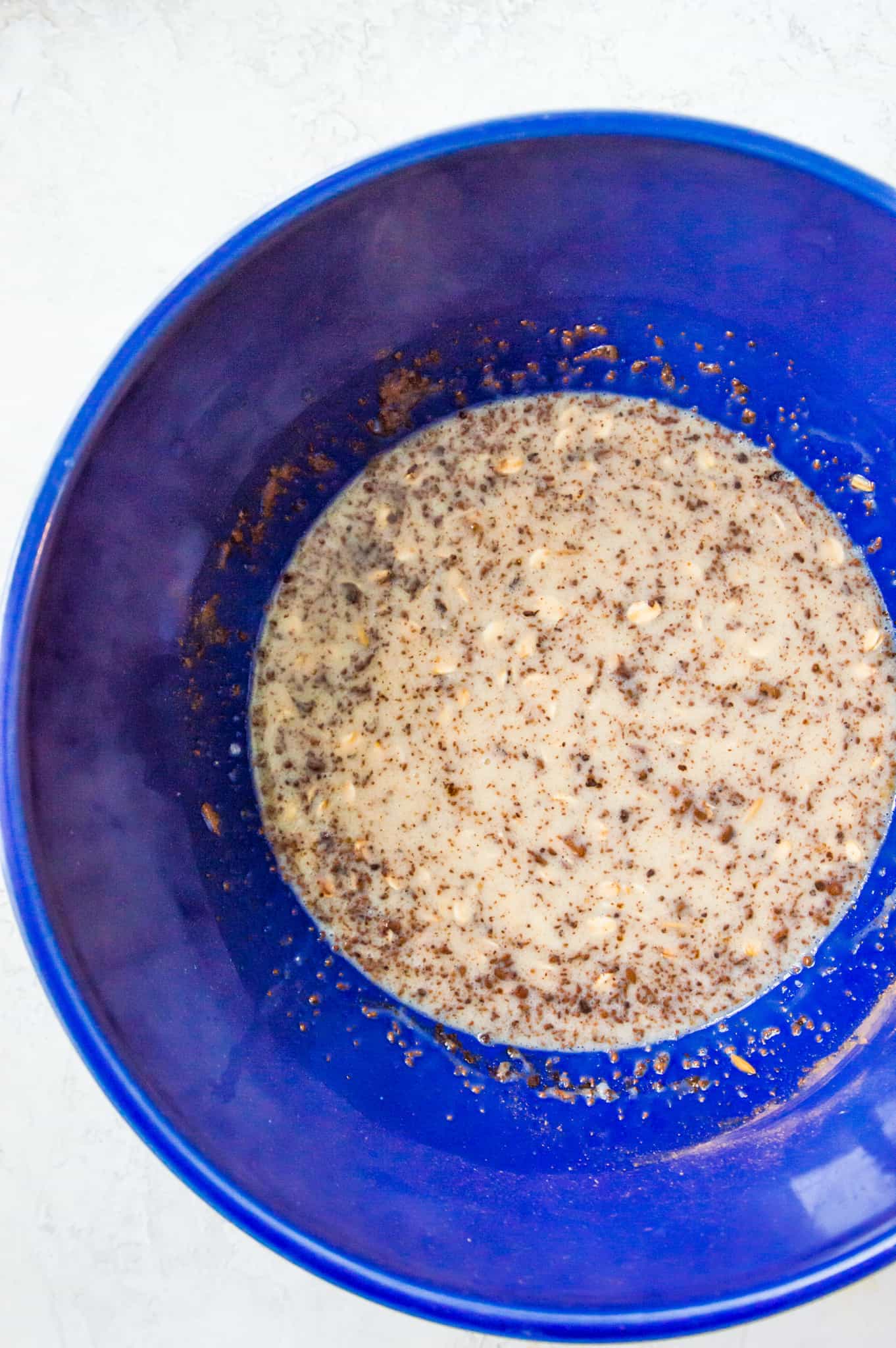 Step four:
Transfer the mixture to 4 ramekins and add in any fillings that you want such as fruit, chocolate chips or nuts. Place the ramekins on a baking sheet and bake them for 35-40 minutes. Let them cool for a few minutes and then serve and enjoy!
Tips and variations:
You can use any type of milk that you like for this oatmeal, whether that's dairy milk or any dairy free milk of your choice such as almond milk, coconut milk, cashew milk etc.
You can fill this oatmeal with whatever you like, whether that is chocolate chips, with banana or without banana, chopped nuts, berries, chopped fruit etc.
Use rolled oats and not quick oats or steel cut oats for this oatmeal recipe.
How to store:
Store these single serve baked oatmeals in the fridge for up to 5 days. When you are ready to eat them, put them in the microwave for a few seconds to heat the oatmeal back up. If the ramekins you have don't come with lids, I recommend covering them with these silicone covers when storing them in the fridge.
Frequently asked questions:
Is this baked oats for one low calorie?
The calorie count of this baked oatmeal recipe will vary depending on the fillings you put in them. To make it lower in calories, use fillings such as fresh fruit rather than chocolate.
Can I make this baked oatmeal with no eggs?
I have not tried making this oatmeal without the eggs or with any egg replacements. I am not confident it would work out as well but if you try it please let me know how it goes.
What is a single serving of oats?
A single serving of oats can be anywhere from 1/4 up to 1/2 cup of rolled oats.
Are baked oats good for you?

Baked oatmeal is a healthy breakfast option. Oats contain many important vitamins and minerals and are full of soluble fiber and beta-glucan which has numerous health benefits including helping reduce cholesterol and helping to regulate blood sugar.
What's the difference between rolled oats and quick oats?
Rolled oats, also known as old-fashioned oats, are oat groats that are steamed and rolled into flakes. The larger surface area means they will cook more quickly than steel-cut oats. Quick oats on the other hand are cut into smaller pieces, rolled thinner, and steamed longer so they cook more quickly but don't end up with as much texture as rolled oats.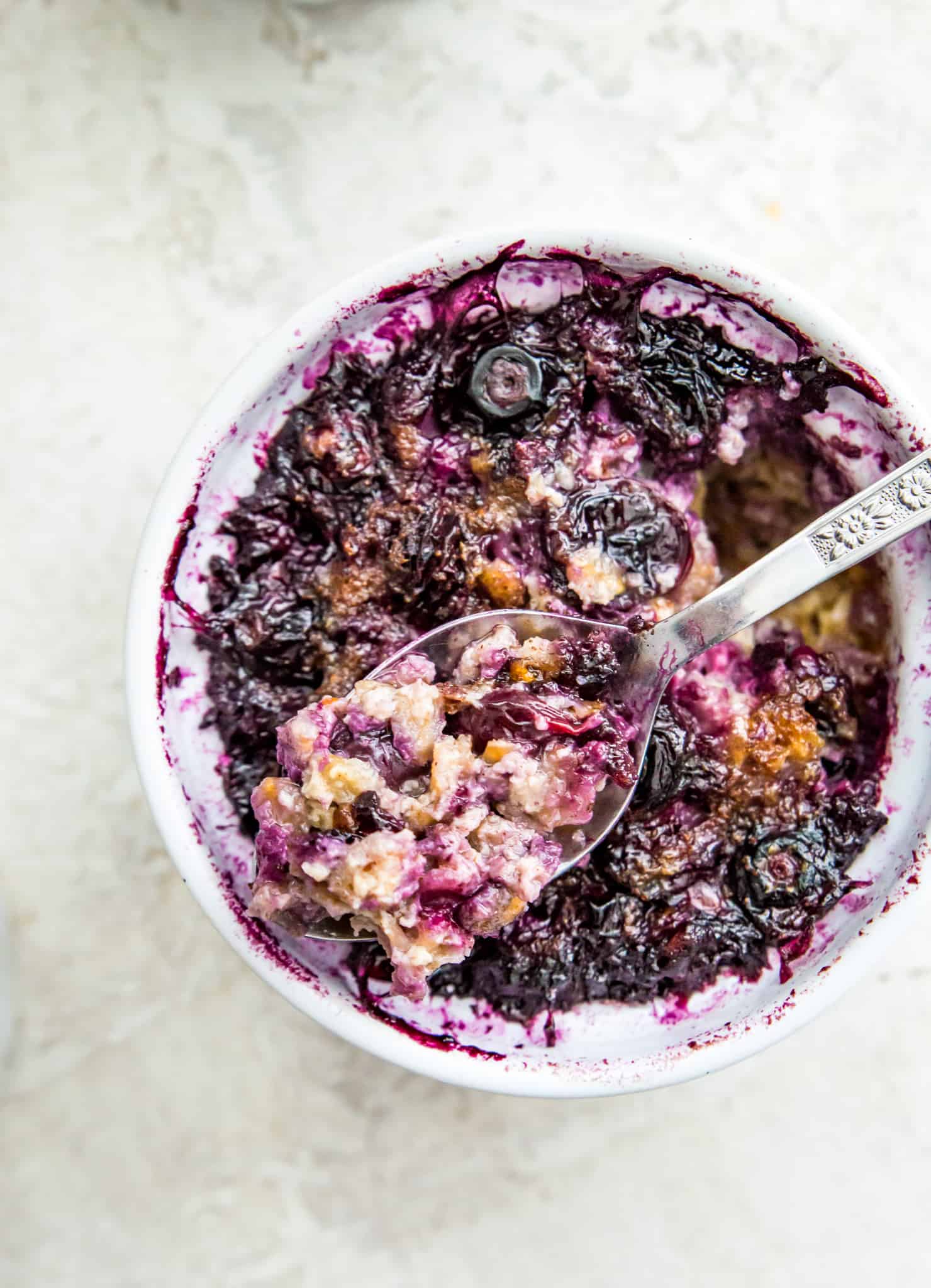 Other recipes you will love:
SINCE YOU MADE IT THIS FAR WE ARE BASICALLY BEST FRIENDS SO BE SURE TO FOLLOW ME ON INSTAGRAM, PINTEREST, TIKTOK AND FACEBOOK WHERE I SHARE EVEN MORE RECIPES AND HEALTHY LIVING TIPS! AND DON'T FORGET TO LEAVE THIS RECIPE A STAR REVIEW BEFORE YOU GO!
Baked Oats For One
Baked Oats for One are a delicious breakfast option that are perfect for meal prep. You choose your toppings, anything from chocolate chips to fruit.
Ingredients
Optional Additions
blueberries

chocolate chips

chopped nuts
Instructions
Preheat your oven to 350F.

In a large bowl, whisk together the wet ingredients until smooth.

Add the dry ingredients and stir until combined. Stir in any extras you want to add (such as fruit, chocolate chips or chopped nuts).

Transfer the oat mixture to 4 ramekins and place them on a baking sheet. Bake for 35-40 minutes, until cooked through.
Recipe Notes
To make this a single serving only, divide the recipe by 4. 
You can use any type of milk you like for this recipe including dairy milk, almond milk, coconut milk etc. 
The nutritional values for this recipe will vary depending on what type of milk you use and what you add to the oats (chocolate chips, fruit, nuts etc). 
Nutrition Facts
Baked Oats For One
Amount Per Serving
Calories 331
Calories from Fat 171
% Daily Value*
Fat 19g29%
Cholesterol 88mg29%
Sodium 60mg3%
Potassium 199mg6%
Carbohydrates 35g12%
Protein 7g14%
Vitamin A 219IU4%
Vitamin C 1mg1%
Calcium 98mg10%
Iron 1mg6%
* Percent Daily Values are based on a 2000 calorie diet.
Pin this recipe for later: