These baked cinnamon apples with caramel are a simple and delicious dessert that is perfect for fall, winter and the holidays. Easy to make and made without refined sugar they are healthy and naturally gluten free, dairy free and vegan. Enjoy them as a snack or a healthy treat.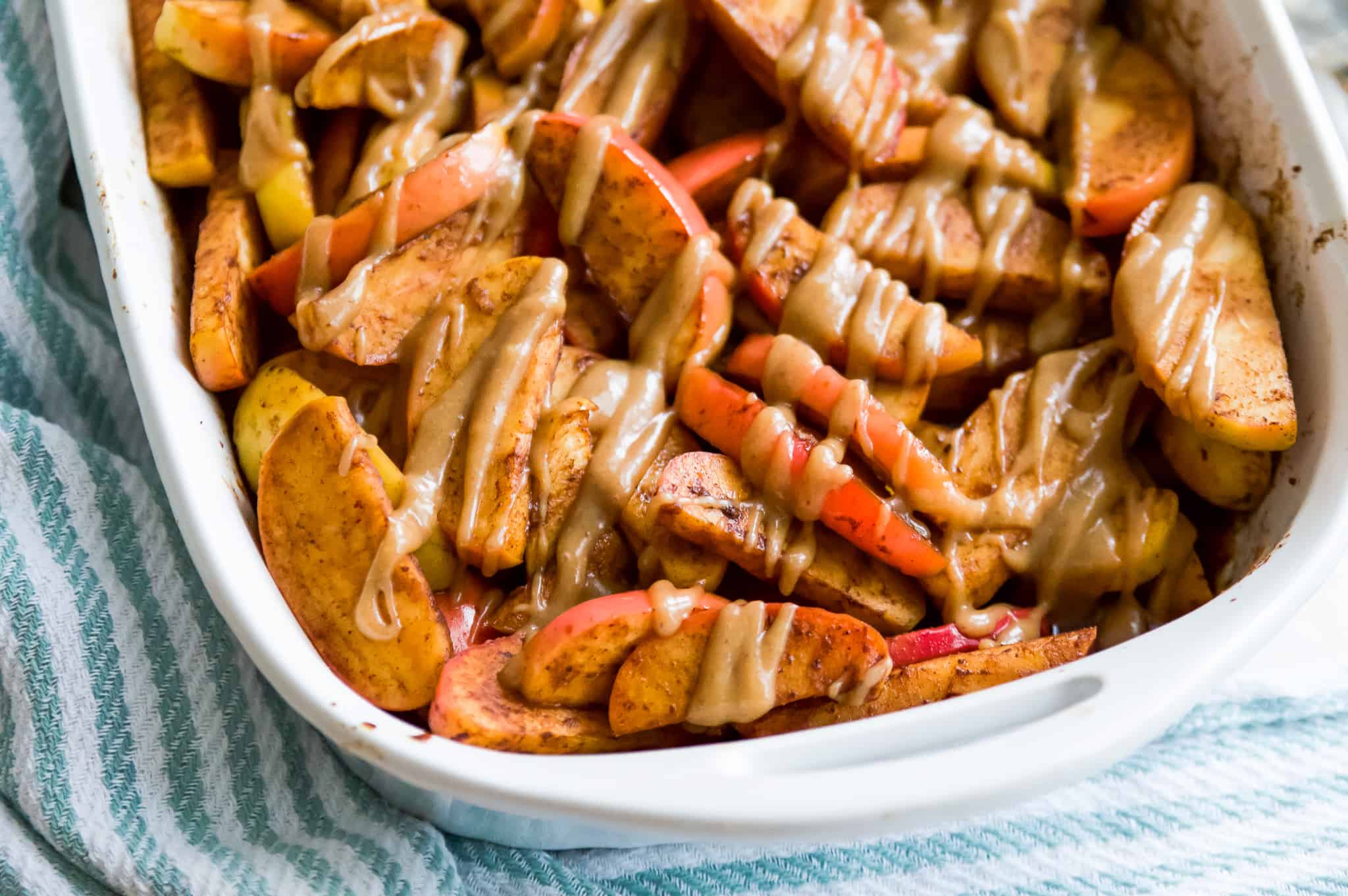 Why these baked cinnamon apples with caramel are so good:
They taste amazing! With hints of cinnamon, nutmeg and cloves these apples have the best fall flavour
They are really easy to make and you don't have to peel the apples
They are a great dessert to serve for Thanksgiving or Christmas
The caramel sauce takes these baked apples to the next level and makes them taste even better!
They are refined sugar free and are sweetened with coconut sugar and honey (or maple syrup) so are healthier than many other baked apple recipes
They are naturally gluten free and dairy free and are safe for paleo and vegan diets


How to make these baked cinnamon apples with caramel:
How to make the baked apples: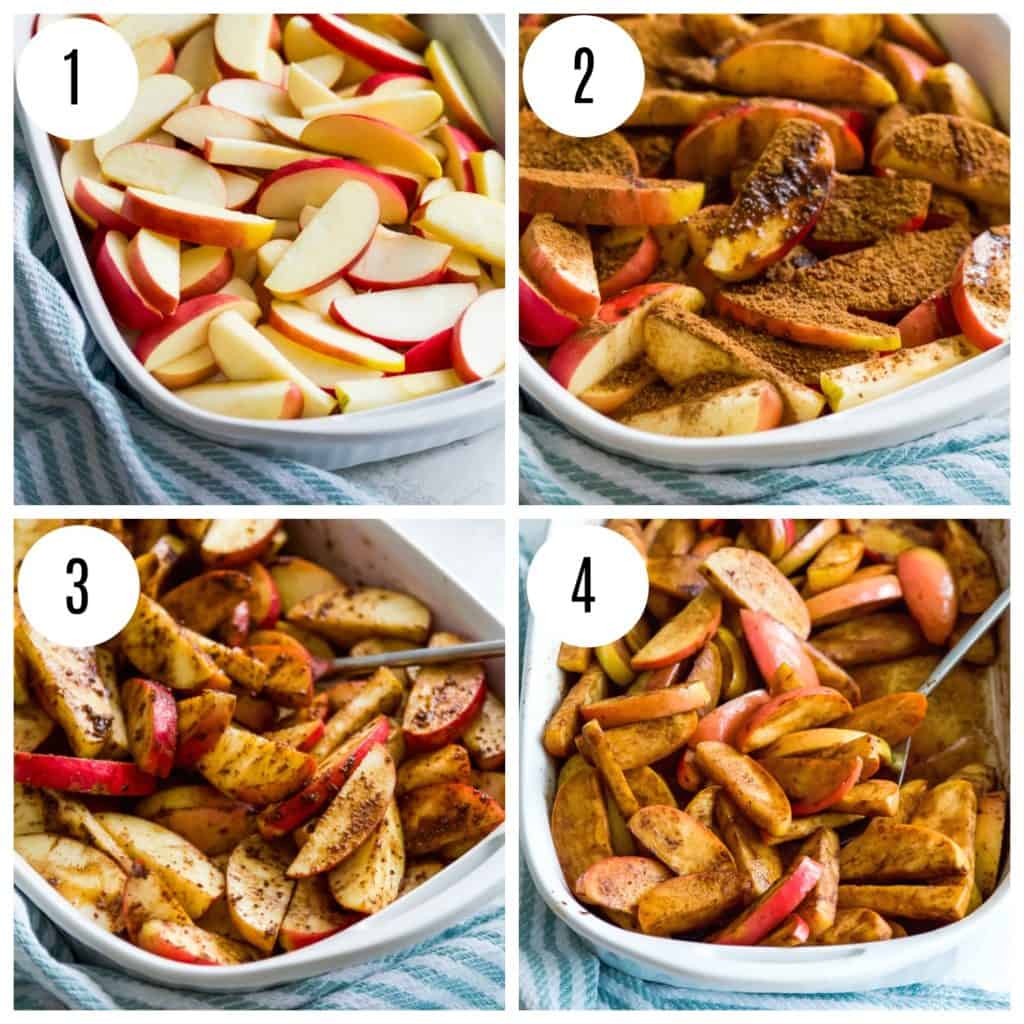 Preheat your oven to 350F
Chop the apples (you can leave the skin on or peel it off) and place them in a 3 quart casserole dish
Add the ingredients and stir the apples well to coat
Cover the casserole dish and bake for 40-45 minutes, until the apples are the texture you desire (then make the caramel sauce while the apples are baking)
How to make the caramel sauce:
Add all the ingredients to your Vitamix or other high speed blender
Blend well until the sauce is smooth
Once the apples are done baking drizzle the caramel over the apples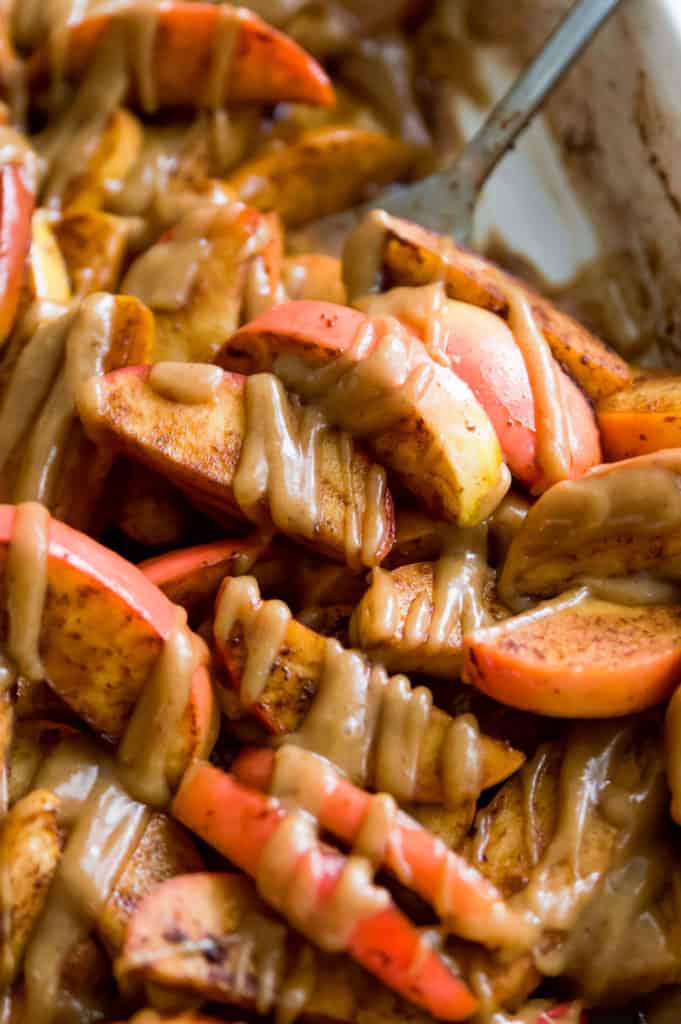 Tips for these baked apples with cinnamon:
If you don't want to make the caramel sauce you don't have to
You could also top these baked apples with dairy free ice cream or whipped cream
These will stay fresh in the fridge for up to a week
You can make the caramel sauce with either honey or maple syrup
If you tolerate dairy feel free to use butter or ghee instead of coconut oil
If you want the apples to be even sweeter feel free to add more coconut sugar
If you prefer the apples without the skin you can peel the apples before chopping them
Are baked apples healthy?
That depends on what you bake them with. If you bake them with refined sugars or a high amount of sugars that will make them less healthy. However, these baked apples don't use any refined sugars and they are also dairy free so they are healthier than most other baked apple recipes.
What are the best apples for baked apples?
You can use many different types of apples for baked apples. I personally like Ambrosia, Honey Crisp, Gala, or Pink Lady but feel free to use any type of apple you like.
Other desserts you will love:
Since you made it this far we are basically best friends so be sure to follow me on Instagram, Pinterest and Facebook where I share even more recipes and healthy living tips! And don't forget to leave this recipe a star review before you go!
Baked Cinnamon Apples with Caramel
These baked cinnamon apples with caramel are the perfect fall and winter dessert. Refined sugar free these apples still taste amazing and are paleo and vegan.
Ingredients
Caramel Sauce Ingredients
Instructions
Baked Apples Instructions
Preheat your oven to 350F

Chop the apples and place them in a 3 quart casserole dish

Add the remaining ingredients and stir well to coat all the apples

Cover the casserole dish and place the dish in the oven

While the apples are baking make the caramel sauce
Caramel Sauce Instructions
Add all the ingredients to your Vitamix or other high speed blender and allow them to soak
Recipe Notes
If you want the apples to be sweeter feel free to add more coconut sugar (such as 1/2 a cup) 
If you tolerate dairy feel free to use butter or ghee instead of coconut oil
You can make the caramel sauce with either honey or maple syrup
Feel free to peel the apples if you prefer them without the skin 
Pin this recipe for later: