Paleo Lemon and Vanilla Cheesecake. That's what we're eating this week. Why? Because it was my birthday last week. And what's a birthday without cake? Miserable that's what. And yes, you can still eat a paleo diet and have cake. Because life without cake would just be miserable. Totally miserable.
Those of you on your January Whole 30 are probably cursing me right now. Desserts two weeks in a row? I know, I know, it's not fair. But you'll just have to save this one for when you finish in a couple weeks. You're so close!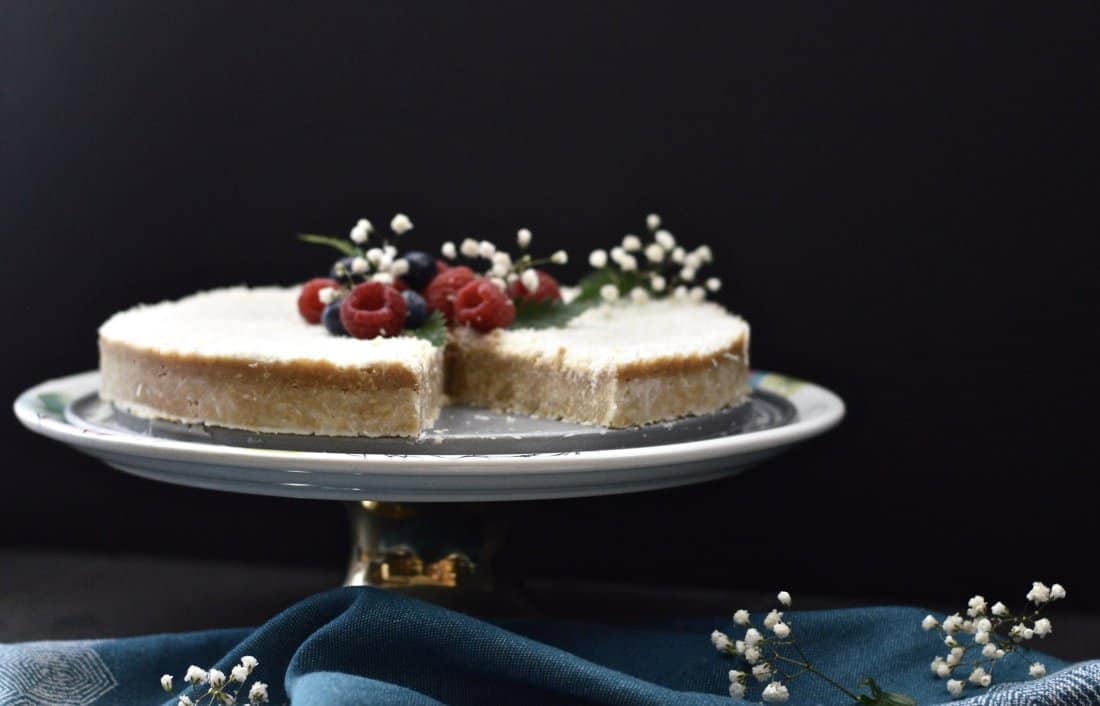 So what did I do for my birthday? Not a lot to be honest. After all the work recently of moving, starting my rheumatology practice, running this blog and trying to grow my Beautycounter business, I just didn't have the energy to plan something. I know, totally lame. But I did have a couple amazing dinners, one with my family at Open Range, and one with Erik at Notable. Erik and I also went floating for the first time. Yes you read that right, floating. Have you tried floating before? It was a very interesting experience. For those of you who don't know about floating, what happens is you go into a pod filled with water and 1200lbs of Epson salts, turn out the lights and float in dark, silence, for 90 minutes. In other words it's 90 minutes of total sensory deprivation. Floating is said to help with so many health issues including chronic pain, enhancing creativity and focus, relieving stress and promoting deep relaxation. Now, since it was my first time I can't comment on most of those claims, but it was definitely extremely relaxing. And you might think that doing nothing for 90 minutes in the dark would be extremely boring, but it was amazing just how fast the time went by. I don't think I actually fell asleep, but I might have. It was an interesting experience for sure.
But let's talk a little more about this Paleo Lemon and Vanilla Cheesecake because I know that's why you are really here. Now, you might be thinking, "dairy isn't paleo." And you are right. So don't worry, there is no actual dairy in this recipe. But the texture is very similar to that of traditional cheesecake, hence the name.
I used to love cheesecake before I turned paleo. It was one of my favourite desserts, and one of the treats I have missed the most since changing my diet. So I decided it was time to make something similar. And this one turned out pretty darn good if I do say so myself. The combination of lemon and vanilla just compliment each other so well. Plus this recipe is not only paleo, but it is also safe for those on the SCD diet, GAPS diet and those on a vegan diet. And beyond being dairy free this Paleo Lemon and Vanilla Cheesecake is also gluten and grain free and refined sugar free.
And as always I would be thrilled if you followed my on my social media pages on Facebook, Instagram, Pinterest and Twitter!
Until next time, happy eating everyone!
Paleo Lemon and Vanilla Cheesecake
(SCD, GAPS, Vegan, Gluten Free)
Ingredients
Lemon Layer
2

cup

cashews

1/4

cup

coconut manna

You can also use coconut butter or coconut cream concentrate

1/4

cup

coconut oil

1/4

cup

freshly squeezed lemon juice

1/4

cup

honey or maple syrup

1

tbsp

lemon zest

1

pinch

sea salt

1

package

shredded coconut
Instructions
Lemon Layer
In your food processor (I use this one) combine all the ingredients (except for the shredded coconut) and blend until smooth

Transfer the processed ingredients to a large bowl and stir in the shredded coconut

Transfer the mix to a round cake pan and spread evenly, pressing down so that it's all even

Place the cake pan in the freezer while you move on to the vanilla layer
Vanilla Layer
Place all the ingredients in your food processor (clean it between the two layers)

Transfer the ingredients to the cake pan and spread evenly over the lemon layer

If you are adding the shredded coconut for garnish, add that now

Place the cake pan back in the freezer for ~2 hours

Remove from the freezer and cut into desired sized pieces
Recipe Notes
NOTE: Instead of making a cake, this dessert can also be made into squares. Simply use a 9"x9" square pan instead of the round cake pan.
You might also like
Pin this recipe for later: