If you are new to the paleo diet you might wonder, is quinoa paleo? The simple answer is no. Despite the many potential health benefits of quinoa it is not considered paleo for a few different reasons including the fact that it is a pseudo-grain and can be hard on the GI tract.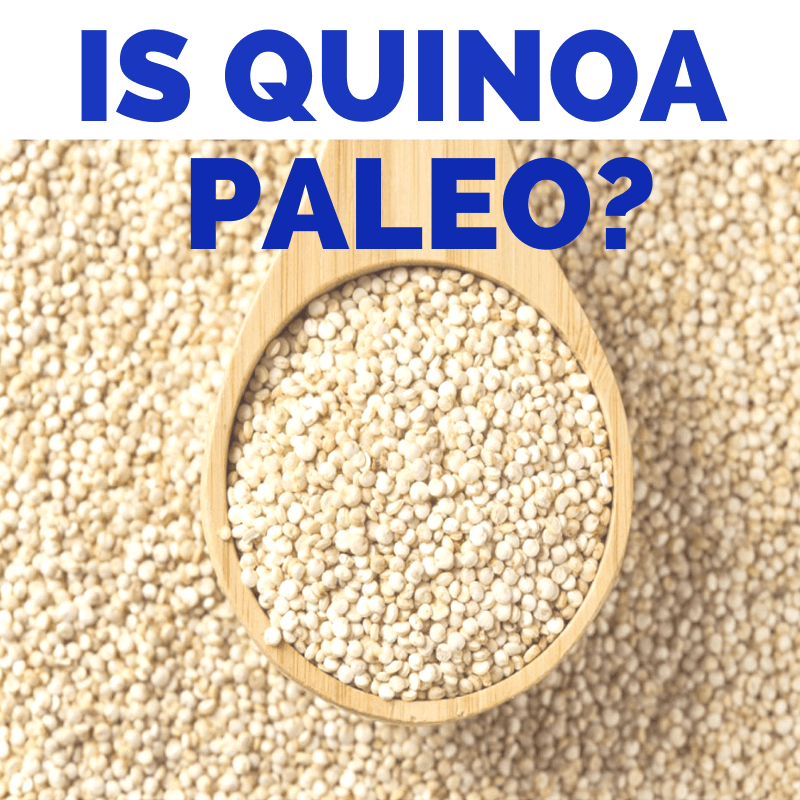 Is Quinoa Paleo?
One of the most common questions I get asked by people about the paleo diet is "is quinoa is paleo?" The answer is no. If that's all you needed to know then you can just stop reading now, but if you want to learn why, then keep reading to learn more.
Before discussing the question, is quinoa paleo? I thought it was important to discuss what quinoa actually is and explain it's potential health benefits as well as issues to help you make a more informed decision as to whether you want to include it in your diet or not.
What is quinoa?
Quinoa (which is pronounced "keenwah"), or Chenopodium quinoa Willd., belongs to the Chenopodiaceae or amaranth family, the same family as spinach and beets. Quinoa is known as a pseudo-cereal or pseudo-grain and is actually a seed that comes from a flowering plant.
Quinoa is native to South America and has been domesticated for thousands of years by the people inhabiting the Andes, mainly in Peru and Bolivia. It was considered a sacred plant by those people because it is rich in protein with a great balance of essential amino acids and was often termed the "golden grain".
Health benefits of quinoa:
There are many properties of quinoa that make it beneficial to health. Quinoa is high in many vitamins and minerals and is also gluten free so it is safe for those with celiac disease or who are gluten intolerant, which is why some people falsely assume that it is allowed on the paleo diet.
Some of the unique properties of quinoa include:
It is rich in lysine, making it a more complete protein source than most other vegetables, grains or seeds
It is gliadin and gluten free
It is high in fibre
Quinoa grain is a starch with a high content of carbohydrates, mainly comprising starch and a small percentage of sugars
It is hight in many vitamins including: vitamins E and C, and B complex
It is high in minerals including: calcium, magnesium, iron, potassium, phosphorus, manganese, zinc, copper, and sodium
It contains higher levels of total protein, methionine, and lysine when compared with many other grains
It is one of the few plant foods that provides all essential amino acids
It is rich in essential fatty acids such as linoleic and alpha-linolenic acid
It contains high concentrations of antioxidants including alpha-tocopherol and gamma-tocopherol
Pin this post for later: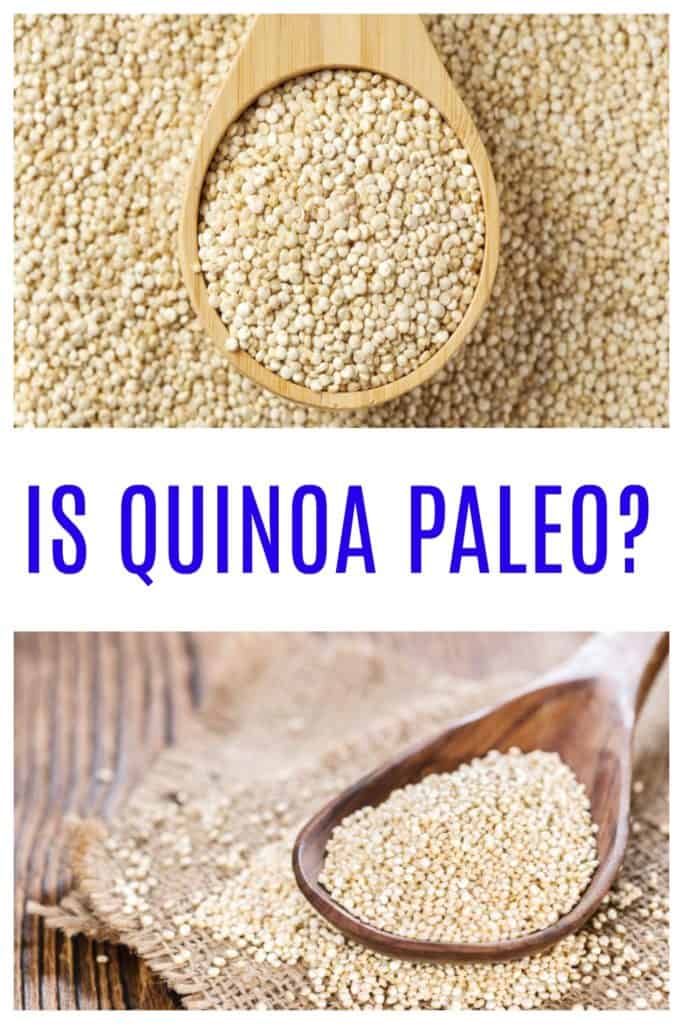 Why quinoa is not paleo:
To put it simply, quinoa is not paleo because it is a pseudo-grain, and no grains or pseudo-grains are allowed on the paleo diet. However, there is more to it than that. If you recall from my article "The Paleo Diet" one of the principles of the paleo diet is to eat foods that support digestive health, and for many people quinoa can lead to significant digestive disturbances including gas, bloating, stomach pains, constipation and diarrhea.
Quinoa also contains a number of what are called anti-nutrients including saponins, phytic acid, oxalates, tannins, and trypsin inhibitors. These substances are present in higher concentrations in the outer layers of the grain, where the saponin content is particularly high.
Anti-nutrients are found in many plant foods and their consumption reduces the nutritional value of the food, interfering with the digestibility, absorption, or utilization of nutrients, and can even lead to negative health effects if ingested in high concentrations.
These anti-nutrients are important to recognize and I have talked about some of them before in my post "Why Grains Are Not Healthy." Anti-nutrients are detrimental because they prevent your body from absorbing the vitamins and minerals contained in the food you are eating, in this case the quinoa. So even though quinoa is high in a number of vitamins and minerals, these anti-nutrients prevent your body from fully utilizing them.
You can decrease the anti-nutrient content of quinoa by both wet and dry methods. The wet methods include washing or rinsing with cold water, and the dry methods including browning and abrasion.
As well, the protein digestibility or the bioavailability of the amino acids in quinoa increases considerably with cooking. Thus, if you are going to eat quinoa, it is very important that you follow those steps and prepare it properly. However, it is also important to note that while cooking quinoa is important to decrease its anti-nutrient content and increase the protein availabilty, it also leads to the loss of essential nutrients such as vitamins, minerals, and amino acids so it is a bit of a catch-22.
Take home point: is quinoa paleo?
The simple answer is no, quinoa is not paleo since it is a pseudo-grain, can be very hard on the GI tract and contains a number of anti-nutrients.
Should you eat quinoa?
As you are aware, my number one rule when it comes to nutrition is to do what works best for you. Because what works well for one person can be disastrous for someone else. We are all unique. If you do well with quinoa there are a number of potential health benefits associated with it so I encourage you to continue eating it.
However if you find that quinoa leads to stomach upset or any other symptoms that is a good sign that it is not right for you. I personally can't tolerate quinoa, so even though it is considered a "healthy food" I know it's not right for me. Again, I am not here to tell you what is best for you. You will have to make that decision for yourself.
Depending on what diet you are following you should be aware that besides not being allowed on the paleo diet, quinoa is also not allowed on a number of other diets including keto, Whole30, SCD, AIP or GAPS. Quinoa can also make the symptoms of SIBO worse, so if you are dealing with SIBO I also recommend avoiding quinoa.
I hope you found this article helpful! Since you made it this far we are basically best friends so be sure to follow me on Instagram, Pinterest and Facebook where I share even more health information and healthy living tips!
Other posts you will like:
References and Further Reading: