Happy Easter Monday! Did you have a good long weekend? I hope you got to eat lots of delicious food and get in plenty of rest and relaxation.
I spent my long weekend on call which means I was busy driving around the city to our various hospitals. So no rest and relaxation for this girl. But it's all good. I saw some interesting cases this weekend and I head to Florida on Saturday for vacation so soon I will be doing plenty of resting and relaxing. In the sun. With a book. On the beach.  It sounds amazing doesn't it? I can't wait! I haven't had any time off since the summer so this holiday seems long overdue. I am feeling a little burnt out these days I must admit. Nothing a little sunshine and ocean swimming can't fix though! And since I will be in the U.S I will be stocking up on some of my favourite items like Vital Proteins Grassfed Gelatin , Kerrygold Grassfed Butter (do you see a theme here) and some Beautycounter products that aren't yet available in Canada like their Dew Skin Tinted Moisturizer, Color Sweep Blush and Sea Salt Hair Spray. I will be leaving plenty of extra room in my suitcase that's for sure!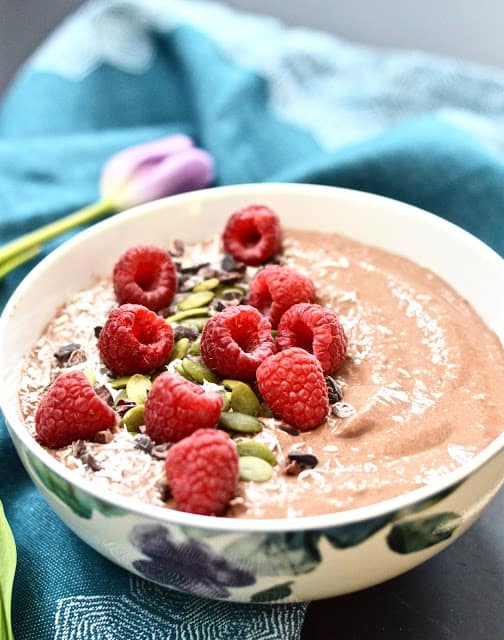 You guys I have a new obsession. Smoothie bowls. I have never been one to like drinking smoothies, and usually eat mine with a spoon anyways, so putting them in a bowl was just a logical solution. I have been busy experimenting with various flavour combinations and this Chocolate Raspberry Smoothie Bowl is my new favourite. And we will get to the recipe shortly. But first….
Do any of you watch Scandal? Come on, there must be a few of you out there? I just started watching it recently and let's just say I am hooked! Netflix just makes it so easy to watch episode after episode. Why I am so addicted to this one I have no idea. It's so unrealistic! But somehow that Olivia Pope just sucks you in. I would make a terrible Olivia Pope! I could never do her job. Never ever. I totally hate dealing with conflict, and that's basically all her job is! It's a good thing I went into medicine and not law. Just saying…
So I learned one very valuable lesson this week: puppies + dirty snow = a terrible combination! Think muddy water flying everywhere! Seriously it was like they bathed in a dirt bath. What a mess. A muddy disastrous mess! But I have to say the post-bath puppy madness was hilarious. Anyone with a dog knows what I am talking about. That ridiculous energy that being wet somehow gives to dogs. It almost made up for the horrible mess that I was left to clean up. Almost…
Well what do you say? Recipe time? I think so. Please let me know if you try this one. You know I always love hearing from you guys!
As always I would be thrilled if you followed me on my social media pages on Instagram, Facebook, Pinterest and Twitter.
Until next time, happy eating friends!
Chocolate Raspberry Bliss Smoothie Bowl
Ingredients
2

ripe bananas

1 1/2

cups

fresh or frozen raspberries

1 1/2

cups

full fat coconut milk

1/3

cup

cacao powder

1/4

cup

melted coconut butter

or coconut manna

1-2

tbsp

Optional: grass-fed gelatin

not if vegan

1-2

tbsp

Optional: chia seeds

1

cup

Optional: fresh spinach

1/2

Optional: avacado

Optional toppings: fresh berries, shredded coconut, raw seeds or nuts, cacao nibs, drizzle of honey or maple syrup
Instructions
Place all the ingredients in your high speed blender (including any optional additions)

Transfer the smoothie to a bowl (or glass if you prefer)

Add the optional toppings
*** Pin This Recipe For Later ***