Get Your Greens Mint Smoothie Bowl. That's what's on the menu today friends. Because even though the weather is turning colder (grr) sometimes smoothies are still an easy and refreshing meal alternative when you don't want to spend hours slaving away in the kitchen. Because even those of us who love cooking get tired of the kitchen sometimes. Yes friends you may be shocked to here that I don't love spending hours on end in the kitchen. I've got better things to do with my time and I know you do too. Trust me I get it.
Now it's no secret that I love mint flavoured food. I have already published a number of recipes featuring mint on the blog including  Coconut Mint Fudge, Chocolate Mint Smoothies, Mint Maple Vinaigrette, Strawberry Mint and Basil Vinaigrette, Chimichurri, and Mint Smoothie Breakfast Bowls. So hopefully you guys like mint as much as I do. And if you don't think you like mint, I dare you to give this smoothie a try. It just may change your mind. At least I'm hoping it does. If so then I have done my job as a food blogger.
I have actually had this recipe sitting in the archives for about 6 or 7 months. I don't know how I forgot about it! I was scrolling though my old food photographs the other day and noticed the pictures of this Get Your Greens Mint Smoothie Bowl just waiting to be edited. So I put the original recipe that I had planned for you guys this week on the back burner and decided to publish this one instead. This smoothie is a great way to get some extra fruit and vegetables into your day. It is packed with spinach, mint leaves, banana and coconut. So many nourishing ingredients in one minty bowl of deliciousness. Plus this one is safe for the paleo, vegan, gluten free, SCD, GAPS, AIP, and Whole 30 diets.
I'm going to put the food talk on hold for a second. I wanted to take a brief moment and talk about perspective today. Because the way you look at the world is so important to your overall health and wellness. It is so easy to focus on the negative aspects of your health, and all the things that are still going wrong. However, it's so important to acknowledge the progress you have made and all the things that are going well. I was recently reminded of this myself.
A friend of mine just recently reminded me how, just a few years ago, my symptoms were so bad that I wouldn't even dare eat out at a restaurant. To be honest I had almost forgotten about that stage in my life. Or maybe I had just chosen to forget. Either way I hadn't thought about it for a really long time.
When I think about that, I really have come so far on my healing journey, but most days it is so easy to forget about that. It's easy to get caught up on the few remaining symptoms, or the bad days that still hit once in a while. But dwelling on those bad days and analyzing and re-analyzing everything you may have done that caused them doesn't help. Was it something I ate? Was it stress? Was it something I put on my body? Most times it is impossible to determine. So why stress about it? Yes it's important to try and get to the root cause of your symptoms, but sometimes there is no clear cut cause, and adding that extra stress and worry is ultimately only going to cause more health problems. So I want to encourage you to focus on the positive. Because a shift in your perspective can actually help you feel better. I promise.
I would be thrilled if you tried this Get Your Greens Mint Smoothie Bowl. And please give me some feedback if you do. I love hearing from you.
As always I would be thrilled if you visited my social media pages on Pinterest, Instagram and Facebook!
Until next time everyone, happy eating!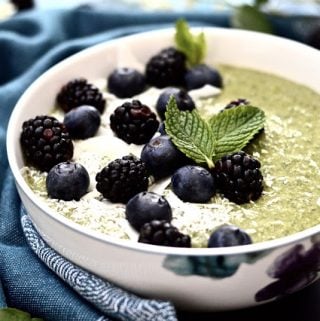 Get Your Greens Mint Smoothie Bowl
(Paleo, Vegan, GAPS, SCD, AIP, Whole 30, Gluten Free)
Ingredients
1 1/4

cups

full fat coconut milk

1/4

cup

melted coconut butter or manna

6

large handfuls of raw spinach

2

cups

packed mint leaves

2

ripe bananas

1/2

large avocado or 1 whole small avocado

Optional: 2 scoops grassfed gelatin

omit for vegan
Instructions
Place all the ingredients in your high speed blender (I use this Vitamix and love it)

If adding the gelatin, stir that in until dissolved
You Might Also Like
Chocolate Raspberry Bliss Smoothie Bowl
Pin This Post For Later: